A hardware wallet is one of the safest ways to secure your cryptocurrencies. As the cryptocurrency sector grows, so does the importance of securing your crypto stash from hackers. One of the leading hardware wallets in the crypto space remains Trezor.
Trezor is one of the best hardware wallets on the market. The company has a reputation for developing secure devices that allow people to store numerous cryptocurrencies offline and out of the reach of hackers online. Alongside Ledger Nano, Trezor is one of the most popular hardware wallet options for crypto holders. 
How to Get Started With Trezor
Currently, Trezor offers a range of products, including the Trezor One, Ultimate Pack or the Trezor Model T. While there are several retailers such as Amazon and others selling the Trezor wallets, we feel it is best to buy the hardware wallet from the official Trezor website, as this guarantees that the wallet has not been tampered with by a third party.
2
Trezor Initial Configuration
After purchasing and unboxing your brand new Trezor wallet, you will need to set it up. Using your laptop or desktop computer, visit the official Trezor website, where you will choose the device you bought. After choosing the device, Trezor will redirect you through a step-by-step setup process to configure your wallet. This includes setting your pin and jotting down the master key.
3
Send, Receive and Store Crypto
After activating the application, you can choose whether to receive or send the cryptocurrency using the Trezor wallet. For each cryptocurrency you deposit, you will receive a unique wallet address to ensure transactions are successful and secure.
#1: Trezor Technology and Key Features
Trezor wallets feature portable designs, making it easy for people to move around with them. The wallets come with high-end functions, with numerous layers of encryption to ensure the safety of your cryptocurrencies.
Trezor Wallet Features
Multi-purpose: Provides a secure way to store Bitcoin and numerous other cryptos
Ethereum integration: Partners with MyEtherWallet to allow seamless use of Ethereum and ERC-20 tokens
Password manager: Encrypt passwords separately and sync them to your private cloud
Secure Admin SSH Access: Only admins have access to your servers and data
2-Factor Authentication: Enable the industry standard FIDO/U2F to secure your cryptos
Password-less Login: Securely sign up and log in with a click of a button
Seamless integration: Connect your Trezor to third-party wallets and services
Compact design: Carry your entire crypto portfolio in the pocket of your coat
How To Use the Trezor Wallet
Using a Trezor wallet involves a few simple steps. An installation manual comes with your wallet, and the Trezor website provides a detailed guide on how to set up the device.
You would start by using the USB to micro USB cord that comes with the device and plug it into your computer. Next, you set the device pin by going to myTREZOR and downloading the browser plugin. You will be prompted to insert your set PIN via myTREZOR. The pin will help secure your device.
A backup phrase will appear on your screen. Write down the randomly generated 24-word recovery phrase on a piece of paper and store it for safekeeping. The phrase is the only thing that can restore and backup your Trezor wallet. After completing these steps, your device is set up and ready to use. To use your wallet, plug it into your computer and enter your pin. It is easy to navigate from there.
Setting Up Your Wallet
Setting up your Trezor wallet is pretty simple. When you unbox your package, you will see the Trezor device, installation manual, USB cable, recovery seed and a lanyard.
To set up the wallet, you need to plug it into your computer's USB port. The Trezor screen will display an image of a lock and a website you will need to visit. The Trezor webpage you are directed to will give you further instructions on how to keep your device safe.
After understanding how to secure your wallet, you will be redirected to wallet.TREZOR.io. This is where you will install the Trezor wallet. You will now choose whether you have a Model T or One wallet.
Installing your Trezor wallet allows it to communicate with the blockchain. You can install the Trezor Google Chrome extension or download the Trezor bridge directly to your computer.
After installing the software, you will be asked to ensure that the details on your Trezor device align with those displayed on your computer's device screen. You can proceed if everything looks good.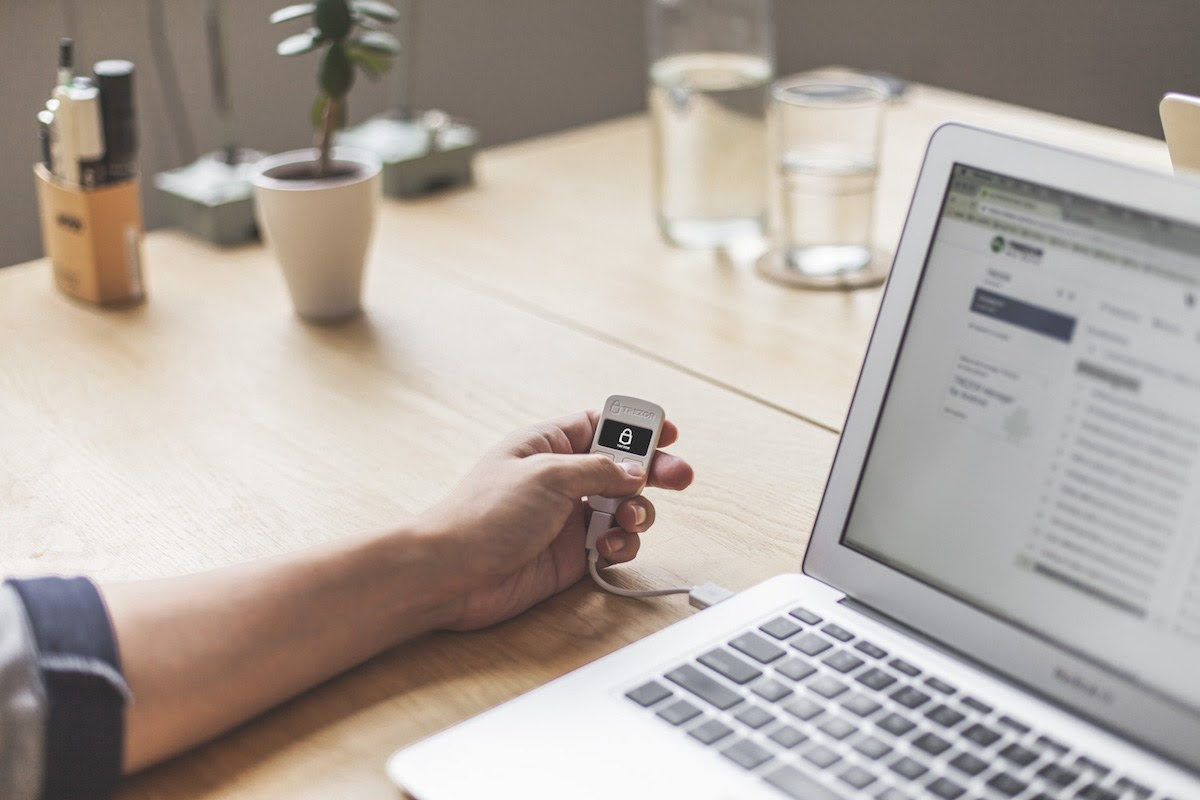 Proceed by unplugging your Trezor device and then re-inserting it into your computer. Visit the trezor.io site again and provide a name for your Trezor wallet. The name can be anything you like, and you can change it whenever you want.
You are now ready to set up your device PIN. Setting up a Trezor pin is one of the most important parts of the setup process. You will see pins with dots on your laptop screen, while your Trezor screen will display numbers 0-9.
This stage can be a bit confusing as the numbers are displayed at random on your Trezor screen. Hence, make sure you check the key you are pressing so you don't set a pin you can't remember.
You will then insert these same numbers on your computer. You will be asked to do this twice to ensure you don't make any mistakes when setting your pin.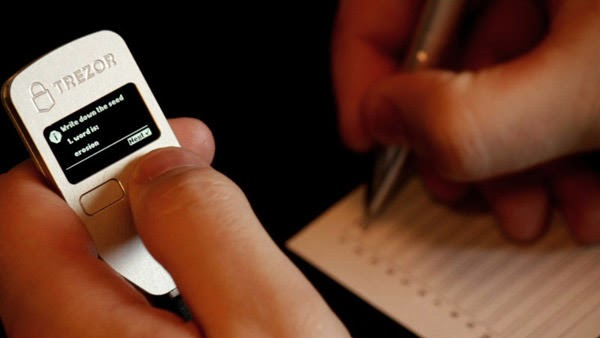 After setting your device PIN, Trezor will assign a 24-word backup phrase to your wallet. It is vital to write down the backup phrase and keep them safe because if your wallet gets lost or stolen, the backup phrase will help you regain access to your wallet and recover your funds. As a nice touch, Trezor provides users with a 24 lined piece of paper, so you can write down the recovery phrase here if you wish.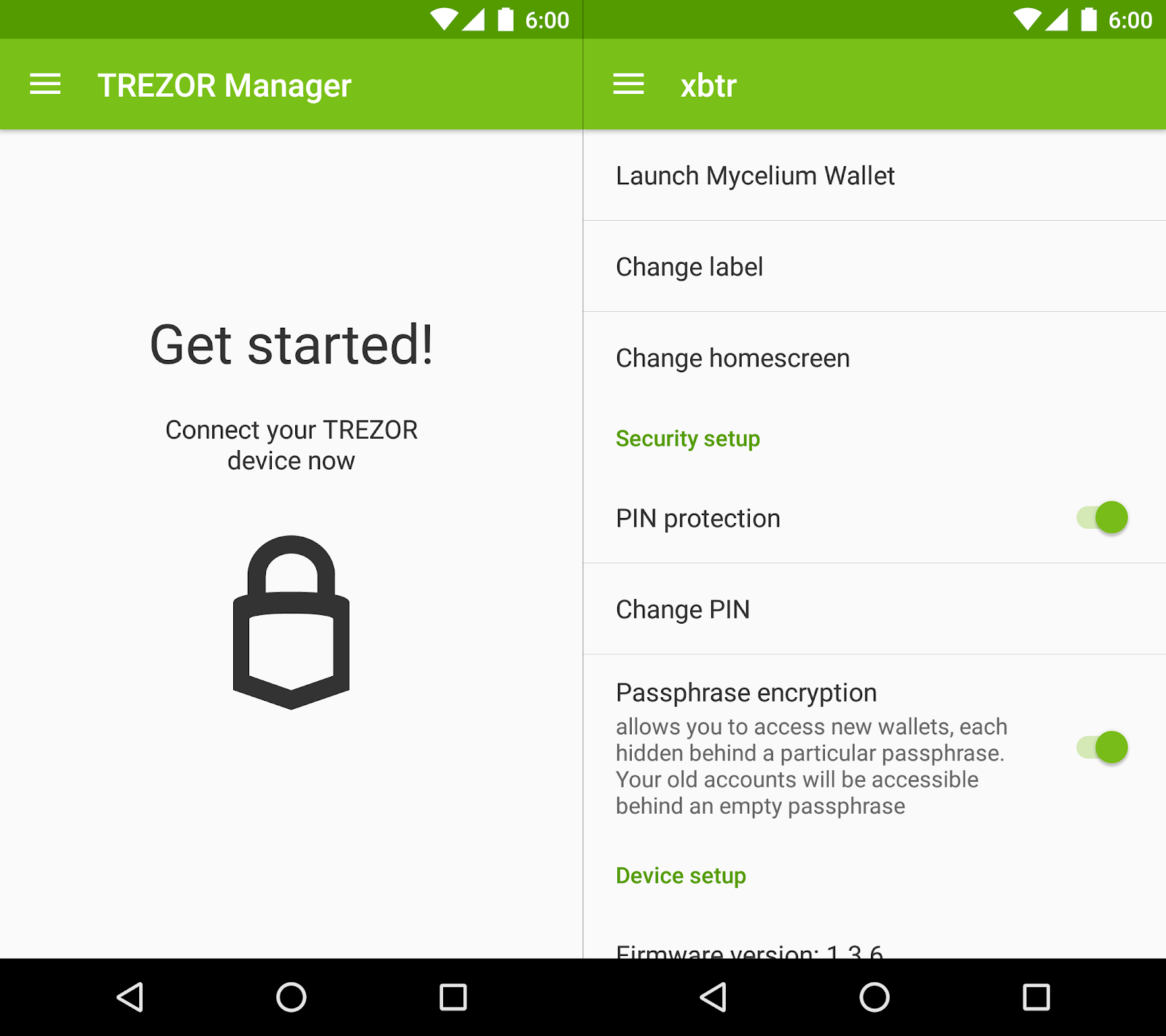 Now your Trezor wallet is set, you can start sending and receiving funds.
Adding Funds To Your Wallet
To add funds into your Trezor wallet, plug the device into your computer and insert the PIN you created when setting up the device. Next, you will visit your wallet using either the Google Chrome extension or the software you downloaded during the setup phase.
On the top-left side of the homepage, you will see a drop-down box. Choose the cryptocurrency that you wish to send to your Trezor wallet. It can be Bitcoin, Ethereum, or any of the other numerous cryptocurrencies supported by the wallet.
After choosing the cryptocurrency, click "Receive" at the top of the screen. Trezor will generate a unique wallet address for the cryptocurrency you wish to add to your wallet. Copy the cryptocurrency address and go to the wallet or platform where you currently have cryptocurrencies. Paste your address in the required field and transfer the funds into your Trezor wallet.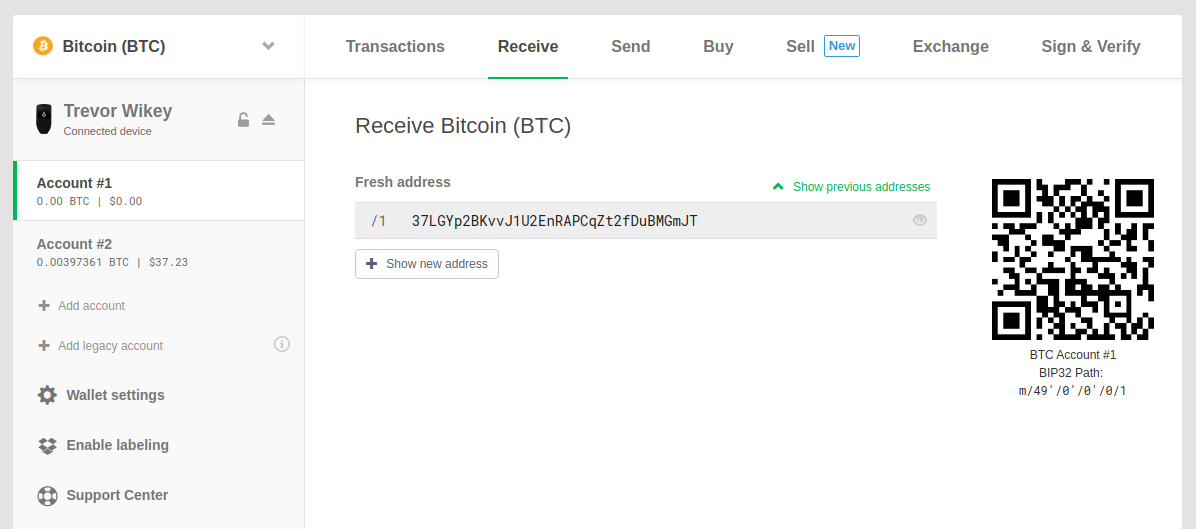 Depending on the cryptocurrency you are receiving, it will then take a few seconds or minutes to make the network confirmations to send the funds to your Trezor wallet.
Sending Funds From Trezor To an External Wallet
Now that you have received funds into your Trezor wallet, you can easily transfer the funds to another recipient. To do this, open your Trezor wallet dashboard on your laptop. From the drop-down menu on the left-hand side of the page, choose the cryptocurrency you wish to send.
After choosing the cryptocurrency, click "Send" at the top of the page. Insert the wallet address of the recipient and the number of coins you wish to send. Once you are satisfied with the inserted information, click "Send" and the funds will be transferred directly to the recipient within minutes.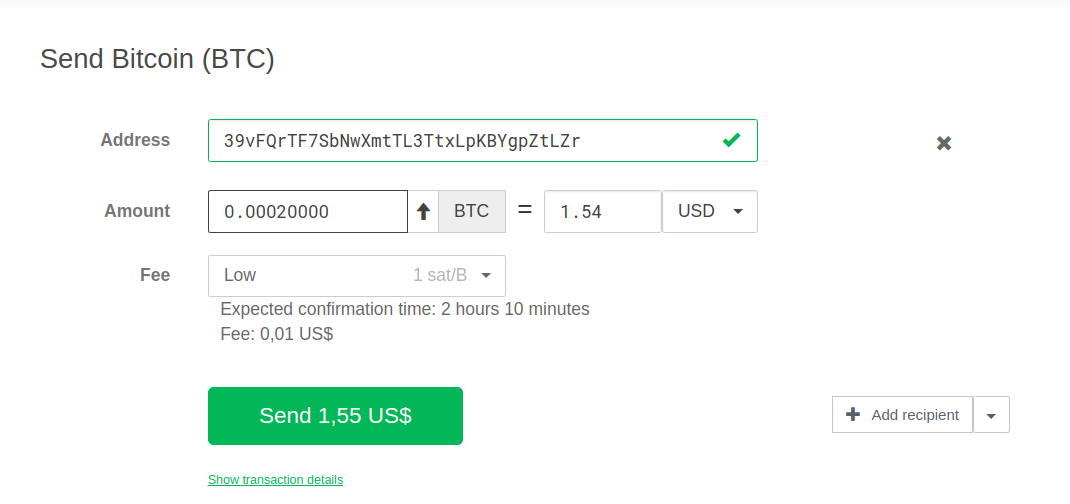 Other Transactions
Asides from receiving and sending cryptocurrencies, you can carry out other transactions on your wallet. You can buy Bitcoin and other cryptos directly from the Trezor wallet. The Trezor.io allows you to directly buy the crypto by inserting your payment details and receiving the coins directly into your Trezor wallet. Trezor also supports exchanging cryptocurrencies within the wallet. This means you can exchange your BTC for ETH, LTC or any other cryptocurrency without exiting the wallet. Trezor is also working on rolling out the selling feature where you can sell your cryptocurrency and receive fiat currency directly into your bank account.
Supported Coins
At the moment, Trezor supports over 1,600 cryptocurrencies. You can check all the supported cryptocurrencies on this page. The Trezor supported cryptocurrencies include:
Bitcoin (BTC)
Ethereum (ETH)
Tether (USDT)
USD Tether (USDT)
Litecoin (LTC)
USD Coin (USDC), and more
#2: Trezor Wallet Security
Trezor's wallets are two of the most secure hardware devices in the crypto space. The manufacturer has put in place a wide range of security protocols to ensure the safety of user funds. The bootloader always verifies the firmware signature, and the firmware is only run if correctly signed by SatoshiLabs. The Trezor hardware case is ultrasonically welded, making it nearly impossible to be restored after breakage.
Trezor doesn't allow any operation to take place without PIN authentication. The recovery phrase isn't enough for Trezor. The wallet supports BIP39 passphrases, which are never stored or remembered on the device. Hence, providing protection against local hardware attacks. The bootloader is write-protected, and the JTAG is disabled, making it impossible for an attacker to replace it.
The Trezor bootloader also erases the device memory if the firmware signature is invalid. Furthermore, a downgrade of the wallet's software to a vulnerable version wipes the memory to keep the funds out of reach.
Why Is Security Important?
Wallet Security is perhaps the most important thing when it comes to cryptocurrency investment. The encryption built into the Trezor ensures that it becomes easy for you to buy, receive, send and store cryptocurrencies with ease and confidence.
How To Avoid Theft and Scams
Trezor and other hardware wallets are designed to make it almost impossible for hackers to access your cryptocurrency stash. By keeping your device offline, hackers would find it difficult to access your details and steal your crypto coins.
For safekeeping, you should write down your 24-word recovery phrase and store it in a secure place, like a locked safe. You should watch out for scammers that request cryptocurrency payments in return for higher investment returns. Investment typically doesn't generate instant and high returns; if it sounds too good to be true it's likely a scam. You can also store your cryptos in your wallet and allow the value to appreciate. You can also stake the coins with the blockchain to earn dividends. Hence, never send funds to an unknown entity or an unregulated platform.
Alternative Crypto Wallets
#3: Trezor Pricing
Trezor is a hardware wallet that comes with a lot of accessories and security features. Hence, you have to pay for the products and services Trezor offers. Buying a Trezor device is worth the investment, considering the safety they are giving you.
The official Trezor website has a list of the prices for its wallets. They include;
Trezor Model T - 149 EUR ($176.66)
Trezor One White - 48.76 EUR ($57.81)
Trezor Ultimate Pack – 247.11 EUR ($292.99)
Trezor One Metallic – 500 EUR ($592.83)
In addition to the official Trezor website, you can buy these wallets from major retailers such as Amazon, Walmart and others.
Trezor Cost: How Does It Compare With Others?
Trezor offers various wallets that are affordable to most cryptocurrency investors. Trezor has similar pricing to competitors such as Nano. The Trezor One model doesn't have much price difference with the Ledger Nano S wallet. However, the Model T is highly-priced considering Ledger Nano X goes for $119 per wallet. Despite that, Trezor wallets are highly secure, and they help traders safely store their cryptocurrencies.
Any Additional Costs?
Buying a Trezor wallet comes with some extra charges, especially for delivery. The fee depends on where you live and the delivery time you desire. Trezor sells other wallet accessories like the USB cable (type B and C), silicon case for the wallets, leather case and capsules for securing your recovery phrase. If you lose your wallet, you can safely recover your cryptocurrencies, but you have to buy a new device to restore your funds and data.
#4: Customer Support
SatoshiLabs, the manufacturer of Trezor, is a legit company. Hence, they have a dedicated support team that helps customers with several issues ranging from technical problems, orders and shipping, system status, user manuals and more.
When you visit the Trezor support page, you can go to the relevant section should you wish to make a complaint or inquiry. Fill out the form and expect a solution to your problem within a few hours. Trezor's support page also contains a comprehensive FAQ page, making it easier to address some problems.
#5: Trezor Pros and Cons
Pros
Supports over 1,600 cryptocurrencies
Constant firmware upgrade
Screen offers extra protection and verification
Cons
Requires additional wallets for specific coins
Our Verdict About Trezor
Trezor wallets have compact designs, with the manufacturer focusing heavily on security and encryption. Trezor remains one of the leading and most popular hardware wallets in the world. In addition to high security and a compact design, Trezor is extremely easy to use. You can send, receive, buy and store over 1,600 cryptos on the wallet. However, Trezor wallets are pricey compared to their competitors.
If Trezor wallets are pricey for you, you can look at some competitors like Ledger Nano S and X that offer similar services at a lower cost.
Frequently Asked Questions
The Trezor recovery seed is a set of 24 words that allows you to regain access to your wallet after you lose your device. The recovery seed needs to be written down and kept in a safe for security.

You can buy a Trezor wallet from the official Trezor website. Additionally, retailers such as Amazon and Walmart are also places to buy one.

Trezor supports over 1,600 cryptocurrencies. The popular cryptos the wallet supports include; Bitcoin, Bitcoin Cash, XRP, Ethereum, Chainlink, Litecoin and more.

If you forget your wallet pin, the only option available is to wipe the device and recover it with your recovery seed. After recovery, you can set a new password on your Trezor device.

To reset your Trezor wallet, follow these steps; · Connect your device and visit the Trezor official website · Click 'x' when asked to provide your pin · Navigate to the 'advanced' tab and wipe the device · Confirm the action on your Trezor