Cryptocurrency hardware wallets are by far the safest way to store your digital assets. Interfacing with your smartphone or computer system through a USB connection, these wallets hold your investment in an offline environment when not in active use. 
The Ledger Nano S is one of the most popular cold wallet storage solutions on the market today. In this guide, we will review five main aspects of the Nano S for people who are considering purchasing one to store their cryptocurrency. In this article, we will carefully analyse the key features behind this leading piece of hardware.
How to Get Started With Ledger Nano S
Before you get started, you are going to have to purchase a Ledger Nano S. Due to the popularity of these devices, they are available through several high street retailers, but we feel that the simplest method of purchase is online. You can buy Ledger Nano S directly through their official website or use a major online retailer such as Amazon.
2
Ledger Nano S Initial Configuration
Once you have unboxed your brand-new Nano S, you will need to set it up. Using a laptop or PC, download the Ledger Live software for free from their official website. You will now be guided through a step-by-step process to configure your device. This includes recording a unique order of 24 keywords and an eight-digit passcode.
3
Send, Receive and Store Crypto
For any crypto assets you intend to store on your Nano S wallet, you will need to first add its application using the Ledger Live software on your computer. Once done, you can select 'Send' or 'Receive'. This will produce a unique crypto wallet address that you will need to ensure the funds are successfully transferred.
#1: Ledger Nano S Technology and Key Features
For such a compact design, the Ledger Nano S packs a punch in terms of functionality. Multiple layers of encryption are built into a device designed for a single purpose; to protect your cryptocurrency investment. Let's break down the technology behind this small but powerful wallet.
Ledger Nano S Features
Accessible – Safely store the private keys for your entire portfolio in the Nano S

Compatibility – The Nano S is compatible with over 1,500 coins and tokens

Staking – You can grow your assets while storing them on your device

Easy to Manage – Simple yet secure interface that gives access to manage your crypto in seconds

Compact design – Carry your entire crypto portfolio in the pocket of your coat

Backed Up – All records of your wallet's content are stored on Ledger Live

Offline – Keeps your investment offline and away from bad actors and thieves

Market Access – You can now buy and sell crypto directly to your Nano S through Ledger Live

Security – High-grade encryption protocols written into the firmware of the Nano S
How To Use the Ledger Nano S Wallet
Some cryptocurrency wallets are available online for free, but the Nano S is a hardware wallet. As such, it must first be purchased, and we recommend the most direct route is to order through Ledger's official website.
The setup process of your new Nano S is very straightforward. Simply download the Ledger Live software onto your home computer, and follow the step-by-step guide provided.
Once you have successfully initialised the device, you will need to use Ledger Live to add crypto applications to the wallet. This makes your Nano S compatible to store whichever crypto you intend to buy.
Think of this as being able to create several individual wallets such as an Ethereum wallet compatible with all ERC20 tokens, as well as wallets for Ripple, Bitcoin, Bitcoin Cash, and having all of these in a single safe location.
Setting Up Your Wallet
Plug your device into a computer, and select 'Configure as new device' using the buttons at the top of your Ledger Nano S. You will then be asked to create an eight-digit passcode, again, using the buttons on the wallet itself.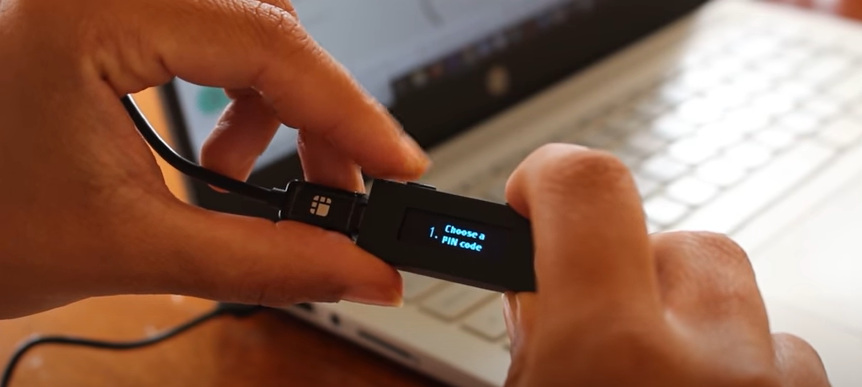 Image courtesy of Naturalvita Tutorials
This pin must be entered every time you want to use it. After re-entering your pin to confirm it, you will need to write down your 24-word recovery phase. This is to be used to back up your device. If you ever lose or damage your Ledger Nano S, you can use the backup to restore all your investments onto a new one.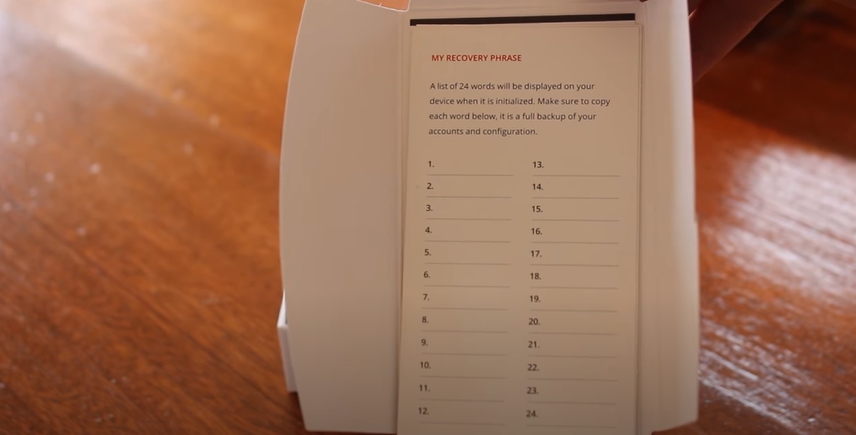 Image courtesy of Naturalvita Tutorials
Your Nano S will provide you with a set of 24 words in a unique order, which you can record on the recovery phrase cards that came boxed with the wallet. After pressing both buttons at the top of your device, you will be asked to confirm the list of words that you have just written down. This is done by using the buttons to scroll through available options and pressing both together to select.
You will now need to go to the official Ledger website and download Ledger Live to install on your computer. Since we have already initialised your Ledger Nano S, after opening Ledger Live, you can now click on 'Use a device that is already initialised'.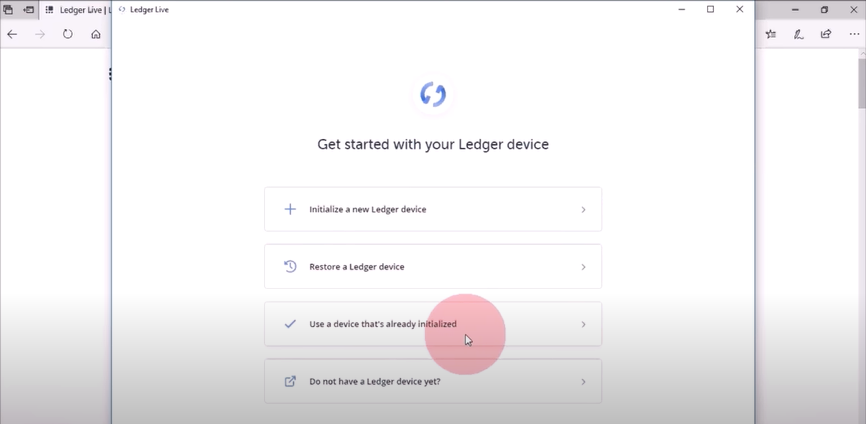 Image courtesy of Naturalvita Tutorials
Click 'Yes' to confirm that you have set both a pin for your device and recorded your recovery passphrase. Make sure that your wallet is connected to your computer and click 'Check now' to allow Ledger Live access to authenticate the device. After this has been completed, it is advisable to choose a strong password for accessing the Ledger Live software.
Your device is now ready to use, and you can open the main dashboard of Ledger Live.
Adding Funds to Your Wallet
To add funds you will need to install applications to ensure that your wallet has a compatible address for whichever cryptocurrency you wish to receive. Using the Ledger Live software, access the 'Manager' tab. Ensuring that your Nano S is connected, you can now install the crypto-specific app directly to your device.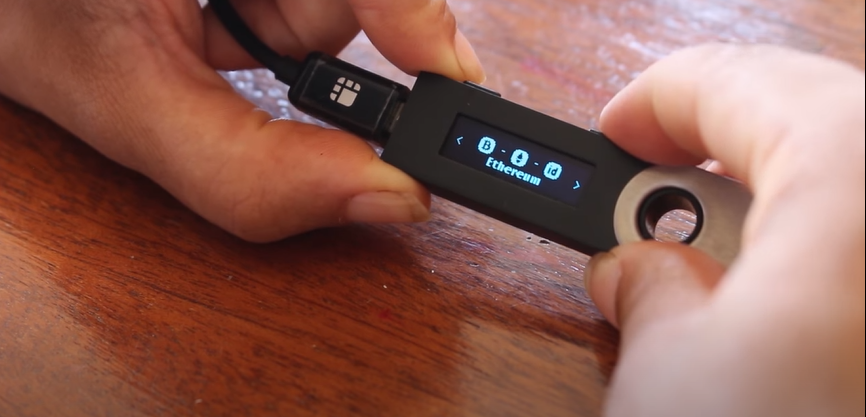 Image courtesy of Naturalvita Tutorials
Once the relevant app is installed, you can open it using the top buttons by clicking both buttons at the top of your Nano S. You will now need to click on the plus symbol next to accounts and add an account for whichever coin you intend to store. It is worth noting that all ERC20 tokens can be added to an Ethereum account.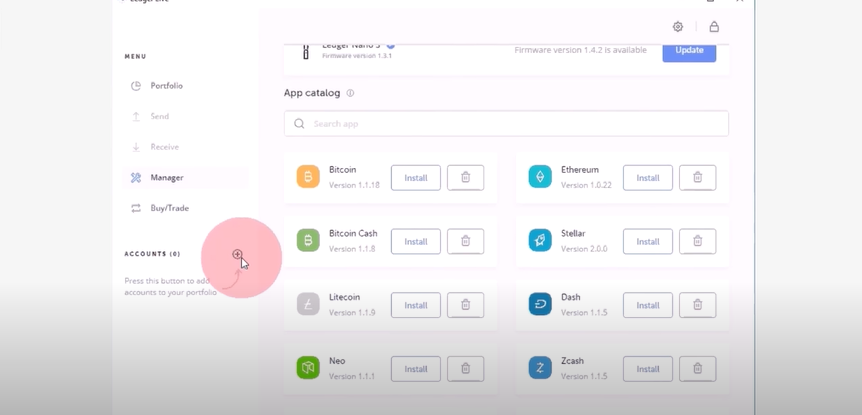 Image courtesy of Naturalvita Tutorials
Again, the Ledger Nano S needs to be connected to your computer throughout this process. Once the account has successfully been added, ensure the app for your coin is selected on the device and then click on the 'Receive' tab found in the left-hand sidebar of Ledger Live. Select the account compatible with the cryptocurrency you wish to store and allow the Nano S to sync. You will receive a message that the wallet is now able to receive funds, and you can copy the public key provided to paste into the exchange from which you are transferring funds or hand to the sender. Your cryptocurrency should show within your Nano Ledger S within a few minutes, at which time you can disconnect the device.
Sending Funds From Ledger Nano S to an External Wallet
Now that you have initialised your device, sending funds from your Ledger Nano S is done in much the same way as receiving them. After connecting your device and opening Ledger Live on your computer, you need to click the 'Send' tab on the left-hand sidebar. Your wallet will now sync to the software and you will be required to input the amount of cryptocurrency you wish to send, and the recipients' address. It is very important that you ensure the wallet address that you send crypto to is compatible with the specific coin, otherwise, the transfer will likely fail, and funds could even be lost.
Other Transactions
It is now possible to purchase cryptocurrency directly through Ledger Live without having to go through an exchange. These transactions are completed through a third-party company, and so will require some KYC evidence to be provided the first time you purchase using this method.
Supported Coins
Ledger Nano S supports almost 30 coins and over 1,500 tokens, so it is not practical to list them all here. For information on every cryptocurrency compatible with the wallet, you can visit the Ledger official website.
The 10 leading cryptocurrencies available are:
Get a Ledger Nano S Wallet!
#2: Ledger Nano S Security
Security is the main reason why people want to purchase a Ledger Nano S. With the value of digital assets being so high, it is important to protect your investment through every available means. The Nano S hardware is certified by the French Cyber Security Agency, ANSSI.
The certified chip integrated into the device is designed and built to withstand sophisticated attacks, making it a safe solution for the storage of your private keys. The wallets created by Ledger are also the only ones to have their own operating system (BOLOS). This OS adds an additional layer of protection against malicious attacks and isolates the crypto applications from one another.
Genuine Check also authenticates your device through Ledger Live to ensure that it has not been tampered with or in any way been compromised.
Why Is Security Important?
It is vitally important that our investments and our money remain safe and secure. One of the main drivers of credit and debit card adoption is that these methods of carrying our money are far safer than cash. With the encryption built into the Ledger Nano S, security is taken to a whole new level, allowing you to buy and sell cryptocurrency with ease, and more importantly, with confidence.
How to Avoid Theft and Scams
One of the greatest benefits of owning a Ledger Nano S was designed to solve one of the greatest challenges: Keeping your funds safe and out of reach from thieves. The most effective method of avoiding your funds being stolen is to keep your device offline whenever it is not in active use.
You should also keep your 24-word recovery phrase in a secure place, such as a locked safe.
Unfortunately, there are many scammers online who will request an initial payment of cryptocurrency on the promise of greater return. In our experience, these are always the work of bad actors. Never send funds to an entity that is unknown or a platform that is unregulated.
Alternative Crypto Wallets
#3: Ledger Nano S Pricing
Unlike some online wallets that come with much less security but a free price tag, you must pay for a Nano S device. Considering the immense amount of safety that these cold wallets provide for your investment, the cost is very reasonable.
The Ledger official website will sell you a Nano S for just under $55 and is available in a range of colours including:
Matte Black

Saffron Yellow

Flamingo Pink

Jade Green

Lagoon Blue

Transparent
Other online retailers also offer the Nano S at around the same price. It is always worth checking out huge providers like Amazon, as they offer the Nano S and the upgraded Nano X as a package that comes at a discount price.
Ledger Nano S Cost: How Does It Compare With Others?
The Ledger Nano S is one of the most reasonably priced cold wallet solutions on the market. Competitors like Trezor are also competitively priced, but, costing twice as much, the main difference is the increased functionality of the built-in user interface. In the end, they are all built for a single purpose; to store cryptocurrency. The Ledger Nano S accomplishes this without frills, focussing heavily on security.
Any Additional Costs?
Depending on where you live, there may be a delivery charge added to the cost of your device. You can also opt for faster delivery, which also costs a little more. If you lose your device, the recovery system of Ledger ensures the safety of the contents of your wallet, but you will still have to purchase a new wallet to restore the backup.
You may have your wallet listed in your household contents insurance, in which case, loss or damage may be covered. It must be noted, however, that insurance will cover the cost of a new wallet, but not its contents. It is therefore vitally important that you back up the contents of your wallet to Ledger Live.
#4: Customer Support
Ledger SAS is a registered legitimate company, and as such, has a dedicated support staff that help with general enquiries and technical issues. You can fill out a form on the Ledger official website detailing your issue and can expect a response within a couple of hours. There is also a live chat function on the website, where staff are online to help if you have any trouble using the wallet.
The support page of Ledger also contains a comprehensive FAQ, so speaking to a customer agent may not even be necessary.
#5: Ledger Nano S Pros and Cons
Pros
Compatible with all leading cryptocurrencies
Cheaper than other leading competitors
Hardware certified by French Cyber Security Agency
Compatible with over 1,500 tokens
Has a backup and restore function for lost or damaged wallets
Stores investment in an offline environment
Compact design and easy to use
Cons
Must be used in tandem with Ledger Live
Is not compatible with all cryptocurrencies
Requires cable to interface with computer
Our Verdict About Ledger Nano S
The Ledger Nano S has a design focused on security and encryption. It is this fact that has positioned it as one of the most popular cold wallet solutions available today. The simplicity of its interface allows for easy use when transferring and storing cryptocurrency. It is surprising then, that the Nano S is one of the cheaper options on the market. This is not through any sacrifice in product quality or functionality, but the lack of additional unnecessary gimmicks.
Able to store a vast amount of digital assets in a far more secure manner than any online free wallet could hope to achieve, the Nano S is an investment in itself.
There are other decent products out there, such as the Trezor Model T, but for functionality and security, it is very difficult to come close to the Nano for a comparative cost.
Frequently Asked Questions
There are certainly some high street vendors that stock the Ledger Nano S, but we recommend purchasing a Nano S from the official website.

We strongly advise against buying a second-hand Nano S. Any device that has been previously owned may have been tampered with and its security compromised.

No. Bluetooth capability has been introduced with the Ledger Nano X. The Nano S interfaces with your computer through a USB connection.

You may be given a replacement if your Nano S has stopped functioning and is still under warranty, but you are unlikely to be given a replacement if you have lost it. Luckily, you can restore the backup of your lost wallet to a newly purchased device.

All ERC-20 tokens can be stored on your Ethereum account on the Ledger Nano S.