Using a hardware wallet is one of the most secure ways to keep your cryptocurrencies away from hackers and scammers. Over the past decade, billions of dollars have been stolen from private individuals and cryptocurrency platforms. Hence it is becoming more important to secure your cryptocurrencies, and CoolBitX manufactures one of the best hardware wallets, the CoolWallet S.
In addition to the wallet, CoolBitX is involved in providing blockchain security and other services. Its Sygna product helps virtual asset service providers (VASPs) to abide by AML and CFT regulations, such as the financial action task force (FATF).
How to Get Started With CoolBitX
1
Buy a CoolWallet S Wallet
To start using the CoolWallet S wallet, you have to buy the device. CoolWallet S is the wallet manufactured and sold by CoolBitX. You can purchase the CoolBit S wallet from the official CoolBitX website. The wallet is also available on some retail platforms like Amazon.
2
CoolWallet S Initial Configuration
After buying your CoolWallet S, it is time to set it up. Before you start using it, make sure the Bluetooth is working as the CoolWallet S is a Bluetooth-enabled hardware wallet. Switch on the device and you will see a 'Please Pair' message displayed on the screen. A code will appear on the screen, enter the code to connect your CoolWallet S. Ensure you save the recovery key generated by the wallet as that would help you recover your funds if you lose your wallet or it gets stolen.
3
Send, Receive and Store Crypto
After buying and activating your CoolWallet S device, you can carry out various functions. You can send, receive and store a wide range of cryptocurrencies. Each cryptocurrency you activate on your CoolWallet S device comes with a unique address. You will use this address for sending and receiving cryptocurrencies. You can also store your digital assets in the wallet to ensure your funds are safe from hackers.
#1: CoolWallet S Technology and Key Features
The CoolWallet S is incredibly sleek and has an impressive design. It is currently the thinnest hardware wallet on the market, with its dimensions similar to that of a regular credit card. In addition to that, the native mobile iOS and Android apps are easy to use, making it easy for anyone to manage their coins.
Although the wallet is thin, the e-paper display is very clear and easy to read. Users have the option to store private keys for the top cryptocurrencies, which is an impressive feature as it allows you to manage a wide range of digital assets on the go.
CoolWallet S Wallet Features
Multi-purpose: Provides a secure way to store Bitcoin and numerous other cryptos
2 + 1 Factor Authentication: Biometric and physical 2FA checks ensure your assets' safety
Sleek design: Carry your entire crypto portfolio in the pocket of your coat
Easy tracking: Check your portfolio at a glance
Mobile device accessibility: You can easily access your wallet using your Android or iOS devices thanks to its mobile apps
How to Use the CoolWallet S Wallet
Similar to Ledger and Trezor, you need to buy the CoolWallet S before you can start using it to store, send and receive cryptocurrencies. You can purchase the credit card-like wallet from CoolBitX's official website or from other retailers such as Amazon. It comes with a manual to help you set up the wallet.
Unlike the other hardware wallets, the CoolWallet S is Bluetooth-enabled and easy to use. It is easy to set up the wallet and start using it. Turn on your CoolWallet S device and navigate to the CoolWallet S application on your phone. You need to download the CoolWallet S app on your android or iPhone device. Your CoolWallet S app will display a few letters and numbers. The numbers and letters are your wallet ID. Connect the wallet to your app.
After connecting the app to your wallet, pair the two and tap on 'Create.' Choose the length of your recovery seed. Write it down and store it for safekeeping. Once you are done, you can create your wallet, and you will become the official owner of a CoolWallet S. To use the CoolWallet S, connect the wallet to your mobile phone, insert your pin and carry out transactions.
Setting Up Your Wallet
Setting up your CoolWallet S involves a few simple steps. The wallet comes in a sleek, trendy black box. Inside the box, you will see the CoolWallet S device, recovery card, a sticker, the charging pad with a standard USB cable and an instruction manual.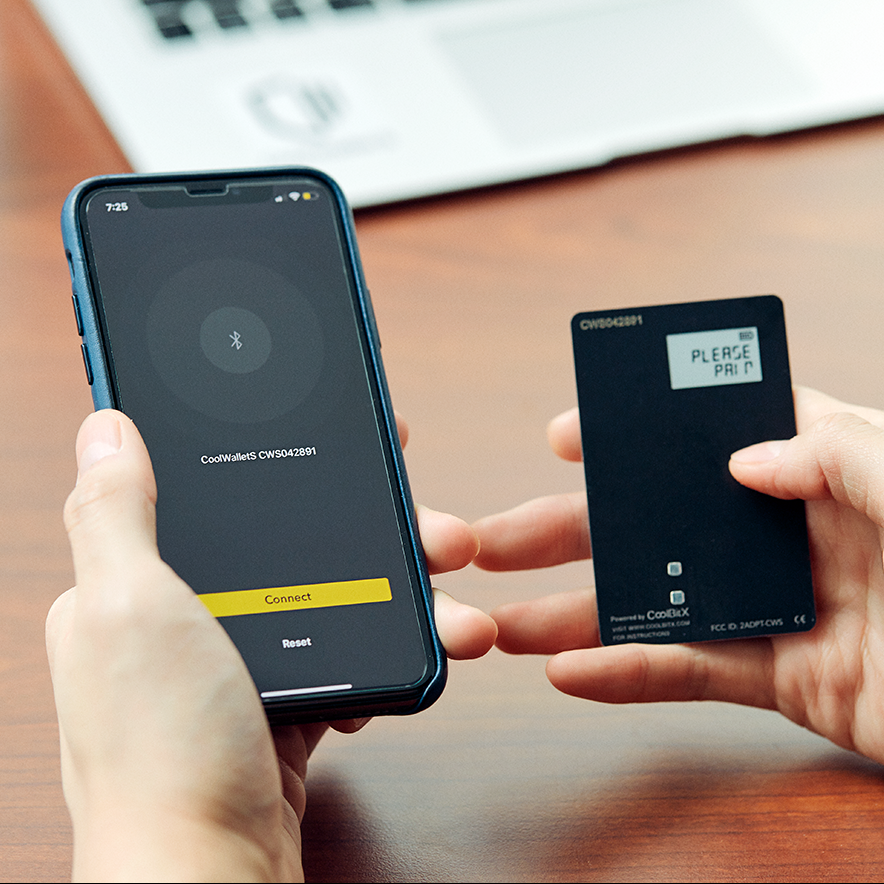 To set up your hardware wallet, download the CoolWallet S app from the Google Play Store or App Store. Turn on the wallet and navigate to the wallet app on your mobile device. Your app will display a string of letters and numbers. Note down the numbers and letters as it is your wallet ID.
Press the 'Connect' button. It will ask you to pair your CoolWallet S with the mobile app on your phone. Once you do that, the two devices are paired. Press "Create" on the app to get your CoolWallet S account.
The next step is to decide the length of your seed. Experts recommend setting the seed on the wallet itself rather than on your mobile app for security reasons.
After setting the recovery seed length, you will receive a random generation of words and numbers. We advise you either to write it down or save it as an image file as the recovery phrase is the only way you can access your CoolWallet S account after losing your wallet.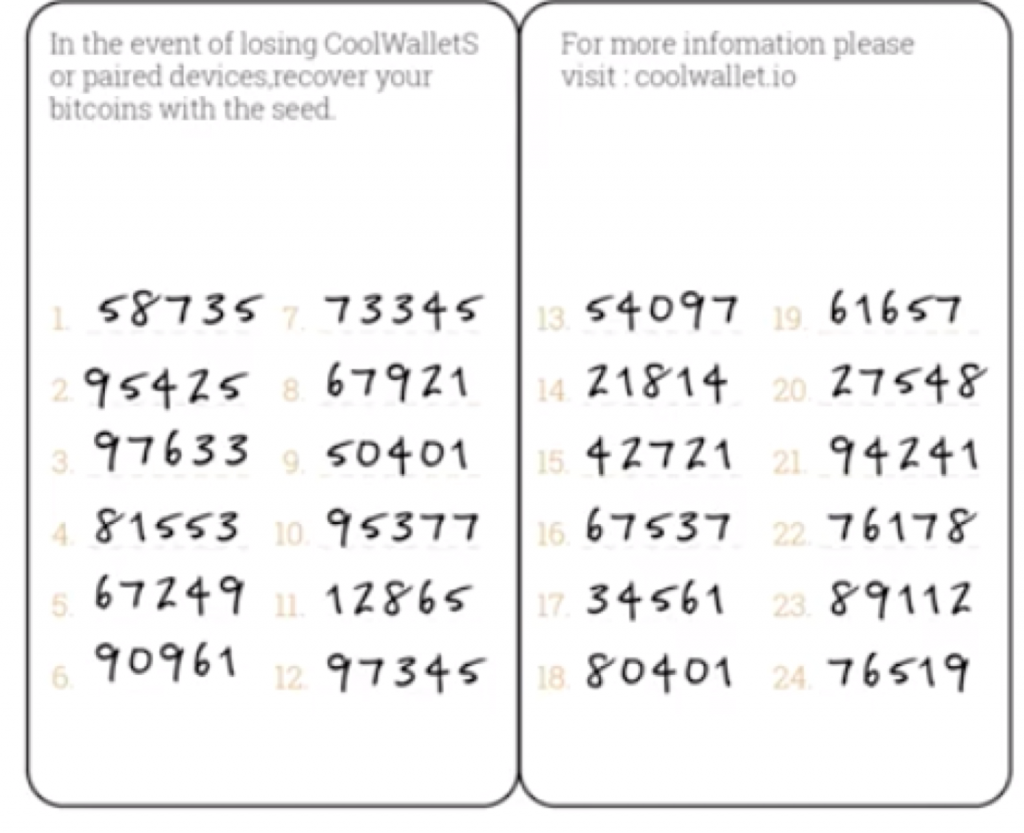 Once you finish these steps, all you need to do is press the "Create Wallet" button, and your CoolWallet S device is ready. You have become an official owner of a CoolWallet S device. Your CoolWallet S is set, and you can start sending and receiving funds.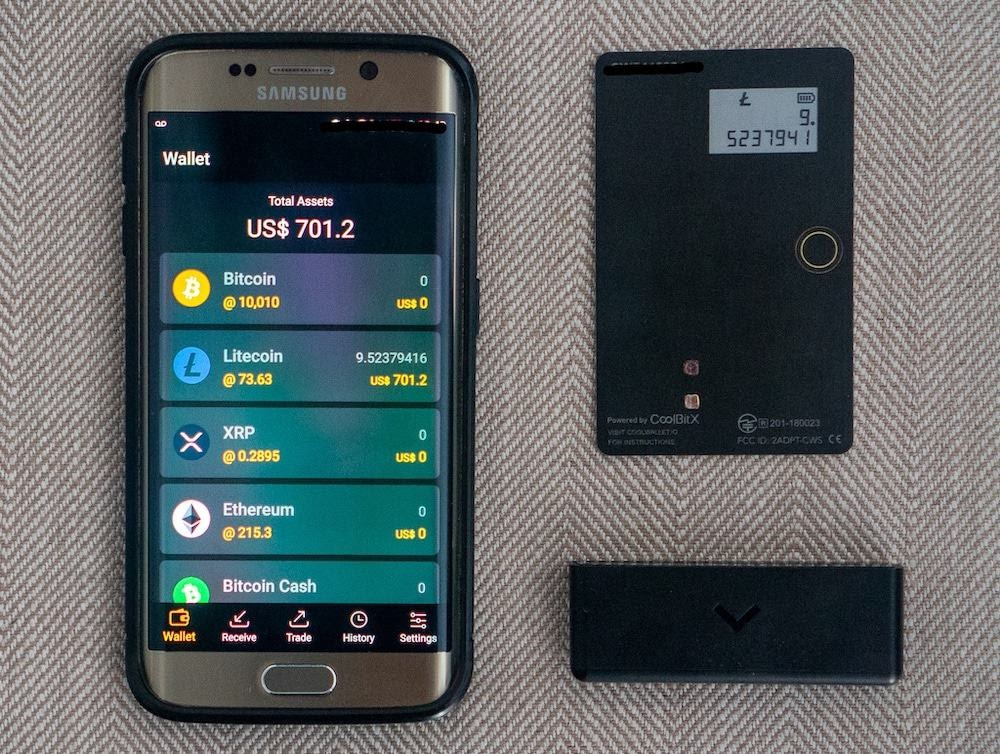 Adding Funds to Your Wallet
To add funds into your CoolWallet S, connect the device and open your CoolWallet S app. Log in to your account via your mobile app and select the cryptocurrency you wish to receive in your wallet.
You can choose from the wide range of cryptocurrencies offered, including Bitcoin, Litecoin, Ethereum or others. Tap on "Receive" at the top of the screen and CoolWallet S will generate a unique wallet address for the cryptocurrency you wish to receive. Copy the cryptocurrency address and go to the wallet or platform where you currently have digital assets stored. Paste your address in the desired field and transfer the funds into your CoolWallet S account.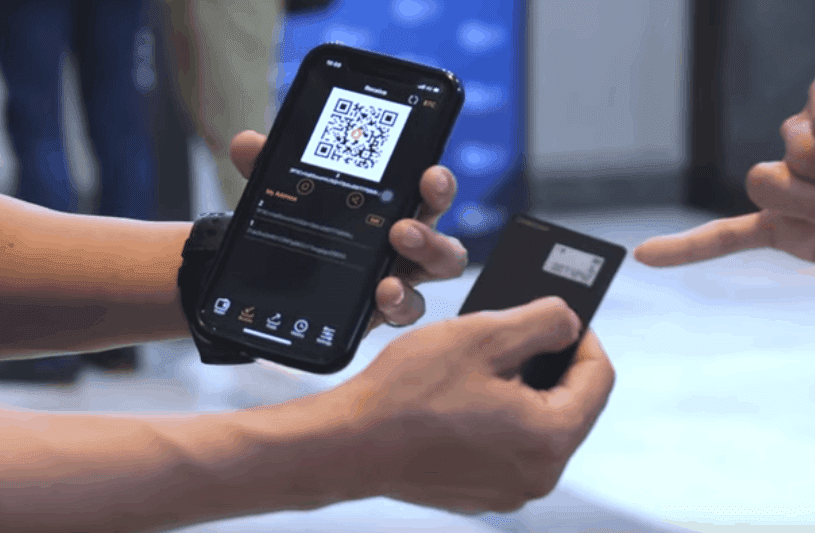 You can also use the QR code option to receive funds. After choosing the cryptocurrency, you wish to add to your wallet, tap on "Receive" at the top of the screen and use the QR code option. Scan the QR code on your CoolWallet S app from the other wallet you wish to send the funds to. Depending on the cryptocurrency you are receiving, you will receive the funds in your CoolWallet S within a few minutes.
Sending Funds From CoolWallet S to An External Wallet
Now that you have funds in your account, you can send the funds to someone else. To transfer funds from your CoolWallet S, open the device and launch your mobile app. Select the cryptocurrency you wish to send from the drop-down list available.
Insert the wallet address of the recipient or scan their QR code. After that, put the number of coins you wish to send or the amount in your preferred fiat currency. If you are satisfied with the information, hit the 'Send' button, and the funds will be sent directly to the recipient's wallet within minutes.
Other Transactions
In addition to receiving and sending cryptocurrencies, you can carry out a few other transactions with this wallet. CoolWallet S allows you to exchange your BTC for ETH, LTC or any other cryptocurrency without exiting the wallet. Thus, making it easy to switch currencies. It also supports trading the cryptocurrencies against BTC and USD. Hence, you get to enjoy trading the cryptocurrencies and making profits with the app.
Supported Coins
CoolWallet S supports a wide range of cryptocurrencies. You can check all the supported cryptocurrencies on this page. The CoolWallet S supported cryptocurrencies include;
Bitcoin (BTC)
Ethereum (ETH)
Litecoin (LTC)
ERC-20 tokens
#2: CoolWallet S Wallet Security
CoolWallet S prides itself as being the most secure Bluetooth hardware wallet in the world. The manufacturer has put in place numerous security protocols to ensure the safety of your cryptocurrencies. A user's private keys are stored safely in a CC EAL5+ certified S.E. Chipset, which is similar to the FIPS compiled security level. This chip is crucial because it calculates all the necessary algorithms and transmits only the calculated results (non-sensitive data) out to your mobile phone via Bluetooth.
The Bluetooth connection feature is also highly encrypted. The CoolWallet S uses AES256 Encryption to communicate with your phone along with a dedicated pairing passcode. This means that unauthorised devices are prohibited from communicating with the card for data retrieval.
The 2+1 factor authentication of this wallet is a sequence of biometric verification steps to ensure that the user is in control of their CoolWallet S and that the transaction is indeed correct and valid. The cold compression process deployed by the wallet makes it impossible for hackers to install intercepting devices that can affect and edit the transaction details.
Why Is Security Important?
The security of your wallet equals the safety of your funds. Over the years, hackers have stolen billions of dollars from crypto investors and platforms. The encryption and other security protocols installed by CoolBitX ensures your cryptocurrencies are secure. Hence, making it safe for you to buy, receive, send and store cryptocurrencies with ease and confidence.
How to Avoid Theft and Scams
CoolWallet S is designed to provide airtight security to ensure that only you have access to your cryptocurrencies. As a Bluetooth-enabled hardware device, it is tough for hackers to interrupt your phone and wallet communications.
The randomly generated recovery seed should be written down and stored in a secure place. This would ensure you gain easy access to your wallet in case you lose your device. As a crypto investor, be on the lookout for scammers that claim to double your investment and demand cryptocurrency payment. By buying and storing the cryptocurrencies, you are directly investing in the market yourself. You don't need anyone to invest in cryptocurrencies for you.
Alternative Crypto Wallets
#3: CoolWallet S Pricing
CoolBitX offers the CoolWallet S devices in two packages. You can buy it as a single unit or two in one. Buying a CoolWallet S is a good investment as it helps ensure the safety of your cryptocurrencies.
The official website lists the prices of its wallet as follows:
· Single - $99
· Dou - $159
In addition to the official CoolWallet website, you can buy these wallets from major retailers such as Amazon and others.
CoolWallet S Cost: How Does It Compare With Others?
CoolWallet S differs from the other hardware wallets because it uses Bluetooth and a mobile app instead of USB. However, CoolWallet S is expensive compared to the popular hardware wallets like the Ledger Nano S and the Trezor One Model. Despite that, the CoolWallet S is highly secure and helps users safely store their cryptocurrencies.
Any Additional Costs?
The extra cost that comes with buying a CoolWallet S is the delivery fee. The fee differs depending on the part of the world you live in and how fast you want the device to reach you. CoolBitX doesn't sell other accessories along with its wallet.
#4: Customer Support
CoolBitX has a very active customer support team. As a legit company, CoolBitX handles any issues regarding CoolWallet S or its Sygna product. The customer support team attends to technical problems, orders and shipping, system status and more.
You can contact the CoolBitX customer team using their official email by submitting your complaints via their official phone number or the live chat feature available on their homepage. The live chat feature makes it easy to gain access to the platform and get the team to address your problem instantly.
CoolBitX's support page also contains a comprehensive FAQ, so speaking to a customer agent may not even be necessary.
#5: CoolBitX Pros and Cons
Pros
Two-factor authentication available
Compatible with any Bluetooth device
Very slim and compact design
Waterproof and heat-resistant, the wallet can bend up to 15 degrees
The wallet is integrated with the ShapeShift exchange
Cons
Complex verification of the recovery seed
Our Verdict About CoolWallet S
The CoolWallet S is a unique hardware wallet with an individual and sleek design. CoolBitX put in a lot of work to deploy the 2+1 factor authentication, ensuring that all transactions between the wallet and your mobile device remain encrypted.
Furthermore, the CoolWallet S is easy to use as you can easily send, receive, buy and store Bitcoin, Litecoin, Ethereum, XRP, Bitcoin Cash and ERC-20 tokens. However, it is pricey compared to the other hardware wallets of its category.
You can look at USB-enabled hardware wallets such as the Ledger Nano S and Trezor if the CoolWallet S is too expensive for you.
Frequently Asked Questions
Yes, the CoolWallet S supports all ERC-20 tokens. Hence, you can store any of your ERC-20 tokens in your CoolWallet S account.

Currently, the CoolWallet S is not open-source, but the manufacturers are working to make it so. They currently provide source code for the Micro Controller Unit code and firmware and only share the code with some trusted members of the crypto community.

It is currently one of the most reliable hardware wallets available to crypto traders. With the CoolWallet S, you can track your crypto assets with ease. Your cryptocurrencies are always secure thanks to the 2+1 factor authentications of the wallet.

It has a unique and sleek design. The wallet leverages an encrypted Bluetooth connection instead of USB or WiFi. It is user-friendly and easy to carry around.

Yes, the CoolWallet S wallet is a waterproof and heat resistant device. It is flexible, tamperproof and temperature resistant.