Cryptocurrency security is perhaps the most important aspect of crypto trading and investment. There are various types of wallets designed to help traders secure their crypto stash and keep them safe from hackers.
Web wallets have become popular in the crypto space, and the BitMEX wallet is one of the most widely used. BitMEX is a digital asset exchange and derivatives trading platform owned by HDR Global Trading Limited, a Republic of Seychelles incorporated entity. We will look at the BitMEX wallet and how users can enjoy the service offered by the company.
How to Get Started With Bitmex Wallet
1
Create a BitMEX Account
To start using the BitMEX wallet, you will have to create an account with the platform. There is no software or app download required as it is a web wallet. The wallet is designed to enable buying, selling and storing cryptocurrencies with ease.
2
Bitmex Wallet Initial Configuration
After opening an account with BitMEX, you can go straight ahead to deposit funds. Navigate to the deposit section on your BitMEX account or wallet to fund it. Note, you have to verify your location before you can deposit as BitMEX is not available in all parts of the world due to differing regulations.
BitMEX Wallet Technology and Key Features
The BitMEX wallet is a good choice, especially for those that wish to use the BitMEX trading platform. The multi-signature and Two-Factor Authentication (2FA) have ensured that BitMEX operates a very secure wallet. It is particularly impressive compared to the other wallets that alternative trading platforms provide.
For coin security, the BitMEX wallet implements time restrictions on withdrawals. If this option doesn't work for you, it would be recommended to buy your own cold storage wallet as you will have more control of your funds and their security.
BitMEX Wallet Features
Multi-purpose: Provides a secure way to buy, receive, send and store cryptocurrencies

2-Factor Authentication: 2FA checks ensure your assets' safety

Web-based wallet: You don't have to download software or buy any hardware

Mobile device accessibility: You can easily access your wallet using your Android or iOS devices as it is a web-based wallet
How to Use the BitMEX Wallet
BitMEX is a web-based wallet attached to the trading platform. Using the BitMEX wallet isn't as complicated as using a cold storage wallet. To start using the BitMEX wallet, you need to get an account with the platform.
You can open a BitMEX account by visiting their official website. Click on the 'Register' tab on the top-right corner of the homepage and go through the registration process. Keep in mind that BitMEX isn't available in all countries. Hence, you have to find out if the platform is available in your country before you move forward.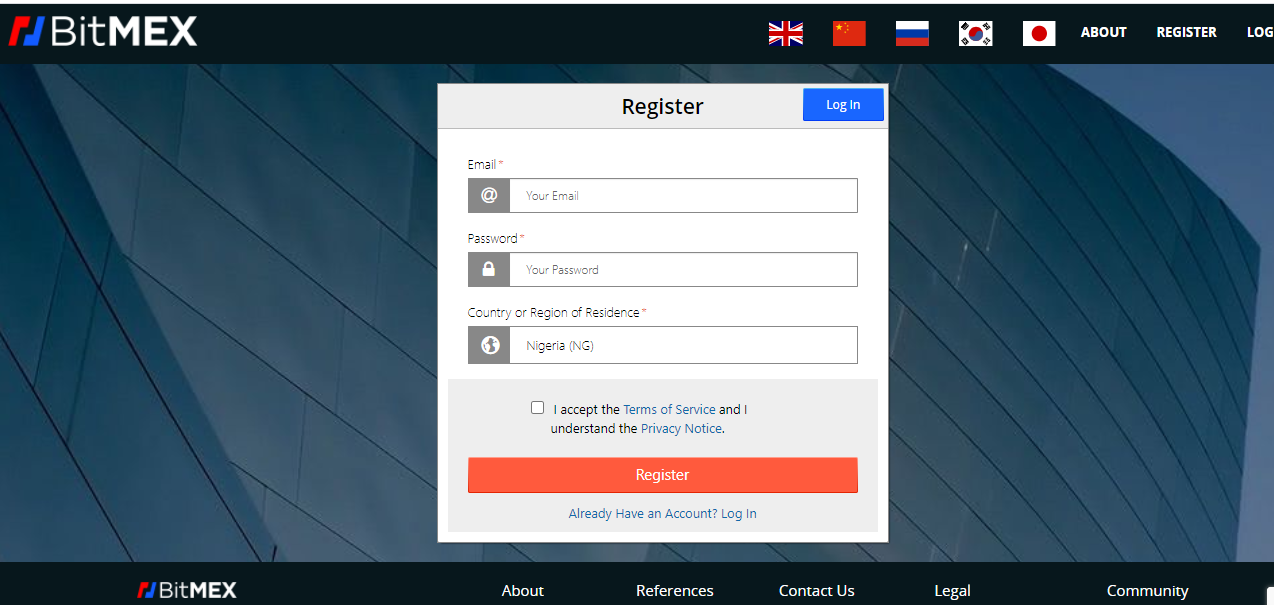 After opening your BitMEX account, you can move straight ahead to depositing funds. There are no software downloads or hardware setups to do. After you fund your wallet, you can buy, receive, send and store any of the cryptocurrencies available on the platform. BitMEX holds most of your cryptocurrencies in a cold storage wallet to ensure that your funds are secured.
Setting Up Your Wallet
Setting up your BitMEX wallet involves a few simple steps. It starts by visiting the official BitMEX website and opening an account. When you visit the BitMEX homepage, navigate to the top right corner of the site and click on the 'Register' button available. BitMEX will ask you to provide a few personal details before you can open your BitMEX account. Make sure you agree with BitMEX's terms and conditions before you proceed.
BitMEX isn't available in all countries around the world. Due to the regulatory issues, BitMEX isn't available in the US and some other countries. You have to know the eligibility of your country before you go through the registration process.
Set a strong account password and 2FA to ensure that no one can access your BitMEX account. As soon as you receive a welcome email, you are ready to start depositing funds and using your BitMEX wallet.
Adding Funds to Your Wallet
Adding funds to your BitMEX wallet isn't a complicated process. You need to sign in to your BitMEX account by visiting the platform and inserting your credentials. After logging into your BitMEX account, navigate to the 'Account / Wallet' section and deposit funds.
You need to verify your location before you can deposit funds into your BitMEX account or wallet. In addition to depositing fiat currencies into your BitMEX wallet, you can also receive Bitcoin. Navigate to your wallet and select the cryptocurrency (Bitcoin) you wish to add to your account. BitMEX will provide you with a multi-signature address to deposit Bitcoin. After one confirmation, funds will be credited to your account. While BitMEX only supports Bitcoin deposits, it supports trading a few cryptocurrencies, including Bitcoin, XRP, Ethereum, Bitcoin Cash, Cardano, EOS and Litecoin.
After selecting the cryptocurrency, tap on "Receive" at the top of the screen, and BitMEX will generate a unique wallet address for the cryptocurrency you wish to receive. Copy the cryptocurrency address and visit the wallet or platform where you currently have cryptocurrencies stored. Paste your address in the desired field and transfer the funds into your BitMEX account.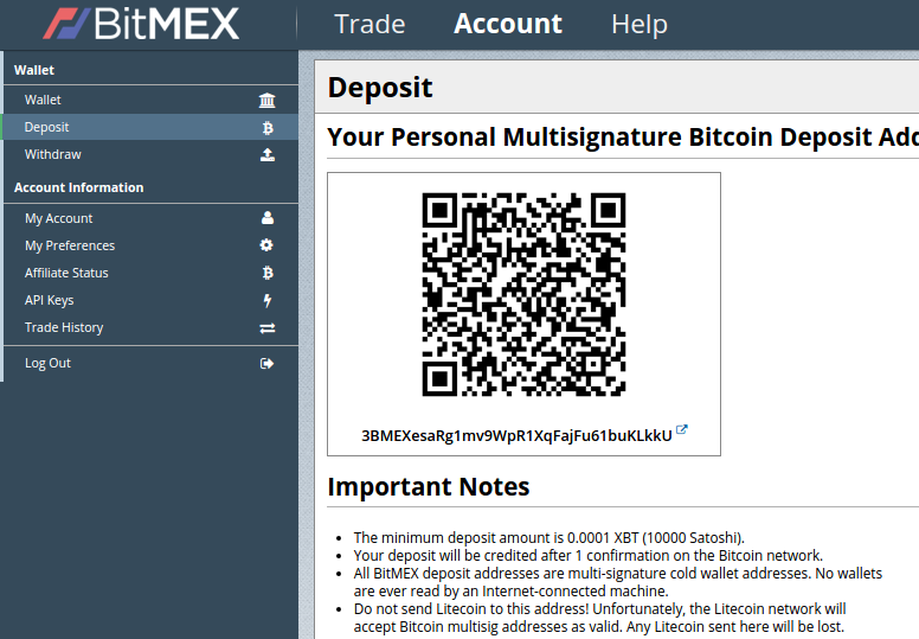 Sending Funds From BitMEX to an External Wallet
After depositing funds into your wallet, you can send the cryptocurrencies to other platforms or external wallets. To transfer funds from your BitMEX wallet, log in to your BitMEX account and go to your wallet. Select the cryptocurrency (Bitcoin) you wish to send from the drop-down menu.
Insert the wallet address of the recipient or scan their QR code. The next step is to insert the amount you wish to send or the number of coins. After testifying to the information provided, you can hit the 'Send' button, and the funds will be sent to the recipient's wallet after confirmations are made on the network.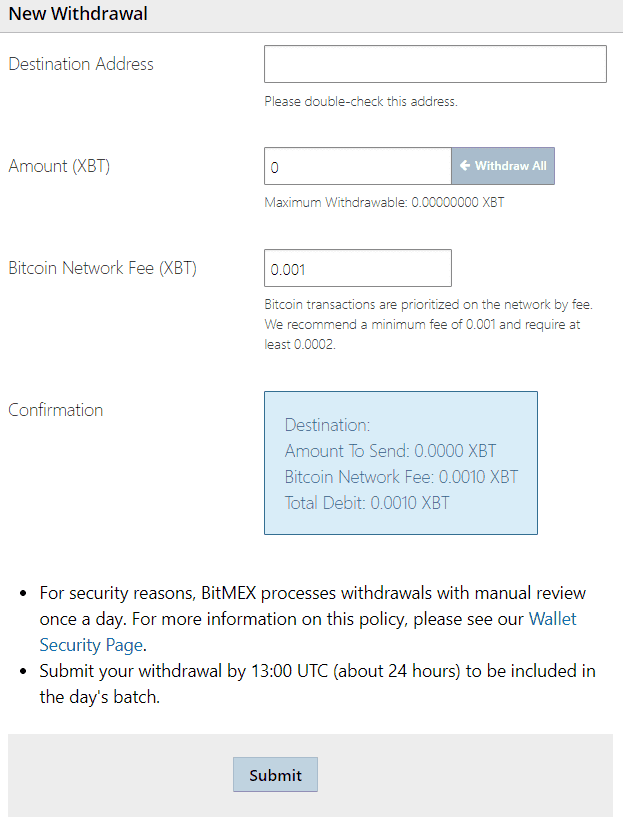 Other Transactions
In addition to receiving and sending cryptocurrencies, you can carry out other transactions on BitMEX. BitMEX is a trading platform that allows traders to access numerous products such as perpetual contracts, futures contracts, spot trading and more. You can trade the various XBT contracts for numerous cryptocurrencies on the BitMEX platform.
Supported Coins
The BitMEX wallet supports only Bitcoin (BTC) storage at the moment.
BitMEX Wallet Security
BitMEX is one of the most secure cryptocurrency trading platforms in the world. As a crypto trading platform and wallet provider, BitMEX implements several security protocols. It is one of the safest wallets, in terms of security, for people that wish to embark on margin trading.
The wallet runs on a multi-signature deposit and withdrawal system. Thanks to the multisig system, it is almost impossible for hackers or other unauthorised third-party entities to gain access to a user's trading account or wallet.
To ensure that funds are sent to the original owners, BitMEX manually checks all the withdrawals. A mismatch in the public keys leads to an automatic shutdown of the transaction. Hence, only the owner can withdraw funds from their BitMEX account.
For additional security, BitMEX doesn't store any of its funds in a hot wallet. It uses a cold multi-signature wallet to store customer funds. The cold multi-signature wallet is a Bitcoin wallet stored offline that requires a certain number of signatures in order to spend any funds. For BitMEX, it requires 2 of 3 partners to sign any transaction before funds may be spent.
Why Is Security Important?
Wallet security means the safety of your funds. Cryptocurrency investors have lost hundreds of millions of dollars to hackers and have equally lost a substantial amount of cryptocurrencies. BitMEX's cold multi-signature wallet and 2FA security protocols ensure that your cryptocurrencies remain safe at all times. Hence, making BitMEX a good platform to store and trade cryptocurrencies.
How to Avoid Theft and Scams
The high level of security on the BitMEX wallet ensures that it is impossible for third-party entities or unauthorised bodies. A mismatch in private keys leads to an automatic shutdown of the transaction to access your cryptocurrency wallet. Both deposit and withdrawal are multi-signature
As an investor, you should never disclose your private keys or wallet login details to anyone to ensure that only you have access to your BitMEX account and wallet. As a crypto investor, you shouldn't fall prey to scammers who claim to double your investment and demand cryptocurrency payment. By buying and storing cryptocurrencies, you are directly investing in the market yourself. You don't need anyone to invest in cryptocurrencies for you.
Alternative Crypto Wallets
BitMEX Wallet Pricing
BitMEX is not a cold storage wallet, which means that you won't be buying any device. Also, you don't need to download any app or software to use the BitMEX wallet. It is a web-based wallet that comes with the BitMEX platform to trade cryptocurrencies. Opening a BitMEX account is enough to get you a wallet that you can use to store your Bitcoin.
Any Additional Costs?
BitMEX offers competitive fees for its services. The taker fee on the platform is set at 0.0750%, and the maker fee is usually as low as even -0.0250%, meaning that the maker actually grabs a little rebate on trades.
Customer Support
BitMEX has a very active customer support team. HDR Global Trading ensures that traders and investors can have access to the support team at all times of the day. The BitMEX support team is there to attend to technical issues and other trading problems you might encounter.
The easiest way to contact the BitMEX team is via their official email. You can also submit complaints or enquiries about their services via the contact form available on the official homepage.
BitMEX has a unique Trollbox feature where you can discuss any problems you have with fellow traders and investors. This is a good way to solve a problem as there is a huge possibility that another trader has an answer to your issue. BitMEX's support page also contains a comprehensive FAQ, providing answers to some pre-existing questions.
BitMEX Pros and Cons
Pros
Has a unique multi-signature deposit and withdrawal system
BitMEX is audited regularly
Provides an extra layer of security
Excellent customer service
Cons
Restricted for traders in the US and other parts of the world
Doesn't support fiat deposits or withdrawals
BitMEX currently only supports Bitcoin for non-traders
Our Verdict About BitMEX
BitMEX is currently one of the best peer-to-peer Bitcoin trading services and wallet providers. The BitMEX wallet is an excellent option for storing Bitcoin to allow you to trade on the BitMEX trading platform. Unlike the other exchange wallets, BitMEX doesn't operate a standard online wallet. BitMEX stores its Bitcoins offline in cold wallets using a multi-signature function. The multi-signature feature and the 2FA ensure that it is almost impossible for an unauthorised entity to access your wallet. The only downside to using the multi-signature wallet is that there is lower flexibility since withdrawal processing comes with a cutoff time set at 13:00 UTC daily.
Frequently Asked Questions
No, it doesn't—BitMEX stores all BTC holdings in a cold multi-sig wallet.

The multisig address is designed to prevent theft, and BitMEX uses it to ensure customer funds are kept secure.

BitMEX accepts only Bitcoin deposits at the moment. Under the account tab, click on the Deposit tab, and BitMEX will assign you a multi-signature address to deposit Bitcoin. Funds are usually credited into your account after one confirmation.

BitMEX doesn't charge a fee for withdrawals. However, there is a network fee set dynamically based on blockchain load, and you can see this on the withdrawal page.

BitMEX isn't available in the US and some parts of the world. At the moment, BitMEX deploys a verification process that isn't particularly detailed. Hence, the company is finding it hard to gain recognition in the United States.