Why Bitcoin is worth HODLing
Bitcoin is currently circling around the $37,000 price point.

HODLing Bitcoin could give you solid returns long-term.

BTC is a solid purchase at its price point on January 31, 2022.
Bitcoin is the largest cryptocurrency token in terms of market capitalization; however, it has had its ups and downs historically, even just a year ago.
Its value also shapes the entirety of the cryptocurrency industry, so knowing what to watch out for within Bitcoin is essential so you can take advantage of the entire array of altcoins as well.
The performance of BTC in 2021 as an indication of its future potential
At the start of 2021, specifically in February, Bitcoin saw one of its highest value points of $57,539.94 on February 21. However, BTC then decreased to $45,137.77 on February 28. This was one of its first smaller dips of the year.
This was a decrease of $12,402.17 or by 21%.
Then, on April 13, the token increased to $63,503.46, which marked a huge moment of growth for the token. This was an increase of $18,365.69 or by 40%.
However, BTC dipped yet again on July 20, with a value of $29,807.35. This marked a decrease in value of $33,696.11 or by 53%.
However, this is why HODLing Bitcoin proved itself as a solid option for many traders, as on November 10, BTC increased in value to $69,044.77, which marked its latest all-time high value.
Here, the token essentially increased in value from July 20 to November 10 by $39,237.42 or by 131%.
Should you buy Bitcoin (BTC)?
On January 31, 2022, Bitcoin (BTC) had a value of $37,242.14.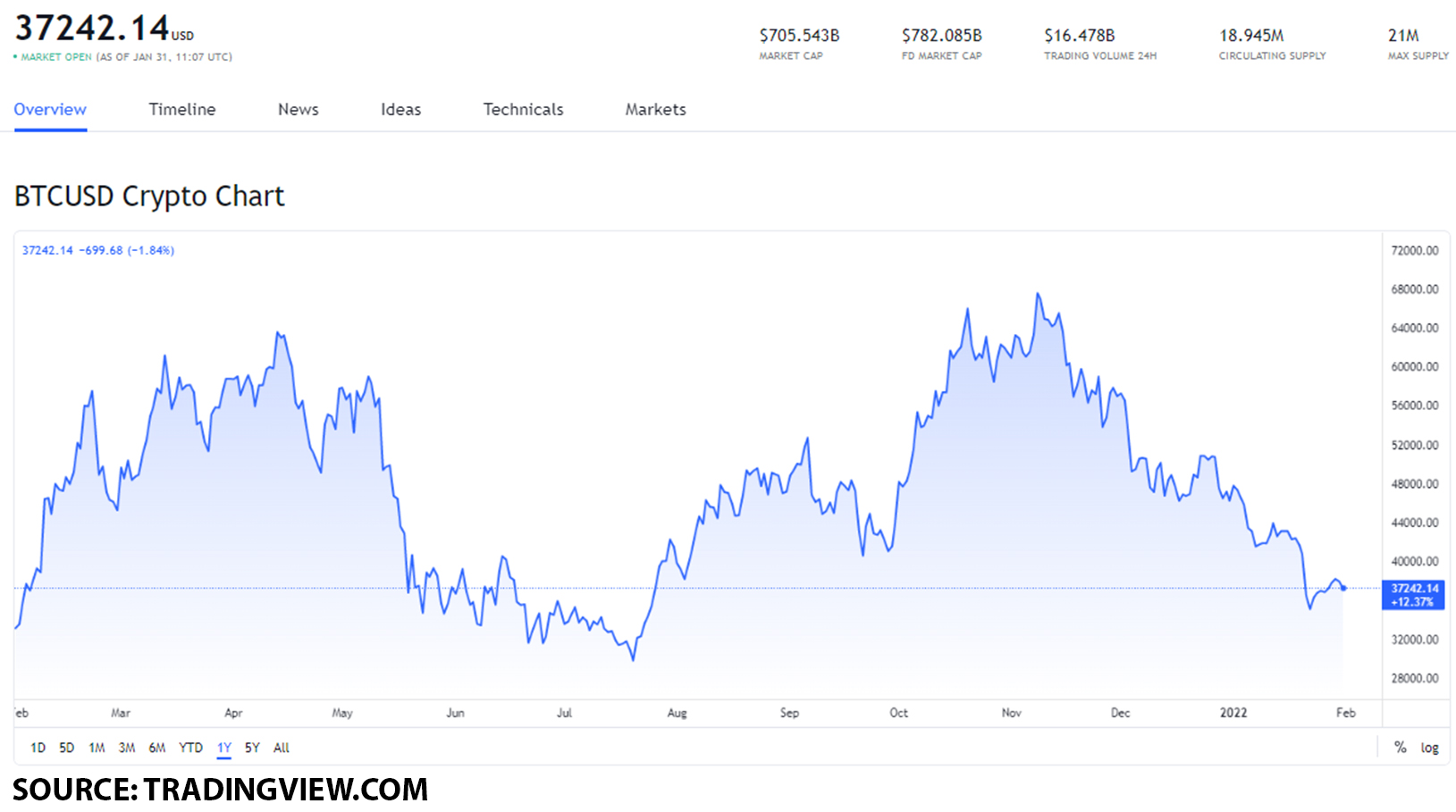 To get a better perspective as to what kind of value point this is for the BTC token and to see if it is worth buying and HODLing, we will be going over it's all-time high value as well as its performance throughout the previous month.
On November 10, BTC reached $69,044.77 in value, which is its ATH point. In other words, the token is currently $31,802.63 lower in value than its ATH point, or by 46%.
Bitcoin (BTC) saw a value of $58,667.85 on December 1. This was the token's highest point of value.
The token then decreased in value to $45,697.92 on December 18, and this essentially marked the lowest point of value for the token.
With all of this in mind, at $37,242.14, if you already have Bitcoin (BTC), then HODL. If you are interested in buying Bitcoin, it is a solid purchase at this value point as well.
When we take last year's performance into consideration, it is clear that BTC has the potential to reach $40,000 by the end of February 2022, making it a solid token to buy.