The Russia and Ukraine conflict's impact on the overall value of Bitcoin (BTC)
The entire crypto industry has been shaken up a bit after the Russia and Ukraine conflict, which is currently active. This has made Bitcoin dip in value; however, it has managed to recover afterward.
In any case, there are numerous events currently that utilize Bitcoin, and each of them provides a heightened level of utility for the BTC cryptocurrency token and showcases what it is actually capable of.
Bitcoin Utility as a catalyst for growth
According to data from the blockchain analytics firm Elliptic, The Ukrainian government and NGOs have provided support to the military and have raised $20 million through thousands of cryptocurrency donations since the start of the invasion.
One NGTO received a single Bitcoin donation worth $3 million. Based on their data, 56.4% of the total donations were in the form of the Bitcoin (BTC) cryptocurrency token, with the second being Ether (ETH) at 31.8%.
Additionally, Russian soldiers were offered Bitcoin in exchange for surrendering. In other words, any Russian soldier who surrenders to Ukraine will receive 5 million rubles worth of crypto or cash, according to Masha Efrosinina, a local TV host and honorary ambassador of the United Nations Population Fund in Ukraine.
The Polkadot founder Gavin Wood also said that he would donate $5 million if the Ukrainian government provided Polkadot's address, and Tom Robinson stated that the largest anonymous donation received by the Ukrainian government was Bitcoin worth $1.86 million.
Should you buy Bitcoin (BTC)?
On February 28, 2022, Bitcoin (BTC) had a value of $38,353.67.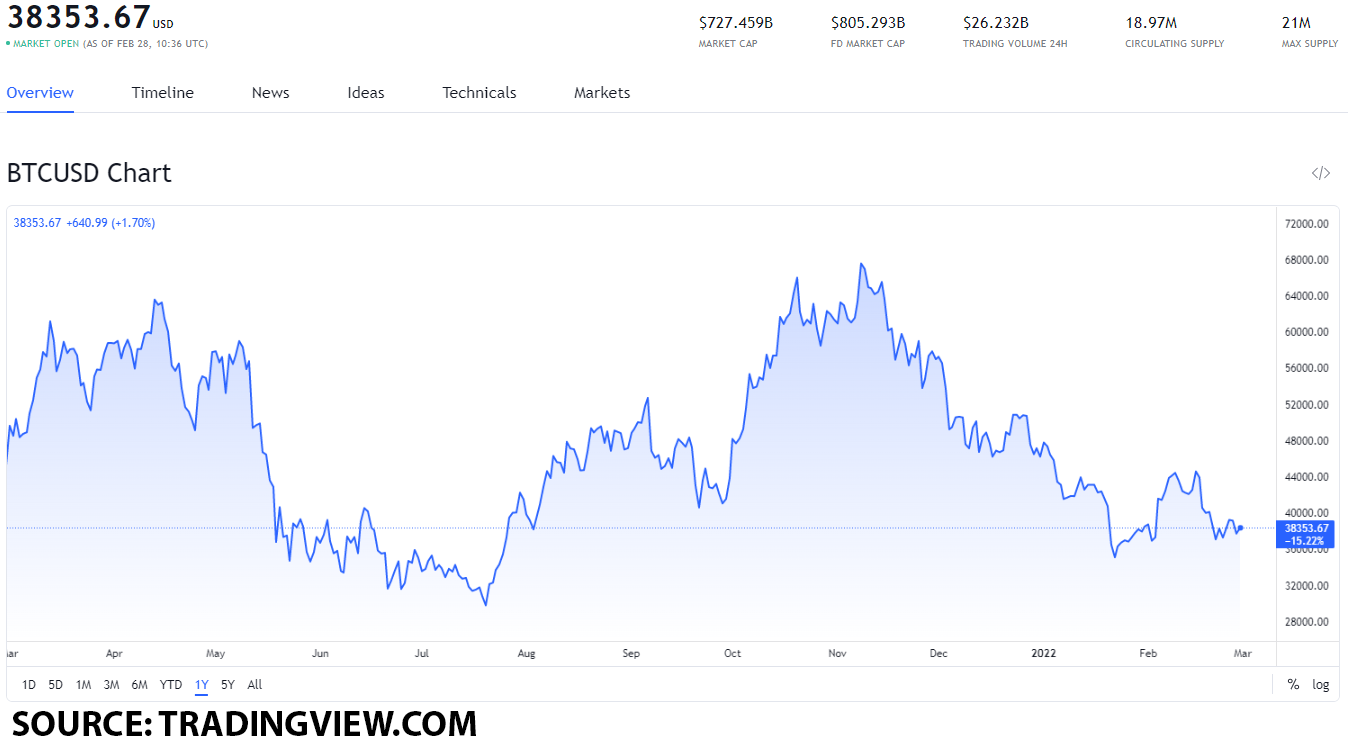 In order for us to get a better perspective as to what kind of value point this is for the BTC cryptocurrency token, we will be going over it's all-time high value, alongside its performance throughout the previous month.
The all-time high value of the Bitcoin (BTC) cryptocurrency token was on November 10, 2021, when the token reached a value of $69,044.77.
When we go over the performance of Bitcoin (BTC) throughout the previous month, we can see that its highest point was on January 2, 2022, when the token reached a value of $47,730.23.
However, its lowest point was on January 24, when the token saw a decrease in value of $33,495.91.
In other words, BTC has seen a lot of usage due to the conflict, and it is likely that it can reach $40,000 by the end of March, 2022.