Should you buy The Sandbox (SAND) after it topped $4 with the Metaverse Frenzy?
In the last 24 hours, SAND saw an increase in trading volume by 35%.

Its value jumped by 12% as well, showcasing a solid increase.

This is a solid opportunity for buying the SAND token.
The Sandbox is essentially this virtual metaverse where the players have the opportunity to build, own and even monetize their gaming experiences within the Ethereum blockchain.
Players can use the native utility token on the platform known as SAND and create digital assets in the form of Non-Fungible Tokens (NFTs), upload them to a marketplace, and integrate them into games with Game Maker.
The Sandbox Alpha as a catalyst for growth
On November 18, Sandbox introduced "The Sandbox Alpha," which is an open, multi-week Play-to-Earn event that starts on November 29 at 1 PM UTC.
Here, all players are given the opportunity to explore The Sandbox Metaverse for the very first time throughout 18 experiences created by the teams behind The Sandbox.
There's the Alpha Pass, which is an NFT ticket that allows players to completely explore these experiences in the Alpha Season content, where they can earn up to 1,000 SAND tokens alongside three exclusive NFT rewards.
The hype surrounding this alpha and the overall push for the metaverse is one of the main reasons why the SAND token has seen and will see tremendous growth even after this event finishes.
Note that even without the Alpha Pass, any player can access three full experiences. The Alpha HUB is the central multiplayer experience that showcases the locations, quests, and other information.
Should you buy Sandbox (SAND)?
On November 19, Sandbox (SAND) had a value of $4.4113.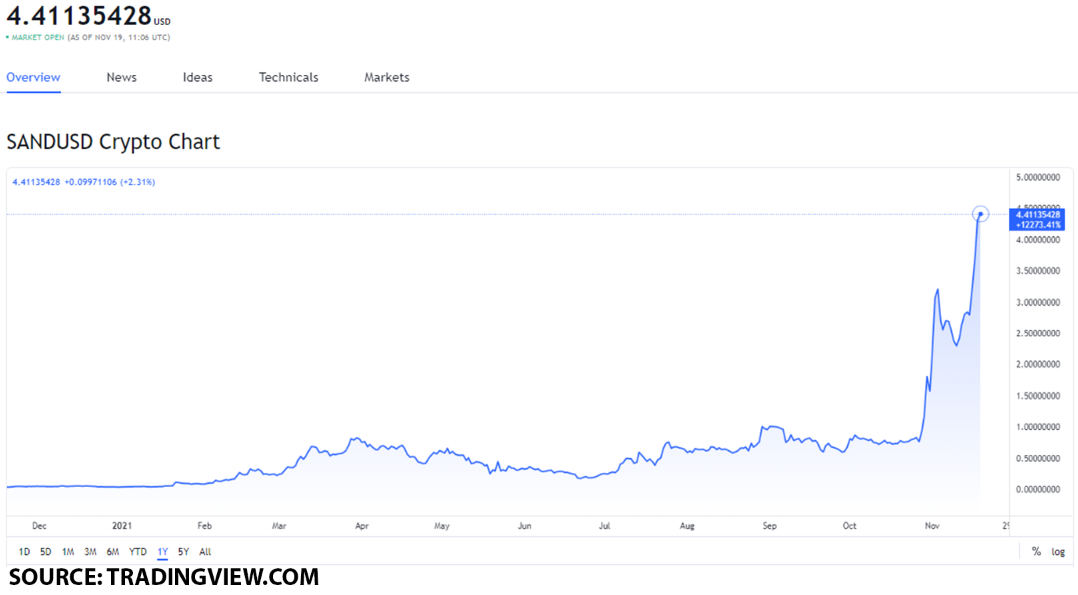 To get a better perspective as to what kind of value point this is for the SAND token, we will be comparing it to it's all-time high value as well as its performance in October.
On November 18, SAND saw its latest all-time high value at $4.64. Here, we can see that the token was $0.2287 higher in value or by 5% at its ATH point.
That said, when we go over the token's value in October, on October 1, it started off with its lowest point of value at $0.6626.
On October 31, the token grew to its highest point of value at $2.1424. Here we can see that the token increased in value by $1.4798 or by 223%.
With this in mind, we can expect SAND to reach a new ATH value point of $5 by the end of November, making it a solid buy.