Should you buy Shiba Inu (SHIB) on November 30?
SHIB saw an increase in trading volume by 435% in the last 24 hours.

SHIB's value increased by 34% in the last 24 hours.

This is the perfect opportunity to buy the SHIB token.
Shiba Inu (SHIB) is a meme token that eventually grew into its own ecosystem when it introduced ShibaSwap and the tokens BONE and LEASH.
SHIB is the native cryptocurrency token used in the ecosystem and has seen a huge increase in value as of lately.
Kraken Listing and Whale Purchase as a catalyst for growth
On November 30, a whale purchased $11 million worth of SHIB tokens.
This pushed SHIB's 24-hour transaction value to $3.6 billion. Due to this, SHIB's 24 -hour transaction value almost surpassed that of Ethereum's.
Additionally, Shiba Inu (SHIB) trading became live on Kraken on November 30. Kraken enabled order entry and execution.
SHIB became tradable against USD and EUR, with a trading minimum of 50,000 SHIB, a price precision of 8 decimal places, and a quantity precision of 5 decimal places.
Both of these aspects have boosted the value of the SHIB token, an Ethereum-based token inspired by Dogecoin, which was launched in 2020 by an anonymous developer named Ryoshi.
Should you buy Shiba Inu (SHIB)?
On November 30, Shiba Inu (SHIB) had a value of $0.00005177.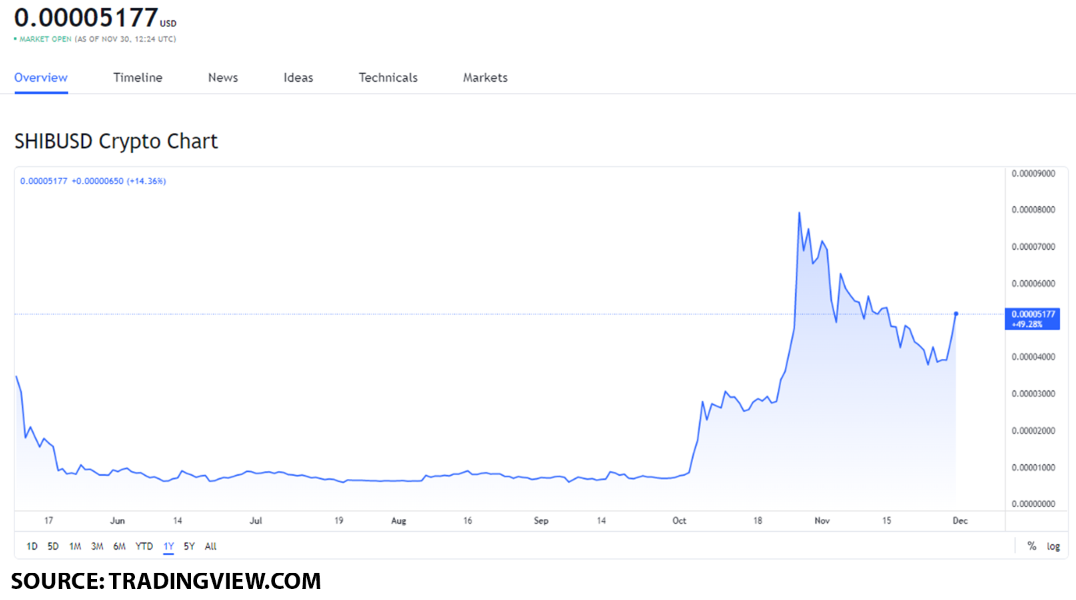 With the goal of getting an estimation as to what kind of value point this is for the token, we will compare it to it's all-time high value as well as its performance in October.
On October 28, the SHIB token achieved its all-time high value of $0.00008616. This means that on October 28, the value of the SHIB token was $0.00003439 higher than its value on November 30.
This means that it was 66% higher in value.
When we look at October's performance, SHIB saw its lowest point of value on November 1, when it had a value of just $0.000007179.
Its highest point of value was on October 28, when the token reached its highest point of the month with a value of $0.00008719.
Here, we can see that the token increased in value by $0.000080011 or by 1114% from October 1 to October 28.
With all of this in mind, we can expect the SHIB token to reach a value of 0.00008 by the end of December, making it a solid purchase.