Should you buy Polygon (MATIC) January 5 after its latest developments?
MATIC is the native token that powers Polygon

It has showcased promise for growth.

MATIC reached its ATH value on December 27 and has the potential to grow further.
Polygon is a scaling solution specifically developed to provide multiple tools which can improve the speed, alongside reducing the cost and complexities that occur whenever transactions occur within a blockchain network.
MATIC is the native cryptocurrency token that powers the Polygon network and is used to help drive the development, as well as for staking or for paying the transaction fees that occur.
Polygon ecosystem developments as a catalyst for growth
The Giving Block made an announcement on January 3 that they are proud to share that they started accepting donations in the form of MATIC tokens to over 1200 nonprofits.
On January 4, IDEX made an announcement that after they launched IDEX v3, within the span of a month, they broke $200,000,000 in total volume throughout a total of 465,000 trades.
Additionally, Showtime announced their new NFT marketplace, which utilizes eco-friendly NFTs on the Polygon network.
Vesper Finance became available on Polygon on January 5 through what is known as Vesper Earn. What this means is that users can now deposit DAI and earn yield in WBTC or WETH.
All of these developments can contribute to the further growth of the MATIC token as well as to the evolution of the Polygon ecosystem.
Should you buy Polygon (MATIC)?
On January 5, Polygon (MATIC) had a value of $2.434.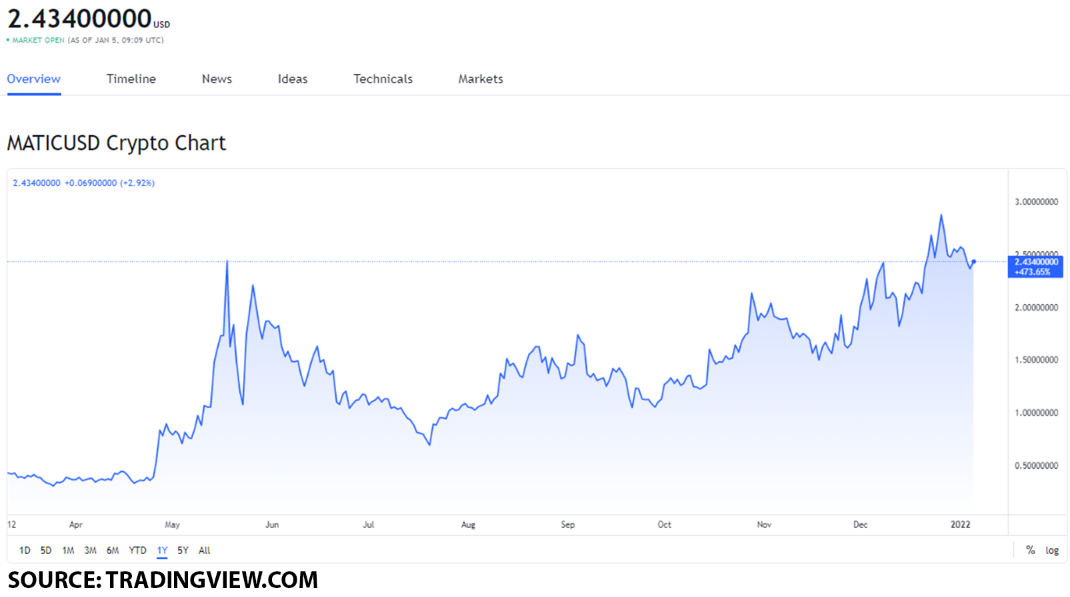 To get a better perspective as to exactly what this value point means for the MATIC token, we will go over its ATH point of value as well as its performance throughout the previous month.
When we look at the performance of the MATIC token in December, on December 6, the token had its lowest point of value at $1.761.
MATIC's all-time high value was on December 27, when it reached a value of $2.92. This gives us an indication that the MATIC token increased in value by $1.159 or by 65% from December 6 to December 27.
However, from December 27 to January 5, the token has decreased in value by $0.486 or by 16%.
With this in mind, this is a solid opportunity and price point through which the MATIC token can be bought, as it has the potential to reach $2.7 by the end of January.