Should you buy MATIC after Polygon made a $500 million buy for Ethereum push?
Polygon is buying startup firm Predicate Labs in a deal valued at $500 million.

Predicate Labs are the developers of the Mir blockchain protocol.

This is all in a push to expand Ethereum's capability.
Polygon is a protocol as well as a framework for building and connecting Ethereum-compatible blockchain networks.
It is a combination of the best of Ethereum and sovereign blockchains, with the goal of being a multi-chain system.
MATIC is the native cryptocurrency token that powers Polygon.
The Predicate Labs purchase as a catalyst for growth
Ethereum is one of the most-used blockchains in the world but has faced challenges when it comes to its capability, where users need to pay high fees.
Mir has a technology called zero-knowledge rollups that offload data from Ethereum to reduce fees and speed up transaction processing.
This entire acquisition is a part of a $1 billion Ethereum push by Polygon.
As a result of this, Mir will be integrated within the Polygon ecosystem under a new name, known as Polygon Zero, alongside all pre-existing technologies such as Polygon Hermez, Polygon PoS, and Polygon Miden.
This will help Polygon essentially become a larger player in terms of Layer 2 technologies.
These technologies take transactions from Ethereum, compress them, and put them back on the original chain for a lower cost when compared to doing transactions directly on Ethereum.
Should you buy Polygon (MATIC)?
On December 10, Polygon (MATIC) had a value of $2.12.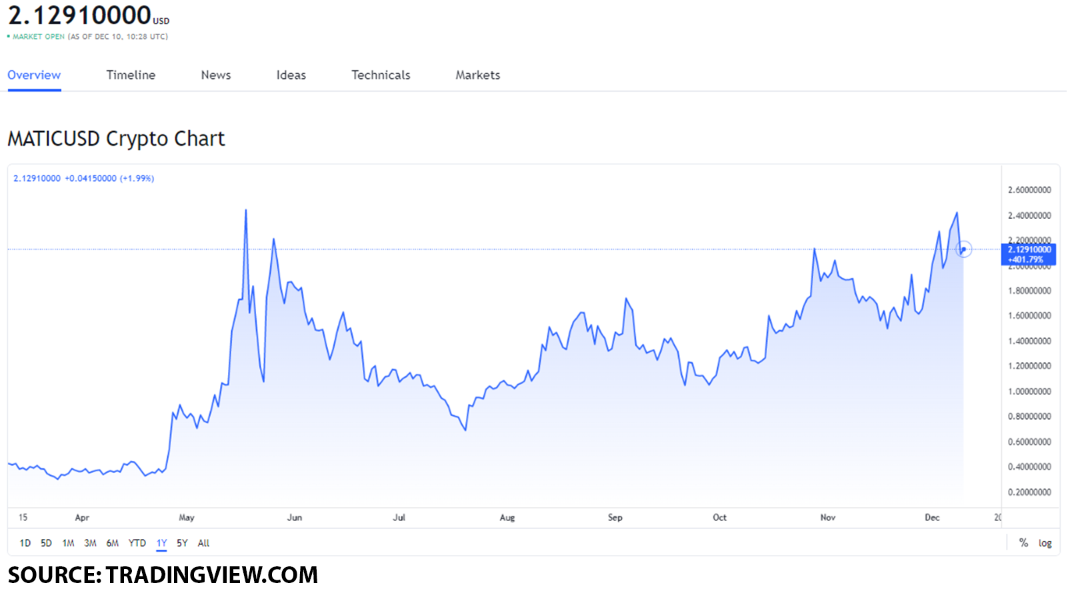 To see what this value point means for the Polygon (MATIC) token, we will go over its all-time high value as well as its performance last month.
When we look at the all-time high value of the MATIC token, we can see that the token was worth $2.62 on May 18. This gives us an indication that the token was $0.5 higher in value or by 23% at its ATH value point.
Now that we have that as a point of comparison, we will go over its performance in November.
On November 3, the token had its highest value point at $2.11.
Its lowest value point occurred on November 18, when the token fell to $1.47. Here, we can see that the token fell in value by $0.64 or by 30%.
However, from November 18 to December 10, the token jumped back up in value by $0.65 or by 44%.
This momentum can lead to the token climbing to a value of $2.50, making it a solid purchase.