Should you buy Decentraland (MANA) on December 21 after its recent developments?
Decentraland (MANA) is a digital asset token that is used to pay for all of the various goods or services within the world of Decentraland.
It is built on top of the Ethereum blockchain and follows the ERC-20 standards in regard to its tokens. MANA can also be bought as well as sold for FIAT currency.
Decentraland is a 3D virtual reality platform that has parcels of land which can be built upon.
Metaverse attention as a catalyst for growth
After Facebook rebranded to Meta, there has been a lot of hype surrounding the Metaverse, as it has been a concept pushed even to audiences who weren't into crypto prior to that announcement.
As such, Decentraland (MANA) has been pushing a lot of developments of their own.
On November 29, Decentraland posted on their official Twitter that they held their first-ever Metaverse Festival, where, in the span of four days, over 80 artists, as well as close to 50,000 attendees, claimed 11,204 NFTs.
WonderZone, who bild wearables and immersive games in Decentraland, made an announcement on December 20 that their Decentraland DAO proposal is posted again and asked the community for support.
However, these are just some of the developments within the virtual world, and there are more planned in the future, all of which can contribute to the growth of the MANA token.
Should you buy Decentraland (MANA)?
On December 21, Decentraland (MANA) had a value of $3.23.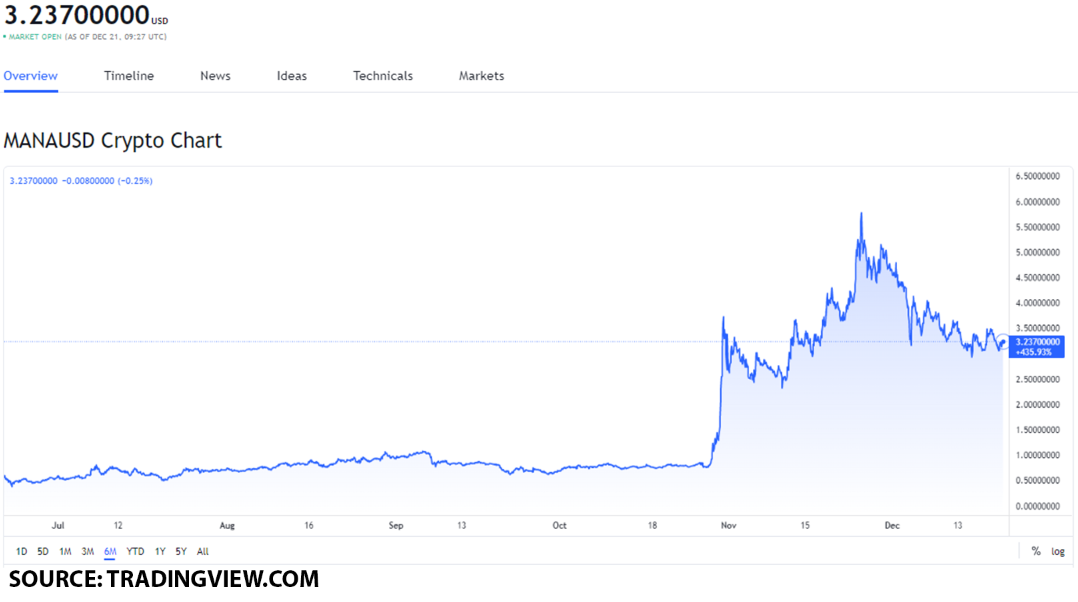 To get a better perspective as to what kind of value point this is for the MANA token, we will be going over it's all-time high-value point as well as the performance it showcased in November.
The lowest point of value in November for the MANA token was on November 10, when its value decreased to $2.33.
Decentraland (MANA) had its all-time high value on November 25, when it reached $5.85.
This gives us an indication that from November 10 to November 25, The MANA token increased in value by $3.52 or by 151%.
However, from November 25 to December 21, the token's value decreased by $2.62 or by 44%.
If Decentraland (MANA) goes above the $4 price barrier, it can reach $5 by the end of January 2022.
However, if the token drops in value under $3, then it might be worth reconsidering.