Should you buy BTC after Ukraine made cryptocurrencies legal?
Bitcoin has remained at the $40,000 price range.

The token's value is following the Federal Reserve's interest rate hike.

The crypto has traded higher in four of the past five days.
Due to the fact that Bitcoin (BTC) is the largest and most popular cryptocurrency token, it has the highest level of interest.
Bitcoin's market cap essentially shapes the entire industry, and it is excellent to see that the token still remains above the $40,000 price range.
Ukraine's legalization of crypto as a catalyst for growth
Ukraine has been using many digital asset donations as a means of supporting the country's defense against the Russian invasion.
In fact, the President of Ukraine, Volodymyr Zelenskyy, has enacted a law officially making cryptocurrencies legal in Ukraine.
According to this law, any foreign and Ukrainian crypto exchange can operate legally in Ukraine.
This news came on March 16, 2022, when the Ministry of Digital Transformation of Ukraine posted a statement on Twitter and their official website.
The draft "On Virtual Assets" law was first passed in a near-unanimous vote within Ukraine's parliament in September of 2021.
Afterward, Zelenskyy vetoed the bill in October, where he argued that the costs of establishing this new regulatory body to oversee cryptocurrencies were too steep.
However, this newly signed bill was an amended one that addressed his concerns and was backed by a majority in the Verkhovna Rada, which is the Ukrainian Parliament, in a new vote on February 17.
Should you buy Bitcoin (BTC)?
On March 17, 2022, Bitcoin (BTC) had a value of $40,876.23.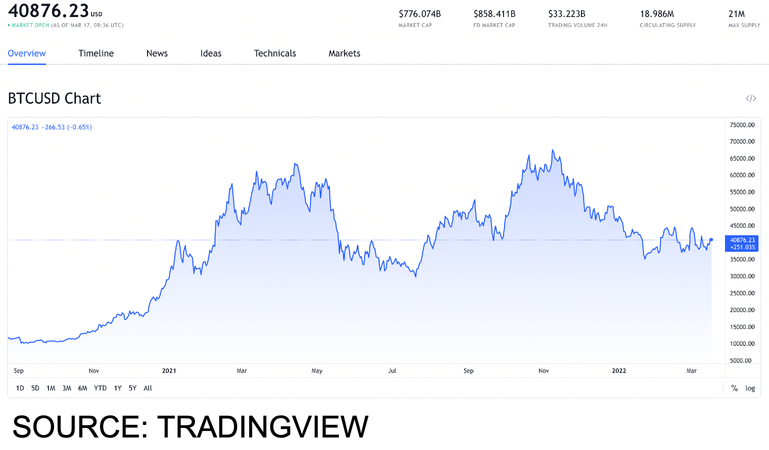 In order for us to get a better perspective as to what kind of value point this is for the BTC cryptocurrency token, we will be going over its all-time high point of value as well as its performance throughout the previous month.
The all-time high of the Bitcoin (BTC) token was on November 10, 2021, when it reached a value of $69,044.77.
When we go over the performance of the token throughout the previous month, Bitcoin (BTC) had its highest point of value on February 10 at $45,387.26.
Its lowest point was on February 24, when the token decreased to $34,750.15.
This means that the token decreased by $10,637.11 or by 23%.
However, from February 24 to March 17, the token increased in value by $6,126.08.
With this in mind, we can expect BTC to reach $42,000 in value by the end of March 2022.