Should you buy BTC after Bitcoin's value is predicted to reach $150,000?
Bitcoin's trading volume saw an increase of 60% in the last 24 hours.

From January 24 to February 11, the token increased in value by $10,078.98.

BTC has huge potential for growth ahead of it.
Bitcoin (BTC) is by far one of the largest cryptocurrency tokens in terms of market capitalization, and despite its recent market swings, it has remained high up in value over the $40,000 point.
However, due to the fact that it is the largest cryptocurrency token out there, there is a lot of analytics surrounding its potential growth in the future.
JPMorgan Predicts a long-term BTC price of $150,000
The Global Investment bank, JPMorgan, has predicted that the long-term price of Bitcoin can reach $150,000, while the fair value of the cryptocurrency is at $38,000.
Nikolaos Panigirtzoglou, JPMorgan Chase & Co.'s strategists, wrote in a research note that their long-term theoretical target for the value of the BTC cryptocurrency token is at $150,000, up from $146,000 predicted the previous year.
Another banking giant, Wells Fargo, also released its own cryptocurrency market lookout in a report, stating that the global crypto adoption might "soon hit a hyper-inflection point" as "it is still early in the cryptocurrency investment evolution."
Should you buy Bitcoin (BTC)?
On February 11, 2022, Bitcoin (BTC) had a value of $43,574.89.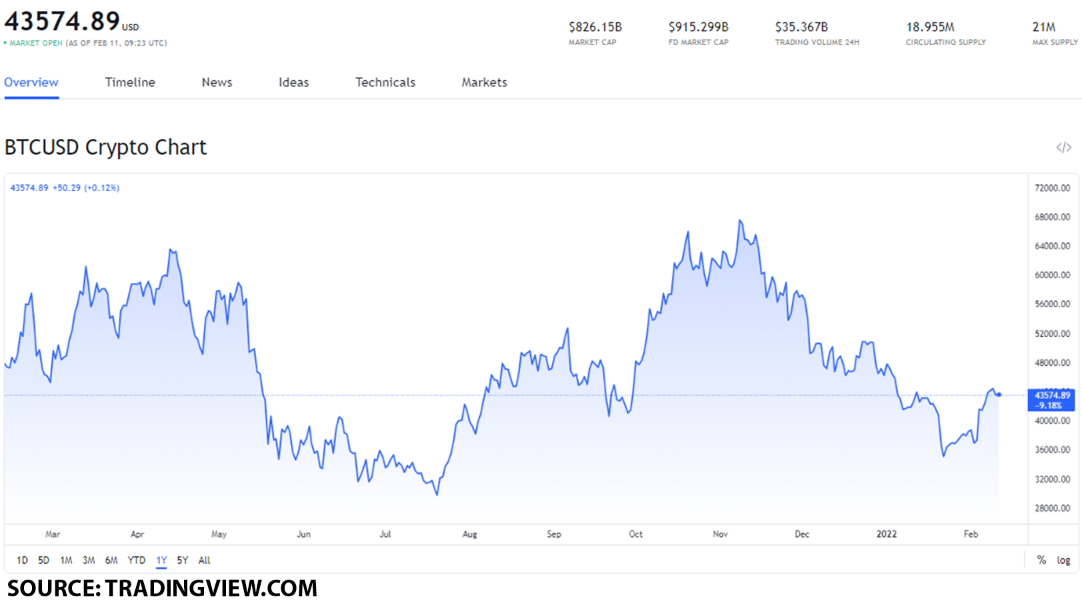 To get a better perspective as to what this value point means for the Bitcoin (BTC) cryptocurrency token, we will be going over it's all-time high value, as well as its performance throughout the previous month.
The all-time high value of Bitcoin (BTC) was on November 10, 2021, when the token reached a value of $69,044.77. With that in mind, we can see that the token was $25,469.88 higher in value or by 58% at its ATH.
When we go over last month's performance, Bitcoin (BTC) had its highest point of value on January 2, with a value of $47,730.23.
Its lowest value point, however, was on January 24, when the token decreased to a value of $33,495.91.
Here, we can see that the token decreased in value by $14,234.32 from the span of January 2 to January 24.
However, from the span of January 24 to February 11, the token increased in value by $10,078.98 or by 30%.
With this in mind, we can expect Bitcoin (BTC) to reach $47,000 by the end of March 2022, making it a solid token to buy.