Should you buy Bitcoin now after it bounced off six-month lows?
Bitcoin's value has increased by 8% in the last 24 hours.

Its trading volume also saw a 65% increase.

Bitcoin has the potential to climb back up in value quickly.
Bitcoin (BTC) is by far one of the largest cryptocurrencies in terms of market capitalization.
This has made it the prime token for analysis, as its value and increases or decreases essentially shape the entirety of the crypto industry.
Bitcoin has bounced off its six-month lows, so is it now the right time to buy it?
Gaining back its value
Bitcoin started gaining back some of its value on January 24, as buyers stepped in to buy the cryptocurrency after tumbling to its lowest level throughout the past six months.
This was mainly due to the fear of a Russian attack on Ukraine and before this week's Federal Reserve meeting.
That said, the Federal Reserve has a two-day policy meeting planned that starts Tuesday, January 25, and the U.S. central bank is expected to confirm that it will soon start draining a pool of liquidity that has supercharged growth stocks.
Around $465 million in crypto assets were liquidated throughout the span of the last 24 hours, with Bitcoin trades accounting for $167 million of this sum.
In any case, Bitcoin has genuine potential towards climbing back up in value throughout the following month.
Should you buy Bitcoin (BTC)
On January 25, 2022, Bitcoin (BTC) had a value of $36,407.94.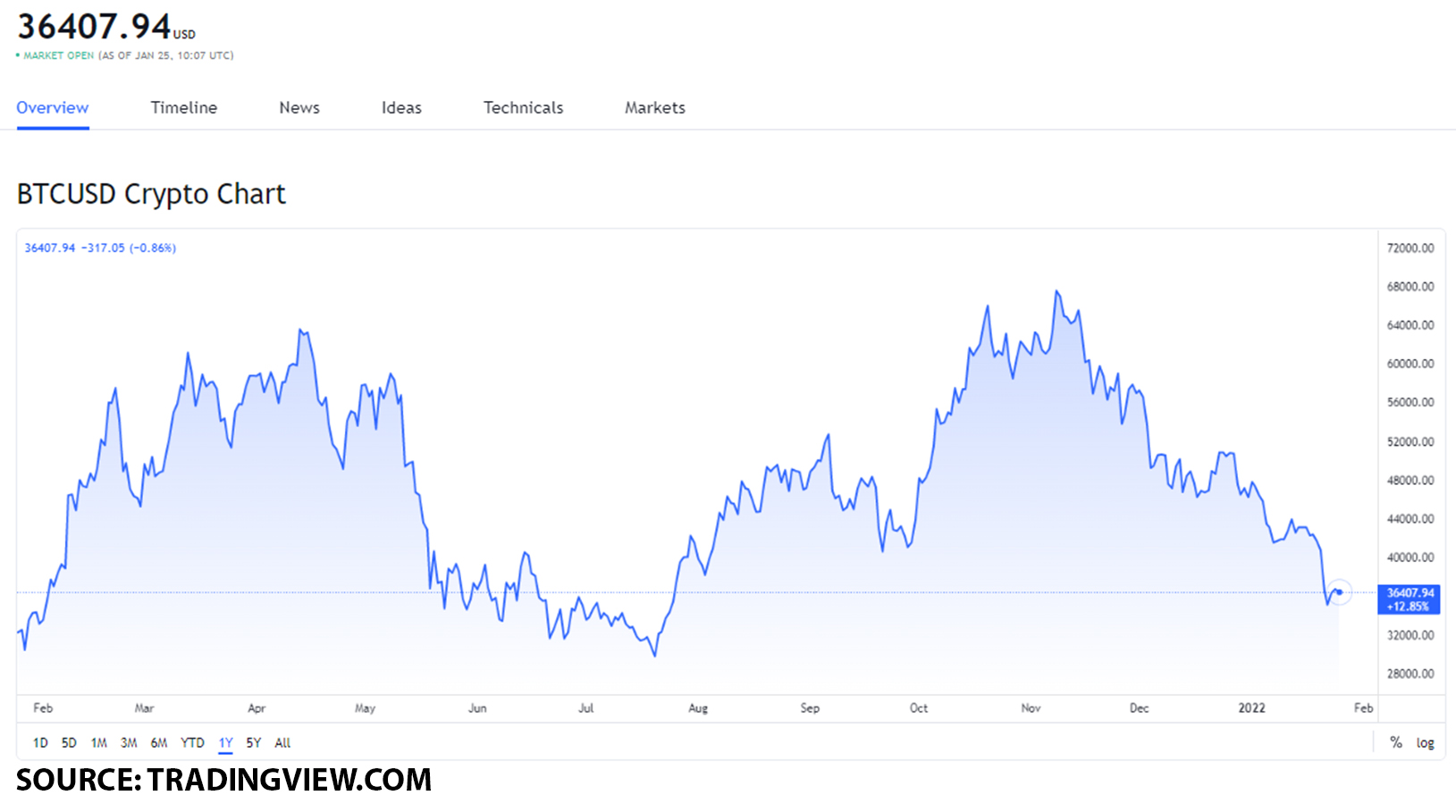 In order for us to get a better perspective as to what this value point means for the Bitcoin (BTC) token, we will go over it's all-time high value and its performance last month.
The all-time high value of the Bitcoin (BTC) cryptocurrency token was on November 10, 2021, when it reached a value of $69,044.77. This makes the token $32,636.83 higher in value at its ATH point than the value it had on January 25, 2022.
In December, Bitcoin (BTC) had its highest point of value on December 1, with a value of $58,667.85.
Its lowest value point was on December 18, when the token decreased in value to $45,697.92. This marked a decrease in value of $12,969.93 or by 22%.
With all of that in mind, Bitcoin (BTC), with its recent increase in value, has the potential to get back up to $38,000 by the end of February 2022.