Should you buy Bitcoin (BTC) on February 2, 2022 after MicroStrategy bought 660 more BTC for $25 million?
MicroStrategy buys 660 More BTC tokens.

They are estimated to be worth $25 million at the time of writing.

This interest in BTC could boost its value long-term.
Bitcoin is by far one of the largest cryptocurrency tokens in terms of market capitalization, which has dominated the crypto industry ever since its creation.
This is a token that a lot of investors consistently keep an eye on due to the fact that it essentially shapes the entire industry.
The MicroStrategy 660 BTC purchase as a catalyst for growth
Michael Saylor, who is the Chairman & Chief Executive Officer of MicroStrategy, made an official announcement on Twitter on February 1, 2022, that the company purchased another 660 BTC tokens at an average price of $37,865 per coin.
Additionally, Saylor noted that as of January 31, 2022, the company held 125,051 BTC acquired for $3.78 billion at an average price of $30,200 per Bitcoin.
Furthermore, they will not stop buying crypto regardless of whether the prices are high or low.
This increased interest and purchase of the BTC cryptocurrency token will steer investor confidence and can increase the value of the token.
Should you buy Bitcoin (BTC)?
On February 2, 2022, Bitcoin (BTC) had a value of $38,623.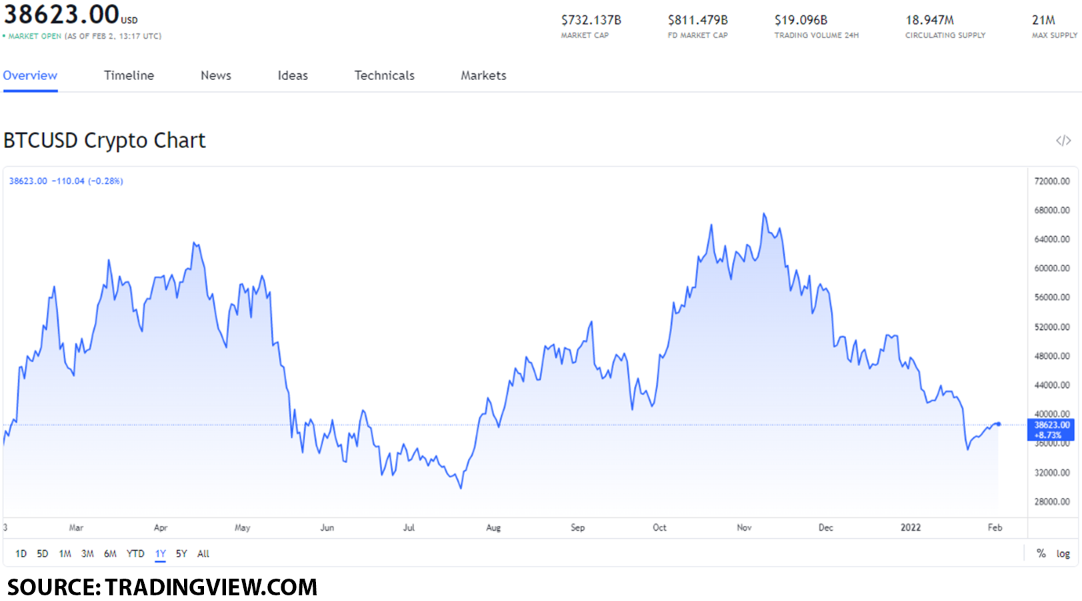 To get a better perspective as to what all of this really means for the BTC cryptocurrency token, we will be going over it's all-time high point of value, alongside its performance throughout the previous month.
The all-time high value of Bitcoin (BTC) was on November 10, 2021, when the token reached a value of $69,044.77. This essentially gives us an indication that at its ATH, the token was $30,421.77 higher in value or by 78%.
When we go over January's performance of the Bitcoin (BTC) cryptocurrency token, we can see that its highest point was on January 2, 2022, when it reached $47,730.23 in value.
Its lowest value point, however, was on January 24, when the token decreased in value to $33,495.91.
This gives us an indication that from the span of January 2, 2022, to January 24, 2022, the BTC cryptocurrency token decreased in value by $14,234.32 or by 30%.
However, from January 24, 2022, to February 2, 2022, the BTC cryptocurrency token also saw an increase of $5,127.09, or by 15%.
With this in mind, we can expect BTC to reach $42,000 by the end of February 2022, making it a worthwhile token to buy.