Should you avoid buying Bitcoin (BTC) on January 30, 2022 or can it reach $40K?
BTC is one of the largest cryptocurrency tokens in terms of market capitalization.

BTC's value saw an increase in the last 24 hours.

BTC has the potential to kick back up to $40,000 soon.
Bitcoin (BTC) has a reputation for shaping the entirety of the crypto industry. It is one of the most-mined tokens out there, as it utilizes the Proof-of-Work (PoW) consensus mechanism.
What this means is that developments in the world, as well as regulatory changes, can impact its value tremendously.
In any case, despite its recent DIP, BTC has seen some level of growth and has kicked back up in value.
Bitcoin's bullish indicators as a catalyst for growth
The Biden Administration is developing a strategy as a means of regulating cryptocurrencies due to national security challenges posed by Bitcoin has been one of the reasons why the token dipped as of recently.
Additionally, the Federal Government actions began a massive campaign for traders to sell their BTC holdings. Geopolitical conflicts also have the ability to alter the value of the BTC token. Specifically, Russia and Ukraine are accumulating tensions on a global scale.
However, popular analyst Matthew Hyland revealed bullish cues from BTC's relative strength indicator (RSI), where, across multiple chart timeframes, RSI hit its most "oversold" levels since March of 2020. "The two previous breakouts during the past year have lead to massive bullish moves.", Hyland added.
Once all of this settles down, BTC has genuine potential to kick back up in value and increase from its current $38,059 price point.
Should you buy Bitcoin (BTC)?
On January 30, 2022, Bitcoin (BTC) had a value of $38,059.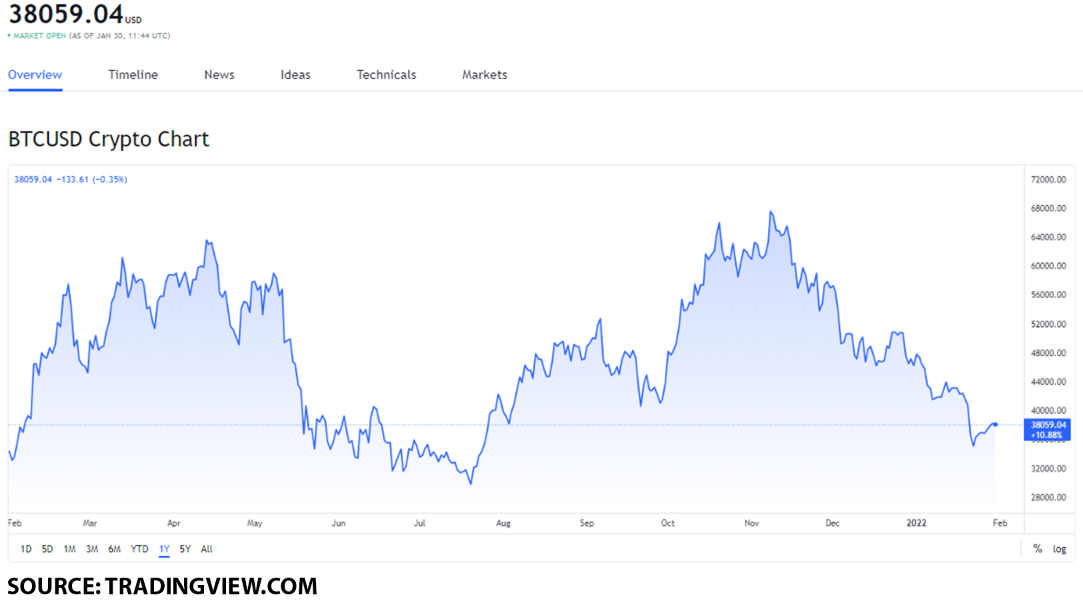 To get a better perspective about what this value point actually indicates for the Bitcoin (BTC) cryptocurrency token, we will be going over it's all-time high value alongside its performance throughout the previous month.
Bitcoin (BTC)'s all-time high was achieved on November 10, 2021, when the token reached a value of $69,044.77. What this means is that at its ATH, the token was $30,985.77 higher in value or by 81%.
Bitcoin (BTC) had the value of $58,667.85 on December 1, with its lowest point.
The token then decreased in value to $45,697.92 on December 18, which marked its lowest point of that specific month. This marked a decrease in value of $12,969.93 or by 22%.
With all of this in mind, BTC has the potential to reach $40,000 in value by the end of February 2022, making this the perfect time to buy the BTC cryptocurrency token.