Is now the right time to buy BTC after the token decreased to $38k?
Bitcoin's trading volume increased by 122% throughout the span of the last 24 hours.

The token has dropped to $38k in value, one of its lowest points as of recently.

Bitcoin could potentially kick back up in value, assuming it breaks the $38k price barrier.
Bitcoin (BTC) is by far one of the largest cryptocurrency tokens in terms of market capitalization currently available.
As such, its value, and increase or decrease of it, impact the entire industry, as well as almost every altcoin out there. While there are exceptions that rarely drop in value if Bitcoin does, for the majority of the tokens, BTC is a benchmark or goal to be bypassed.
The market crash as a reason for the decrease in value
The overall cryptocurrency market is showcasing red flags as of January 21, 2022.
Bitcoin's price has plummeted to $38,756.99, as it could not withstand this bearish market.
Before this price crash, the BTC token was trading somewhere between $45,000 and $39,000 at the least throughout the previous week. This has sent shockwaves down the market, as many other altcoins, such as Ethereum (ETH), Binance Coin (BNB), Solana (SOL), and others, are decreasing in value as well.
However, we have historically seen Bitcoin kick back up in value even under worse circumstances, so there is optimism among investors that this token could reach back up to the $40,000 value point, but the question is when.
Should you buy Bitcoin (BTC)?
On January 21, 2022, Bitcoin (BTC) had a value of $38,756.99.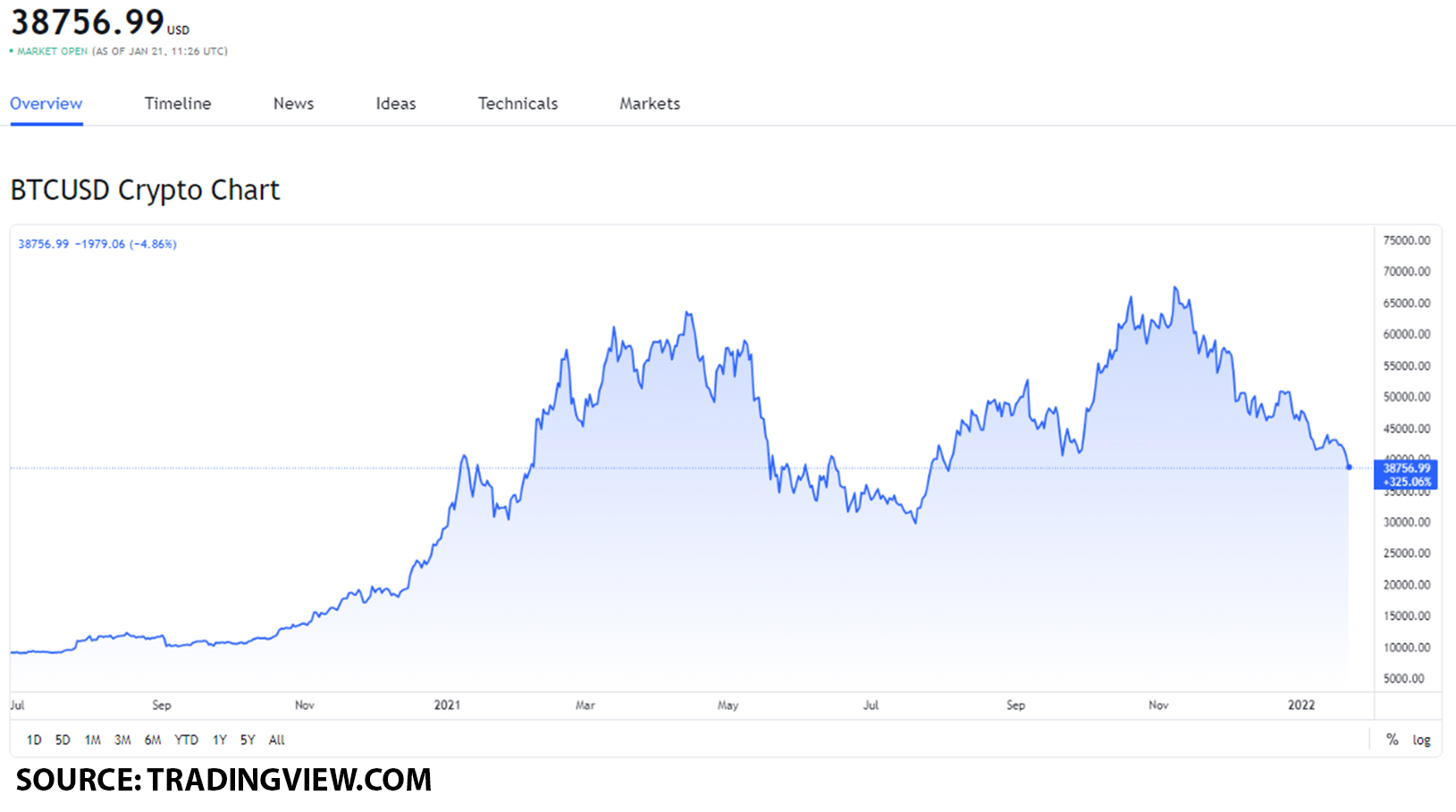 To get a better perspective on what kind of value point this is for the Bitcoin (BTC) token, we will go over the token's all-time high point of value alongside its performance last month.
In terms of the all-time high value of the BTC cryptocurrency token, it was $69,044.77; a value reached on November 10, 2021.
When we go over the performance of Bitcoin throughout December, we can see that on December 1, the token had its highest point of value at $58,667.85.
However, its lowest value point of the month was on December 18, when the token saw a decrease in value to $45,697.92.
The token is currently $30,287.78 lower in value when compared to its all-time high value.
From December 1 to December 18, the BTC token decreased in value by $12,969.93.
However, at $38,756.99, the BTC cryptocurrency token is by far at one of its cheapest points throughout 2022, which might make it a solid opportunity for newcomer investors, as it could potentially get back up to $40,000 by March of 2022 after this dip.
However, the opposite is also true, and BTC should be reconsidered if it decreases under $38,0000.