Is it worth buying Bitcoin after the recent increase in crypto donations ?
Ukraine has received more than 102,000 crypto asset donations that total $54.7 million.

These went to the Ukrainian Government and Come Back Alive.

Switzerland's City of Lugano will make bitcoin legal tender.
Bitcoin BTC/USD is the largest cryptocurrency token in terms of market capitalization and global adoption, especially throughout recent world events.
In fact, not only has Bitcoin been the top cryptocurrency used for donations, but it will also become legal tender in Switzerland's City of Lugano.
Crypto donations and Lugano's developments as catalysts for growth
Donations in cryptocurrencies such as Bitcoin (BTC) are pouring into Ukraine as a result of the war with Russia.
Ukraine announced that it would accept Bitcoin, Ethereum, and USDT on February 26, 2022.
Ever since Moscow invaded, which occurred on February 24, there have been over 102,000 crypto assets donated within the country, which total $54.7 million.
These have gone to the Ukrainian government directly as well as to Come Back Alive, which is an NGO providing support to the military.
Furthermore, the 60,000 plus citizens of Lugano will be able to transact, invest, and pay taxes through the usage of cryptocurrencies such as Bitcoin, USDT Tether, and LVGA tokens after all three cryptocurrencies are accepted as legal tender within the city.
This announcement was made on March 3, 2022, by the Mayor of the City, Michele Foletti, in the event that was organized by the city in collaboration with Tether.
Should you buy Bitcoin (BTC)?
On March 4, 2022, Bitcoin (BTC) had a value of $41,642.83.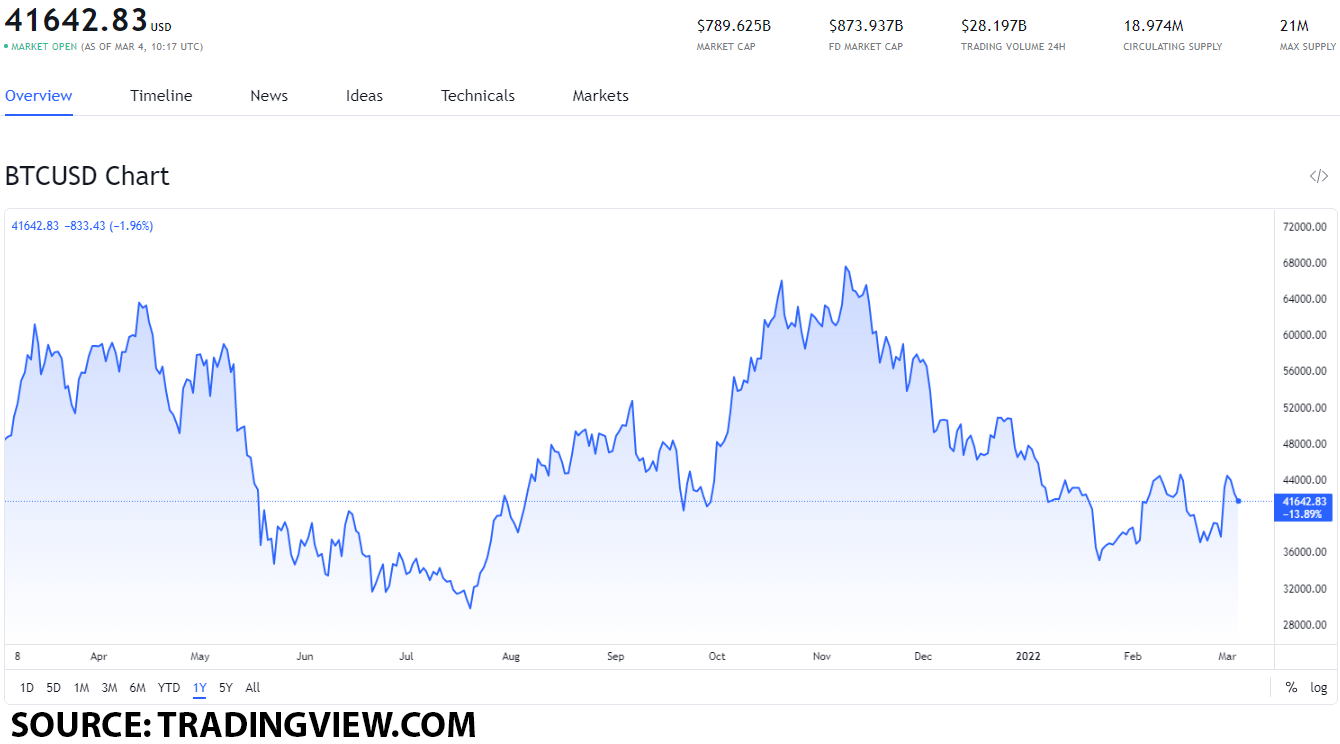 The all-time high value of Bitcoin (BTC) was on November 10, 2021, when the token reached a value of $69,044.77. This means that at its ATH, the token was $27,401.94 higher in value, or by 65%.
When we take into consideration the performance of the token throughout the previous month, Bitcoin (BTC) had its highest point of value on February 10 at $45,387.26.
Its lowest point of value, however, was on February 24 at $34,750.15. This indicated a decrease in value of $10,637.11 or 23%.
However, from the span of February 24 to March 4, the token saw an increase in value of $6,892.68 or by 20%.
With this in mind, we can expect the Bitcoin (BTC) cryptocurrency token to reach a value of $45,000 by the end of March 2022.