Is it now a good time to buy Bitcoin after Biden's executive order on digital assets split the crypto industry?
The US President Joe Biden signed an Executive Order on ensuring responsible developments of digital assets.

Part of the crypto community is optimistic that this will lead to clearer regulations and a fairer approach towards the assets.

Another part is concerned that the order lacks substance or is too focused on the central bank's digital currencies.
Bitcoin (BTC) is truly the largest cryptocurrency token, which has remained on the number one spot in terms of market capitalization ever since it was initially created.
It is the benchmark to what each altcoin strives to achieve. However, it is also the go-to currency for any media coverage or for any consideration in regards to regulation.
Biden's executive order and its potential outcome
On Wednesday, March 9, 2022, President Joe Biden signed the Executive Order on Ensuring Responsible Development of Digital Assets.
The stated purpose of this order is to find ways through which risk can be mitigated to both individual customers as well as the overall global financial system and also prevent any crypto misuse for criminal activities.
It also has the additional functionality of essentially cementing the United States as a leader in technological innovation.
The bill also gives specific agencies 3 to 7 months to report back to the president on a variety of issues. This is essentially setting up a comprehensive regulations industry that actors have been asking for and fearing if it does not go their way.
Should you buy Bitcoin (BTC)?
On March 10, 2022, Bitcoin (BTC) had a value of $39,170.03.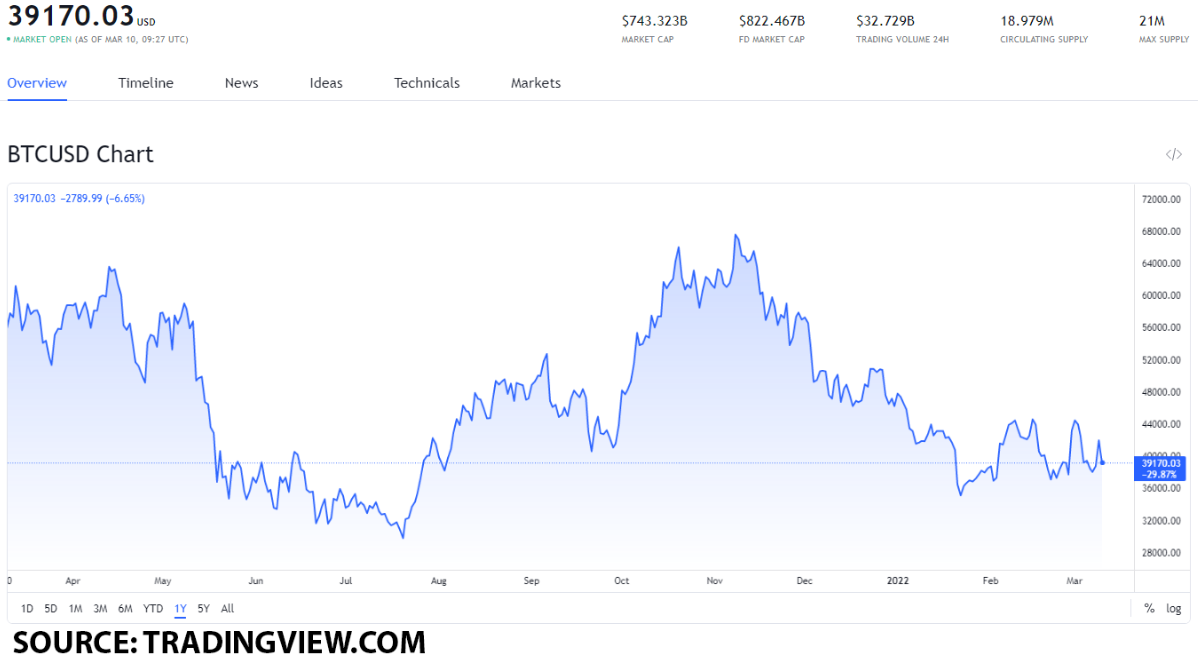 In order for us to get a better perspective as to exactly what this value point means for the BTC cryptocurrency token, we will be going over its all-time high value alongside the performance it showcased throughout the previous month.
The all-time high value of the Bitcoin (BTC) token was on November 10, 2021, when it reached $69,044.77. This means that at its ATH, the token was $29,874.74 higher in value or by 76%.
When we go over the performance of the token throughout the previous month, Bitcoin (BTC) had its highest point of value on February 10 at $45,387.26.
Its lowest point of value was on February 24, when the token decreased to a value of $34,750.15. Here, we can see that the token decreased in value by $10,637.11 or by 23%.
However, from February 24 to March 10, the token increased in value by $4,419.88 or by 12%.
With all of this in mind, we can expect the BTC cryptocurrency token to reach a value of $42,000 by the end of March 2022.