Is BTC worth buying prior to the Bitcoin Bond launch in El Salvador?
in's trading volume increased by 62% throughout the span of the last 24 hours.

Its value and market cap also saw an increase of 0.30%.

Bitcoin has a lot of room for future growth, and we will be going over by exactly how much.
Bitcoin (BTC) is by far one of the largest cryptocurrency tokens currently available in terms of its market capitalization, value, overall mass adoption, and mass appeal.
The token has experienced a massive level of volatility in its value, and despite its recent dips in value, it has managed to remain on top.
El Salvador's potential launch of Bitcoin bond as a catalyst for growth
The El Salvador Finance Minister, Alejandro Zelaya, made an announcement that the launch of Central America's Bitcoin bond could occur between the span of March 15 to March 20.
That said, the ongoing conflict with Ukraine and apprehension from institutional investors could pose launch issues.
Specifically, Zelaya told in an interview with Frente a Frente that the preparations are almost done and noted the correct timing for the launch. We did, however, see clarification that the launch is still counting on "international content," which pertained to the ongoing conflict between Russia and Ukraine, that the finance minister "didn't expect."
Additionally, Cash App joined the Bitcoin 2022 Conference as a title partner. Bitcoin 2022 will be held at the Miami Convention Center, and it is expected to bring new changes to the crypto world.
Should you buy Bitcoin (BTC)?
On March 14, 2022, Bitcoin (BTC) had a value of $39,105.85.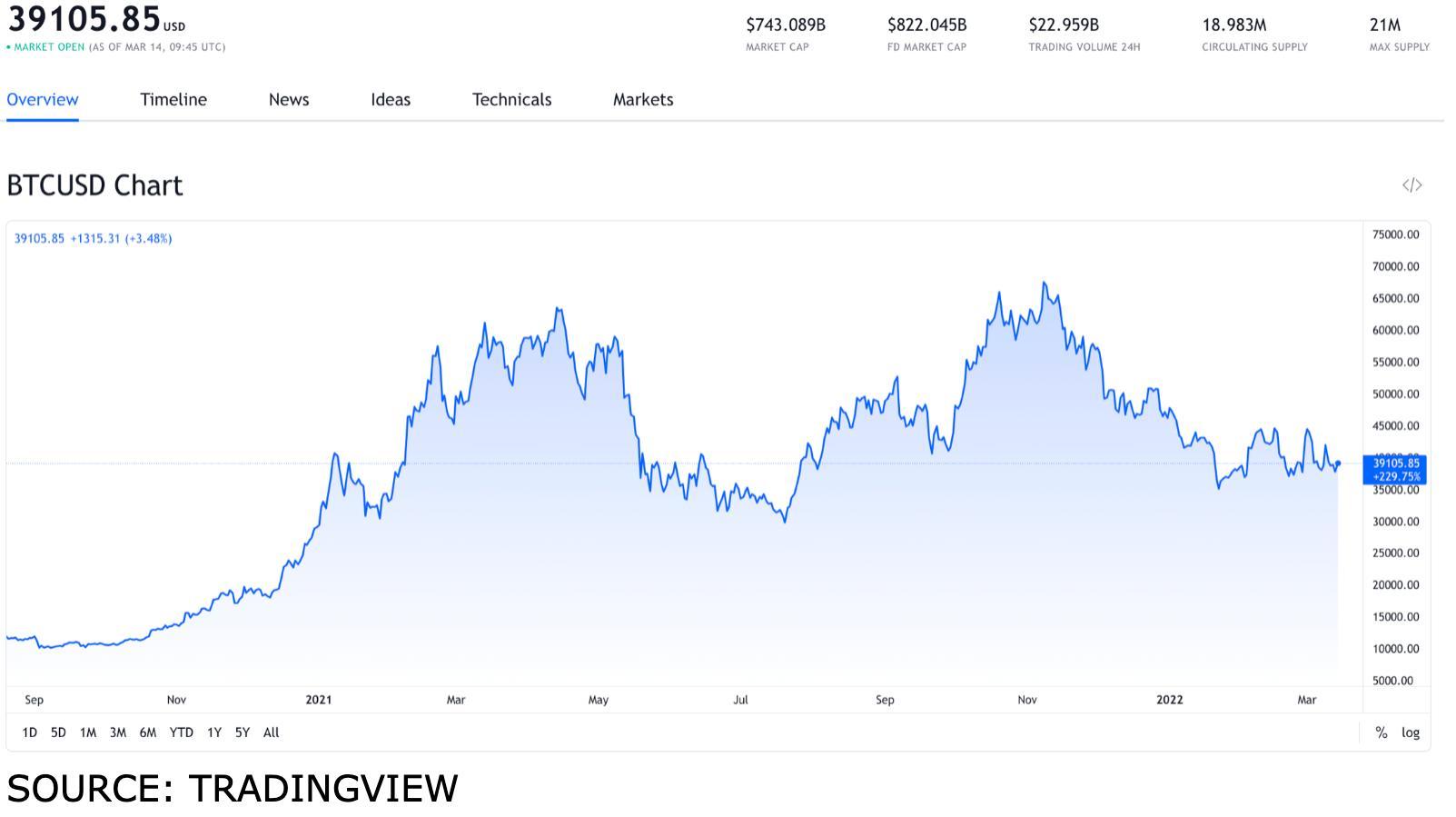 To get a better perspective as to what kind of value point this is for the Bitcoin (BTC) cryptocurrency token, we will be going over it's all-time high value, as well as through its performance throughout the previous month.
When we go over the all-time high value of the Bitcoin (BTC) token, we can see that it was on November 10, 2021, when the token reached a value of $69,044.77.
Here, we can see that at its ATH point of value, the token was $29,938.92 higher in value, or by 76%.
In terms of the performance of the token throughout the previous month, Bitcoin (BTC) had its highest point of value on February 10, when the token reached a value of $45,387.26.
On February 24, 2022, the token dipped to its lowest point of value at $34,750.15. This gives us an indication that the token saw a decrease in value of $10.637,11 or by 23%.
However, from February 24 to March 14, the token increased in value by $4.355,7 or by $12%.
With all of this in mind, we can expect Bitcoin to reach $42,000 by the end of March 2022, making it a solid token to buy.