Is BTC worth buying after industrial outflows reach $73M?
Weekly institutional Bitcoin Outflows reached $73 million

Bitcoin transactions reached the lowest fees in 2 years

Australia's first Bitcoin ETF could attract $1 billion
Bitcoin (BTC) is the largest cryptocurrency token, both in terms of its market capitalization as well as the global interest in what it offers.
There have been numerous recent updates relating to the overall Bitcoin blockchain, as well as the global adoption of the coin, which could lead to an increase in its value.
Low transaction fees and Outflows reaching $73 million could impact BTC's value
Bitcoin (BTC) investment products have taken a major hit, as digital asset investment products have reached $73 million.
The outflows from all crypto investment products stood at $97 million throughout last week due to the drop in the market cap of digital assets.
However, Bitcoin transaction fees have also been much easier to deal with due to the fact that they ended up reaching a two-year low in price.
The average transaction fee per Bitcoin (BTC) transaction made a complete turn, as it has settled down to $1.039, which is a number that was last recorded in June 2020.
This is based on advanced data, which was conducted by Blockchain.com, where the average BTC transaction fee saw a steady decline from its all-time high of $62.788.
Prior to April 2021, Bitcoin's average transaction fees peaked in December of 2017 at $54.638.
Alongside this, Australia's first Bitcoin ETF could attract $1 billion after it launches, as financial regulators greenlit it to begin trading on April 27.
The Australian Financial Review reports that it could see up to $1 billion in inflows.
However, most alternative cryptocurrencies (altcoins) outperformed Bitcoin throughout last week, which suggests a greater appetite for risk among the traders.
In any case, all of these developments could bring Bitcoin's value up by the end of April, so let us go over how much.
Should you buy Bitcoin (BTC)?
On April 20, 2022, Bitcoin (BTC) had a value of $41,516.84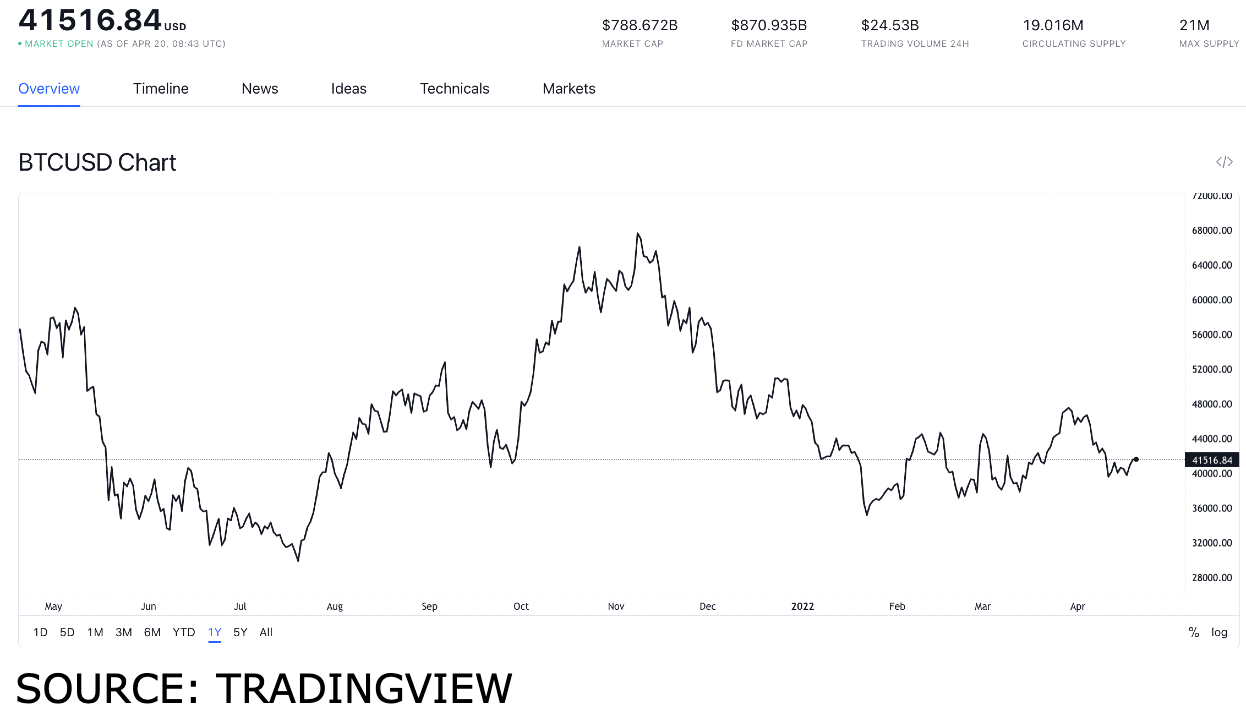 In order for us to get a better perspective as to what kind of value point this is for the BTC cryptocurrency, we will be going over its all-time high point of value, alongside its performance throughout the previous month.
When we look at the coin's all-time high, Bitcoin (BTC) had a value of $69,044.77 on November 10, 2021. Here, we can see that the coin was $27,527.93 higher in value, or by 66%.
However, when we go over its performance throughout March, Bitcoin (BTC) had its lowest point of value on March 7, with a value of $37,351.3.
Its highest point of value, however, was on March 28, with a value of $47,938.14. Here, we can see that the coin has increased in value by $10,586.84 or by 28%.
With all of this in mind, we can expect the Bitcoin (BTC) coin to increase in value to $45,000 by the end of April, which makes it a solid coin to get.