Is Bitcoin (BTC) worth buying at $38K?
BTC's value increased by 4% in the last 24 hours.

The token will likely increase in value throughout the following months.

BTC has the potential to go back up to $40,000.
Bitcoin (BTC) is by far one of the largest cryptocurrencies in terms of market capitalization and is a token that is starting to get back a lot of its value as of recently.
Its value and growth can impact the value of the entirety of the cryptocurrency market, as it has the highest level of dominance across the crypto world.
Analyst predictions as a catalyst for the growth of the BTC token
Bitcoin, as well as other cryptocurrencies, saw wild swings throughout the previous week, with the BTC price falling sharply before it suddenly rebounded.
However, many academics and cryptocurrency experts claim that the downturn marks a good buying opportunity for the token, and its recent increase in value signals a solid opportunity as well.
From the span of January 28 to January 29, the Bitcoin (BTC) token saw a 4% increase in value.
There are predictions by 33 fintech experts that Bitcoin's normal value top anticipated in 2022 is $76,360, according to a survey conducted by data analytics websites.
Furthermore, Bitcoin tweeted that in 2021, the network processed $3.0 trillion worth of payments, placing it above well-known card networks such as American Express, which processed $1.3 trillion, and Discover, which processed $0.5 trillion.
However, it is still under Visa, which processed $13.5 trillion, and MasterCard, which processed $7.7 trillion.
In any case, this growth indicates bullish outcomes for the BTC token in the near future, which can contribute to its growth in value going forward.
Should you buy Bitcoin (BTC)?
On January 29, 2022, Bitcoin (BTC) had a value of $38,080.55.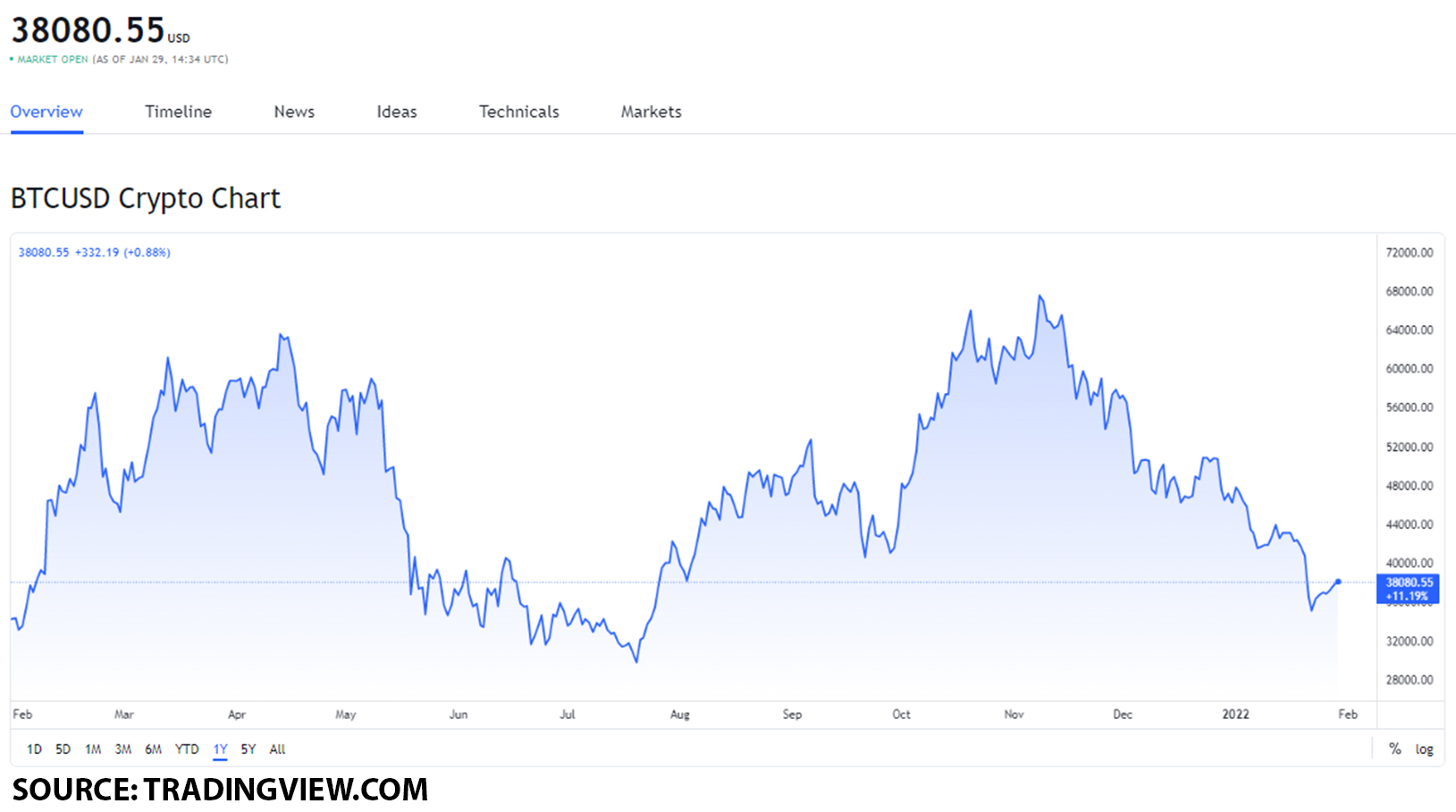 To get a better perspective as to exactly what this value point means for the BTC token, we will be going over the all-time high value of the token alongside the performance it showcased throughout the previous month.
The all-time high value of Bitcoin (BTC) was on November 10, 2021, when the token reached a value of $69,044.77. This means that at its ATH, BTC was $30,964.22 higher in value or by 81%.
When we go over the performance in December, Bitcoin (BTC) saw a value of $58,667.85 on December 1, with its lowest point getting to $45,697.92 on December 18. This indicated a decrease in value of $12,969.93 or by 22% from the span of December to December 18.
However, from December 18 to January 29, Bitcoin (BTC) saw an additional decrease in value of $7,617.37 or by 16%.
With all of that in mind, at $38,080.55, buying Bitcoin is a solid idea due to the fact that BTC has the potential to reach $40,000 again by the end of February 2022.