Is Bitcoin (BTC) worth buying after it returned in value to $42,000?
BTC's trading volume saw an increase of 28% in the last 24 hours.

Its value also increased by 2% within that same span of time.

BTC has the potential to grow a lot further going forward.
Bitcoin is by far one of the largest cryptocurrency tokens in terms of market capitalization, and it has showcased a high level of industry dominance ever since its creation.
However, with its recent dips in value, and purchases from many investors, the question on everyone's mind is how quickly and how far can the value of the BTC token recover.
The Bitcoin rebound and its potential for growth
In the last 24 hours, Bitcoin has rebounded 2%, pushing its value to 42,330.17. The cryptocurrency market has also regained some momentum.
On January 24, Bitcoin decreased to $33,495.91 in value, which was a slump when compared to the value of around $43,000 that it had a few days prior to that.
The current resistance level that Bitcoin (BTC) had to break was the $40,000 mark, and it did so successfully.
However, to truly see how much Bitcoin (BTC) can carry on with this growth, we will need to compare some of its value points historically.
Should you buy Bitcoin (BTC)?
On February 7, 2022, Bitcoin (BTC) had a value of $42,330.17.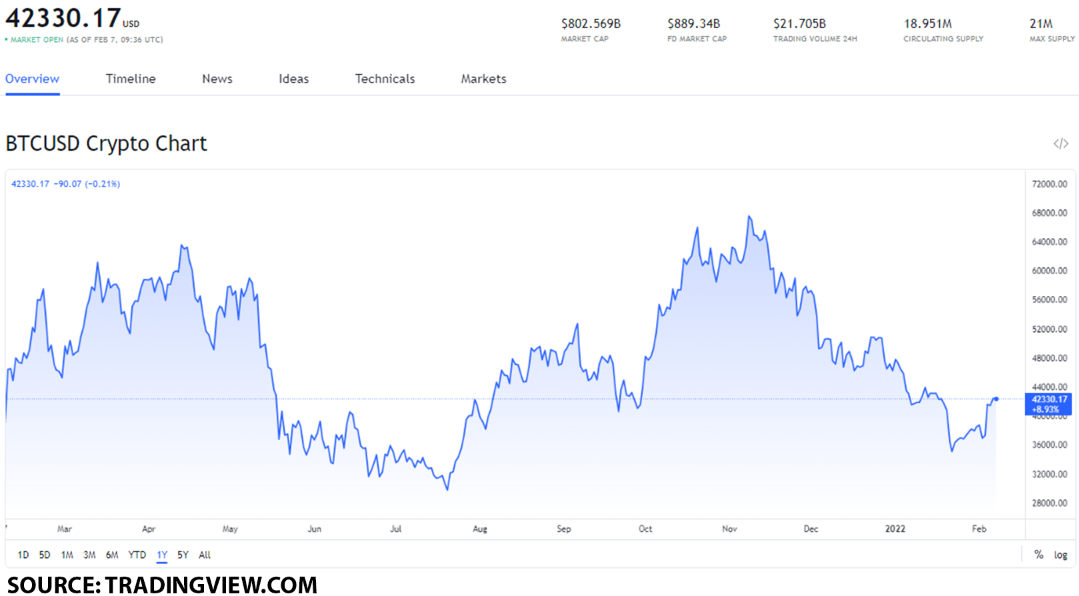 To truly get a better perspective as to what this value point means for the cryptocurrency token, we will be going over its all-time high value, alongside its performance throughout the previous month.
The all-time high of the Bitcoin (BTC) token was on November 10, 2021, when it reached a value of $69,044.77. This means that at its ATH, the token was $26,714.6 higher in value or by 63%.
When we go over the performance of the Bitcoin (BTC) cryptocurrency token throughout the previous month, we can see that on January 1, it had its highest point of value at $47,730.68.
Its lowest point of value, however, was on January 24, when it decreased to a value of $33,495.91. This gives us an indication that from the span of January 1 to January 24, the BTC token decreased in value by $14,234.77 or by 30%.
However, from the span of January 24 to February 7, the token saw an increase in value of $8,834.26 or by 26%.
With that in mind, we can expect the Bitcoin (BTC) cryptocurrency token to reach $45,000 by the end of March 2022, making it a worthwhile token to buy.