How will Ukraine donations in BTC and Russia restrictions on FIAT payments impact the value of BTC?
Bitcoin's market cap saw an increase of 9% in the last 24 hours.

The trading volume also increased by 3%.

BTC has the potential to kick back up over the $40,000 price barrier.
Bitcoin is by far one of the largest cryptocurrencies in terms of market capitalization. As such, its value essentially shapes how the entire industry reacts in terms of real-world developments.
Bitcoin donations for Ukraine's military surpass $1M, and Russian billionaires might switch to crypto
A charitable fundraising page for the Ukrainian military shut down on Patreon, while donations to the organization's Bitcoin wallet accelerated and surpassed the U.S. $1 million last Friday.
Come Back Alive is a Kyiv-based nonprofit organization originally established in 2014.
Additionally, with sanctions from the U.S. as well as other nations which are targeting Russia's banking system, as well as the possibility of it being excluded from the SWIFT payments network, Russia might consider cryptocurrencies.
On Thursday, February 24, the United States President, Joe Biden, promised a wave of sanctions on Russian banks as well as financial institutions.
There was total agreement in a combined effort to exclude Russia from the global economy by limiting its access to major currencies.
The British Prime Minister, Boris Johnson, pushed "very hard" to remove Russia from SWIFT.
SWIFT is a Belgian organization that's used by more than 11,000 banks and financial institutions and handles around 42 million messages on a daily basis.
The adoption of cryptocurrencies, such as Bitcoin, could be a solid choice if Russia wants to avoid these crippling restrictions.
Should you buy Bitcoin (BTC)?
On February 25, 2022, Bitcoin (BTC) had a value of $38,372.27.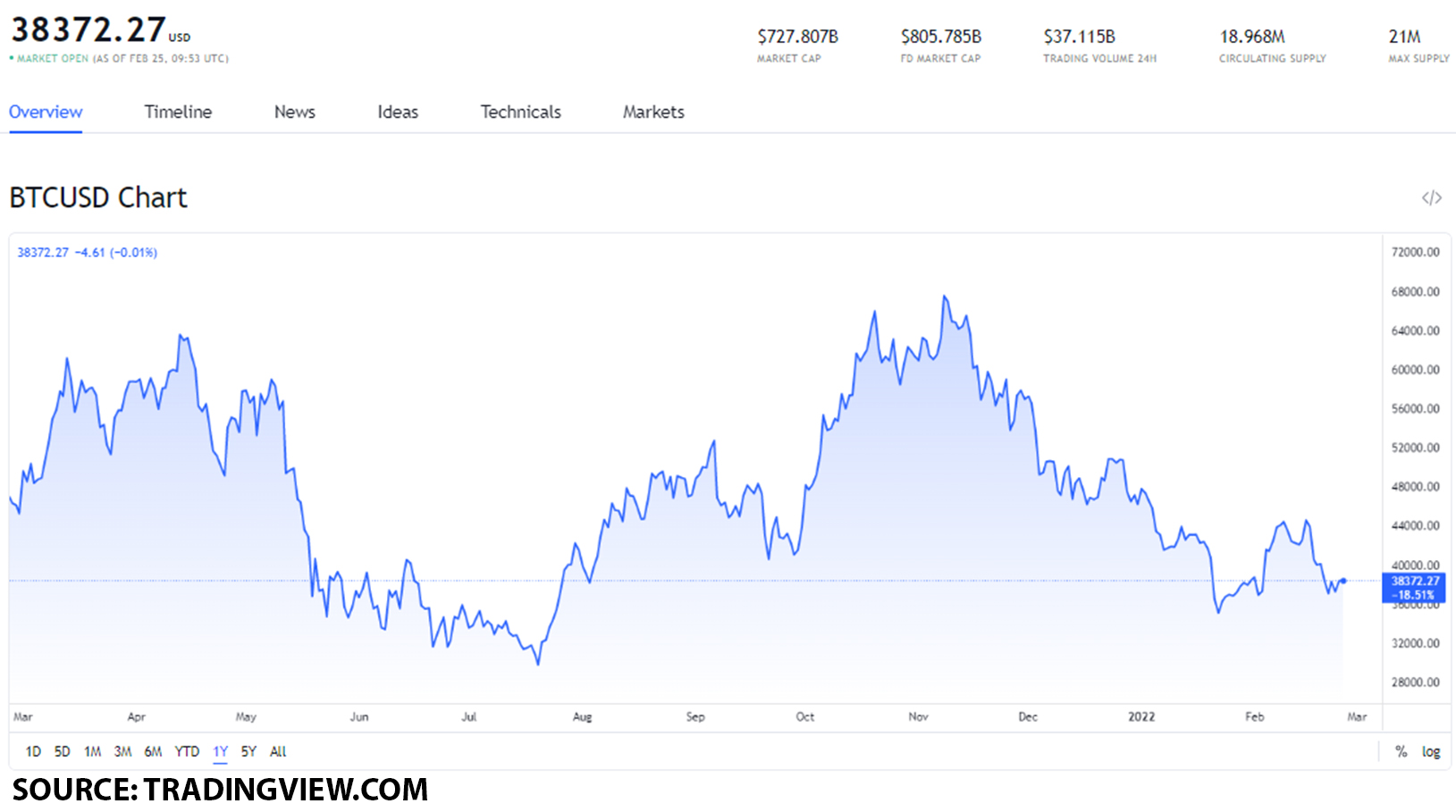 To get a better perspective as to what kind of value point this is for the BTC cryptocurrency token, we will be going over it's all-time high value, alongside the performance it showcased throughout the span of the previous month.
The all-time high value of Bitcoin (BTC) was on November 10, 2021, when it reached a value of $69,044.77. This means that the token was $30,672.5 higher in value or by 80%.
Discussing the performance of the token in January, Bitcoin (BTC) saw its highest point of value on January 2, when it reached $47,730.23.
The lowest point the token reached was on January 24, when it decreased to $33,495.91. Here, we can see that the token saw a decrease in value of $14,234.32 or by 30%.
However, from January 24 to February 25, the BTC token has increased in value by $4,876.36 or by 14%.
With this in mind, BTC can break past the $40,000 price barrier and reach $41,000 by the end of March 2022.