Goldman Sachs's first bitcoin-backed loan and its impact on BTC
Goldman Sachs Group Inc. offered its first-ever lending facility, which is backed by Bitcoin (BTC) as a cryptocurrency.

Solana's co-founder claims that Bitcoin will lose users if it does not adopt Proof-of-Stake (PoS)

Finland to Donate Seized Bitcoin (BTC) to Ukraine.
As Bitcoin (BTC) is one of the largest cryptocurrencies and has remained in the #1 spot in terms of market capitalization ever since its creation, there are numerous developments and news surrounding it on a daily basis.
Bitcoin has seen a significant level of appeal for a lot of investors. However, there are concerns surrounding its future as well.
Goldman Sachs's Bitcoin-backed loan offering and Finland's BTC donation as catalysts for growth
Goldman Sachs Group Inc. has announced that it is offering its first-ever lending facility, one that is backed by the Bitcoin (BTC) cryptocurrency. This marked a major step for the U.S. bank that accelerated Wall Street's acceptance of cryptocurrencies.
This secured lending facility lent cash collateralized by Bitcoin, which is owned by the borrower, according to a spokesperson from the bank.
Furthermore, Anatoly Yakovenko, the co-founder of Solana, also said that he believes that Bitcoin might face the risk of users leaving if it fails to adopt Proof-of-Stake (PoS).
This was announced in a recent interview with CNBC, where Yakovenko stated that most of the networks that people use today would eventually move to the PoS model.
The Finland government will also reportedly donate Ukraine 1981 Bitcoin (BTC), which was seized by its customs officials in connection with several criminal operations.
According to the Finnish media outlet Helsingin Sanomat, the sources did not rule out handing its stash of Bitcoin "directly to Ukraine."
Sources had stated that the decision on how much of the sale would be donated to Ukraine is yet to be made.
Should you buy Bitcoin (BTC)?
On April 29, 2022, Bitcoin (BTC) had a value of $39,501.34.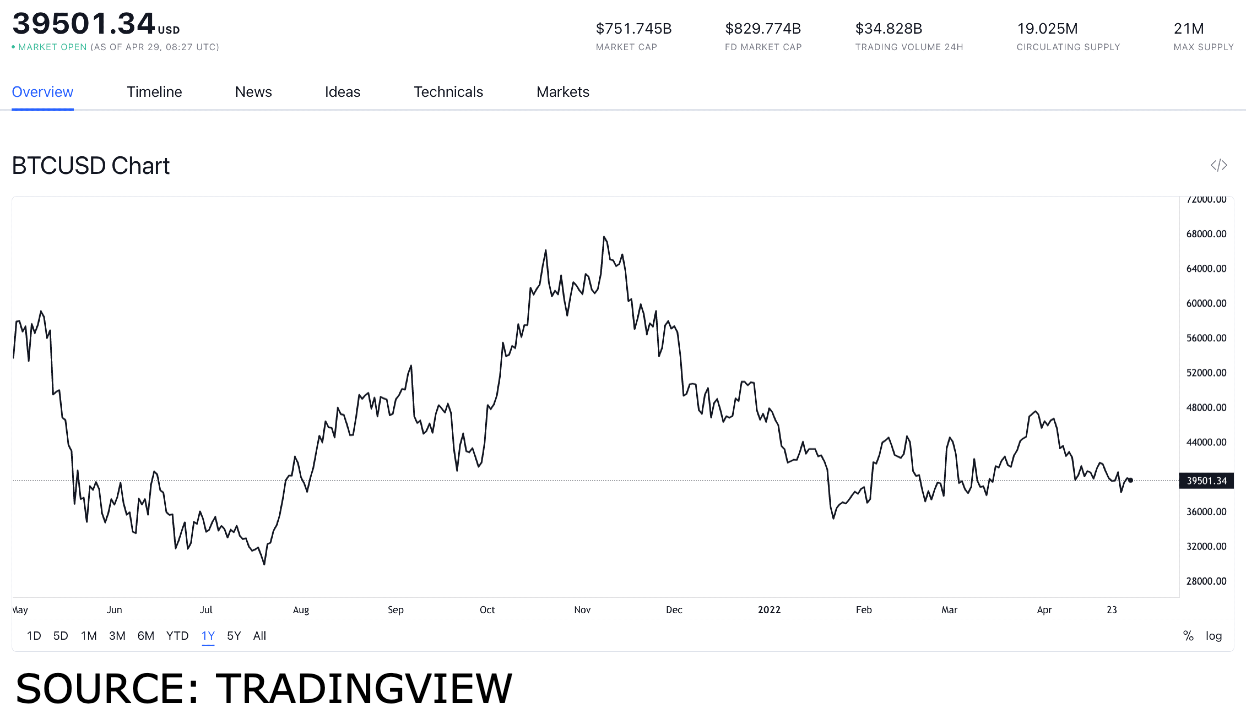 In order for us to see what kind of value point this is for the BTC cryptocurrency, we will be going over its all-time high value, alongside its performance throughout the previous month.
When we go over the all-time high point of value of Bitcoin (BTC), we can see that on November 10, 2021, the coin reached a value of $69,044.77.
This means that at its ATH, the coin was $29,543.43 higher in value, or by 75%.
With that in mind, when we take a look at how the coin performed throughout the previous month, Bitcoin (BTC) had its lowest point on March 7, at $37,351.3, while its highest point was on March 28 at $47,938.14.
Here, we can see that BTC saw an increase in value of $10,586.84 or 28%.
With all of this in mind, we can expect Bitcoin (BTC) to get back up in value to over $42,000 by the end of May 2022, making it a solid coin to buy.