Chainlink investors continue to HODL, should you buy LINK?
Chainlink is a decentralized oracle blockchain that has been growing at a rapid pace.

Due to several developments, many investors continue to HOLD the LINK token.

Chainlink is slowly starting to see mainstream adoption, and this could help its value grow.
Chainlink is an open-source technology developed by a large community of developers, researchers, and users.
It is built on Ethereum and is a decentralized oracle network that aims to play a crucial role in real-world implementations of blockchain technology.
Chainlink developments as catalysts for growth
We saw Chainlink make an announcement that KuCoin started using Chainlink price feeds to help set the floating rates in its OTC markets on December 14.
On December 15, AccuWeather announced their Live Node on Chainlink, which was a debut into crypto for the company. It offers users innovative and unique insight into world-class weather data for blockchain.
Additionally, Chainlink price feeds have become the go-to benchmarks for traditional financial institutions.
This is due to the fact that OSL, which is the leading digital asset platform that provides SaaS, brokerage, custody, and exchange products licensed by the SFC in HK, started using Chainlink price feeds as reference rates in its digital asset suite on December 17.
This will, in turn, lead to enhanced price accuracy and anomaly detection.
Should you buy Chainlink (LINK)?
On December 17, Chainlink (LINK) had a value of $18.79.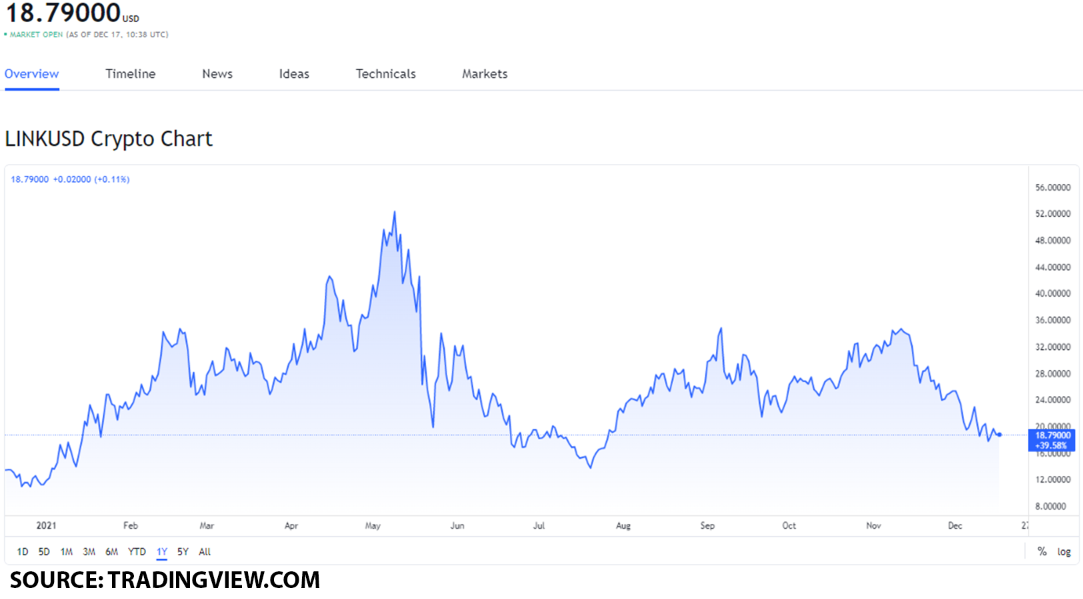 To see what this value point means for the token, we will go over its all-time high value as well as its performance in November.
When we look at the all-time high-value point of the Chainlink (LINK) token, it was on May 10 when the token reached a value of $52.70. This means that on May 10, the token was $33.91 higher in value when compared to its value point on December 17.
When we go over the performance of the LINK token throughout last month, its highest value point was on November 10, when the token had a value of $38.12.
Its lowest value point, however, was on November 28, when the token fell to a value of $23.23.
Here, we can see that the token decreased in value by $14.89 or by 39%.
With this in mind, if LINK breaks the $20 barrier, it has the potential to reach $25 by the end of January 2022. However, if its value drops below $18, it might be worth reconsidering.