Bitcoin's dip and where we can see it go from here
Bitcoin all-exchange inflows reached a 1-year high.

Bitcoin fell under $30,000, and Terra's stablecoin lost its peg and fell to 66 cents.

El Salvador bought the Bitcoin dip and added 500 coins to its balance sheet.
Bitcoin (BTC) is one of the largest cryptocurrencies in terms of its market capitalization, and despite the dip, this is still the case.
The price movements that regard this specific cryptocurrency have an effect on the border crypto market and overall space.
Bitcoin reaches 1-year high inflows, Terra's stablecoin loses its peg, and El Salvador buys 500 coins.
As Bitcoin carried on to fall in terms of value, data from CryptoQuant indicated that the all-exchange inflows of the Bitcoin (BTC) crypto had touched a 1-year-high.
Specifically, 40,620 BTC was moved to the exchanges on Monday, which was the largest single-day inflow after December of 2019.
On May 9, 2022, BTC fell as low as $29.996, according to data from CoinGecko.
Furthermore, Terra's stablecoin, UST, which aims to maintain a value of $1, fell to as low as 66 cents and only recovered to $0.90 as of May 10, 2022.
El Salvador, however, bought the dip and added another $15.5 million worth of Bitcoin (BTC) to its balance sheet.
President Nayib Bukele revealed that the country bought the dip and added another 500 bitcoin to government coffers.
Should you buy Bitcoin (BTC)?
On May 10, 2022, Bitcoin (BTC) had a value of $31,804.73.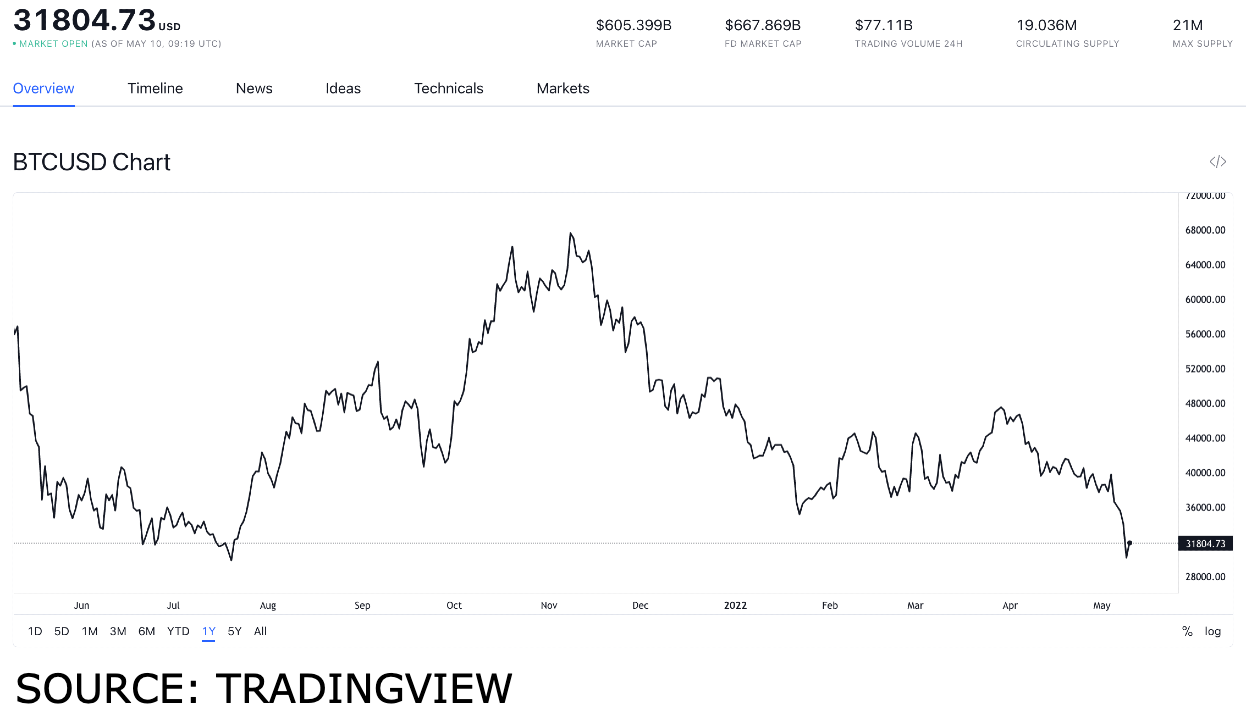 In order for us to get a better perspective of what this value point indicates for the overall value and future of the BTC cryptocurrency, we will be going over its all-time high point of value and the performance it showcased throughout the previous month.
The all-time high point of value of the cryptocurrency was on November 10, 2021, when BTC reached a value of $69,044.77. This means that at its ATH, it was $37,240.04 higher in value, or by 117%.
Its highest point of value was on April 2, when the token was worth $47,003.43, while its lowest point was on April 26, 2022, when the token decreased in value to $38,084.54.
Here, we can see that it decreased in value by $8,918.89 or by 19%.
However, when we take a look at the price difference between April 26 and May 10, we can see an additional decrease of $6,279.81.
With all of this in mind, if Bitcoin (BTC) breaks past the $32,000 price barrier, it can climb to $35,000 by the end of May 2022 and be on its path to recovery.