Bitcoin dipped to $36.4K after the Russia – Ukraine aftermath: how should investors react?
Bitcoin fell to one of its lowest value points of the month on February 22 throughout the aftermath of Russia's expected incursion into Ukraine.

Bitcoin fell to $36,400, which was its lowest price point since February 3.

Since then, the token has increased in value, but it is still at a low enough price point to make it a solid investment.
Bitcoin is the largest cryptocurrency in terms of market capitalization, and its price movements and price swings truly impact the entire industry.
This essentially means that if BTC dips in value, we can see similar activity across many other cryptocurrency projects. That said, Bitcoin saw one of its latest dips in value.
Bitcoin drops to $36.4K due to the aftermath of Russia's expected incursion into Ukraine.
Volatility for the Bitcoin (BTC) cryptocurrency token has been high as Russian president Vladimir Putin delivered a speech that lasted almost an hour on the state of the conflict in Ukraine.
Putin recognized the two breakaway republics in the country's east and ordered Russian troops into what is still officially Ukrainian territory.
Stocks, as well as risk assets, fell as a direct result of this, as Russian companies are predictably suffering due to nerves over a potential full-scale war escalation. This led to the decrease of the Russian ruble as well.
However, this has led to a decrease in Bitcoin's value as well, and Bitcoin is currently at one of its lowest value points, which might make it a solid opportunity for investors who might have waited for another entry point.
Markets commentator Holger Zschaepitz said that "Looks like Bitcoin will not be safe haven in geopol crises. Digital gold (Bitcoin) has plummeted to <$37k, while Gold has risen >$1900/oz."
Should you invest in Bitcoin (BTC)?
On February 22, 2022, Bitcoin (BTC) had a value of $37,131.66.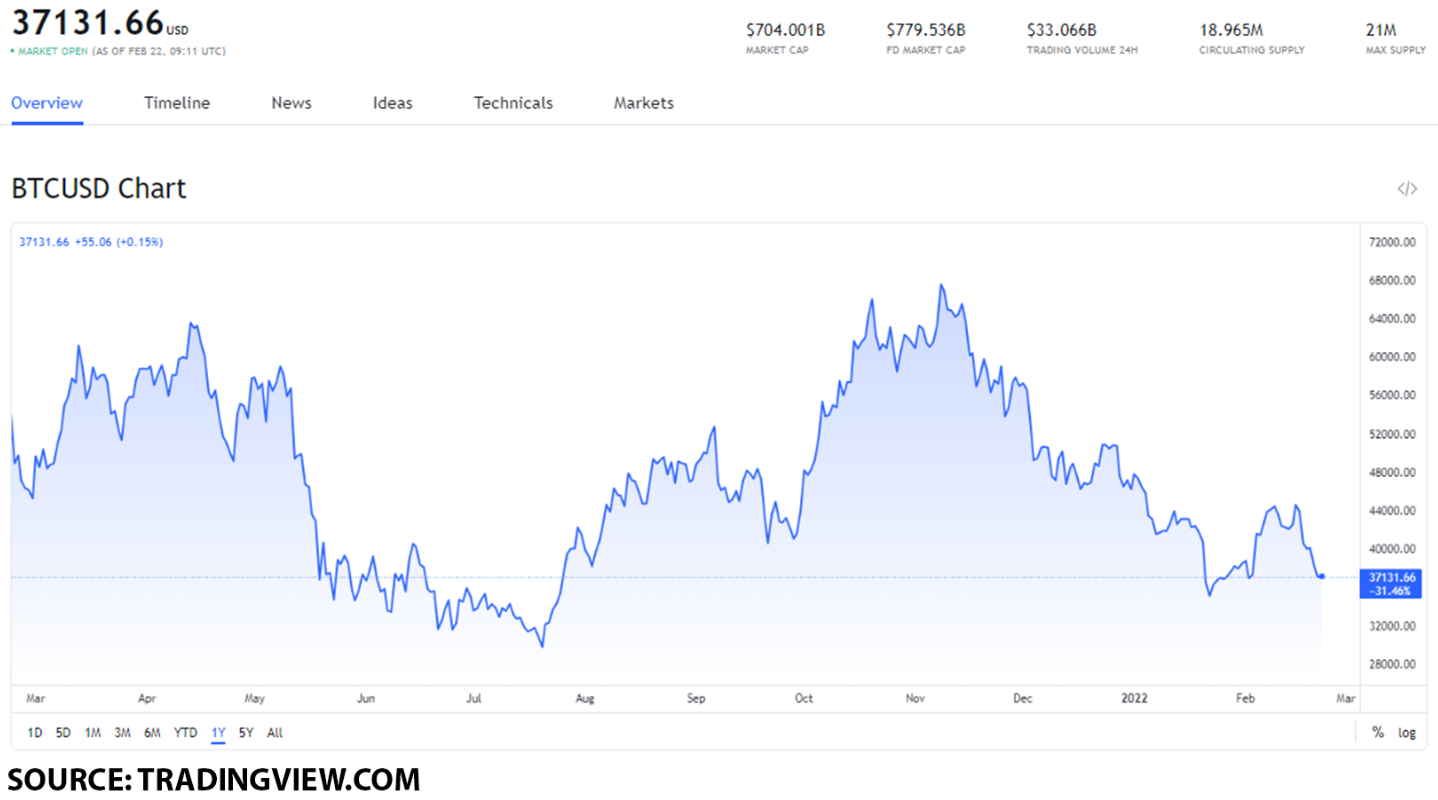 In order for us to see exactly what this value point means for the BTC cryptocurrency token, we will be going over its all-time high point of value, alongside the performance the token has showcased throughout the previous month.
The all-time high value of Bitcoin (BTC) was on November 10, 2021, when the token reached a value of $69,044.77. This means that at its ATH, the token was $31,913.11 higher in value or by 86%.
When we go over the performance of the token throughout the previous month, Bitcoin (BTC) saw its highest point of value on January 2, when it reached a value of $47,730.23.
The token's lowest point of value of the month was on January 24, when it reached a value of $33,495.91. Here, we can see a decrease in value of $14,234.32 or by 30%.
However, from January 24 to February 22, we can see a difference in value, which is an increase of $3,635.75, a value point that still indicates that the token was higher in value than its lowest point last month.
With this in mind, Bitcoin (BTC) can climb back up to the $40,000 value point by the end of April 2022, assuming the Russia and Ukraine issue gets resolved. Bitcoin could also decrease under the $37,000 value point again, which is a signal to reconsider the token.