Berkshire Hathaway buys $1B in a Bitcoin-friendly bank, should investors react and buy more BTC?
US Senators proposed new legislation that aims to mitigate risks posed by El Salvador's adoption of Bitcoin.

This bill would mandate the State Department to investigate El Salvador's process to make Bitcoin legal tender.

Warren Buffett has invested $1 billion in a crypto-friendly bank.
Bitcoin (BTC) is one of the most heavily-discussed cryptocurrency tokens, both due to the fact that it has the largest market capitalization and that it is one of the most mainstream tokens out there.
Just about everyone's heard about Bitcoin (BTC) by this point; however, with this kind of knowledge regarding the token, we have seen a lot of developments in its adoption.
Legislation developments and large investments as a catalyst for growth
A group of Senators within the United States has put forward legislation that will require the State Department to report, as well as develop a plan of mitigating potential risks which are posed by El Salvador's Bitcoin law.
This bill would require the State Department to report on El Salvador's Bitcoin moves if the proposed legislation is passed.
The Senators have a genuine belief that the Central American country's Bitcoin law raises significant concerns, and the legislation gives the State Department 60 days to generate a report on El Salvador's adoption of the leading cryptocurrency, assuming the bill passes.
Additionally, Warren Buffet invested $1 billion in a crypto-friendly bank. In other words, his company, Berkshire Hathaway, has bought $1 billion worth of stock in a digital bank with a focus on cryptocurrency. This bank is known as Nubank, which is a digital bank based in Brazil and the largest of its kind.
The bank's investment unit, NuInvest, essentially allows users to put money in a Bitcoin exchange-traded fund (ETF).
Should you buy Bitcoin (BTC)?
On February 17, 2022, Bitcoin (BTC) had a value of $43,274.67.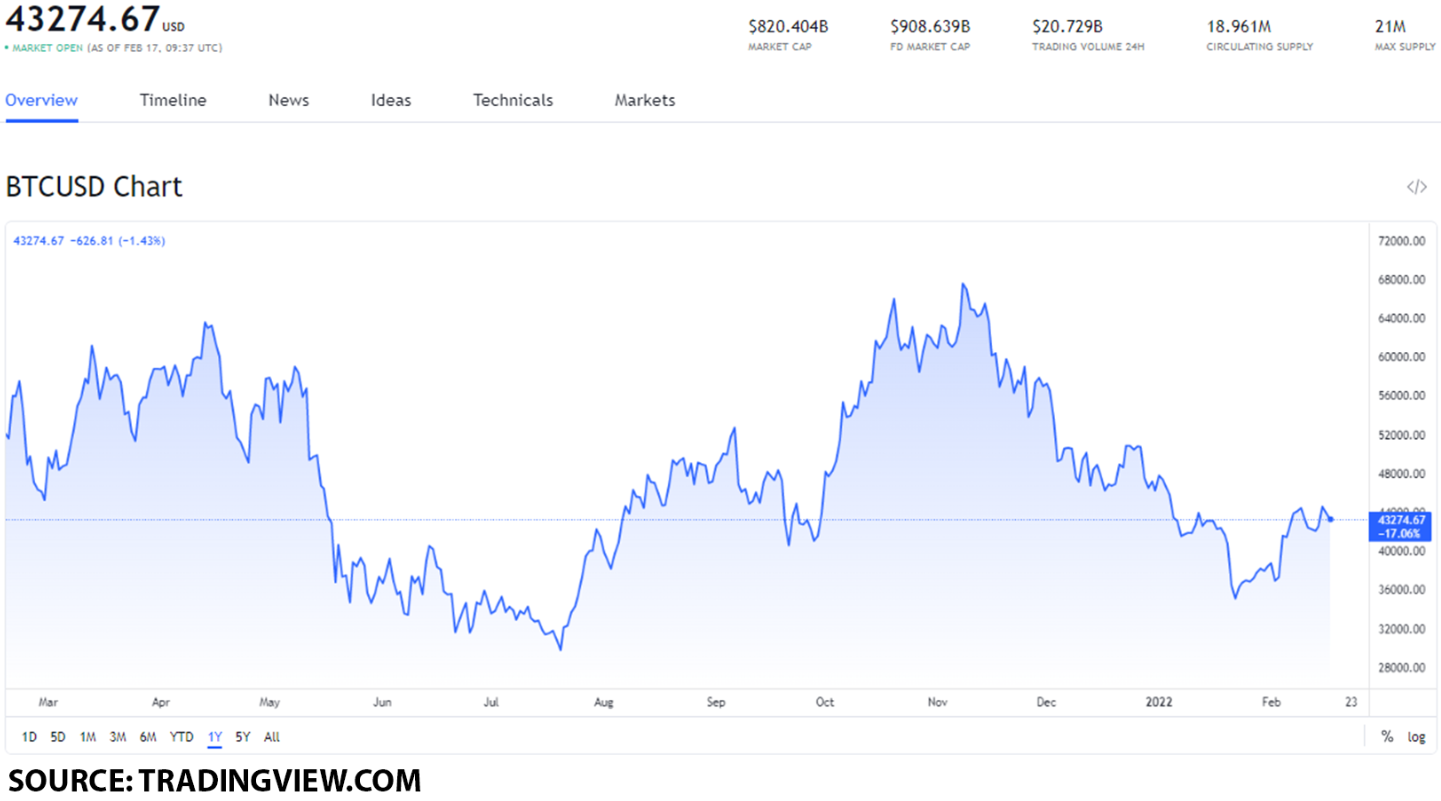 To truly get a better perspective as to what kind of value point this is for the BTC cryptocurrency token, we will be going over its all-time high value and then over the performance, it showcased throughout the previous month.
The all-time high value of Bitcoin (BTC) was on November 10, 2021, when the token reached a value of $69,044.77. This means that at its ATH, the token was $25,770.1 higher in value or by 59%.
When we go over the token's performance in January, Bitcoin (BTC) had its highest point of value on January 2, when it reached a value of $47,730.23.
Its lowest point of value, however, was on January 24, when it decreased in value to $33,495.91. This means that from the span of January 2 to January 24, the token saw a decrease in value by $14,234.32 or by 30%.
However, from January 24 to February 17, the token saw an increase in value by $9,778.76 or by 29%.
With this in mind, we can expect the Bitcoin (BTC) cryptocurrency token to reach a value of $45,000 by the end of March 2022.