One of the oldest cryptocurrency exchanges around, YoBit has been in operation since it was incorporated in Panama in 2014. The platform allows users to buy and sell almost 500 cryptocurrencies, supporting over 8,000 currency pairs.
In addition to this, YoBit users can earn passive income using the exchange's YoFarm feature. Using this service you can put different assets into a variety of DeFi liquidity pools, earning daily rewards in proportion to the amount you stake. Keep reading to find out more about YoBit's platform.
How to Get Started with YoBit
To register a YoBit account, you need to click 'Login' in the top right corner of the home screen, and then 'register.' This will prompt you to enter a login name, email address, and to create a password. You also have to pass a CAPTCHA-style test to confirm you're not a bit, tick that you agree to the rules of the platform, and click 'Register.' There are no KYC checks with YoBit, so you don't need to verify your ID to use the exchange.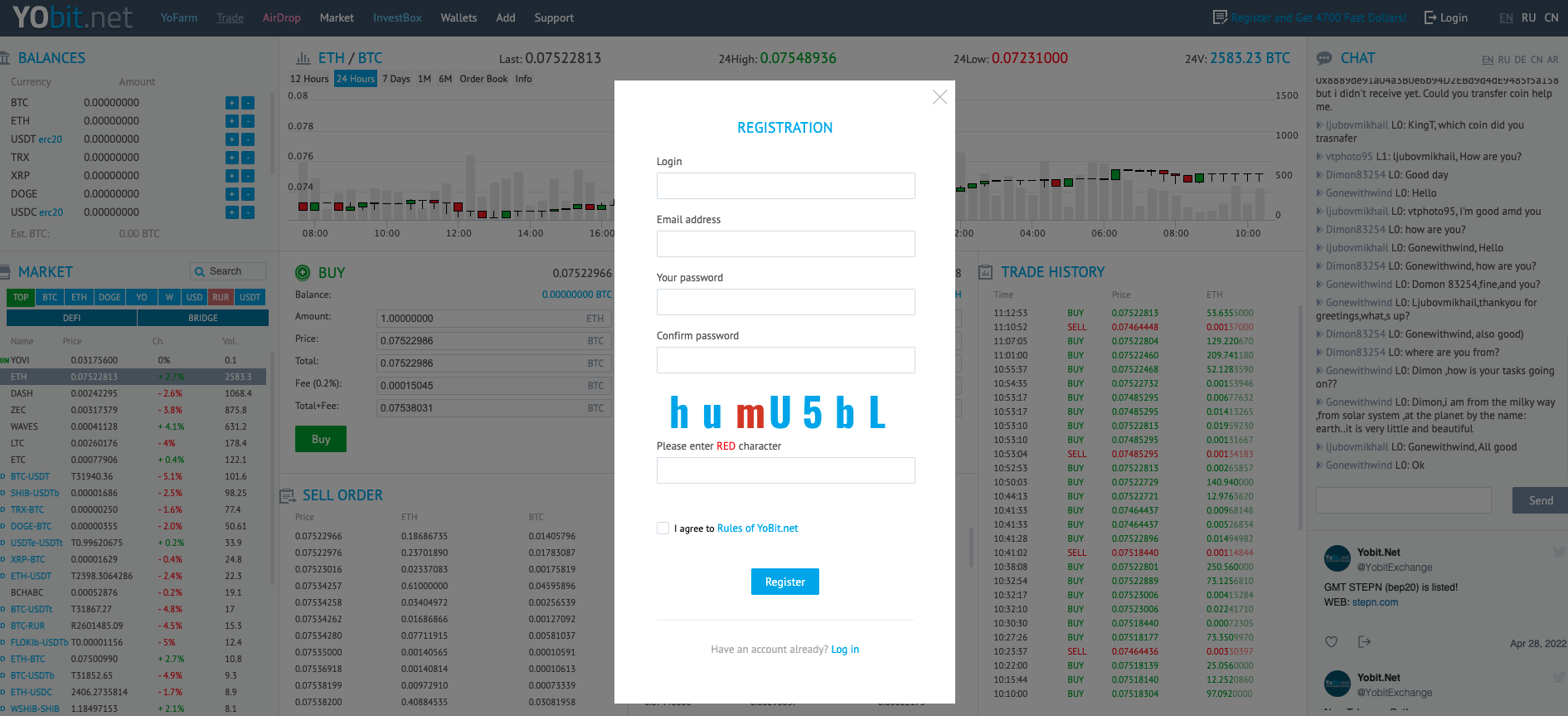 To fund your YoBit account, head to the 'Wallets' tab in the menu, and then click the '+' icon on the left hand side beside any of the available currencies. These are a range of cryptos along with USD and RUR. Depositing in cryptocurrency will generate a QR code wallet address to scan, and depositing in fiat will give 4 different wire transfer options.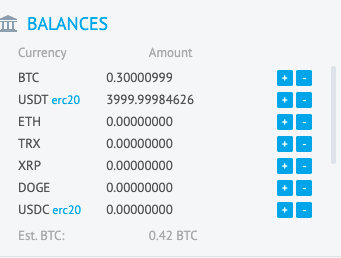 Once you have funded your account, you can start trading more than 8,000 currency pairs. By navigating to the 'Trade' tab you can create buy and sell orders to your own specifications, and also see the live order book detailing all the current activity on the YoBit exchange.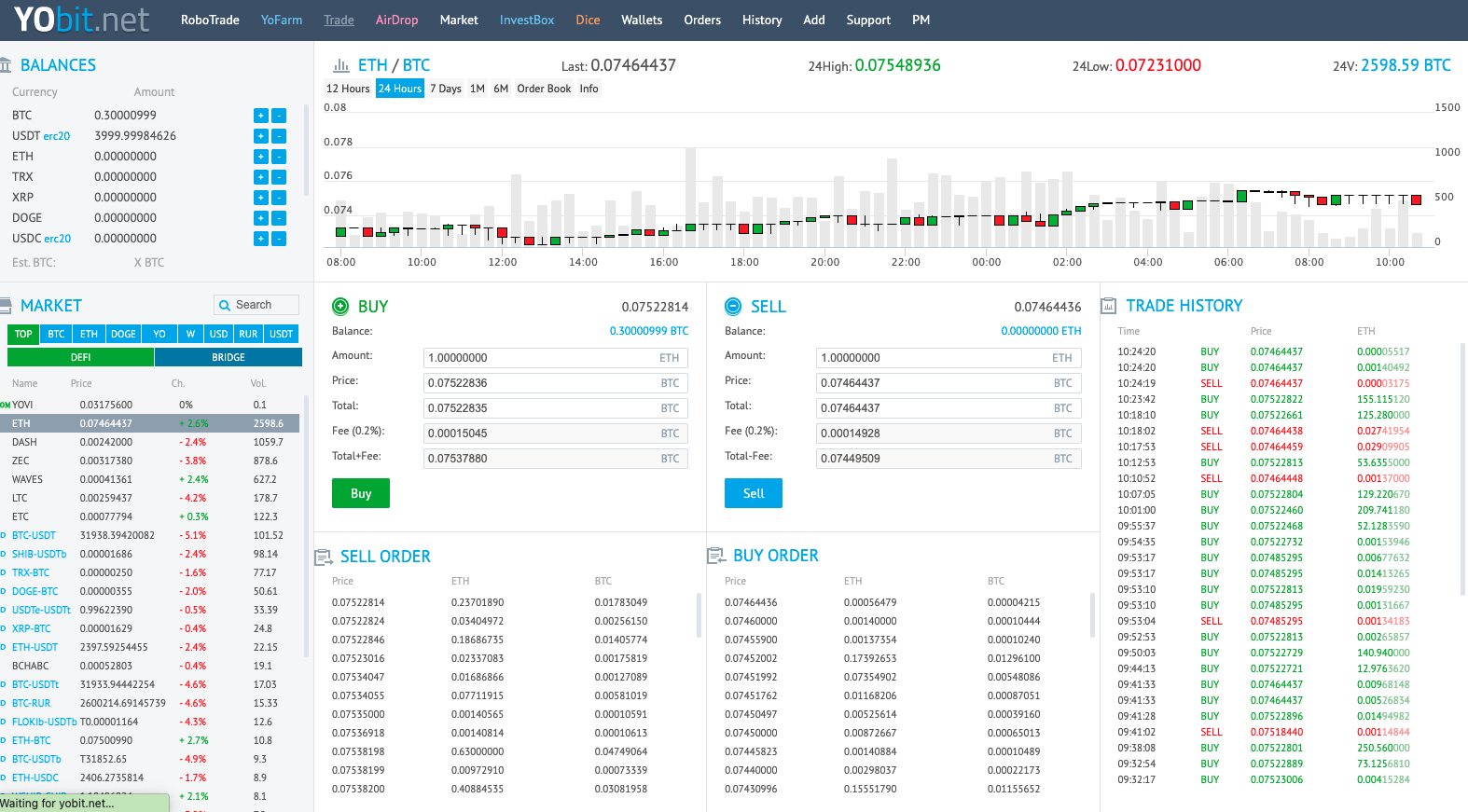 YoBit Interface and User Experience
YoBit's exchange is simply laid out and easy for users to use - providing you have a familiarity with how to place buy and sell orders on an actual exchange. With around 500 cryptocurrencies available to trade, the flexibility offered by YoBit in terms of creating orders, and the plainly visible ways it lays out its 0.2% transaction fee are both positives for users on the platform.
If you're a total beginner to cryptocurrency trading, YoBit won't be as simple to use as a mainstream broker service such as Coinbase - but these platforms come with much higher fees in exchange for the services they provide, so familiarising yourself with YoBit's platform could enable you to keep hold of more of your crypto.
It's quick and easy to navigate to the different parts of YoBit's platform - which allows users to gamble their crypto on dice games, earn passive income through its DeFi service YoFarm (more on that below), and access a range of crypto-backed investment plans. Users can also see their live orders, history, and account balance easily through the main menu and on the home screen.
YoBit is fairly light in terms of resources for users, but an FAQ section can be accessed by hovering over your account name in the top right hand corner. Additionally, users can raise support tickets and send private mail to YoBit's team through the main menu in order to get answers to any questions.
Key Considerations for YoBit
YoBit DeFi
One of the main things that separates YoBit from other similar exchanges is its DeFi platform, YoFarm. Through this, users can put assets into different liquidity pools and earn passive income. To start farming, you simplyb need to go to YoFarm in the main menu, click 'farm' by your chosen pool, and then enter how much you wish to stake.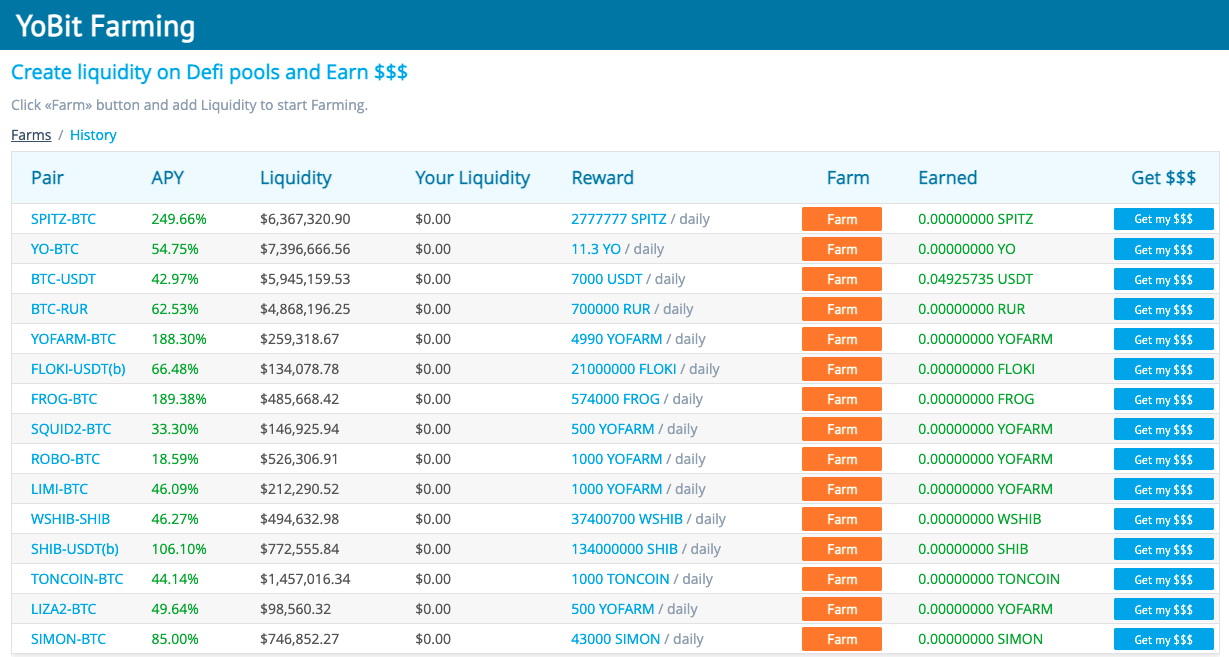 When it comes to farming, there are three main strategies:
You can farm stable pairs such as YO/BTC pool or SHIBA/WSHIBA if you want less risk

If you want a little more risk but the potential of high returns you can go for well-known pairs such as BTC/USDT, FLOKI/USDT, and TONCOIN-BTC

For a more high-risk strategy you can farm more volatile altcoin pairs such as SIMON/BTC, SPITZ/BTC, or YOFARM/BTC
Limits and Liquidation
It does not appear that YoBit imposes any limits on trading or deposits - regardless of which payment method you choose to use. This means you can fund your account using one of the accepted cryptocurrencies, or in fiat currency via the third-party options accepted (such as AdvCash and Capitalist), and start trading immediately.
It is possible you will experience deposit limits, but these will be imposed by the payment provider you are using rather than by YoBit.
Safety, Security and Privacy
The main security feature offered by YoBit is 2FA. Setting this up will enable you to protect your account with a passcode sent to your phone number, as well as your unique password. We strongly recommend you use this feature as your coins would otherwise be more vulnerable to malicious actors who may try and access your account.
YoBit is regulated in Panama, which has much more lax regulatory requirements than other countries such as the UK or USA. This is why you're able to set up a YoBit account without providing ID, but it also means that you have less access to compensation if something goes wrong.
When held in your YoBit account, any cryptocurrencies you have purchased are held in the exchange's custodial wallet. This means that you have access to your cryptocurrencies through your account, but don't technically hold them yourself. If you want to add an extra layer of security, you can transfer your coins to a personal wallet - ideally your own hardware wallet.
Deposit Times and Transaction Speeds
Deposit times on YoBit are usually instant, but this can depend on the method of payment you're using. Particularly for cryptocurrency deposits, the amount of time it takes for coins to show up in your YoBit account could be delayed depending on how busy the blockchain currently is for the crypto you're trying to transfer.
Orders on YoBit are similarly fulfilled instantly (in the case of a market order), or as soon as the conditions for the trade are met (in the case of a limit buy/sell order). Once again, the only thing that may slow these transactions down are related to the speed of the blockchain - but as YoBit uses liquidity pools to fill orders these issues should be very rare.
YoBit Fees
YoBit charges a fee of 0.2% on all buy/sell orders placed through the platform. In addition to this there are variable withdrawal fees for certain payment methods. Full information about these withdrawal fees can be found by hovering over your account in the top right hand corner of the page and clicking 'Fees' in the drop down menu that appears.
Customer Support
There is no option to call YoBit or to start a live chat with any of their employees, but users are able to raise a support ticket or send private mail through the relevant sections of the site that can be accessed via the main menu. There are also a small number of FAQs that can be found in the account section, but these are not very comprehensive.
How to use YoBit
How to Deposit on YoBit
In order to make a deposit on YoBit, simply click the '+' sign next to the (crypto)currency you would like to deposit. A box will then pop up either giving you a QR code wallet address in the case of depositing cryptocurrency, or a list of available payment methods if depositing fiat.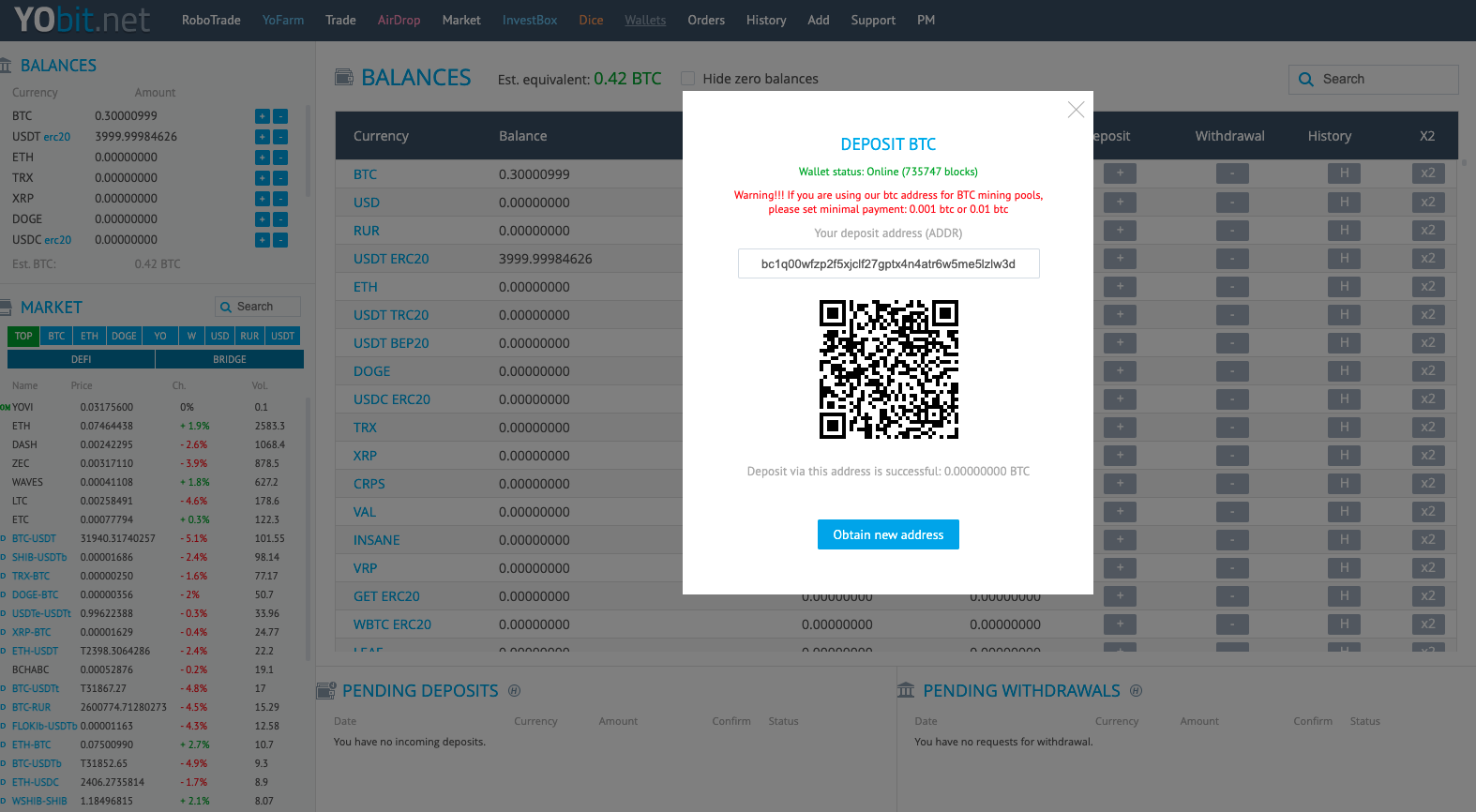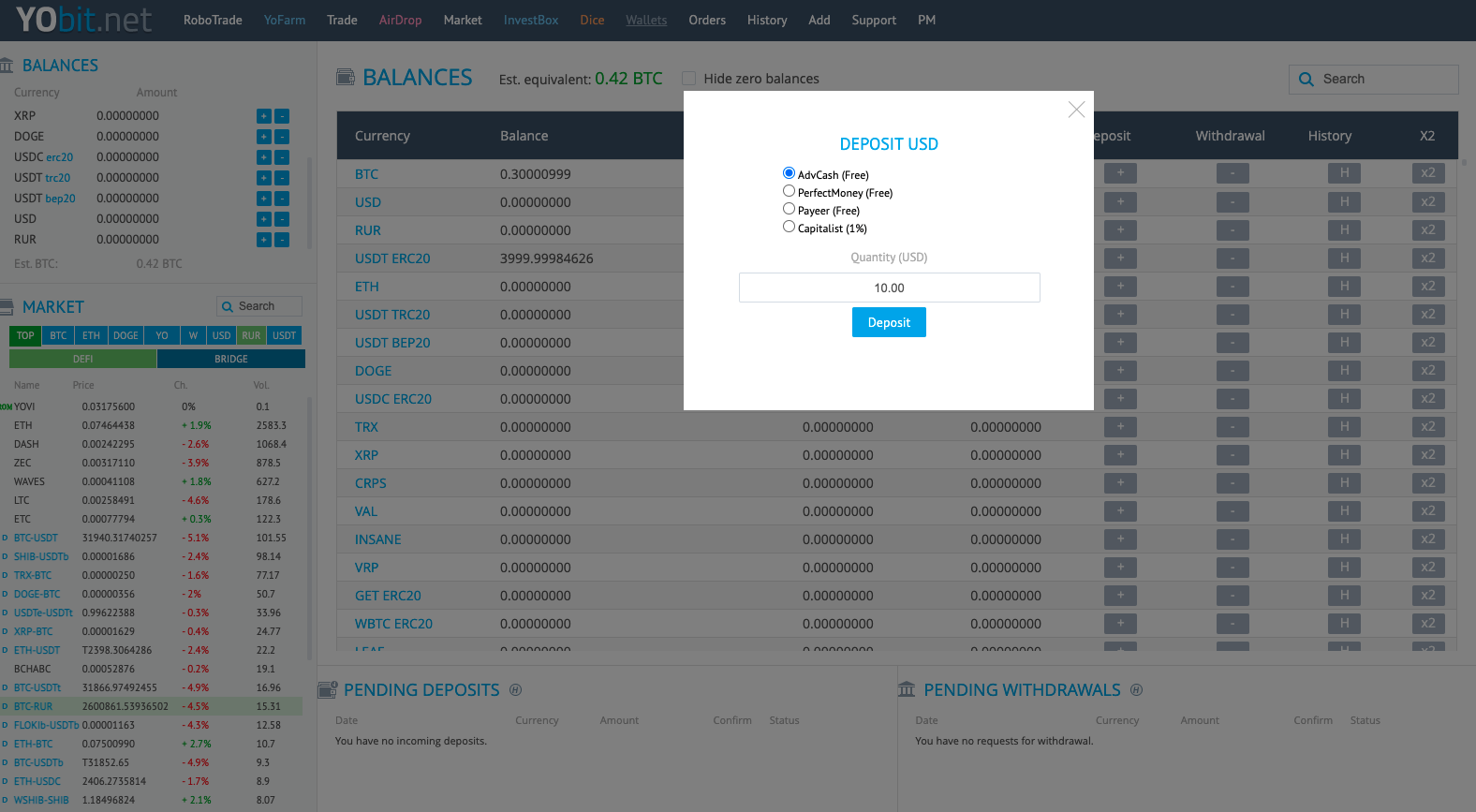 Simply enter the amount you wish to deposit, click 'Deposit,' and follow the steps to confirm the transaction.
How to Buy Bitcoin on YoBit
Once you have deposited funds in your YoBit account, you can buy Bitcoin by following these steps:
Go to the 'Trade' section of the website

Select your chosen currency pair (e.g. BTC/USDT)

Enter the amount you wish to buy (the price will fill in automatically, including the 0.2% fee)

Click 'Buy'

Confirm the transaction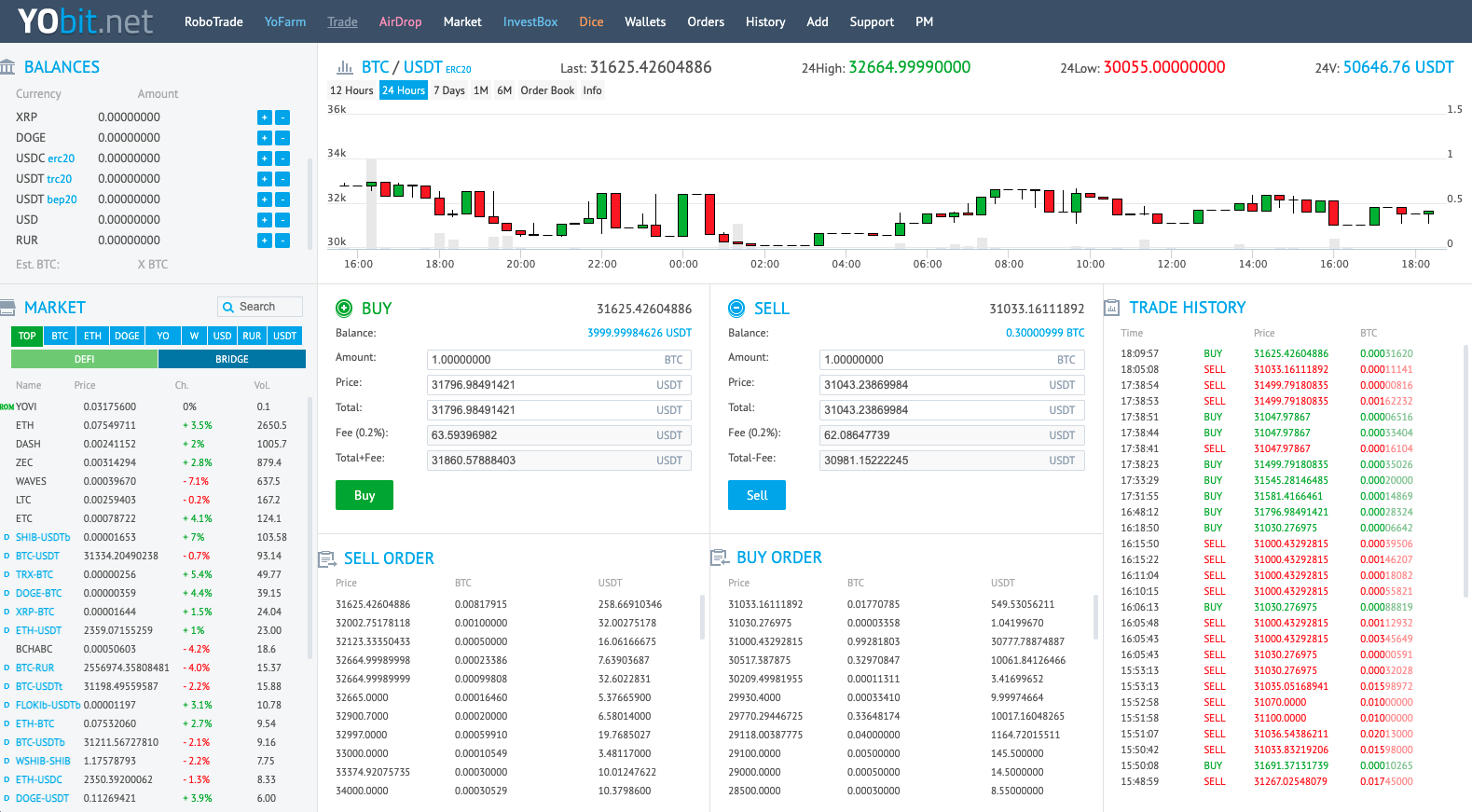 How to Withdraw Money on YoBit
To withdraw money on YoBit, you simply need to click the '-' sign next to one of the currencies in the 'Balances' section on the home page. A window will then pop up prompting you to enter a withdrawal wallet address (in the case of withdrawing cryptocurrency), or one of a number of third-party providers that facilitate withdrawals (in the case of withdrawing fiat).
Be careful entering your details, as YoBit doesn't offer refunds for transactions that go to the wrong place. Once you have confirmed your details, enter the amount you wish to withdraw and complete the transaction.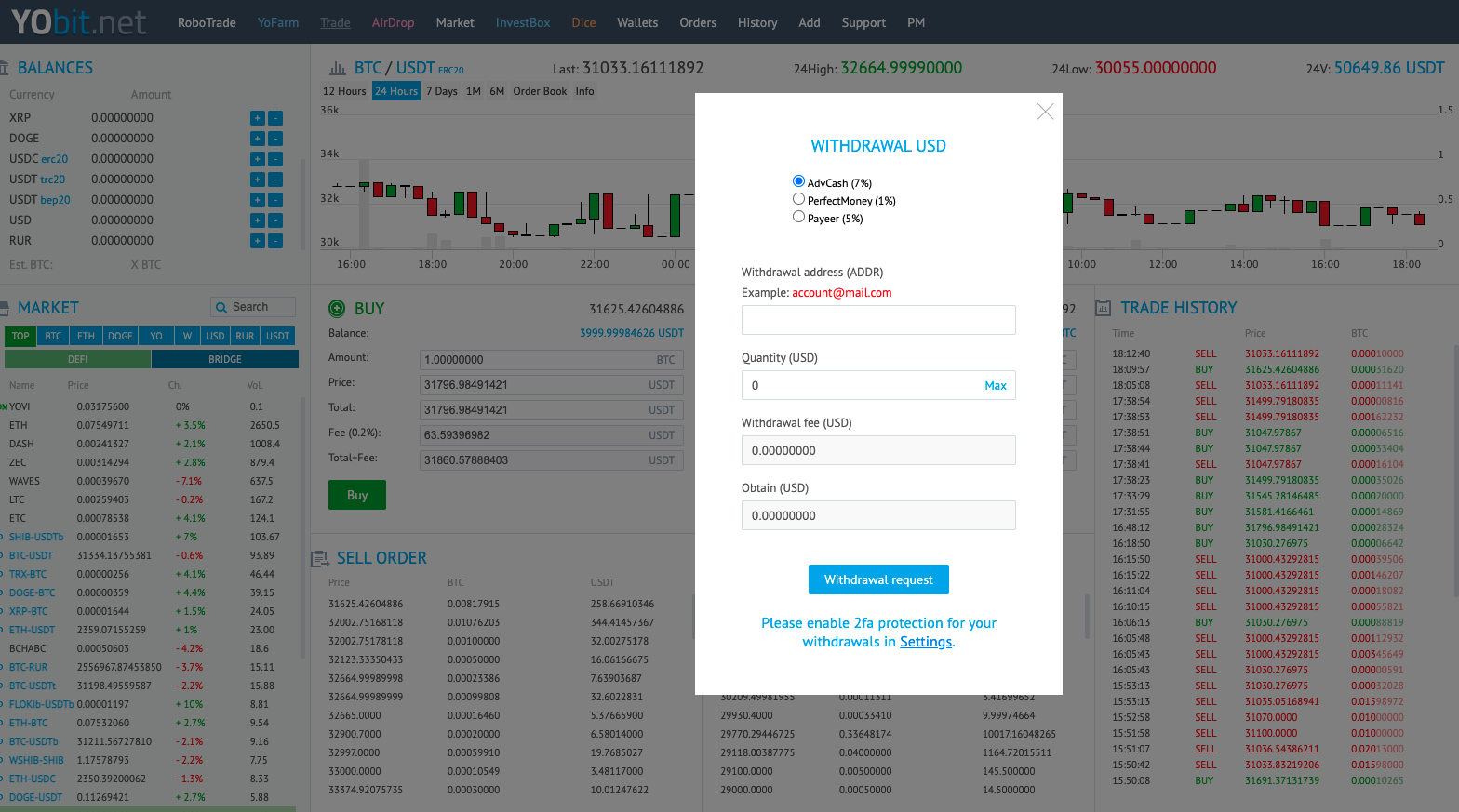 YoBit Pros and Cons
Pros
Can buy and sell cryptocurrencies without ID
Almost 500 cryptos and 8,000 currency pairs available to trade
Easy-to-use exchange interface
Low fees for trades (0.2% of trade amount)
Ability to deposit and withdraw in crypto and fiat currencies
Cons
Lack of live customer support
Potentially high fees for withdrawing fiat currency (up to 7%)
What Makes YoBit Different from Other Exchanges?
YoBit's simple and intuitive interface makes it an appealing option for users who want to have more control over their buy/sell orders than you typically get on brokerages. Also the ability to buy and sell cryptocurrencies without ID is hard to find these days, and YoBit users can benefit from this because of the platform's lax regulatory requirements.
Additionally if you sign up to YoBit you can generate passive income through the liquidity pools in its YoFarm feature. Overall YoBit offers a variety of services on an easy-to-use platform, however if you're still weighing up your options here are some other competitors to consider:
Most Popular
Min. Deposit
$10
Promotion
Build a diversified portfolio with crypto, stocks, and ETFs — all in one place.
Trade on the world's leading social trading and investing platform
Description:
eToro offers a wide range of cryptos, such as Bitcoin, XRP and others, alongside crypto/fiat and crypto/crypto pairs. eToro users can connect with, learn from, and copy or get copied by other users.
Payment Methods
Bank Transfer, Credit Card, Debit Card, PayPal, Wire Transfer
Full regulations list:
CySEC, FCA
Cryptoasset investing is unregulated in some EU countries. No consumer protection. Your capital is at risk.
Min. Deposit
$0
Promotion
Description:
World's longest-standing crypto exchange. Since 2011 Bitstamp has been providing a secure and reliable trading venue to over four million individuals and a range of institutional partners.
Min. Deposit
$1
Promotion
0% deposit fees, 0% withdrawal fees, 0% trading commissions
Set up automated trades and up to 50 limit orders with ease
Buy and sell 90+ cryptos and utility tokens, precious metals and national currencies with as little as $1
Description:
Create your account in minutes and start trading 90+ cryptos and other assets on the most flexible trading platform.
Final Thoughts - Is YoBit Legit?
YoBit's exchange has a lot to offer users, but anyone signing up should be aware of the lack of consumer protections offered by its Panama-based regulatory status. This does have a significant upside for some users if they are looking to buy cryptocurrency anonymously, but it does mean there is little in the way of protection for your funds.
That being said, YoBit has been operational since 2014 and offers a wide range of cryptos to trade with attractive and easily visible fees.
Alternative Crypto Exchanges
Frequently Asked Questions
YoBit is regulated in Panama, where the exchange was founded. This means that it doesn't offer the same regulatory protections as some of its competitors, and is also the reason that YoBit is able to offer users the ability to register an account and trade cryptocurrencies without ID verification.

There is no information about who owns YoBit available on the website, but the company is headquartered in Dubai and incorporated in Panama.