Wirex is an extremely user-friendly platform that is designed to make purchasing and using cryptocurrencies as easy as fiat. With its support for 20 cryptos and traditional money and a Visa backed debit card, Wirex offers simplicity and ease of use.
At first, Wirex seems like a payment processor or banking services. But with its unique instant swap features for crypto and fiat, it offers the same basic services as an exchange, with no commissions on trades made.
How to Get Started with Wirex
Register through tapping on the green "open an account today" button. Enter basic information such as country of residence, email address, physical address, DOB, nationality and mobile number. Once done, pass the KYC by submitting a copy of a government-issued ID, or any official document showing your address and source of funds (for using USD. EUR and GBP related features).
Wirex supports both fiat and crypto deposits, with traditional money sent through linked local bank cards (up to 5 cards with near-instant transfers) and cryptocurrencies through any wallet. Each supported cryptocurrency has its own processing time, which depends on the native network load (taking 15 minutes on an average to transfer over). 
Once funded, a user can convert their fiat and cryptos into each other within seconds. Offering a very basic OTC exchange for traders, they can select the crypto or fiat they want to trade in and enter how much of it they want to convert, followed by the desired currency. A simple tap on the Exchange button instantly converts the funds into the selected one.
Wirex Interface and User Experience
Designed for simplicity, the Wirex exchange has a very user-friendly interface for beginners. Unlike other platforms that have different complex graphs and charts showing a wealth of data, Wirex only shows the funded accounts on the left side of the screen, with options for selecting the source currency (fiat and crypto both).
To start, a user must select the relative currency account they want to trade-in. Selecting the account will show different options that the trader can use, including an exchange one, which in turn, gives the user the different options for the desired currency. A simple selection leads to the trader defining how much of the base currency they want to convert. Traders can either enter the amount manually or select the maximum to convert all of their holdings.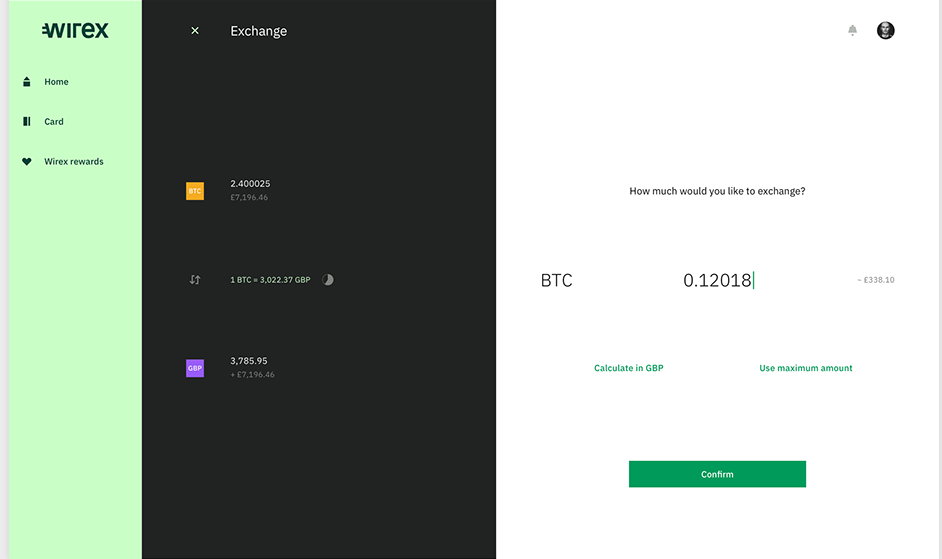 Wirex will now display to the user how much they will be receiving in the destination currency. Once the user taps on the 'Confirm' button, Wirex will instantly convert their original currency into the demanded one.
Though the Wirex platform doesn't offer different order options such as limit, market or stop-limits, the system is aimed towards people who don't need to do complex trading and simply want to convert their currencies.
There are no delays in trades, as Wirex does not rely on a trading engine to match different traders and their orders. Wirex acts as an over the counter (OTC) exchange, offering immediate trades and liquidity, albeit at a small fee.
Easy, simple and fast, Wirex is the perfect solution for people looking for instant conversions without the hassle of understanding how exchanges handle their orders.
Key Considerations for Wirex
Like any platform that offers crypto exchange services, Wirex has its pros and cons. To know if the platform is for you, consider a few aspects that may impact your decision to use it:
Limits and Liquidations
Wirex users are bound by some limits to their accounts related to the deposits, trades and conversions. The platform supports both crypto and fiat deposits, trades and withdrawals, but only offers services for 11 fiats (EUR, GBP, CAD, CZK, HUF, PLN, RON, HRK, SGD, MXN and USD) and the same number of cryptos WXT, BTC, LTC, XRP, ETH, WAVES, DAI, NANO and XLM).
Users can top up their Wirex account with fiat by linking their local bank cards with up to 5 cards per user and can top up a minimum of $10 per transaction, with up to $50 for an unconfirmed card and $3,800 for a verified one. A verified card can be used to transfer $5,000 in 24 hours, limited to 5 transactions.
Although there are no maximum limits defined for the supported cryptocurrencies, each one has its minimum limit, which can change according to the network load.
There are no limits on the exchanges made on the platform. Since Wirex is an OTC service, there are no issues regarding liquidity and any cryptocurrency can be instantly swapped for fiat.
Safety, Security and Privacy
Wirex uses multiple safety features to ensure the assets and currencies of its users are safe and away from the prying hands of hackers. By default, if a user needs to withdraw funds, they will be required to confirm the action through an email sent to their registered email address. Furthermore, by using two-factor authentication (2FA), traders can add in a secondary layer of security, with each major action or change in the settings requiring confirmation through a special code sent via email.
Using BitGo's multi-signature technology, each user account is offered the highest security as this needs all involved parties to agree on a transaction at the same time. Coupled with this, Wirex uses digital analysis tools to determine any suspicious activity in an account and informs the account owner of it. The final security measure is a verification process that must be used every time a major change is requested in the account, ensuring that the right account owner is making the changes.
Wirex has a comprehensive Privacy Policy that details how they are responsible for the safekeeping of user data, including sensitive information they obtain during the KYC process. Although Wirex informs users that they will keep the information private, they do mention that they may share information with other concerned parties in compliance with regulations and laws.
Deposit Times and Transaction Speeds
Using bank cards to deposit on Wirex takes only a few minutes, subject to the banking network speed. Similarly, sending crypto to a Wirex account largely depends on the blockchain confirmation of the crypto's network. This can take anywhere from a few seconds to up to 15 minutes, with more time required in cases of high network congestion. Withdrawals are, again, dependent on the banking networks and blockchain confirmation speeds.
Wirex Fees
As a platform that is aimed primarily towards offering a debit card to use different fiat and cryptos in the real world, Wirex has a very different fee structure than other exchanges. The service pulls data from 10 different exchanges and 3 OTC platforms to offer the best available price. The rates offered already incorporate liquidity on the exchanges and include any associated trading fees. There are no other fees placed by the platform on the exchange rates obtained.
However, since it does offer an easier method of spending the currencies, Wirex has other fees involved with the service:
Account maintenance: €1.2 per month.
Payments for deposits and spending are free on the SEPA network (card processors may charge additionally).
Debit Card: Issuance of the debit card is free, with a charge of €1 for any replacement requested. A 3% charge is placed for transactions completed using currencies other than the euro. Using the card on ATMs incurs €2.25 per withdrawal within Europe and an additional 3% of the principal amount in any other continent.
Balance Inquiry: Using the app or web interface is free, but €0.32 is charged for balance checking on ATMs.
Customer Support
Wirex has a comprehensive help centre, with easy to understand topics ranging from: how to fund an account, KYC measures, and how to use the Wirex multi-currency card and understand the fee structure.
Wirex also has large community-based support, where users can help each other solve day to day issues. The community page is neatly segregated into announcements for the latest news, resources, feedback and a general chat.
Users who cannot find an answer to their specific query or dilemma also have the option to contact the Wirex team through a request form.
A glance on review platforms such as TrustPilot gives a different opinion. Though the customer support is eager to answer users facing issues, a significant set of users are unsatisfied with the responses they get, with the platform having an aggregated 3.6 rating from nearly 7,000 reviews.
How to Use Wirex
Created to make cryptocurrency use as easy as spending fiat, Wirex forgoes the technical complexities usually involved in other exchanges and offers a seamless experience to store and convert cryptos and fiat including spending them through their debit card.
How to Deposit on Wirex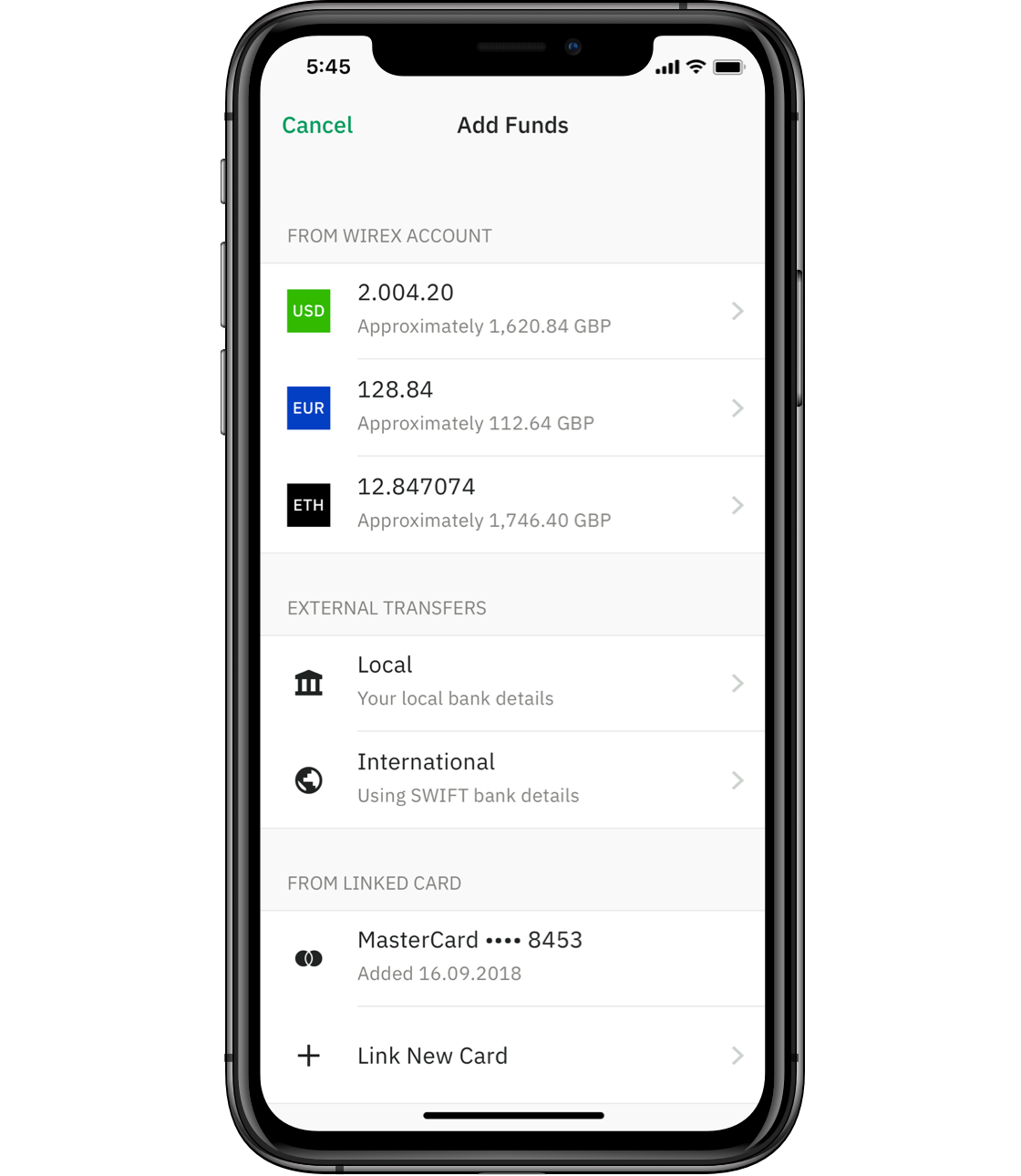 Wirex supports 11 fiat and the same number of cryptos and allows deposits. To add a supported fiat (EUR, GBP, CAD, CZK, HUF, PLN, RON, HRK, SGD, MXN and USD), users need to first link their local bank card with their account. This can be done by heading to the Preferences - Linked Cards - Link New Card option. A maximum of 5 cards can be linked with an account. Users can fund their account immediately after linking a card by going to their dashboard and selecting their desired currency. Below the container, traders will need to tap the + sign for the interface to show the relevant cards (and other Wirex accounts) they can use. Users simply enter the amount they want and confirm it.
Unverified cards have a very small deposit limit ($50). Verification of linked cards gives higher limits. The first time a card is used to fund a Wirex account, a unique 4-digit code will be generated as a comment in the card statement. The user needs to enter that code the next time a top-up is needed and the card will be automatically verified.
Funding with cryptocurrencies is even easier. Using the same method for depositing through cards, users can select from the listed cryptocurrencies instead. They will be presented with the public key and an associated QR code with the option to simply access their wallets or use the address to send over their required crypto.
How to Buy Bitcoin on Wirex
Acting more like an instant swap rather than a proper exchange that offers trading pairs, users of Wirex can instantly convert any of their holdings into Bitcoin. They need to head over to one of their held currencies and tap on the Exchange option. Users will be presented with the option of Exchange from (the original currency) and To (the asset desired).
Users then select BTC in the 'To' field and enter the amount of the original currency they want to exchange. Wirex will then use its 13 different exchanges and OTC platforms to get the best rate possible for the selected amount. Confirmation of the order is all it takes, with BTC deposited in their account.
How to Send Bitcoin from Wirex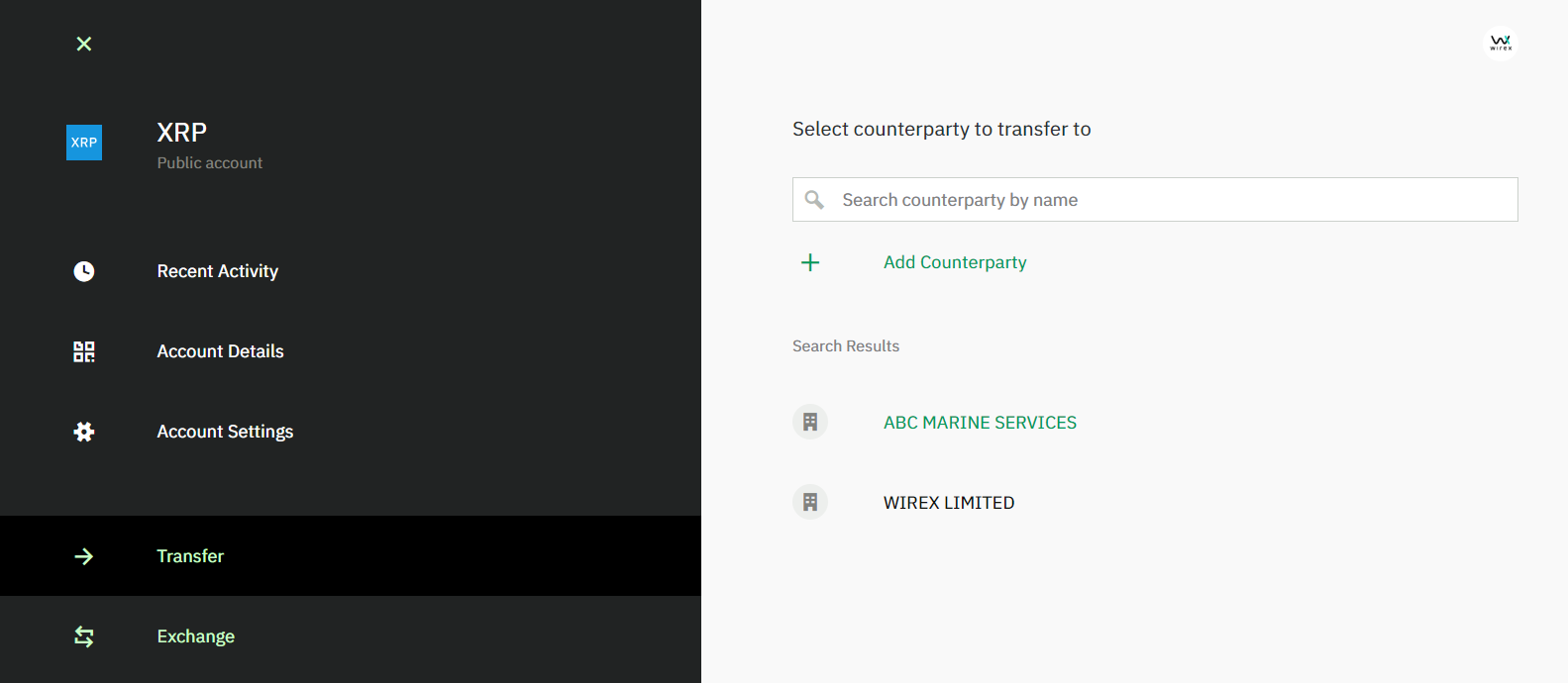 If there ever arises a need to transfer out Bitcoin from Wirex, traders can select their Bitcoin account and use the 'Send' option. They only need to enter the destination Bitcoin wallet address and amount and press Send Funds.
For security purposes, users will receive an email on their registered address with an hour's expiry if the destination wallet address is being used for the first time on Wirex. Account-holders will need to confirm their actions within 60 minutes. Repeated withdrawals on the same address require no confirmation unless 2FA is activated.
Once all confirmations are made, the transaction is executed and will be deposited in the recipient's wallet, subject to block confirmations of the Bitcoin network.
How to Withdraw Money on Wirex
Select fiat and then tap the Send option to initiate a withdrawal. Users can select one of the three options: To myself, To another person or To a business.
Depending on the option selected, there will be different information required, but an IBAN will be common in all. If you have a business account you might need to contact your team for authorisation above a certain amount. When the data is filled, click Confirm. A final order will be displayed and you can also add any comment related to the withdrawal.
Once Send is clicked, an email will be sent to the account's registered address for security purposes. With the final confirmation, the money will be sent. Once the funds reach the intended bank account, the status of the transaction will show Complete.
Though withdrawals are initiated immediately when all confirmations are made, banks may have their own processing time involved, which can vary from country to country and bank to bank. Consult your bank to know the best possible time for receiving funds.
Pros and Cons
Pros
Visa powered debit card that can be used anywhere in the world
Legally compliant (authorised by the Financial Conduct Authority)
Cons
Recent updates have led to issues in services
Many crypto exchanges are offering debit card services too
What Makes Wirex Different from Other Exchanges?
As mentioned before, Wirex is unlike other crypto exchanges as it is primarily geared towards its debit card service so users may enjoy spending different fiat and crypto with thousands of merchants. Wirex does offer crypto to crypto and crypto to fiat exchange services, but it acts more like a direct party without buyers and sellers.
Binance, for example, is a fully-fledged crypto exchange that is a marketplace that connects buyers and sellers, with advanced trading features, different order types and even derivatives. Each order placed is matched against another trader who agrees on the quantity and price. Wirex, on the other hand, is not a true marketplace and trades made by users are done with Wirex directly, which in turn aggregates data from different exchanges and platforms to offer the best conversion rates. There are no order types, just a simple convert feature.
Most Popular
Min. Deposit
$10
Promotion
Accepts customers from the USA
Deposit $100 and get a $10 bonus!* Build a diversified portfolio with crypto, stocks, and ETFs — all in one place.
Trade on the world's leading social trading and investing platform
Description:
eToro offers a wide range of cryptos, such as Bitcoin, XRP and others, alongside crypto/fiat and crypto/crypto pairs. eToro users can connect with, learn from, and copy or get copied by other users.
Payment Methods
Bank Transfer, Wire Transfer
Full regulations list:
CySEC, FCA
Cryptoasset investing is unregulated in some EU countries. No consumer protection. Your capital is at risk.
Min. Deposit
$0
Promotion
Description:
World's longest-standing crypto exchange. Since 2011 Bitstamp has been providing a secure and reliable trading venue to over four million individuals and a range of institutional partners.
Min. Deposit
$1
Promotion
0% deposit fees, 0% withdrawal fees, 0% trading commissions
Set up automated trades and up to 50 limit orders with ease
Buy and sell 90+ cryptos and utility tokens, precious metals and national currencies with as little as $1
Description:
Create your account in minutes and start trading 90+ cryptos and other assets on the most flexible trading platform.
Final Thoughts - Is Wirex Legit?
A simple concept with an efficient and easy to use interface, Wirex sets itself apart and is a perfect tool for people who want to simply hold and spend their currencies using a debit card. The platform is also registered with the Financial Conduct Authority under the Electronic Money Regulations act and is a genuine payment processor.
If you require one of the easiest ways to buy, send and spend cryptocurrencies, Wirex is your go-to choice.
Alternative Crypto Exchanges
Frequently Asked Questions
As a legally compliant platform, Wirex is available only in limited countries. Please refer to the platform to know if your country is supported.

Yes. Wirex debit card is powered by Visa and as such, is usable wherever the Visa logo is displayed.

Wirex uses multi-layered security, such as 2FA and multi-signature wallets along with advanced monitoring for suspicious activities, keeping funds safe.

The Wirex Token is the native crypto coin of the platform. Using it for paying fees means enhanced discounts.

Wirex may require its users to submit KYC again if there are any regulatory changes or it suspects any fraudulent activities in user accounts.