Poloniex started operating in 2014 as a purely crypto-to-crypto exchange and later branched into cryptocurrency margin trading, crypto lending, staking and crypto futures trading. In 2018, Circle acquired Poloniex in a deal valued at $400 million. Circle is a peer-to-peer payments technology company with the backing of Goldman Sachs.
The company shifted its registration jurisdiction to Seychelles under Polo Digital Assets, but the headquarters remain in Wilmington, Delaware. Poloniex is the first cryptocurrency exchange to register $1 billion daily trading volume. The exchange serves customers from across the globe except for a few countries such as Iran and North Korea. 
How to Get Started with Poloniex
Your journey on Poloniex starts with providing a valid email address and accepting the platform's terms and conditions. The platform does not ask for much beyond email verification. This step gives you the most basic Poloniex account and a higher level of verification (you need to submit a government-issued ID and current address) and can advance you to Level 2.
Poloniex supports two different methods for funding your exchange account. The first method is to deposit cryptocurrency into your exchange account by choosing one of the over 100 listed digital assets. Secondly, you can buy crypto from Simplex with fiat currency using bank cards or a Simplex account. The funds in your exchange account are movable into the other trading accounts.
Once the funds reflect in your exchange account, you can move them to any of the trading accounts to start trading. Poloniex has three unique trading platforms. The exchange platform is where you can buy and sell more than 90 cryptocurrency pairs, the margin platform is where you can buy/sell crypto CFDs and the crypto-futures platform exposes you to complex crypto-derivatives.
Poloniex Interface and User Experience
Poloniex designed the platform in a way that anyone can navigate without any problems. Different services have unique tabs under which you can enjoy the full service on offer. Consider the 'Exchange' platform. Poloniex designed this window to resemble traditional trading platforms such as MT4 such that users do not have to struggle with learning an unfamiliar UI.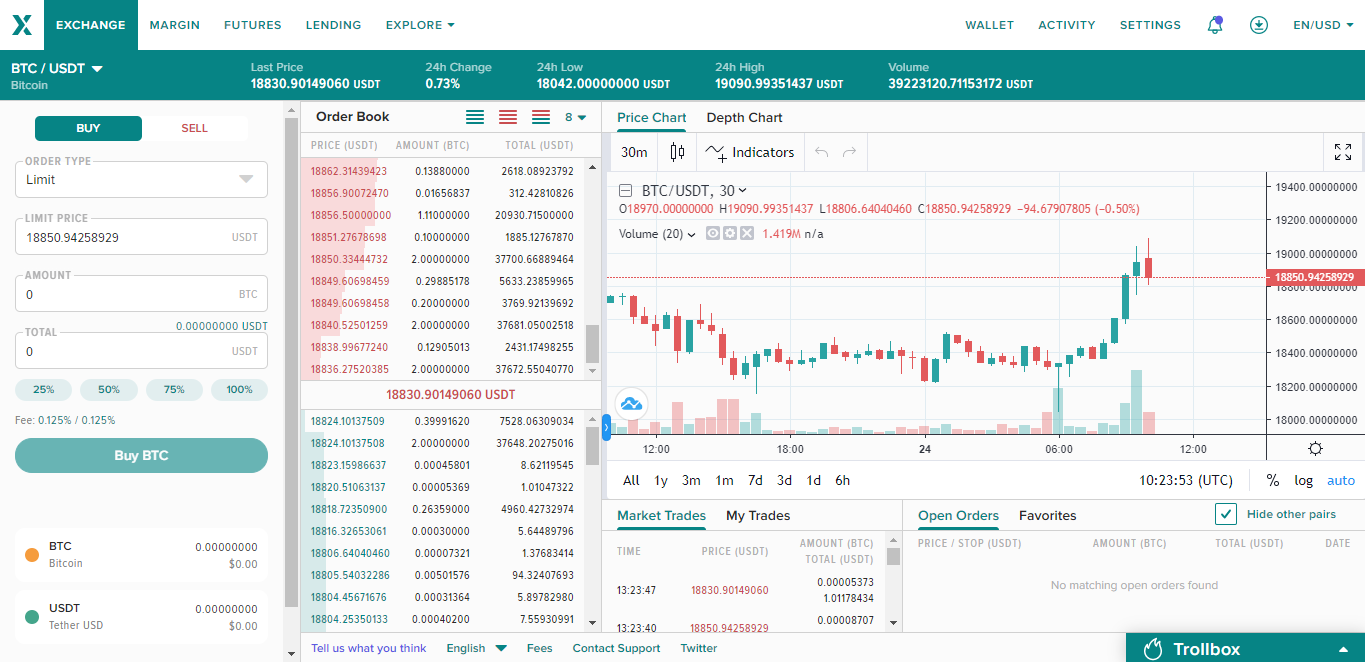 On the extreme left, the interface shows you the window where you can accomplish trading activities. The clear and uncluttered design gets you all the services you need. On the right, the price chart covers almost two-thirds of the entire interface. This way, you have enough space to conceive and test your strategy before putting it to use.
There is a handy information box in the middle that displays the order book details. What Poloniex seeks to achieve is to create an environment where traders make the best decisions based on all available relevant information.
Key Considerations for Poloniex
Besides Poloniex's variety of offerings and an intuitive user interface, the exchange stands out in other critical aspects such as the ones described below:
Limits and Liquidation
Poloniex has one of the highest daily volumes in the market with the last 24 hours at the time of writing registering $213 million. Additionally, CoinMarketCap ranks the exchange at position 14 in terms of web traffic factor. Web traffic factor is a parameter that CoinMarketCap uses to rank the cryptocurrency exchanges from the most popular to the least popular from top to bottom.
In terms of limits, Poloniex imposes transaction limits on accounts based on the level. Level 1 accounts have a daily withdrawal limit of $10,000, but this amount can climb to $50,000 per day if you enable two-factor authentication (2FA). By default, Level 2 accounts can withdraw up to $500,000 per day but with an option of raising the limit to $1 million if you enable 2FA.
Furthermore, Level 2 Poloniex users can raise the deposit and withdraw limits higher if they seek address whitelisting from Poloniex customer service representatives. To access this service, users must provide pre-authorised cold storage wallets to guarantee the safety of the digital currencies. Such services are available to Poloniex Plus and Poloniex VIP programs.
Safety, Security and Privacy
Poloniex has a positive track record in terms of platform security, especially after it shut down suspicious activity quickly enough to avoid a massive platform compromise in March 2014. The management of the exchange was forthcoming with the information about the hack and immediately rolled plans to beef up security, as well as reimbursing lost crypto. Since then, the exchange has successfully pushed its daily volume to an industry record because of a better trading experience for its users. Now, the platform has robust protections against DDoS attacks, has cryptographic protocols for DNS cache protection, has IP lockouts and email confirmations and Poloniex stores most of its users' digital currencies in cold storage wallets.
Poloniex's activities are subject to Seychelles' Financial Services Authority (FSA) as well as other jurisdictions in which it operates. Because of its operations in the United States, Poloniex falls under the purview of the Financial Regulation Authority (FINRA) and Financial Crimes Enforcement Network (FinCEN). Also, reputable regulators in the European Economic Area (EEA) oversee the security of Poloniex services.
Moreover, the platform takes privacy issues seriously. For starters, Poloniex has a comprehensive privacy policy posted on its website for all to read. Unlike many other policies, Poloniex is less about jargon and more about understandability. For example, the company declares the kind of information it collects and what happens to it.
Deposit Times and Transaction Speeds
Poloniex offers unlimited deposit accounts for verified users and those in the Poloniex Plus and VIP programs. However, Poloniex does not support deposits in fiat currencies. Users can buy digital currencies via Simplex and then proceed to deposit the coins in their Exchange Accounts. Moving funds from the Exchange Account to the trading accounts is instant.
Transactions on the Poloniex platform happen via cryptocurrency only. For this reason, Poloniex boasts one of the fastest transaction speeds in the market, as well as high liquidity.
Poloniex Fees
Poloniex users are subject to various fees, as explained below:
Trading fees – Poloniex charges trading fees per trade. The fee schedule follows a fee tier with nine different tiers. Tier one up to tier six of the fee schedule depends on your 30-days trade volume and your TRON (TRX) balance. For example, a 30-day trade volume below $50K and a TRX balance less than $49 subjects you to Tier one fees worth 0.125%, whether you are a maker or taker. On Poloniex, a maker is a market participant who creates liquidity while the taker draws down the market liquidity.
Futures trading fees – Poloniex determines fees in this category based on taker and maker technique. Makers are subject to a flat fee of -0.026% (the platform pays rebates to makers as an incentive for trading on Poloniex) while takers are subject to a flat fee of 0.075%.
Margin interest fees – these are subject to Poloniex users engaged in cryptocurrency margin trading. Poloniex calculates this fee based on the loan amount one borrows from the lender.
Lending fees – these affect users who make use of Poloniex's crypto-lending feature. From the interest that lenders earn on the loans given out, 15% goes to Poloniex as commissions.
Deposit and withdrawal transaction fees – depositing crypto into your Poloniex account is free. On the other hand, withdrawals incur unique fees based on the asset you are moving.
Customer Support
The Poloniex customer support team is one of the most versatile that we have encountered. You can reach the team via a phone number displayed on the website, as well as via an email address, and a chat function christened Trollbox. The Trollbox also operates as a platform where the Poloniex community can interact among themselves and with the customer service.
Other avenues for reaching the Poloniex customer service are via Twitter, Weibo, VK and Telegram. Also, the platform maintains a blog that contains plenty of information about its services, as well as covering frequently asked questions (FAQs).
How to Use Poloniex
In this section, we will explain how Poloniex works, as well as navigating you through critical activities that you can accomplish.
How to Deposit on Poloniex
Signup and proceed to your account's dashboard. On the top navigation bar, find the 'Wallet' tab and open it, under which you will see a 'Deposit' tab.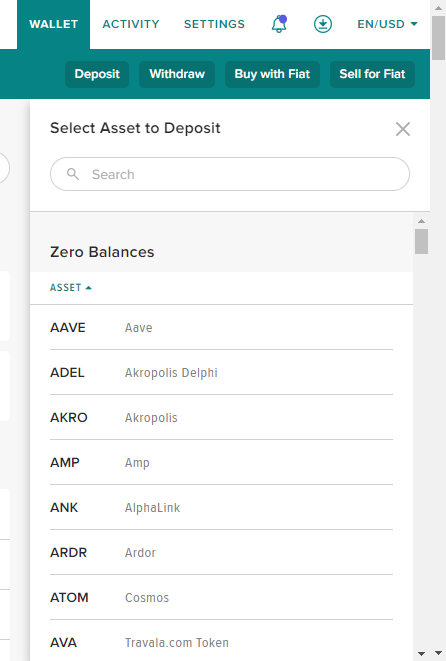 A search box will open in which you can specify the digital currency in which you would like to make the deposit (remember that Poloniex supports crypto transactions alone). If Bitcoin (BTC) is your choice, the page will lead you to the window shown below. Here, you have another choice to make; whether to deposit on the bitcoin network or the Tron network.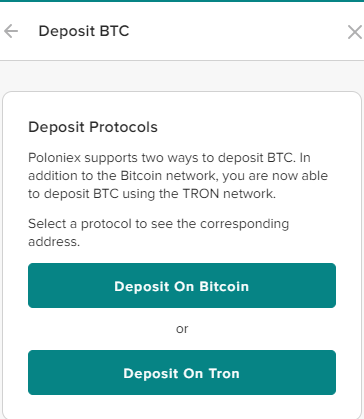 Once you select the desired network, another window will open where Poloniex provides you with a QR code for you to scan. Alternatively, you can copy and paste the public key of the destination for your BTC.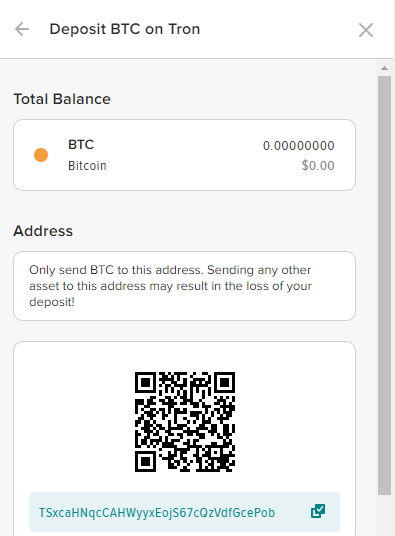 How to Buy Bitcoin on Poloniex
Although Poloniex does not support fiat transactions, it provides the capability to buy bitcoin – and all the other supported cryptocurrencies – using fiat currencies. Navigate to the 'Explore' tab on the navigation bar and move down to the 'FIAT' tab.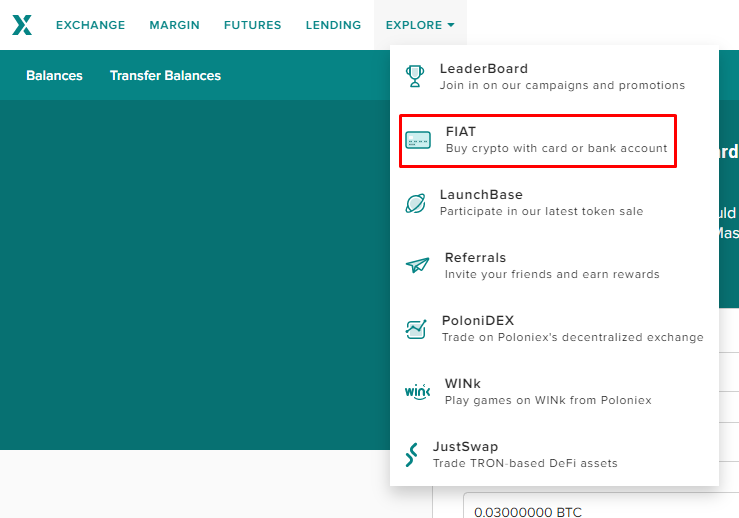 This venue allows you to buy Bitcoin/crypto with a debit or credit card. Alternatively, you could use the funds in your Simplex account. Enter the amount in your preferred fiat currency, i.e. the USD, confirm that you have read the terms of the transaction and tap/click 'Buy Now'. Poloniex will deposit the coins in your Exchange Account once it receives the fiat.
Other methods for buying Bitcoin include buying bitcoin CFDs and bitcoin futures. These alternatives carry more significant risks. Since Poloniex stores the coins in offline facilities, the first method for buying bitcoin remains the safest.
How to Send Bitcoin on Poloniex
Poloniex only supports sending cryptocurrency – including Bitcoin – across its different accounts. That is, from a lending account to a futures, margin trading or exchange account. You cannot send BTC from your exchange account to a third party wallet or another exchange account.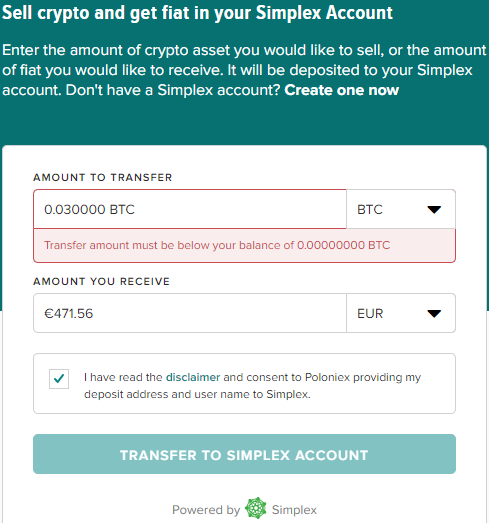 Quote the amount of BTC you want to transfer, and the platform will automatically compute the amount you should receive. With every detail in order, confirm that you have read the disclaimer and consent to Poloniex providing your deposit address and user name to Simplex and then click 'TRANSFER TO SIMPLEX ACCOUNT'.
How to Withdraw Money on Poloniex
Note that Poloniex only supports crypto transactions, meaning you will be withdrawing crypto, not fiat. The withdrawal process begins with opening the 'Withdraw' tab and specifying the coin and amount you wish to move.
Next, go to your crypto wallet and generate a deposit address and then copy and paste it in the right place. Wait for a few minutes for the platform to conduct necessary verification processes. Without network congestion, your funds will take about two hours to reflect in your wallet.
Poloniex Pros and Cons
Pros
User-friendly trading platform
It includes a mobile app for trading on the go
Has a wide variety of coins to trade
Offers crypto futures and margin trading
There is abundant liquidity
Cons
Does not support fiat currencies
The company is more loosely regulated than other cryptocurrency exchanges
What Makes Poloniex Different from Other Exchanges?
Poloniex's most outstanding feature is crypto lending. Few exchanges realise the immense potential of this sector in an environment that is growing at high speed. On platform security and safety, Poloniex plays in the same league as Binance, which is the world's largest crypto exchange. Both crypto exchanges utilise 2FA mechanisms to offer tighter security for users and their digital assets.
Most Popular
Min. Deposit
$10
Promotion
Build a diversified portfolio with crypto, stocks, and ETFs — all in one place.
Trade on the world's leading social trading and investing platform
Description:
eToro offers a wide range of cryptos, such as Bitcoin, XRP and others, alongside crypto/fiat and crypto/crypto pairs. eToro users can connect with, learn from, and copy or get copied by other users.
Payment Methods
Bank Transfer, Wire Transfer
Full regulations list:
CySEC, FCA
Cryptoasset investing is unregulated in some EU countries. No consumer protection. Your capital is at risk.
Min. Deposit
$0
Promotion
Description:
World's longest-standing crypto exchange. Since 2011 Bitstamp has been providing a secure and reliable trading venue to over four million individuals and a range of institutional partners.
Min. Deposit
$1
Promotion
0% deposit fees, 0% withdrawal fees, 0% trading commissions
Set up automated trades and up to 50 limit orders with ease
Buy and sell 90+ cryptos and utility tokens, precious metals and national currencies with as little as $1
Description:
Create your account in minutes and start trading 90+ cryptos and other assets on the most flexible trading platform.
Final Thoughts | Is Poloniex Legit?
The Poloniex exchange is like a breath of fresh air in an industry that offers limited options in terms of what users can do. While most exchanges offer cryptocurrency buying and selling and trading, Poloniex goes a step further by enabling users to lend out their coins for a comfortable interest. Additionally, Poloniex offers margin trading so that users can exploit the profit potential of the highly volatile cryptocurrency market.
However, we are alive to the fact that digital assets sometimes fluctuate violently and could cause some people to lose their money. For this reason, we advise that you go into the market well informed by the many experts online who offer great insights into the market. Also, you need to educate yourself on the concept of crypto and what the future holds before deciding to start trading. Many users have reportedly found Poloniex useful for crypto trading due to its ridiculously low fees and a trading platform that is simple and easy to follow.
Alternative Crypto Exchanges
Frequently Asked Questions
Poloniex is a cryptocurrency exchange that offers crypto buying and selling opportunities to users across the globe. The exchange goes further to offer margin trading and lending services for crypto.

No. Nevertheless, Poloniex partnered with Simplex to enable its users to convert fiat into crypto before depositing. The low fees incurred make this transaction anything but an inconvenience, and it increases the safety of the users' funds.

Purchasing cryptocurrency on Poloniex is fast and straightforward. Go to the 'FIAT' tab and specify the type and amount of crypto you wish to buy. You can also buy crypto using other cryptos by going to the relevant tab.

For traders, Poloniex charges a trading fee of 0.125 for a 30-day trading volume. A higher trading volume attracts lower fees. Deposit and withdrawal transactions using crypto are free.

A large number of online reviews and testimonials have reported Poloniex as safe. Reputable government agencies regulate Poloniex, from the United States to the Seychelles. Also, the platform stores users' cryptocurrency in cold wallets to ensure maximum security.