Established in 2010 and headquartered in Australia, Pepperstone is one of the leading cryptocurrency broker services in the global market. The service is regulated by FCA, DFSA, and ASIC with transaction volumes exceeding $12 billion.
If you are one of those traders who are searching for laser quick transactional speed combined with tight spreads, continue reading our Pepperstone review, as it should be in your consideration candidates. With more than 150 assets available including a wide range of popular cryptocurrencies and a number of global awards, Pepperstone is the broker you can trust in 2020.
With support for MT4, MT5, and cTrader along with the ability to use a demo account, Pepperstone has positioned itself as an all-round broker in the crypto arena where all types of traders including amateurs and professionals can enjoy their trading experience.
How to Get Started with Pepperstone?
Before you can trade, you will have to go through a 4-step registration process that enables you to open and verify your account. Apart from the basic details, you will also need to provide a copy of your ID accompanied by residential documentation proof to ensure compliance with Anti-Money Laundering (AML) and Know Your Customer (KYC) regulations.
Once you have created your account, you can now deposit your funds using a multitude of payment modes including bank transfer, credit card, debit card, and online payment solutions such as PayPal, BPay, Neteller, Skrill and more. Generally, deposits take no time to show up in your account, but bank transfers can be a bit time consuming, taking up to 5 business days.
The minimum deposit limit on Pepperstone is $200, so you won't have to put up a lot of money to experience trading. We generally recommend you to start with a small amount until you have learned the basics of trading. 
After you have gone through the process of registration and depositing your funds, you can trade more than 150 instruments across different assets, including forex, CFDs, cryptocurrencies, and commodities. There are six crypto derivative products that can be leveraged up to 20:1. Pepperstone app is also available on Apple and Google stores so you can trade on the go. 
We also recommend that if you are just starting out, make sure that you check the demo account that will enable you to familiarise yourself with the user-friendly interface and test out your trading strategies before you can put real money on the line.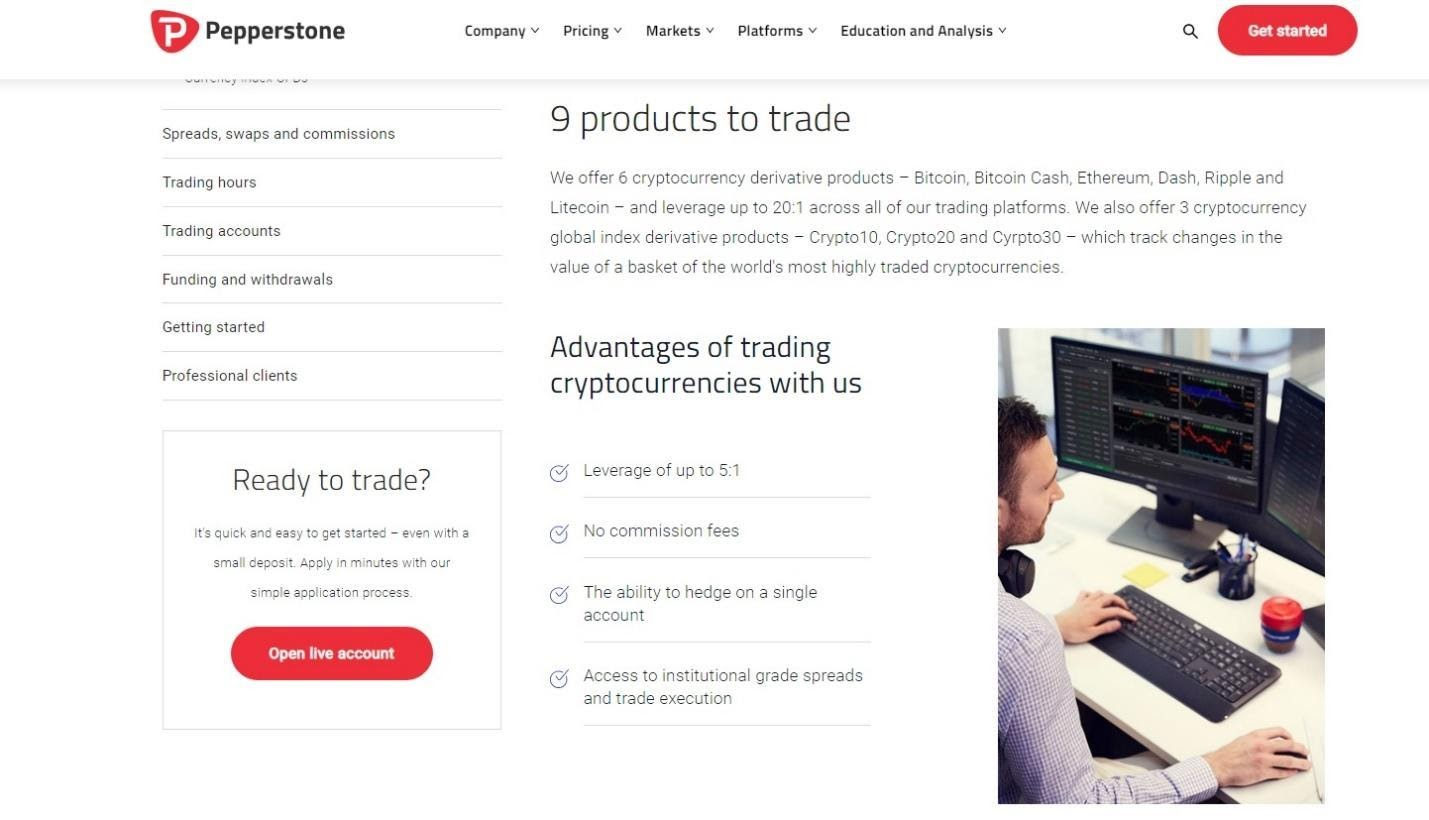 #1: Pepperstone at a glance, User Experience & Features
Pepperstone is designed to be an all-rounder in the trading space with features that facilitate both amateur and veteran traders. There is a reason why Pepperstone is an award-winning FX and CFD broker that offers the ideal combination of lightning-fast transactions, economic spreads, and exceptional customer care. It's rated as the top broker in terms of client satisfaction while spreads start from 0.0 pips on Razor accounts.
The service is regulated and provides traders with a number of trading platforms including cTrader platform, MetaTrader4, and MetaTrader5. Pepperstone also gives you the option to trade with a leverage of up to 500x while enjoying a seamless trading experience. High-level security measures ensure that your personal information, as well as funds, remain safe and secure while you trade.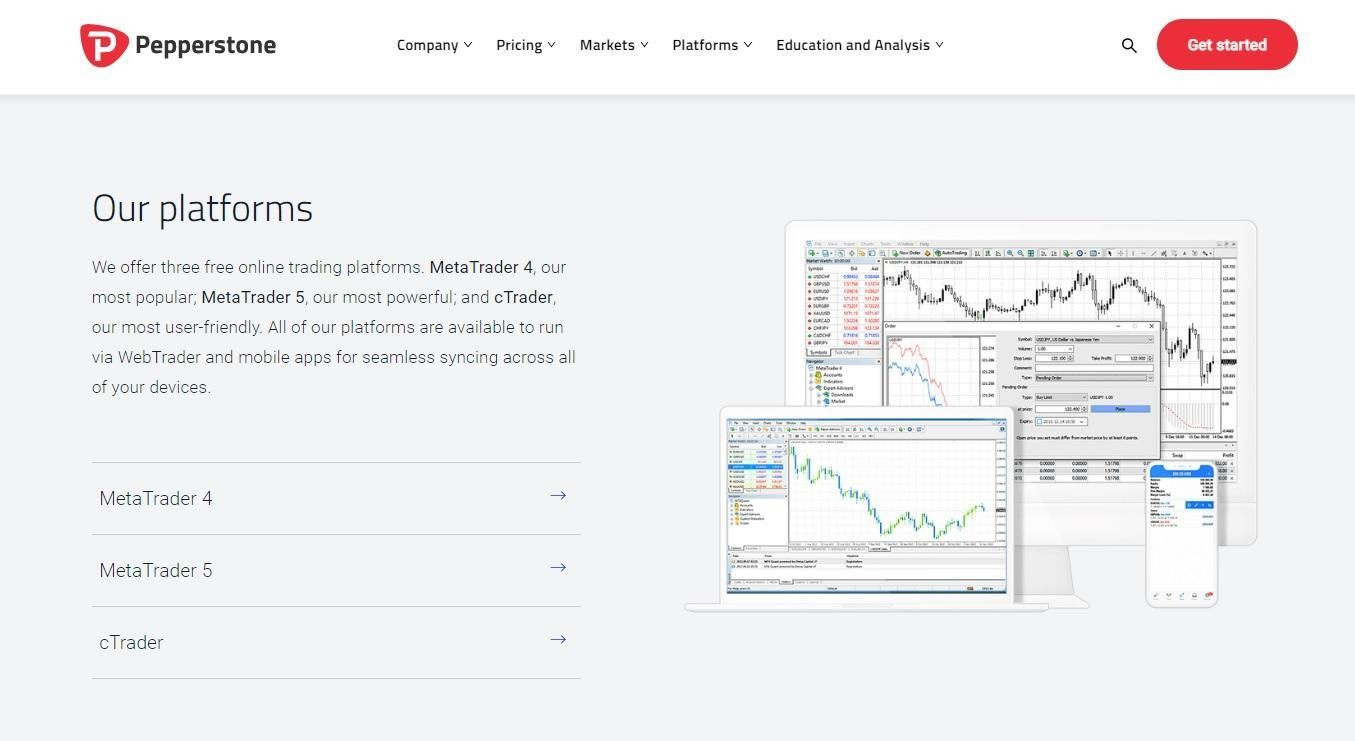 Pepperstone Additional Features
Apart from the standard broker features, there are a number of highlights that you couldn't miss as a trader that differentiate Pepperstone from its competition.
Pepperstone offers a diverse range of award-winning educational resources combined with the latest fundamental and technical analyses which allow you to position yourself as a successful goal-oriented trader. You can fine-tune your strategies for improved margins while automated trading gives you a peek into how other active traders make their profits.
This is an exclusive package offered by Pepperstone which includes risk management, expert indicator, and advisory smart tools that enable you to come up with better strategies and enhance the execution as well as the performance of your trades.
If you are looking to put in a substantial amount of capital into trading, then Pepperstone gives you the option to acquire the professional expertise of a Client Manager. The manager does not only educate you about the available options and opportunities but goes through the trading journey with you attempting to ensure optimal success with every trade.
Expert Tip for Using Pepperstone

"

The prime rule of trading cryptocurrencies or any other assets is that you shouldn't attempt to use any trading option or tool you aren't aware of. On the same note, it is better to inform yourself about the asset and its price movements in recent times before you start trading it. Remember that you should always minimise your risk by diversifying your investment portfolio. Instead of putting all of your capital in a single asset, divide it up between 4 to 5 different promising currencies.

"
#2: Key Considerations about Pepperstone
Regulatory Framework
When it comes to security and regulation, Pepperstone is one of the leading brokers globally. Based in Australia, the broker is regulated and authorised by the Australian Securities and Investments Commission (ASIC) under the license or ABN ID of 12 147 055 703. This allows Pepperstone to offer leveraged trading of up to 500x while providing additional protection of the Act of Grace under section 65, which is beneficial for traders.
Pepperstone is also regulated and authorised by the Financial Conduct Authority (FCA) and holds the registration number 684321. This gives traders insurance of up to $110,000 under the Financial Services Compensation Scheme (FSCS). DurIn20, Pepperstone also acquired a license to operate in Dubai from the DFSA. All these regulations mean that the funds deposited by the clients always remain completely segregated with Tier 1 banks.
Pepperstone Broker Account Types
Pepperstone gives its clients two types of trading accounts based on different trading strategies, experience, and the capital invested. These account types allow traders to trade a wide range of assets, including cryptos, forex trading (forex pairs), indices, commodities, and equities.
This account type is meant for new traders who are just starting out. There are zero commissions, but the average EURUSD spread can be anywhere between 1.0 and 1.30 pips. The account allows you to scalp and hedge while the available leverage goes up to 500x. There are a number of base currencies accessible including USD, AUD, GBP, JPY, CAD, EUR, NZD, CHF, and SGD. If you are an amateur trader who does not want to deal with complicated fee structures, the standard account is for you.
Razor account type offers all the benefits of the standard account but with a few more luxuries. For instance, the average EURUSD spread is much lower as it stays below 0.3 pips, while institutional grade spreads are applicable with no markup. This account type is great for algorithmic traders and scalpers who are quite strategic in their trading efforts.
You have to keep in mind that while commission in Razor Account starts from AUD$7, it may change on the basis of your account, base currency, and platform. Ensure that you completely understand the structure of spreads, commissions, and swaps before you start trading.

Trading Markets & Products
Pepperstone offers more than 180 assets that you can trade on the platform from different conventional and contemporary markets, including forex, commodities, and cryptocurrencies. You can use financial instruments like Contracts for Difference, commonly known as CFDs, to make your trading experience more convenient as they allow you to bet on the price of an asset with ease and lightning-quick transaction time.
Forex: Pepperstone supports over 60 foreign exchange currency pairs so traders can make the most of all the major markets. Popular pairs include EURUSD, GBPUSD, AUDUSD, and USDCAD.
Indices: The broker enables you to trade on the price movement of 14 global stock markets without commission which includes AUS200, CN50, EUSTX50, FRA40, GER30, UK100, US500, NAS100, and HK50.
Stocks: Traders can invest in share CFDs on Pepperstone with leverage of up to 20x and quick execution. There are more than 60 stocks on offer, including Exxon, Boeing, Facebook, Apple, IBM, and more.
Commodities: You can also trade CFDs of all the major commodities, including gold, silver, cotton, orange juice, coffee, cocoa, oil, sugar, gas, and more.
Cryptocurrencies: When it comes to crypto trading, you have access to multiple derivative products including Bitcoin, Dash, Ripple, Ethereum, Bitcoin Cash, and Litecoin with leverage of 20x.
The variety of available assets from Pepperstone may change over time, but the platform already brings an extensive range of assets along with providing the required professional help to traders that can guide them towards success.
Supported Countries by Pepperstone
Pepperstone is on a mission to take trading globally, and it shows in the broker's efforts who has been able to bring trading to more than 65 different countries across the globe. Some of the supported countries include Australia, the UK, Thailand, South Africa, Hong Kong, Singapore, Qatar, France, Sweden, Norway, Germany, the UAE, and more. Note that currently, the broker does not support American traders.
Spreads and Commissions
When it comes to transactional costs, Pepperstone is one of the most affordable brokers around. The average spread on the EURUSD pair being traded on MT4 on a Razor account is 0.1 pips while a commission of $3.80 is charged per lot per trade. On the other hand, if you are trading share CFDs, 0.4 points is the average spread in peak trading hours. If you are interested in cryptocurrency trading, the spread is $10 for BTC and $4 for ETH. You can see the complete details of spreads and commissions on the official Pepperstone website to determine how much your transaction cost will be.
Leverage
A leveraged trading option is provided by Pepperstone based on a wide range of factors. If the broker thinks that you qualify as a professional client taking invested capital and other factors into account, you can initiate trades with 500x leverage. In contrast, if you are classified as a retail client, your leverage will be limited to 30x. You have to also keep in mind that these are the maximum caps, and the leverage can be lower based on your account type and the asset you are investing in.
Deposit & Withdrawal
Pepperstone provides its traders with a diverse variety of account deposit and withdrawal options, including the following:
Bank Wire Transfer
Credit/Debit Cards including Visa and MasterCard
Online Payment methods such as PayPal, Neteller, Trustly, Klarna, Skrill, and Swish
Regardless of the payment mode used to deposit your capital in your Pepperstone account, the broker charges zero fees for deposits. That being said, the financial institution or the payment processor may charge you a fee for money transfer. Pepperstone also does not accept any payments from third parties to ensure compliance with Anti-Money Laundering (AML) regulation. Similar rules apply to withdrawals with minor changes.
Keep in mind that some payment options may not be available to you depending on your country of residence and a few other factors.
Payment Methods
In order to facilitate its traders, Pepperstone offers a wide variety of payment methods for depositing and withdrawing funds in a number of fiat currencies including US dollars, Swiss franc, euros, and pound sterling. Traders have the ability to transfer the money to their broker using a diverse variety of payment modes including MasterCard Secure Code, Verified by Visa, debit and credit card, Neteller, Skrill, and even broker to broker.
You can also request withdrawals through the Secure Client Area where such requests are received before 21:00 GMT and get processed on the same day. Pepperstone does not charge any fee on withdrawals or deposits, but the financial institution or payment processor may deduct their service charges.
Currently, Pepperstone does not accept payments through crypto coins such as Bitcoin or PayPal while it is one of the payment methods available on other trading platforms such as Skilling.
Safety, Security and Privacy
Talking about the security and privacy ensured by the brokerage platform, Pepperstone does a stellar job.
The platform is regulated in three different regions licenses issued by ASIC, FCA, DFSA, CMA, and SCB.
The website uses SSL technology which means all the communication between the client and Pepperstone has military-grade encryption.
Pepperstone also identifies and verifies all traders to ensure compliance with KYC and AML regulations for better data and funds safety of its clients.
Customer Support
Pepperstone offers a great customer care experience through different channels allowing traders to get their questions answered and concerns addressed in time before they start trading.
Live Chat - We tried out the live chat option multiple times, and there was a customer rep available every time we attempted to make a contact.
Phone Support - Just like live chat, the phone support didn't disappoint us as well as we got the answers we were looking for.
Email - We also wrote to Pepperstone to let us know about a few aspects of trading that weren't clear and got a fast response.
The customer support is not only well-managed but there is always someone available to answer your question. You also have multiple options available, so if one fails, you can use the other. There is also a contact us form which you can rely on. The only downside is that the customer service only works 24/5 and isn't available on weekends.
#3: What Makes Pepperstone Different from Other Brokers?
There are a number of aspects that make Pepperstone stand out from the crowd. For starters, it is one of the most highly regulated and authorised brokers globally that is operating in more than 65 different countries. Apart from that, the platform supports features that facilitate both amateur and professional traders, making it a great option for every type of client. There is a wide variety of conventional and contemporary assets available to trade while the transactional costs are low as compared to some of the major competitors.
Moreover, there is a comprehensive knowledge base and learning centre where traders can go to develop an understanding of short-selling and trading different assets, including cryptocurrencies. You can understand how CFDs work using the guidance material and start trading on the platform. Lastly, as mentioned earlier, the platform offers exceptional customer support through email, phone, and live chat so you can get prompt answers throughout any working day.
Alternative Crypto Brokers
#4: How to Trade on Pepperstone?
Before you can start trading on Pepperstone, you will need to sign up on the platform and make an account. You can choose between Razor and Standard accounts depending on your trading requirements.
Explore the Supported Markets/Assets
Pepperstone offers traders more than 180 different instruments on its forex and CFD trading platforms. It enables traders to make the most of foreign currency, commodities, shares, indices and crypto trading.
Choose From Your Desired Asset
As discussed earlier, you can choose from different markets and asset classes. Some of the traditional markets include forex, commodities and shares while modern asset classes feature CFDs and cryptocurrencies. You need to develop an understanding of the asset you are going to invest in to manage your risk. Top markets you can invest in on Pepperstone include the following:
Forex
Indices
Commodities
Share CFDs
Cryptocurrencies
Currency Indices
Deposit Payments
Now you have to deposit your capital into your Pepperstone account once you have selected the market or asset class.
Step 1: Log in to your main dashboard
Step 2: Click on "Deposit"
Step 3: Select the amount you want to start with
Step 4: Choose your preferred payment mode
Once you have deposited the amount, you will get a confirmation email that your payment has been processed successfully, and it will show up in your account.
Withdrawal Method
When you want to withdraw your profits or funds, you will need to go through the following steps.
Login to your main dashboard
Click the "Withdrawal" option
Enter the sum you want to withdraw and provide confirmation
Once again you'll receive a confirmation email
Pepperstone is famous for processing withdrawals within a single working day so traders can get their funds quickly.
#5: Pepperstone: Pros & Cons
Pros
Regulated by ASIC in Australia, FCA in the UK, and DFSA in Dubai
Supports leveraged trading of up to 500x
Trade in 6 different markets and more than 180 assets
Provides the perfect platform for both amateurs and professional traders
Support for cTrader, MT4 and MT5
Exceptional knowledge base for quick learning and strategising
Great 24/5 customer support through live chat, phone, and email
Cons
Not as many assets supported as some of the other competitors
$200 minimum deposit may be a barrier for some traders
No customer support on weekends
Final Thoughts - Is Pepperstone Legit?
Pepperstone is an award-winning FX and CFD broker with top-rated client satisfaction globally. It offers a transaction execution speed of 30ms with spreads starting from 0.0 pips on the Razor account. There are more than 180 trading instruments, and you get 24/7 customer support through email, phone, and live chat. There are smart tools available for traders, including expert indicators and risk management options that allow you to become a better trader.
Although it has a minimum deposit of $200 and no customer support on weekends, the pros offered by the broker far outweigh its minor cons. It is not just legitimate but one of the best trading platforms you can find on the market.
Frequently Asked Questions
Yes. Pepperstone is regulated by ASIC in Australia, FCA in the UK, and DFSA in Dubai and also ensures compliance with KYC and AML regulations.

Unfortunately, yes. You will need to deposit an amount of at least $200 to start trading. Although it is not that high, it could be a trading barrier for some.

It is an exclusive package offered by Pepperstone, which includes risk management and expert indicator tools that allow you to improve your trade execution, performance, and efficiency. Basically, these tools enable you to become a smarter trader through the use of statistics and data.

Absolutely. Pepperstone offers support for all the popular trading platforms including MT4, MT5, and cTrader so you can trade anywhere you want, including on-the-go.

No, Pepperstone does not deduct any charges or fees for your deposits regardless of the payment mode you use.