Paybis is a cryptocurrency exchange that supports the buying and selling of the leading digital currencies. It is based in the United Kingdom as a holistic cryptocurrency services platform that provides an uninterrupted trading experience. 
Its brand has incredibly increased in strength over the years since it launched in 2014. At the time of writing, it serves 48 U.S states and over 280 countries. 
Paybis has a transparent and clear fee structure. Besides this, the yearly trade volumes have surpassed the $170 million mark.
How to Get Started with Paybis
Go to the homepage and click on the "Sign up or Log in" button. Provide the required details such as your name and email address and input a password. You must be at least 18 years of age, living outside restricted areas, and must agree with Paybis Terms of Service. In addition, you need a means of identity to comply with KYC requirements.  
After registering on the platform, you need to provide some acceptable documents such as an identity card, driving license, passport, residence permit, PAN card, voters' card, health ID card, or military ID card. You will also be required to pass the 3D selfie security check. 
You can start transactions from the Paybis homepage the moment the verification is approved. Interestingly, the verification process does not take much time. You can complete the whole process within 15 minutes.
You can fund your account with any of the acceptable options on the platform. Your bank transfers can be immediate if done locally and can take up to 2 days for overseas deposits. For credit card payments, you will have immediate results from deposits. For crypto deposits, this can be instantaneous depending on the network.
You can go ahead and start trading as soon as your funds reflect in your account balance. Paybis operates a simple trading mechanism that newbies will be able to get along with, and experienced traders will find comfortable to use.
The interface here is user-friendly and easy to navigate, and for anyone who has used an email account before, the process here is that simple. From deposits to withdrawals, to checking your account balance, the layout is such that it can be walked through with ease.
On logging in to the portal, the user can view the "Buy Bitcoin" panel, where the amount to buy is required alongside your preferred payment method. By default, the credit card payment option is displayed, but you can change this to your preferred option using the dropdown menu.
Once the payment is processed, the crypto purchased will be delivered to the wallet address provided. There are verification requirements that must be met before you can perform a transaction on Paybis.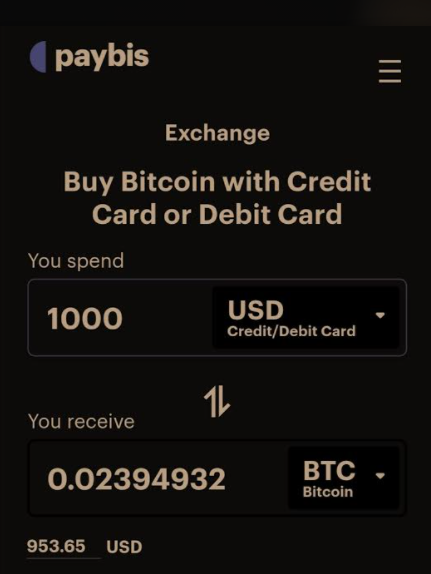 Buying Bitcoin with Paybis. Source: Paybis
The interface here is extremely simple, and it clearly geared at novices. Compared to some other exchanges, where new users are met with a baffling array of charts, trading pairs, and seemingly random numbers, Paybis simply asks you which cryptocurrency you would like to buy, and how you would like to buy it. This is truly a breath of fresh air in the world of exchanges.
Key Considerations for Paybis
When a crypto trader looks to use a platform, the basic information envisaged will be security, buying and withdrawal limits, among others. We have looked at all these a bit further here.
Limits and Liquidity
Limits imposed on users depend on their individual verification status. Like most exchanges, if you have complied with the necessary KYC requirements by providing your personal ID details like a drivers' licence or International passport, you will enjoy higher limits. Most users can trade up to $250,000 daily and withdraw the same with basic KYC compliance.
Liquidity refers to the total amount of funds available in a trading pair. When liquidity is high, trades are instantaneous, as there is sufficient funding on both sides of a pair (i.e. enough BTC and USD for the BTC/USD pair) to connect a buyer and seller with ease.
Paybis operates a market maker business approach, which means that liquidity is supported by a business arrangement with fund providers on the platform. This means that most transactions will be funded and paid up whenever they arise.
Safety, Security and Privacy
Paybis is structured to be the ultimate secure cryptocurrency exchange. Everyone knows how important security is as far as digital currencies are concerned. People find it easy to trade on Paybis because it is a reliable platform that provides several top security features that an online trader will find commendable.
The end-to-end encryption on the platform makes users' transactions secure and with 2-factor authentication (2FA) systems in place, interception of account data is prevented. Every user can be assured of privacy whenever a transaction is processed on the platform.
The platform also rates highly as a regulated crypto marketplace with adherence to AML and KYC requirements. Paybis is EU and U.S regulated, under the purview of the UK FCA and FINCEN in the US Treasury Department.
Deposit Times and Transaction Speeds
The fastest way to buy Bitcoin on Paybis.com is by Visa/MasterCard credit or debit card. Usually, your first transaction may take about 15 minutes, depending on if your KYC is automatically approved or not. Nonetheless, subsequent transactions usually take only 5 minutes.
When you use the crypto deposit option, Bitcoin can take up to 15 minutes to reflect, while some others like BNB, Ripple, and Tron usually reflect in less than 10 minutes.
Deposits made with other payment options like Neteller and Skrill are also immediate and are concluded in under 10 minutes. Paybis serves more than 180 countries all over the world. Therefore, there is a high probability that you will be able to make a transaction irrespective of where you live.
For fiat withdrawals, users have the same options as they have for deposits, making Paybis quite convenient. As for cryptocurrencies, since Paybis doesn't allow you to store crypto on the exchange, any crypto you buy or swap is delivered to your crypto wallet, which you must set up before the transaction begins.
Paybis Fees
These are the fee components expected for transactions on Paybis's website.
Trading Fees
Paybis trading fees are not the same as the fee models at several other digital currency exchanges. And there is no single tariff for all payment methods. This is traceable to the fact that each different payment method or deposit method you use has its specified fees.
Withdrawal Fees
No additional fees are charged by Paybis to withdraw coins. Nonetheless, transferring cryptocurrency always comes with network fees. There are fees for fiat/cash withdrawals, however:
Instant Card Withdrawal: Up to 1.5% of the transaction plus a minimum of $0.55.
Outgoing Wire Transfer: $25.
Customer Support
As one of the best exchange platforms, Paybis offers 24/7 customer support. This implies that every user can get in touch with them through Live Chat anytime every day.
All you need to do is to click on the "Live Chat" icon that is found at the bottom of the right-hand flank of the Paybis homepage. Enter your details (your name and email— these are optional) and then click on the " >" icon to start chatting with the representative of the customer support team.
Moreover, Paybis has a Support Portal that is made available for users. Here, they can use the search function and the FAQ section. To see these, check under the "Learn" panel at the bottom of the Paybis homepage.
Paybis has an excellent rating on review aggregator Trustpilot, so you can be confident that you are in safe and trustworthy hands with this exchange.
How to Use Paybis
To make use of the platform, the crypto trader needs to be aware of the processes at each stage. These are explained further in this section.
How to Deposit on Paybis
Paybis has a main draw that comes from its allowed payment methods – specifically, allowing payments via debit and credit cards, besides the standard cryptocurrency deposits. Recently, the exchange has expanded this to also allow funding via bank transfers.
When you log in to the member area, you will find the "Private" and "Business" panel displayed. Under "Private", click on "Exchange" to be redirected to the trade area. The business tab is not for traders, but market makers.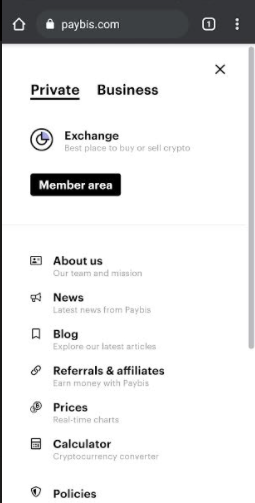 The Paybis "Private" section. Source: Paybis
The trade area shows the currencies available for transaction processing as well as the options that you can use. Uniquely on this platform, you need to match your deposit amount to your exact trade amount, as this marketplace does not custody funds or digital currencies.
If you choose the Debit/Credit Card option, you can select from a list of 40 currencies to pay with. There will be a need for you to provide your crypto wallet address and verify your device and email address. Lastly, try to review the fees relating to the transaction and be sure to verify the details of your payment to complete the transaction.
How to Buy Bitcoin on Paybis
Using a credit or debit card is the fastest option on Paybis when buying Bitcoin. As you buy Bitcoin using your credit card, you will see the save option for your card data. This means that for your next transactions, the only thing that will stand between you and your coins is the 3 digits on the back of your card (the CVV).
You should know that your data is safe as Paybis uses encryption techniques and follows PCI DSS compliance standards. The following are steps to buy Bitcoin with a credit or debit card instantly:
Step 1: Choose your purchase method: a debit or credit card
Step 2: Enter BTC or fiat value
Step 3: Enter your wallet address
Step 4: Provide credit card information
After processes are completed, enter your wallet address to receive your purchase and click to submit. Check your wallet in the next 20 minutes to find your BTC there.
How to Send Bitcoin on Paybis
Paybis is different from many other exchanges in that it does not provide a custodial wallet service. In other words, any cryptocurrency you purchase on Paybis will not be stored in your Paybis account — when making a purchase, you will be asked to enter a private wallet address, and your coins will be delivered there. Examples of easy-to-use wallets include Exodus, Atomic Wallet, Trust Wallet, and Ledger Live.
How to Withdraw Money on Paybis
To withdraw money, the user needs to go to the Member Area, and select the currency to spend on the "You Spend" tab, enter the amount. On the "You Receive" tab, select the preferred withdrawal method, and the amount to receive will populate automatically. When you click on the "Sell" button underneath the page, the transaction will be completed. The money will show up in your account within a day or less, depending on your withdrawal method.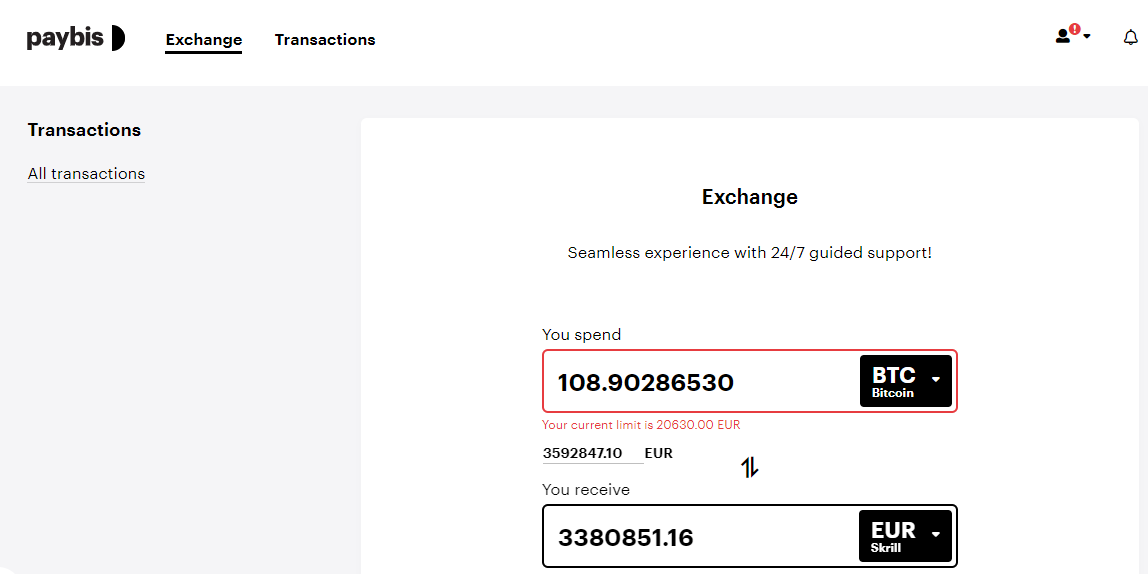 Withdrawing on Paybis. Source: Paybis
Pros and Cons
Pros
Supports simple credit card transactions
Multilingual and 24/7 customer service
A simple platform that is intuitive and easy to use
Transparent fee structure and fast transactions
Top-of-the-range security
Cons
Card fees can be higher, as with other platforms
Not many advanced trading features
No custodial wallet for easy access
What Makes Paybis Different from Other Exchanges?
Based in the UK, Paybis makes the bold claim of having the best rates for fees and commissions in the world, with new users able to transact completely free of charge for their first crypto purchase. Unlike many of its competitors, Paybis also holds licenses to operate in 48 states of America, as well as several other countries throughout the world. 
The exchange provides round-the-clock customer service and has an interface designed to be accessible to users of all levels of experience. 
Most Popular
Min. Deposit
$10
Promotion
Build a diversified portfolio with crypto, stocks, and ETFs — all in one place.
Trade on the world's leading social trading and investing platform
Description:
eToro offers a wide range of cryptos, such as Bitcoin, XRP and others, alongside crypto/fiat and crypto/crypto pairs. eToro users can connect with, learn from, and copy or get copied by other users.
Payment Methods
Bank Transfer, Credit Card, Debit Card, PayPal, Wire Transfer
Full regulations list:
CySEC, FCA
Cryptoasset investing is unregulated in some EU countries. No consumer protection. Your capital is at risk.
Min. Deposit
$0
Promotion
Get insights from millions of investors, creators, and analysts
Build your portfolio of stocks, ETFs, and crypto–all in one place
Description:
Public is an investing platform that allows you to invest stocks, ETFs, crypto, and alternative assets like fine art and collectibles—all in one place.
Payment Methods
Bank Wire, Check, Debit Card, Wire Transfer
Cryptocurrency execution and custody services are provided by Apex Crypto LLC (NMLS ID 1828849) through a software licensing agreement between Apex Crypto LLC and Public Crypto LLC. Crypto trading on Public platforms is served by Public Crypto LLC and offered through APEX Crypto. Please ensure that you fully understand the risks involved before trading.
Min. Deposit
$1
Promotion
Buy, Sell, and Trade Cryptocurrencies
Trade over 130 cryptocurrencies with low trading fees
We use state-of-the-art storage technology to protect your cryptocurrency and USD assets
Description:
Binance.US provides secure and reliable access to the world's most popular cryptocurrencies, with some of the lowest fees in the industry.
Payment Methods
ACH, Apple Pay, Debit Card, Wire Transfer
Final Thoughts | Is Paybis Legit?
Paybis opens a door for traders to buy cryptocurrencies with credit and debit cards as well as through bank transfers — extremely easily. It is in support of fiat payments and, therefore, newbie-friendly. The platform also displays pay-out times for transfers that are made from the exchange to a different place chosen like a bank account. This is a great feature offered by Paybis.
The interface of Paybis is straightforward, fun, and simple to use. With it, the process involved in buying Bitcoin or any other cryptocurrency is seamless and very quick. And on top of everything else, Paybis boasts a score of 4.4 out of 5 on Trustpilot, which is one of the best ratings among exchanges.
Alternative Crypto Exchanges
Frequently Asked Questions
There are limits to purchasing Bitcoin. The limits are 20,000/50,000 USD per week/month for MasterCard/ Visa/ debit cards. For Bank Transfers, Paybis allows EUR 200,000 per week with equivalents in other currencies also allowed.

A normal transaction should typically be completed after a few minutes of the process. However, when the funds will be added to your account will depend on the processing time of the bank. The processing time may take up to five business days.

The platform is great for all classes of traders. Specifically, traders of leading digital currencies that want to trade on a platform that is easy to use as well as traders of digital currencies that intend to buy/sell well-known cryptocurrencies. However, beginners will arguably benefit the most from the intuitive and simple interface.

Paybis is based in Glasgow, UK. As a smaller exchange, it boasts only a few employees. However, thanks to the team's dedication towards doing things in proper, transparent, and legal ways, over 180 countries are served by Paybis at the last count. A curious detail about Paybis's operational strength, however, is the US. Unlike several other exchanges, including Binance, which has pulled out of the US, Paybis does offer its services there, with just a small handful of states out of bounds.

Paybis does not support a lot of cryptocurrencies. From the online user Paybis reviews, it is clearly stated that it supports very few coins. On the platform, users can trade 10 assets, including: - Bitcoin - Ethereum - NEO - Bitcoin Cash - Litecoin - Binance Coin - Tron - Stellar - XRP - Dogecoin