The CoinMarketCap website ranks CEX.IO at position 132 out of 387 for cryptocurrency exchanges in terms of web traffic. CEX.IO has maintained a consistent user base since Oleksandr Lutskevych founded it in 2013. 
CEX.IO provides a trading platform where users can buy Bitcoin and other digital currencies using diverse payment methods in a few quick steps. In addition, CEX.IO offers brokerage services that facilitate cryptocurrency margin trading so traders have the choice to maximise their potential wins and losses.
How to Get Started with CEX.IO
Account registration on CEX.IO takes only two steps. First, you enter your full name and a valid email address. Next, you must specify your residence's country to ensure you can access the platform and then click the "Create an Account" button. CEX.IO will send an authorisation email to your inbox once the verification process is complete.
CEX.IO accepts deposits in four fiat currencies, including RUB, USD, GBP and EUR. You can make transactions via VISA/Mastercard with a debit card, bank transfer (both domestic and international) or Skrill. You can also deposit funds via cryptocurrencies including BTC, ETH, DASH, LTC and many others.
With a funded account, you can now choose to buy or sell cryptocurrency or trade it. The trading platform has a simple layout that is easy to use. A fully-featured chart takes much of the trading platform, and you can see the cryptocurrency pairs available for trading prominently displayed at the top of the chart.
CEX.IO Interface and User Experience
CEX.IO includes features for cryptocurrency buy/sell services, trading services, staking and loans. One might imagine that such a broad range of services could make for a crowded interface. On the contrary, the CEX.IO interface is intuitively laid out and easy to navigate.
At the very top, a clearly marked ribbon lists the services that the exchange offers. When you click on any of the buttons, a new page opens for you to complete the action.

In addition to this is the margin trading interface, although it is still in the beta phase. The CEX.IO broker interface prioritises the price chart, where you will spend most of your time. We opened a demo trading account to get a first-hand experience of the platform, and it was quite useful and easy to use. On the right side of the trading platform, you have a beautifully designed window to watch cryptocurrency pairs.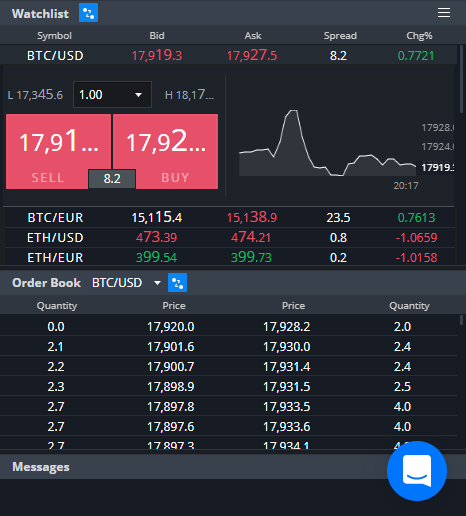 As reported by many online reviews, the interface is easy to understand and the aesthetics are also good. The platform has a dark-mode theme that is easy on the eyes, meaning you could spend endless hours at your trading desk without experiencing eye strain.
Key Considerations for CEX.IO
CEX.IO helps millions of people connect to the world of cryptocurrency and take whatever profit it offers. However, one wonders what makes CEX.IO unique to the 3 million-plus users. This section discusses the key considerations that inform these and more users who might want to join the platform in the future.
Limits and Liquidation
Four types of accounts are available to you when you register with CEX.IO. The basic account allows transactions without strict know-your-customer (KYC) guidelines, but this also means low transaction limits. CEX.IO limits Bitcoin purchases for basic accounts to $400 per day and $2,000 every month.
When you verify your identity by providing a little more personal information, you are upgraded to a verified account. The cryptocurrency purchasing limit for this account is $10,000 per day and $100,000 per month.
The highest account one can hold with CEX.IO is a business account, individual or corporate. This account does not have a purchasing limit for any cryptocurrency on offer. Also, a client can use any of the supported payment methods to make the purchase.
CEX.IO serves many customers spread across most of the world, including the US. As such, there is enough liquidity to handle transaction requests quickly and efficiently. For example, the waiting time between initiating a sell transaction is less than one hour.
Safety, Security and Privacy
According to its website, CEX.IO operates in 99% of all countries in the world. The company runs its operations via three separate companies, whose controlling entity has its headquarters in London, UK. Over 3 million customers trust CEX.IO because the company operates with the authorisation of some of the world's most reputable regulatory authorities.
For instance, the US Financial Crimes Enforcement Network (FinCEN) acknowledged CEX.IO's safety and security by awarding the company the Money Business Service (MBS) license. Within the US, CEX.IO is a recipient of Money Transmission Licenses from 25 states, and it has permission to serve customers in 47 states.
Away from the US, the Gibraltar Financial Services Commission awarded CEX.IO a DLT Provider licence to serve EU-based customers. On the other hand, CEX.IO has operational licences from various regulators across Africa, Asia and South America.
Furthermore, CEX.IO ensures platform safety by requiring two-factor authentication (2FA) for holders of verified accounts. CEX.IO employs SSL cryptographic protocols to secure on-platform transactions and communications. Anyone can confirm that CEX.IO's website is EV SSL compliant by checking their address in a web browser.
Most importantly, section 17 of CEX.IO's terms and conditions assures users that no CEX.IO personnel will ever ask them for their password.
Deposit Times and Transaction Speeds
CEX.IO's customers can fund their accounts using crypto or fiat currency. The exchange accepts 27 digital currencies, among them being BTC, LTC and ETH. Because of the absence of middle parties, deposit times when using cryptocurrencies are almost nonexistent. Transaction times are lightning-fast and the funds reflect in your account almost instantly.
However, our experience was different when depositing funds with fiat. Our research shows that different payment service providers facilitate transactions at different speeds. For example, an international bank transfer takes longer to complete because your funds jump many more hoops than domestic bank transfers. Nonetheless, there is no limit to how many times you can deposit per day for either transfer method.
CEX.IO Fees
CEX.IO has a different fee schedule for trading. deposit and withdrawal transactions. The exchange further categorises the trading transactions fee schedule into taker and maker fees. CEX.IO defines a maker as a market player who provides liquidity by servicing bids and offers simultaneously. On the other hand, a taker is the market participant who takes the prices that makers provide.
Maker fees – CEX.IO calculates the fees based on the 30-day trade volume of the particular participant. A trade volume of under 5 BTC attracts 0.16% in fees, while volumes over 6,000 BTC attract 0.00% fees.

Taker fees – also determined based on 30-day trade volume. You incur taker fees of 0.25% for a 30-day trade volume below 5 BTC and 0.10% for a 30-day trade volume above 6,000 BTC.

Deposit fees – these vary depending on the fiat currency used as well as the payment method. VISA and MasterCard deposits using the USD have a fee of 2.99%, while Skrill charges 3.99%. The same transaction when using ACH and bank transfer is free.

Withdrawal fees – withdrawing in USD through a VISA card attracts a service charge of up to 3% plus $1.20 and a commission of up to $3.80. For Mastercard transactions, the service charge is up to 1.8% plus $1.20, together with a commission of up to 1.2% plus $3.80. Withdrawing via Skrill incurs 1% in fees, while fees for using bank transfers are 0.3% plus $25.00. ACH withdrawal is free.
Customer Support
CEX.IO has a strong customer support team reachable via email and mobile phone. Also, the CEX.IO website comes with a handy chat function for real-time interaction with customer service representatives. We established that the support team's response to the email channel works. Our message got a response in two hours. We searched the internet for an opinion on CEX.IO's customer service, and the verdict is that the exchange is doing a great job to give its clients the best experience.
How to Use CEX.IO
Granted, CEX.IO seems like a great platform for crypto traders of all calibres. However, you still need to know how to get around the exchange and make it do the things you wish to accomplish. Here is a breakdown of essential processes:
How to Deposit on CEX.IO
Regardless of the service you want to use on CEX.IO, the deposit process is the same. After opening your account, open the 'Deposit' tab. A window will open that contains the payment methods that CEX.IO supports.

To the right of this window is a box with a dropdown list of currencies (fiat and digital) in which you would wish to transact.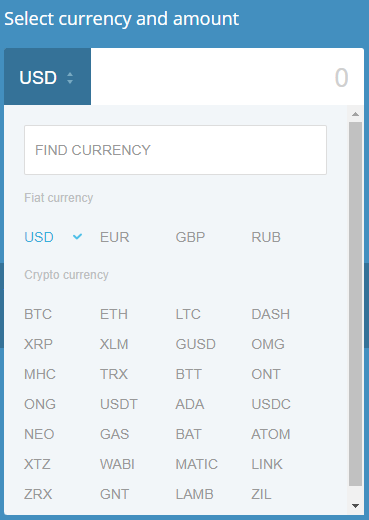 If you choose to use a payment card – as it is in our case – you will select the card and then complete the process.
How to Buy Bitcoin on CEX.IO
CEX.IO supports the buying and selling of 26 cryptocurrencies, but only with fiat currency. For example, you can buy Bitcoin with the USD, RUB, GBP or EUR. Another restricting factor is that CEX.IO only allows such transactions for users with payment cards.
To buy Bitcoin, open the BUY/SELL tab. The platform offers two ways of making the purchase. You could choose one of the three packages on offer, i.e., $200 for 0.0101 BTC, $500 for 0.0253 BTC, or $1,000 for 0.0506 BTC, or enter the amount of BTC in terms of USD that you wish to buy.
This method of buying Bitcoin delivers actual tokens to you, meaning you need a cryptocurrency wallet first. CEX.IO does not offer crypto storage services – be it cold storage or otherwise – which means you have to use third-party wallets.
Moreover, you can buy Bitcoin through the CEX.IO broker, where you buy one or more of the various crypto or fiat/crypto pairs that incorporate BTC. For example, you could buy the BTC/USD pair. This method's beauty is that you do not need any means of storage because you do not receive actual tokens. Also, the method is quicker and no verification process is required.
How to Send Bitcoin on CEX.IO
CEX.IO provides a separate wallet platform to perform actions such as sending Bitcoin to other users. Before you can do anything through the CEX.IO wallet, you must configure a payment method from five given options under the account manager tab. The configured payment method will provide access to the functionality for sending currency – digital or fiat – from the CEX.IO wallet.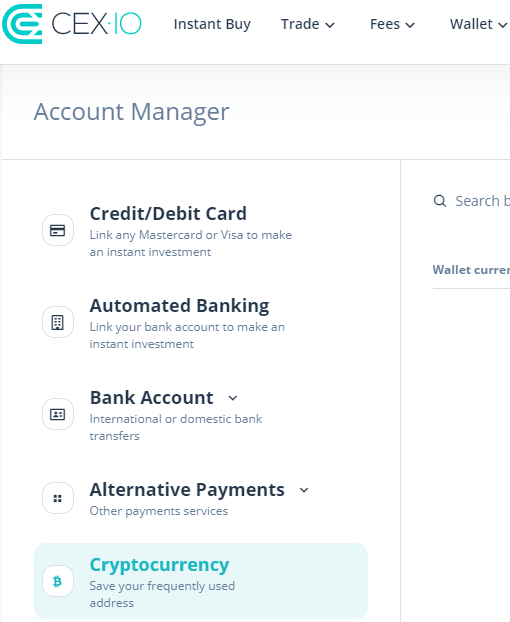 How to Withdraw Money on CEX.IO
There is a 'Withdraw' button in the same window where you can initiate the deposit transaction. Like the deposit process, a window opens where you choose a payment method through which you wish to receive the funds in your bank account. You will also need to specify the currency – USD, GBR, RUB, EUR, BTC, XRP, etc. – and the amount you wish to withdraw. To complete the transaction, you must be able to go past the 2FA verification process.
Pros & Cons
Pros
Users can buy cryptocurrency using debit cards at affordable fees
Regulated by reputable government agencies in all major jurisdictions
Highly simplified crypto buying process
Fast and reliable customer support
Professional trading platform with advanced options
Cons
Some other exchanges charge lower fees, especially when transacting with payment cards
Crypto selling option is not clear
Crypto buying option is limited to payment cards, no support for other payment options
What Makes CEX.IO Different from Other Exchanges?
CEX.IO faces stiff competition from equally great crypto exchanges such as Binance. For instance, Binance made its mark in the market by introducing unique security features that make the platform one of the most secure. CEX.IO is not far from Binance in this regard either. However, Binance is quite ahead in terms of supported fiat currencies. Nonetheless, CEX.IO is ahead in terms of services offered under one roof.
Most Popular
Min. Deposit
$10
Promotion
Build a diversified portfolio with crypto, stocks, and ETFs — all in one place.
Trade on the world's leading social trading and investing platform
Description:
eToro offers a wide range of cryptos, such as Bitcoin, XRP and others, alongside crypto/fiat and crypto/crypto pairs. eToro users can connect with, learn from, and copy or get copied by other users.
Payment Methods
Bank Transfer, Credit Card, Debit Card, PayPal, Wire Transfer
Full regulations list:
CySEC, FCA
Cryptoasset investing is unregulated in some EU countries. No consumer protection. Your capital is at risk.
Min. Deposit
$0
Promotion
Description:
World's longest-standing crypto exchange. Since 2011 Bitstamp has been providing a secure and reliable trading venue to over four million individuals and a range of institutional partners.
Payment Methods
Apple Pay, Google Pay, PayPal
Min. Deposit
$0
Promotion
Get insights from millions of investors, creators, and analysts
Build your portfolio of stocks, ETFs, and crypto–all in one place
Description:
Public is an investing platform that allows you to invest stocks, ETFs, crypto, and alternative assets like fine art and collectibles—all in one place.
Payment Methods
Bank Wire, Check, Debit Card, Wire Transfer
Cryptocurrency execution and custody services are provided by Apex Crypto LLC (NMLS ID 1828849) through a software licensing agreement between Apex Crypto LLC and Public Crypto LLC. Crypto trading on Public platforms is served by Public Crypto LLC and offered through APEX Crypto. Please ensure that you fully understand the risks involved before trading.
Final Thoughts | Is CEX.IO Legit?
Few exchanges founded at the same time as CEX.IO are in operation today. Perhaps CEX.IO's resilience over this long period speaks to the resourcefulness and relevance of the exchange. Before crypto trading became a serious industry, the industry was notorious for hack attacks that stole crypto valued at millions of dollars, yet CEX.IO survived this period unscathed.
CEX.IO stands out as a one-stop shop for all crypto-related activities. Whether you want to buy actual tokens or you want to trade crypto CFDs, CEX.IO has you covered.
Despite the convenience that CEX.IO offers, it does not erase the risk inherent in putting your money in crypto. As such, you are better off investing an amount you can afford to lose. Also, make sure that all the decisions you take have the backing of detailed research.
Alternative Crypto Exchanges
Frequently Asked Questions
CEX.IO is a multifunctional crypto exchange that offers crypto-related services, including trading, buy/sell, staking and loan services.

Yes. CEX.IO LTD – the company that owns the exchange – enjoys regulatory approval in many major jurisdictions, including the US and the EU. Additionally, the US FinCEN greenlighted CEX.IO's services, meaning the exchange has a clean bill of health in terms of legality of its operations.

Yes. CEX.IO supports all VISA and Mastercard debit cards. Also, the exchange implements strict security procedures to protect your personal information while transacting on the platform.

No. Our research could not identify any wallet services by CEX.IO. However, the exchange collaborates with reputable third-party wallet providers to ensure the best security for your tokens.

Yes. Reportedly, CEX.IO implements security procedures such as a strict vetting process of all new users that only allows legit market participants on the platform. Moreover, the CEX.IO website employs SSL cryptographic protocols to secure all communications and transactions that take place on the exchange.