Founded in 2018, Bitvavo is a Dutch cryptocurrency exchange which allows users to buy, sell, and trade over 175 different cryptos. Featuring a slick, easy-to-use platform and reasonable fees, Bitvavo is one of Europe's top exchanges, and is available in over 30 countries across the continent.
This review takes you through everything you need to consider before opening an account with Bitvavo - from the platform's regulatory status and security features, to the number of assets available to trade and the fees involved.
How to Get Started with Bitvavo
The first thing you need to do in order to open an account with Bitvavo is to click 'Sign Up' and follow the instructions that will pop up. You will have to select the country you're in, enter your name and email address, set a password, and agree to the platform's terms and conditions.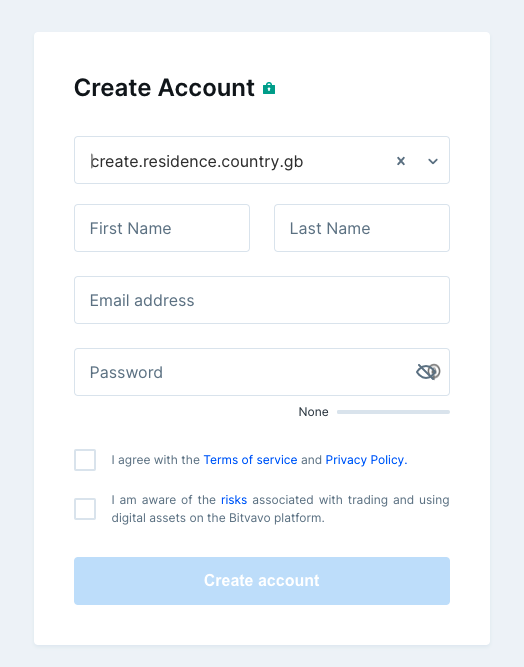 Once your account is set up, you'll be able to deposit by clicking "Deposit Euro" in the main dashboard. This is the only currency in which Bitvavo accepts deposits. For transferring your money into your account you have the option of bank transfer (which comes with no fees), and a selection of third-party payment processors including iDeal and SoFort.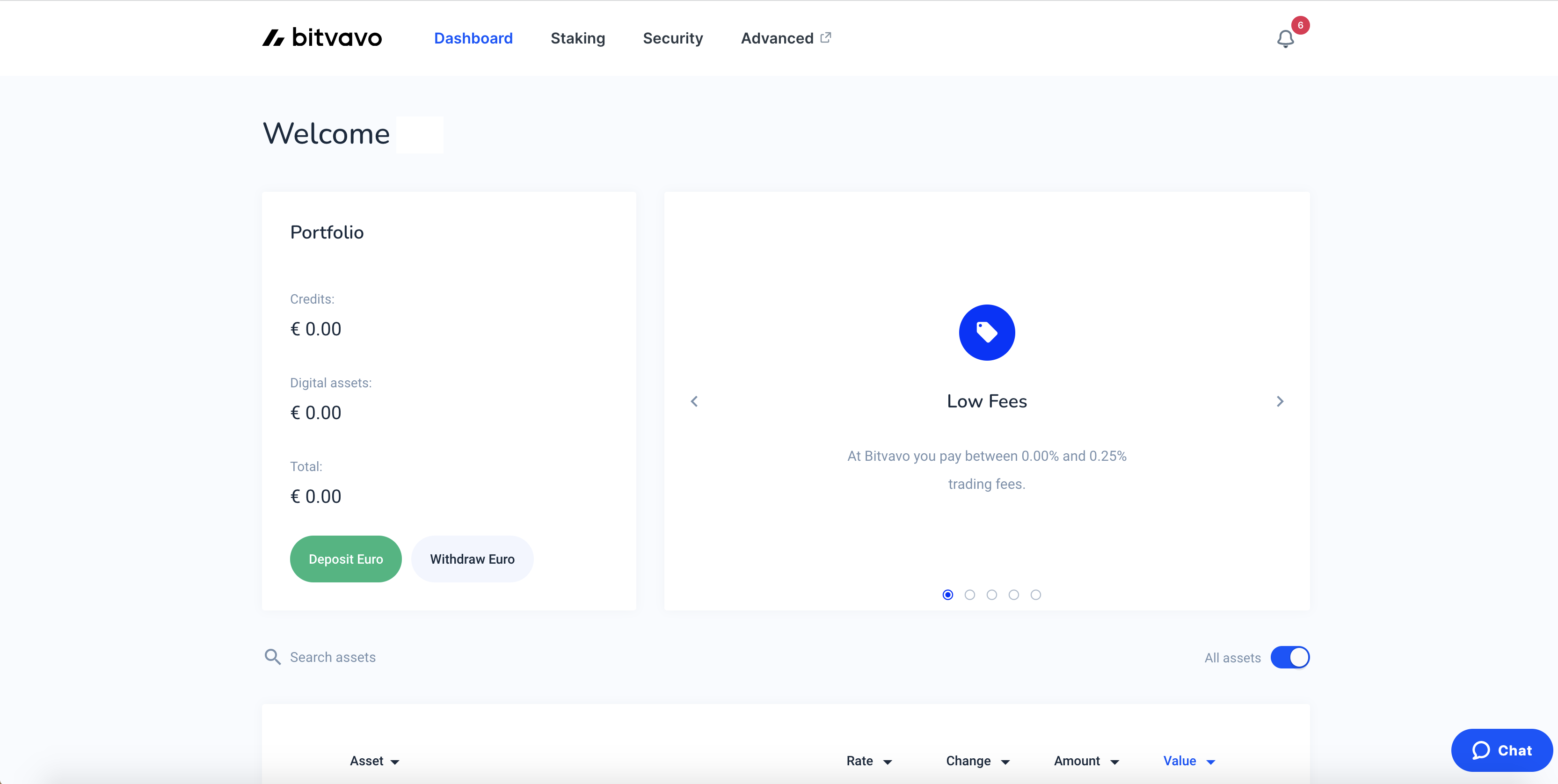 Buying cryptocurrency on Bitvavo is quick and easy once you have deposited funds into your account. All you need to do is go to 'Assets' and select the coin you wish to buy. This will take you to a page featuring the coin's recent price chart, a bit of information about your chosen crypto, and a module into which you can input the amount you wish to buy.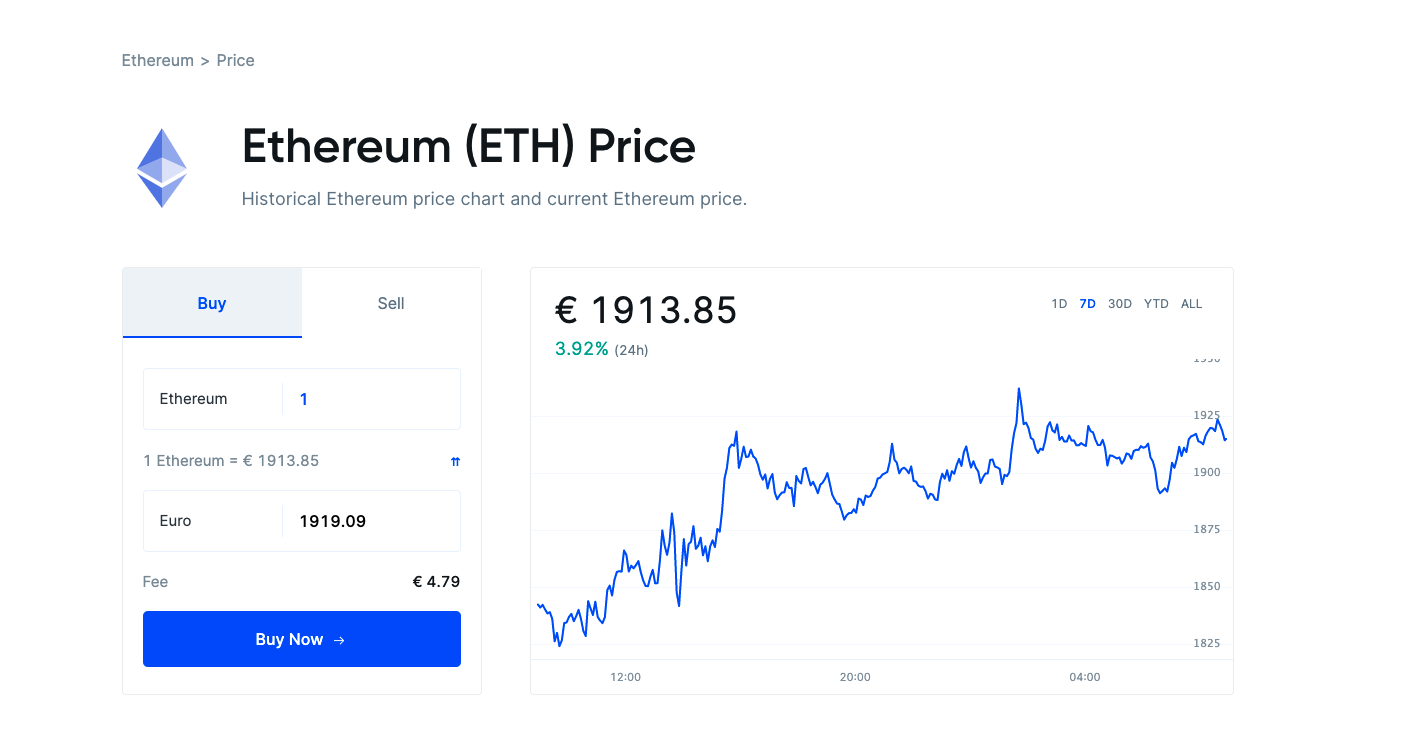 This will immediately show you how much your transaction will cost in Euros, including all fees. If you're happy with the price, simply click 'Buy Now' to complete the trade.
Bitvavo Interface and User Experience
Bitvavo is a very beginner-friendly exchange, with a crisp, clean interface that is easy to navigate and makes all key information readily available. When buying any cryptocurrency you will be able to find recent price data, news, and other information about the coin right on the page so you can make an informed choice when investing your money.
Another key attraction of Bitvavo is the platform's upfront approach to displaying fees. When making a purchase, the full cost of the transaction in Euros will display automatically, and so will the amount of this figure that Bitvavo is charging in the form of fees. Many other exchanges make such information difficult to access, and it's always helpful to know exactly how much a platform costs to use.
In addition to the user-friendly interface on Bitvavo's website, the platform also offers a proprietary mobile app so you can make crypto trades on the go. And for more experienced investors, there is a traditional exchange with a constantly updating order book on which users can execute their trades.
Key Considerations for Bitvavo
Limits and Liquidation
Bitvavo does not appear to offer any limits on the amount of cryptocurrency that users can buy and sell each day, but depending on the payment method you use to fund your account you will likely encounter deposit and withdrawal limits.
Minimum deposits start at around €5, and with bank transfer you can withdraw more than €20,000 each day from your account. As long as you're not making large crypto trades, the limits on Bitvavo shouldn't prove a problem.
Safety, Security and Privacy
Bitvavo keeps users' accounts safe by using security features such as 2FA (which we encourage all users to set up in order to secure their accounts). The platform's website is also encrypted and uses cold storage wallets to keep crypto out of the reach of hackers.
In terms of regulation, Bitvavo is registered with De Nederlandsche Bank (DNB). This does not amount to full regulation, but does mean that the DNB supervises Bitvavo for compliance with relevant money laundering legislation. It is unclear how much consumer protection is built into Bitvavo in the eventuality that the platform runs into financial trouble.
Deposit Times and Transaction Speeds
Typically all deposits and trades on Bitvavo will happen instantly. With regard to depositing and withdrawing from your account, this could be impacted by delays with your payment provider (for instance bank account withdrawals can take a few business days to complete depending on the amount being withdrawn).
As long as you have the required funds in your account to make the trade, then any cryptocurrencies you buy on Bitvavo should immediately appear in your account when you confirm the purchase. If this does not happen, then we recommend you contact the platform's customer support team.
Bitvavo Fees
Bitvavo is very transparent about the fees it charges, and they are very reasonable when compared to other similar services.
The level of fees you pay on Bitvavo reduces in relation to the volume of trades that you make - with the first €0 - €100,000 attracting a 0.25% fee, and any amount between €100,000 and €250,000 attracting fees of 0.20%. The fees are calculated based on your trading activity over the previous 30 days.
You will also encounter a range of deposit and withdrawal fees depending on the payment provider you use. The good news is that all deposits and withdrawals made via bank transfer incur no fees, but other payment methods can attract fees of 2.25% of the amount.
Additionally, if you're withdrawing cryptocurrencies directly to another wallet, you will have to pay blockchain fees in addition to a set amount of your crypto as a fee to Bitvavo. All information can be found clearly in the website's 'Fees' section.
The Bitvavo Account Guarantee
For Bitvavo, the most important thing is keeping the assets of their users safe and secure. To this end, they have introduced the Bitvavo Account Guarantee. This involves using Insured Custody Providers for the storage of most user assets, which means that if your account is hacked, Bitvavo can reimburse any stolen funds up to the value of €100,000.
Educational Resources
If you want to find out more about crypto, there are plenty of articles and tips in the Bitvavo Learn section of the platform. They cover a range of topics, from coins and blockchain to trading and NFTs. The lessons are divided into beginner, intermediate, and expert, meaning there are resources to help traders of every skill level improve their knowledge.
Customer Support
The 'Help' section on Bitvavo is well laid out and contains a lot of useful information that users can access to resolve any issues they're experiencing with the platform.
If you cannot find the answer to your query in the online resources, then you can also contact the Bitvavo support team via email and live chat (live chat hours are 10am-5pm Monday-Friday). The support email address is [email protected] and the platform aims to respond to any requests within one working day.
How to use Bitvavo
How to Deposit on Bitvavo
Deposits on Bitvavo can only be made in Euros. In order to fund your account, you need to go to "Deposit Euro" which can be found on the platform's main dashboard, enter the amount you wish to deposit and then select your payment method. Depositing via bank transfer incurs no fees, but using other payment options will mean paying a fee usually in the region of 1.75%.
How to Buy Bitcoin on Bitvavo
Once you have deposited Euros into your account, head to 'Assets' and click on 'Bitcoin.' This will direct you to a page with Bitcoin's recent price chart and a simple box into which you can enter the amount of BTC you wish to buy, see clearly how much this will cost (including fees), and click 'Buy Now' if you're happy to pay that price. Your Bitcoin will then immediately reflect in your Bitvavo account.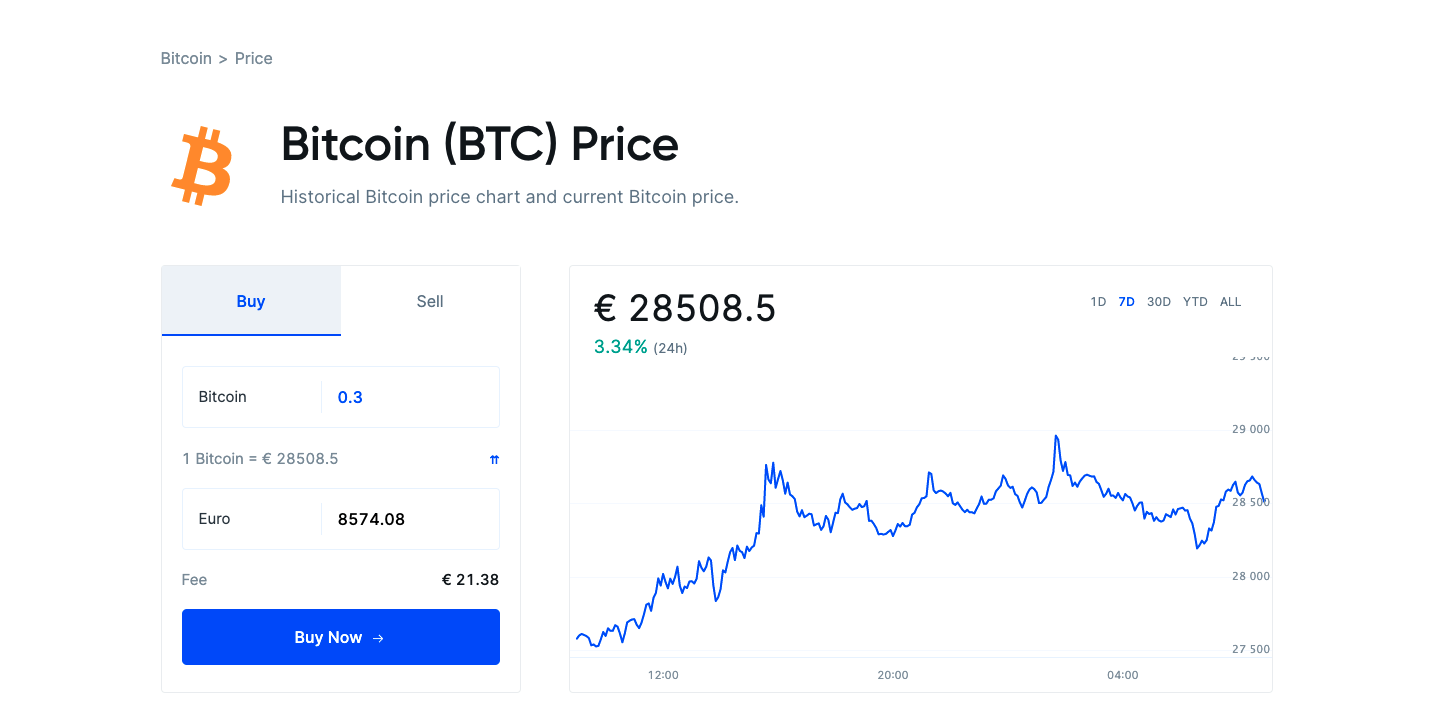 How to Withdraw Money on Bitvavo
Simply head to the same section of the site where you made your initial deposit, and click 'Withdraw Euro.' Once again, you can enter the amount you wish to withdraw and then select where you would like the money to go. As with deposits, a regular bank transfer can be done without paying any fees, whereas fees of up to 2.25% can be charged for using other withdrawal methods.
Bitvavo Pros and Cons
Pros
Beginner-friendly user interface
Advanced exchange platform available for experienced traders
Reasonable and clearly displayed fees
Over 175 crypto assets available to buy and sell
Has a mobile app to manage your crypto on the go
Users can stake cryptocurrencies and yield up to 7.5% returns
Cons
Only accepts deposits and withdrawals in Euros
Not available outside of Europe
What Makes Bitvavo Different from Other Exchanges?
The two main areas that make Bitvavo stand out from the crowd are the simplicity of its platform and the transparency of its fees. Beginners in the crypto space will have no problem navigating Bitvavo in order to buy their first Bitcoin, and at every step of the process - from depositing through buying, selling, and withdrawing funds - the platform's fees are both reasonable and clearly visible to the user. 
While the platform does offer a more advanced exchange interface and the ability to stake coins and earn returns, it doesn't have as many features as some other competitors in the business, as Bitvavo's main emphasis is on simplicity and ease-of-use. If you want to find an exchange with more features available, we recommend the following platforms:
Most Popular
Min. Deposit
$10
Promotion
Build a diversified portfolio with crypto, stocks, and ETFs — all in one place.
Trade on the world's leading social trading and investing platform
Description:
eToro offers a wide range of cryptos, such as Bitcoin, XRP and others, alongside crypto/fiat and crypto/crypto pairs. eToro users can connect with, learn from, and copy or get copied by other users.
Payment Methods
Bank Transfer, Credit Card, Debit Card, PayPal, Wire Transfer
Full regulations list:
CySEC, FCA
Cryptoasset investing is unregulated in some EU countries. No consumer protection. Your capital is at risk.
Min. Deposit
$0
Promotion
Description:
World's longest-standing crypto exchange. Since 2011 Bitstamp has been providing a secure and reliable trading venue to over four million individuals and a range of institutional partners.
Payment Methods
Apple Pay, Google Pay, PayPal
Min. Deposit
$1
Promotion
0% deposit fees, 0% withdrawal fees, 0% trading commissions
Set up automated trades and up to 50 limit orders with ease
Buy and sell 90+ cryptos and utility tokens, precious metals and national currencies with as little as $1
Description:
Create your account in minutes and start trading 90+ cryptos and other assets on the most flexible trading platform.
Final Thoughts - Is Bitvavo Legit?
Bitvavo offers a reliable service to its users, and the platform is registered with the Dutch Central Bank (DNB). It is important to note that this doesn't mean that the platform is fully regulated by the DNB, merely that the bank supervises Bitvavo to ensure compliance with the Money Laundering and Terrorist Financing (Prevention) Act and the 1977 Sanctions Act.
Bitvavo has a strong reputation in the industry and provides good security features such as 2FA and cold storage, but users should be aware that their funds are not protected in the same way as they would be with a fully regulated exchange.
Alternative Crypto Exchanges
Frequently Asked Questions
Bitvavo is registered with the Dutch Central Bank (DNB) but is not officially regulated by any recognised financial institution.

Bitvavo's crypto broker is very user-friendly and charges low fees. For users looking to buy their first cryptocurrency Bitvavo is a great option.

No, Bitvavo is centrally owned and managed. 

Yes, withdrawing from Bitvavo is quick and easy and can be done via bank transfer or through a range of third party payment providers. Users should note that withdrawals can only be made in Euros, however.

Your Bitvavo account acts as a form of online wallet - holding cryptocurrencies under your name. However, the platform is an exchange/brokerage service and not a wallet specifically. If you're worried about security you should transfer your cryptocurrencies to your own hardware wallet.