As of 2018, Binance became the world's largest cryptocurrency exchange in terms of trading volume. The exchange was founded in July 2017 by Changpeng Zhao, a Chinese developer who created high frequency trading systems for brokers.
The exchange was originally headquartered in China but later moved its base of operations to Japan due to a negative stance on cryptocurrency taken by the Chinese government.
With over 15 million users, Binance now operates in more than 180 different countries and regions around the world. This popular exchange is also compliant with leading regulatory authorities.
How to Get Started with Binance
Registering for an account on Binance is completely free and will only take about five minutes to complete. You will only need to provide your full name and email address. You will immediately be sent an email which contains a validation link. After clicking this link, your new account will be active.
In order to deposit funds to your account for quick and easy access, you will have to provide some KYC documentation. This can include a valid passport or driving license. You may also wish to connect a bank account directly to your trading account which will require the relevant details to be submitted.
You can begin trading directly on the Binance platform as soon as your KYC identification has been verified. There is also the facility to quickly purchase the cryptocurrency of your choice, which will be placed directly into your online Binance wallet. It is advisable to transfer these funds into a private wallet if you plan on long-term investment.
Binance Interface and User Experience
In our opinion, the interface is one of the best in terms of simplicity. An interface containing too many complex tools and data charts can be confusing for users, and overwhelming for beginners.
Binance focuses the design of its platform to be straightforward and easy to understand. Users can directly purchase cryptocurrency immediately after logging on. This can be done through a number of ways including bank transfer, P2P payment, Credit/Debit Card Payment, or through funds already deposited to your Binance account.
The home page provides recent market data for leading cryptocurrencies, and all other areas of the platform can be accessed through using the navigation bar at the top of the screen.

From here, users can gain direct access to the exchange floor, where vast amounts of cryptocurrency pairs are available with live trading charts and market data. You can also access the following sections:
Academy – Here you can access all the comprehensive educational resources that Binance has to offer.
Brokers – Gain access to both spot and futures trading as well as exclusive API functions backed by the exchange.
Charity – Here, users can donate to various charitable organisations with cryptocurrency. At the time of writing, the featured charities are Crypto Against COVID, and the Beirut Explosion Relief. It is currently doubling all donations made to #cryptoagainsCOVID.
Cloud – Allows for the creation of crypto businesses that can leverage the security, technology, and liquidity solutions of the leading exchange.
DEX – Users can gain access to the Binance Decentralised Exchange, allowing users to build their own decentralised applications and digital assets on a single blockchain.
Labs – Binance Labs is an incubator for top cryptocurrency and blockchain projects. Labs empowers entrepreneurs, start-ups and communities, helping to grow the cryptocurrency industry.
Launchpad – A very popular aspect of the Binance exchange is the launchpad. This platform can be used to launch new innovative cryptocurrency projects backed by all the technical resources of the exchange.
Research – Binance Research provides unbiased information, in-depth insights, and institutional-grade analysis.
Trust Wallet – Binance's official cryptocurrency wallet, where users can exchange crypto directly without ever leaving the app.
Key Considerations for Binance
It is important to consider some key factors if you are thinking of using Binance to carry out your cryptocurrency trades and purchases. Here we will breakdown some of the important elements of this leading platform to discover why it is the choice of millions of people around the world.
Limits and liquidity
Any limitations imposed on cryptocurrency transactions through Binance are due to verification level and payment method. If you have provided the maximum amount of KYC documentation, and purchase using funds already deposited to the platform, certain limitations are removed.
Liquidity refers to the ease of which an asset can be exchanged for cash without affecting the value of the asset itself too much – the higher the liquidity, the better for customers. Binance has the largest liquidity of any cryptocurrency exchange.
Safety, Security and Privacy
Being one of the world's largest cryptocurrency exchanges, Binance is also considered to be one of the most secure. The exchange takes the security and privacy of its customers very seriously and has set up several safeguarding tools and policies to ensure complete protection.
The exchange offers customers insurance called Secure Assets Fund for Users (SAFU). The exchange contributes 10% of its trading profits to the fund to cover any losses incurred due to unforeseen circumstances. Therefore, even though it was hacked on May 7th 2019, resulting in a loss of 7000 bitcoins, the exchange was able to fully reimburse its customers using SAFU. Contrary to damaging its reputation, this incident helped to boost the trust and confidence in Binance.
The exchange offers two-factor authentication, which ensures an additional layer of security to the user authorisation process. Further enhanced security measures like Biometric authentication is also offered by the platform. The exchange platform uses encryption technology such as PCI scanning and Secured Sockets Layered Encryption to transmit and store personal information.
It is said that Binance stores the private keys of its wallets in a secure offline location for safety from hackers. Location of the trading servers is also kept secret to avoid physical breaches. Binance makes use of 256-bit SSL certificates to ensure your connection is not vulnerable to 'man in the middle' attacks. SSL certificates also help in identifying a phishing website link.
Deposit Times and Transaction Speeds
Depending on the selected payment method, deposits can reflect almost instantly in your account. When using a direct debit, it is not unusual for a bank to block the transaction to Binance the first time the attempt is made. This is a security procedure introduced by some of the banks themselves, and Binance, therefore, has no control over it.
If this happens the first time you try to deposit funds, the transfer can be unblocked quickly by contacting your bank's customer services. Once you have authorised debits to the exchange, you should have no future issue.
Transactions speeds are very much related to liquidity, and as such, Binance has some of the fastest transaction speeds of any cryptocurrency exchange, where your digital assets will appear in your spot wallet as soon as the payment has gone through.
It is worth noting, however, that you will not be able to move your newly bought cryptocurrency into a private wallet until 24 hours after the purchase. This rule is to increase the safety of Binance, by allowing time for any individual to dispute any particular transaction.
Binance Fees
Binance charges no fees for deposits which gives it a competitive edge. It also has a distinctive advantage of offering comparably lower trading fees. While writing this article, the exchange offers a 50% discount for trading fees in your first year of membership if you are using BNB (Binance Coin). This decreases annually by 10% over the course of five years.
If you hold BNB in your account, the fees will be directly withdrawn from this balance. Otherwise, each trade will be charged a fixed fee of 0.1%.
Withdrawal fees vary with the type of coin withdrawn. For example, the withdrawal fee for BNB is 0.002 BNB while for Bitcoin, it is 0.0004 BTC. Binance also offers cards to its users which can carry up to 0.9% transaction fees for both points of sale and ATM withdrawals.
Customer Support
There is a comprehensive troubleshooting section built into the Binance platform, as well as an extensive list of FAQs. If you have any particular queries or issues, it is worth checking these resources first, as many users find a solution there.
There is also a ticket-based system, where a customer service agent will respond to your enquiry via email. It is extremely efficient, and all questions and enquiries that we posed using this method was answered within 2 hours of the request.
How to Use Binance
The main question for newcomers to the exchange is how they actually use it to acquire, sell, or trade cryptocurrency. Here, we will break down these basic processes so that you are left with a clear understanding.
How to Deposit on Binance
After logging in, you will see an option along the top navigation bar that states 'Wallet'. This option has a drop-down menu, with the first option being 'Overview'. Enter the wallet overview and you will see toward the top of the screen the 'Deposit' option.

After clicking this, you will be presented with four main options for depositing funds into your Binance account. You can add fiat currency in order to begin trading cryptocurrency pairs, you can deposit crypto from an external wallet, buy directly using a credit/debit card, or even enter a P2P marketplace.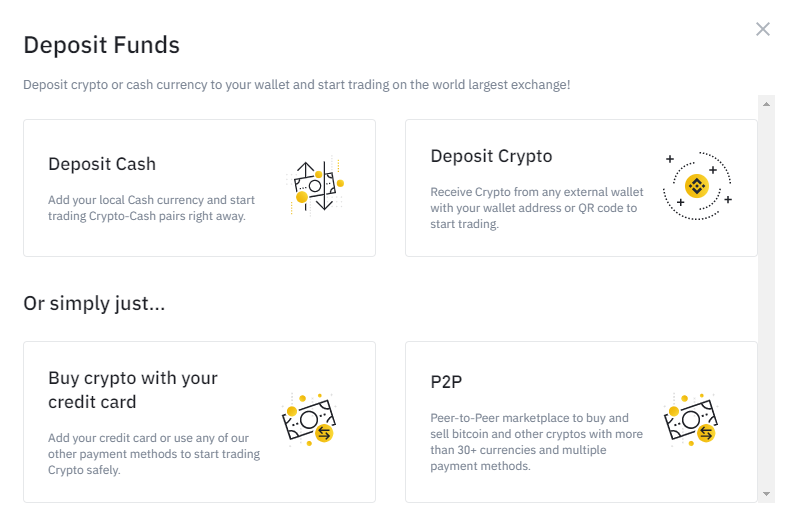 If you choose to 'Deposit Cash' you will be able to choose between more than 10 fiat currencies that you wish to transfer into the platform. Bank card transfers come with a 1.8% processing fee.
How to Buy Bitcoin on Binance
There are a few ways in which you may acquire Bitcoin using the Binance exchange, through the trading floor, the P2P marketplace being but a couple. Here though, we will take the easiest and most direct route for buying Bitcoin on Binance.
So long as you are logged in with a verified account, you needn't look further than the top of the home screen and select the 'Buy Now' button. This will take you to a purchase page, where you can select your fiat currency and the amount you wish to spend as well as select the cryptocurrency you wish to buy (this is set to Bitcoin by default).
The amount of fiat currency you enter will be automatically calculated to inform you of how much this translates to Bitcoin. You are also provided with a recent performance chart for Bitcoin to review before you commit to the purchase.
Select your preferred payment method and click 'Buy Bitcoin'; it's that simple. Once you have gone through authentication (having set up 2FA) the Bitcoin should appear instantly in your Binance wallet. As mentioned earlier, you will need to wait 24 hours before you can transfer your Bitcoin into a private wallet should you wish to do so.
How to Sell Bitcoin on Binance
If you follow the above method for purchasing Bitcoin, you will see on the 'Buy' screen that you can switch to 'Sell Crypto'. If you click on this, you will be taken to a sell screen that is laid out very similarly to the one described above for buying.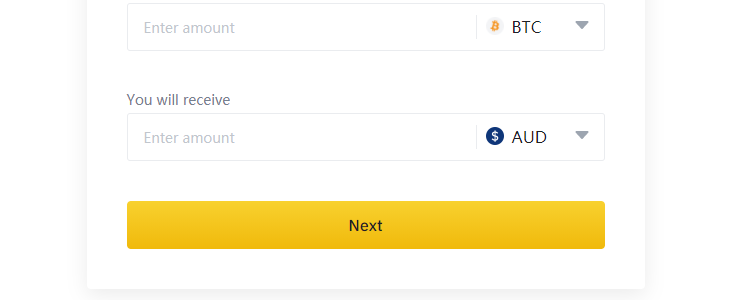 Once more, just check that you have Bitcoin selected as the crypto for sale and be sure to set the correct fiat currency you want it to be converted into. The platform calculator will do the rest, and the funds will show instantly in your Binance account where you can proceed to a withdrawal request.
How to Withdraw Money on Binance
From the Wallet Overview page, click on 'Withdraw' found at the top right of the screen. Here you will have to select the fiat currency that you wish to withdraw from your account. Depending on where you live, you will be presented with one or more options, each with differing fees, and a couple with no fees at all.
If you have previously attached a bank account to your exchange account, you can select this as the recipient of the funds, or you can choose to manually enter bank details. There are also other options for those withdrawing in Euros, including Payeer and Advcash – neither of which incur any withdrawal fees. Bank transfers typically carry a 0.8% fee.
Binance Pros and Cons
Pros
Well known cryptocurrency exchange with a good reputation
Tremendous growth in a short span of time
Offers a substantial range of cryptocurrency coins and tokens
Allows credit card for transactions
Primary focus on safety and security to protect investors
Cons
Comparatively higher fees for card-based transactions
KYC compliance could be considered negative for customers who desire anonymity
No telephone customer support
What Makes Binance Different from Other Exchanges?
While there are now several reputable exchanges available online, each one carries their own unique features and functionalities that distinguish them from their competitors. Although Binance is now classified as the largest exchange in terms of trading volume, other notable exchanges are worth consideration as well. We have put together a few of the top exchanges that we personally recommend for both new and experienced users.
Most Popular
Min. Deposit
$10
Promotion
Build a diversified portfolio with crypto, stocks, and ETFs — all in one place.
Trade on the world's leading social trading and investing platform
Description:
eToro offers a wide range of cryptos, such as Bitcoin, XRP and others, alongside crypto/fiat and crypto/crypto pairs. eToro users can connect with, learn from, and copy or get copied by other users.
Payment Methods
Bank Transfer, Credit Card, Debit Card, PayPal, Wire Transfer
Full regulations list:
CySEC, FCA
Cryptoasset investing is unregulated in some EU countries. No consumer protection. Your capital is at risk.
Min. Deposit
$0
Promotion
Get insights from millions of investors, creators, and analysts
Build your portfolio of stocks, ETFs, and crypto–all in one place
Description:
Public is an investing platform that allows you to invest stocks, ETFs, crypto, and alternative assets like fine art and collectibles—all in one place.
Payment Methods
Bank Wire, Check, Debit Card, Wire Transfer
Cryptocurrency execution and custody services are provided by Apex Crypto LLC (NMLS ID 1828849) through a software licensing agreement between Apex Crypto LLC and Public Crypto LLC. Crypto trading on Public platforms is served by Public Crypto LLC and offered through APEX Crypto. Please ensure that you fully understand the risks involved before trading.
Min. Deposit
$1
Promotion
0% deposit fees, 0% withdrawal fees, 0% trading commissions
Set up automated trades and up to 50 limit orders with ease
Buy and sell 90+ cryptos and utility tokens, precious metals and national currencies with as little as $1
Description:
Create your account in minutes and start trading 90+ cryptos and other assets on the most flexible trading platform.
Final Thoughts | Is Binance Legit?
Binance is the largest cryptocurrency exchange on the planet, with over 15 million users worldwide. As such, its legitimacy is without question. Having some of the largest liquidity available, institutional-grade analysis tools and some of the most competitive fees and rewards in the industry shows a bright future for the success of this platform.
Binance also places a great deal of priority on increased regulatory compliance, which is not only good for the exchange, but for the mass adoption of cryptocurrency in general.
With an ever-expanding list of crypto coins and tokens, Binance has truly made its mark and will continue to innovate the industry for many years to come.
Alternative Crypto Exchanges
Frequently Asked Questions
Yes. It is the world's largest crypto exchange. It has millions of users worldwide and complies with regulation put forth by leading financial authorities.

Every form of investment comes with inherent risks. Binace provides an environment for you to acquire and trade digital assets, but you should always research any cryptocurrency that you intend to put money into.

Yes. It allows for direct payments through either debit or credit card once your account is verified.

Yes. Your new Binance account comes complete with a wallet that you can begin to use immediately. It is advisable, however, that you move your crypto into a private wallet that you own if you plan to hold for the long-term.