Skilling is a regulated online Scandinavian-owned fintech company that offers over 800 financial instruments to investors. Founded in 2016, Skilling was developed with a straightforward purpose to make trading simple and accessible to everyone in a transparent and secure environment. 
It facilitates investors across different asset classes and markets, including forex, indices, shares, commodities, and cryptocurrencies. Offering three different user-friendly and intuitive trading platforms, it caters to a diverse clientele needs through Skilling Trader, Skilling cTrader, and Skilling MetaTrader 4 platforms. 
If you are looking to invest, you first need to understand the ins and outs. In this in-depth Skilling review, we explore its functionality, features, fee structure, safety and things that you must consider before using the broker in 2023.
How to Get Started with Skilling?
Signing up for an account is simple and free on the website, which can be done in just a matter of minutes. Click on "Start Trading" and ensure filling your accurate personal information. Check the Terms and Conditions box, then click on the "Create Account" button. After this process, you can verify your ID by uploading your documents or by simply registering with Bank ID.
As soon as your account has been created and approved, you can fund it. Click on "Deposit' on the left sidebar, select the account type, choose the payment method and amount. Once you are done, you will receive an email confirming your deposit. There are a few deposit methods for Skilling account, which include Trustly (bank wire transfer), Credit/Debit card, Skrill, and Neteller. The processing time for each method is up to an hour, but funding via Trustly or wire transfer can take more time—up to 0-3 working days.
After funding into your account, you can start trading using any of the three platforms across different markets, including forex trading, indices, shares, commodities, and cryptocurrencies. Holding a personal Skilling account can facilitate you in operating from anywhere and at any time, either through a web-based platform or mobile. If you are a beginner, we'd advise you to use a free demo account to gain an understanding of trading before investing real money. Needless to say, dealing in CFDs can be risky. Therefore, first, you need to have a grasp of the basics. 

#1: Trading Platform, User Experience & Features in a Glance
Skilling is a specifically-designed trading platform to facilitate users with a seamless experience. Easy-to-use, visually browser-based and straightforward, this platform aligns with the mission of their company – making trading simple for everyone.
The trading platform's in-house features around 70 indicators, including options like the convenience and technical analysis; moving average and MACD. Additionally, a wide range of chart styles is available for traders that they can customise according to their visual preference. Users can also access the complete history through this platform along with the account balances and withdrawal details whenever required.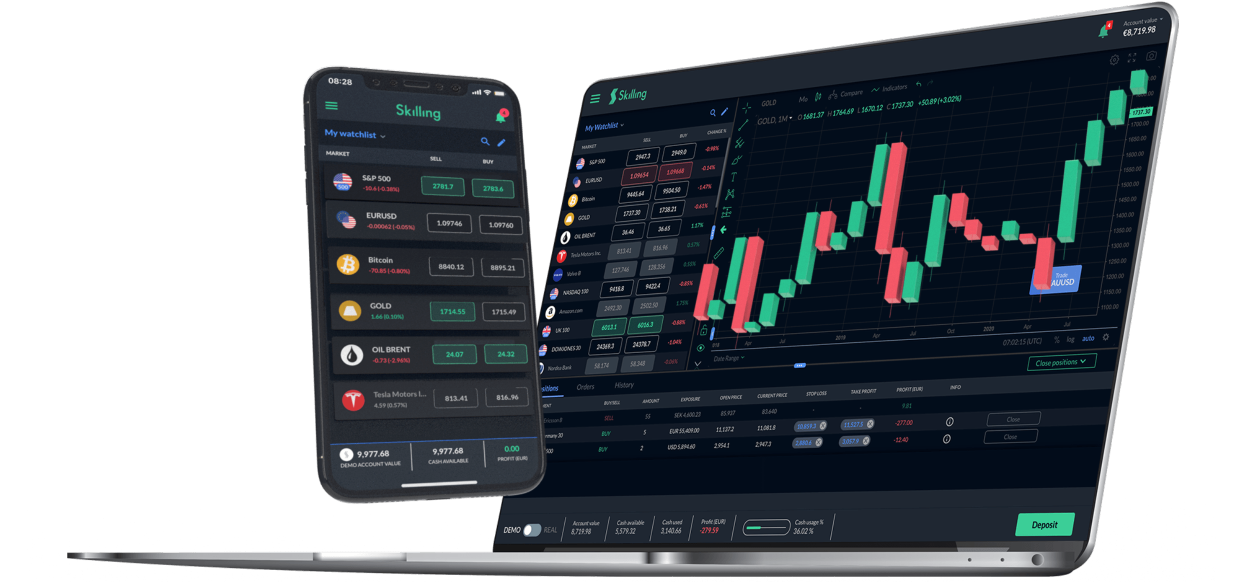 Due to the browser-based format, Skilling's trading platform is easily available to every computer user and all browsers in the market. Not only this, the platform is mobile-friendly for iOS and Android users too. Traders can have quicker access to their data with significant customisable elements, a wide variety of filters, and the "Explore Market" option which assists traders in promptly finding the right opportunities.
Skilling Additional Features
Being practical and simple in design, the platform proves to be an online broker with appealing options for a variety of other reasons.
One of the chief features is its clear and clean dashboard for a range of trading instruments, including the country of origin and popularity. The search bar on top further permits additional functionality. Traders who want to keep a check on the assets or types of trade can easily customise it.
Skilling Trade Assistant acts as a tool for new traders which provides them with an easy trade wizard through which they can learn and make trades accordingly. The functionality of the wizard depends on visuals and questions associated with the trading process, permitting the trader to choose what and how they'd like to trade along with the complete process. This feature facilitates new traders to learn faster, explaining steps in simple ways.
With this option, traders can swiftly access to the most important markets using a wide range of filters which include fallers, volatility, risers, and volume lists.
The News section in the trading platform gives a chance for traders to learn more about the markets and read relevant news stories. Selected news provides further insights into the trading market as a whole.
Expert Tip for Using Skilling

"

When you start using Skilling, it is recommended that you should not attempt to use a trading tool you aren't aware of. Similarly, many traders start trading an asset they haven't done research on which can lead to adverse consequences. Ensure that you know everything about the trading tools and assets you are dealing in. Another key investment tip is to minimize your risk by diversifying your portfolio by investing in different promising assets so your capital stays safe.

"
#2: Key Considerations about Skilling
Regulatory Framework
The trading platform is regulated by the Cyprus Securities and Exchange Commission (CySEC) which is under the CIF license No. 357/18. In order to broaden the global reach of the brand, they are also controlled by the Financial Service Authority (FSA) in Seychelles. Also, Skilling is bound to operate through its UK Branch by the Financial Conduct Authority (FCA), under Reference Number 810951.
It also states that they work to secure their investors by conforming strictly to all regulatory requirements surrounding client account segregation. Additionally, it holds an Investor Compensation Fund (ICF) membership, proving its commitment to complying with the customer needs. Furthermore, Skilling's online trading platform is protected through Secure Socket Layer (SSL), which ensures full-fledged encryption of all customers data before transmission via the internet. This safeguards customers from cybercrime and fraud in regards to both their traders and deposited money.
Skilling Broker Account Types
It provides clients with a variety of accounts based on their trading styles, experience, and capital. These accounts permit traders to access cryptos, forex currency pairs, indices, commodities, and equities with a stop out level of 50%.
This type of account requires an initial deposit of 100 Euros without any charges on trade commission while giving leverage of up to 1:30 for all retail clients and 1:200 for all professional clients. This account is available on both types of trading platforms – Skilling cTrader and Skilling Trader – having spreads beginning from 0.7 pips. It provides a benefit of negative balance protection in addition to other competitive trading conditions.
Requiring an initial deposit of 5,000 Euros, Premium accounts target veteran and seasoned traders. However, it has a low spread which begins from 0.1 pips, but the leverage is capped at 1:30 for retail traders and 1:200 for professional traders. Being available for both types of trading platforms – Skilling Trader and Skilling cTrader like Standard account – it is accessible for trade for over 800 financial instruments keeping commission charges of $35 per million on trades.
As broker fees and usage can vary based on account types, traders must first check and understand all of the latest information before opening an account for online trading.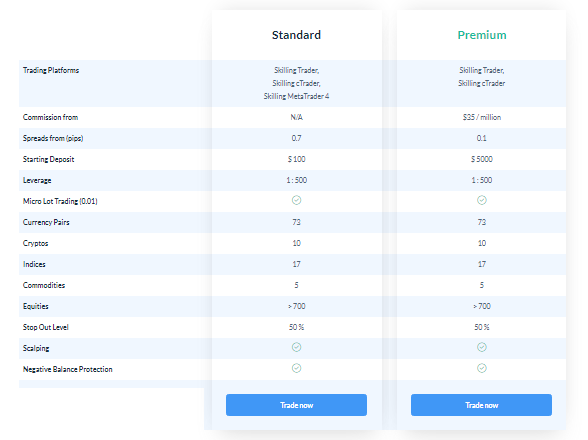 Trading Markets & Products
Skilling is available to a number of markets through a contract for difference (CFD) products which can track the price of different markets. CFDs give benefits to traders in terms of speculations on the price movements in a market without having to own the actual underlying instrument. The asset markets that the broker caters to include forex, commodities, equities, indices, and cryptocurrencies.
Forex: The broker offers more than 70 different currency pairs to choose from, including minor, major, and exotic ones, similar to other forex brokers.
Shares: The platform includes a good number of shares of leading and dominant companies. To name a few, it involves shares from Facebook, Amazon, Netflix, and Alibaba.
Commodities: A wide variety and amount of commodities are available for trade through this platform, including Silver, Gold, Crude Oil (WTI), Crude Oil Brent, and Natural Gas.
Indices: Traders can choose from over 15 different indices, including but not limited to AUS200, DE30, HKComp, and SPA35.
Cryptocurrencies: Traders get access to Bitcoin, Ripple, Ethereum, Bitcoin Cash, and Litecoin to trade various cryptocurrencies.
The range of available trades may change over time, but the platform determines a wide variety when it comes to offering trades, assisting traders in increasing their portfolio's versatility.
Supported Countries by Skilling
Since 2006, Skilling permits nearly 37 traders from different countries to open an account for successful online trading. However, the broker doesn't accept US clients. It accepts traders from the below-mentioned countries and regions:
Austria, Bulgaria, Belgium, Cyprus, Croatia, Czech Republic, Estonia, Denmark, France, Finland, Germany, Hungary, Greece, Italy, Ireland, Latvia, Iceland, Lithuania, Liechtenstein, Luxembourg, Netherlands, Malta, Poland, Romania, Portugal, Slovenia, Slovakia, Sweden, Spain, Norway, United Kingdom, Russian Federation, China, Cayman Islands, Thailand, Vietnam, Philippines.
Spreads and Commissions
Being a new entrant it has rightly set its foot into the market by ensuring transparency in its trading. Not only is this feature attractive to beginners, but it also excites the seasoned traders looking to try something new. Skilling ensures communicating all fee structures clearly. With their recently revised guidelines, this trading platform offers a very reasonable 0.7 pips on standard accounts, with a minimum deposit of $5000+ for premium accounts. Traders can enjoy the benefit of a 0.1 pip, in addition to a nominal fee of 0.006%.
On the other hand, the removal of the withdrawal fee is another feature; now traders need not pay any cost to withdraw. However, accounts that are inactive for more than a year are charged a 10 EUR fee which the trading platform has clearly mentioned.
Leverage
Skilling keeps things easy when it comes to its traders, offering two different types of accounts, the standard and premium trading accounts. According to the ESMA rules and regulations, the maximum leverage for these accounts is 30:1 for retail clients; however, for the "Elective Professional Clients", those with higher leverage can receive up to 200:1. Traders with more exposure to any of the products from the three asset classes will be able to shrink their leverage correspondingly.
Deposit & Withdrawal
Skilling provides clients with a vast variety of account funding and alternate withdrawal options that include the following:
Bank Wire Transfer
Credit/Debit Cards including Visa and MasterCard
Online Payment Processors such as Neteller, Trustly, Klarna, Skrill, and Swish
The trading platform does not charge any fees for deposits despite the payment method. However, traders may be charged by the payment service provider or the bank itself. Additionally, the platform clearly elaborates in its policies that it does not accept payments from any third parties due to Anti-money laundering regulations.
The same policy applies to withdrawals, where the broker only requires reverting the money to the depositing party. There are certain payment methods that may not be available to specific countries, and also the processing time may vary, depending on the chosen payment method.
Payment Methods
It permits its traders to use the traditional payment options, providing them with a range of choices when it comes to depositing money into their accounts. The minimum requirement for the platform is 100 EUR, USD, and GBP or 1000 SEK, and NOK for standing accounts. On the other hand, premium accounts have a higher minimum limit of at least 5000 GBP, EUR, and USD, or 50000 SEK, and NOK.
The payment options that are supported include the bank transfer via the Trustly platform, the use of MasterCard Credit or Debit cards, VISA, or alternatively ePayment options including Neteller or Skrill. However, it includes new payment methods regularly, where Klarna and Swish have been added recently.
Currently, it does not accept payments through cryptocurrency or any other platform such as PayPal though it is a standard payment method for all other trading platforms. Also, traders must know that there is no additional charge for depositing money into their Skilling account regarding the payment method.
Safety, Security and Privacy
Skilling is highly regulated under CySEC license 357/18. It requires a high level of protection for traders and investors, creating a secure digital environment with an SSL-protection platform. This ensures encryption of all data before moving it online, keeping traders money and information safe.
Customer Support
A knowledgeable, polite and accommodating customer support team is one of the chief features. The multilingual customer service support channels include phone, email and live chat. The brokerage platform also contains an FAQ section where traders can find answers to some of the most commonly asked inquiries such as funding, fees, client categorisation and others.
Skilling's telephone support is available from Monday to Friday, between 8:00 and 17:00 hours CET and the live chat support between 8:00 and 21:00 CET from Monday to Friday. Traders can also send emails to the customer support team in case of urgent queries, to which an expert team will respond within 24 hours.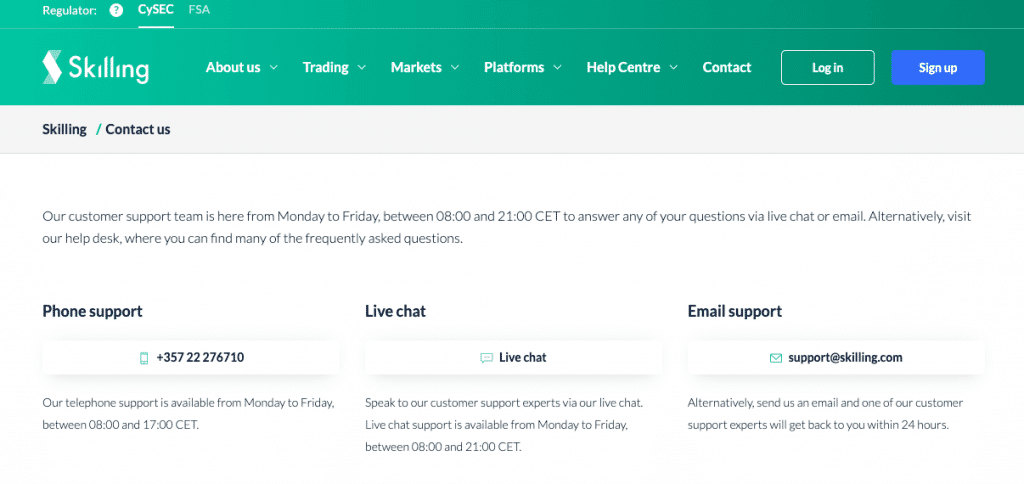 #3: What Makes Skilling Different from Other Brokers?
Skilling is a reliable broker that comes with a wide range of trading options. These vary across indices, forex, cryptos, CFDs, commodities, and stocks. Its' website is easy to navigate unlike others and is available in multiple languages. In addition to this, it provides three platforms to its users, i.e. proprietary Skilling Trader, advanced Skilling cTrader, and Skilling MetaTrader 4, which includes multiple plugins.
Some of the traders found a lack of support for the MT4 platform; however, it has now started offering that option. The brokerage platform prides itself on providing a variety of trading instruments active in markets across the globe. It is also authorised by Cyprus authorities where the company headquarter is located which ensures a high level of security and protection for individual retail investors.
Alternative Crypto Brokers
#4: How to Trade on Skilling?
Trading on Skilling is simple, as mentioned above, but if you follow the right steps. Firstly, you must sign up for a demo, professional, standard or premium account and register, then verify your account, submit the documents, deposit the funds and then you can begin your trading.
Explore the Supported Markets/Assets
It offers trading across 800 instruments on its forex and CFD trading platforms. It permits trading across foreign currency, commodities, shares, indices and crypto.
Choose From Your Desired Asset
Skilling provides a wide variety of 73 currency pairs to invest in from which traders can choose any. These include both major and minor forex pairs. Offering spreads in USD/GBP at 0.7 pips, USD/EUR at 0.4 pips, and GBP/EUR at 1.1 pips, it offers other major combinations such as USD/AUD, EUR/JPY and others.
Those traders who want to trade across cryptocurrencies can consider Bitcoin Cash, Ethereum, Bitcoin, DASH, Ripple, Litecoin, NEO, IOTA, MONERO.
Traders can also buy shares including Dropbox, Activision Blizzard, Viacom, UniCreditSpA, Lufthansa, Spotify, Under Armour, Office Depot, CVR Energy and many other leading brands.
Users can select from a few commodities too, i.e. Silver, Gold, Oil WTI, Oil Brent, and Natural Gas.
Deposit Payments
Deposit payment into your account after selecting the desired market following the below-listed steps.
Step 1: Log in to your dashboard
Step 2: Click on "Deposit"
Step 3: Select the amount
Step 4: Choose the payment method
You will then receive an email confirming that your payment has been deposited. There will be multiple payment methods, including Trustly, Skrill, Credit/Debit card, and Neteller.
Withdrawal Method
In order to withdraw amounts, follow the below-listed steps.
Login to your dashboard
Click the "Withdrawal" option
Enter the amount and confirm
You will then receive an email after your request approval
Usually, all withdrawal requests are processed within one working day. Withdrawal payment methods are also similar to deposit payment methods.
#5: Skilling: Pros & Cons
Pros
Global broker with head office in Cyprus, branch in Seychelles and the UK
Range of instrument including CFDs and Forex
Easy to use for both beginners and professionals
cTrader, MetaTrader, and proprietary platforms offered
An advanced range of research tools and analysis
Cons
No multi-currency accounts
International proposal performed through offshore branch
Final Thoughts - Is Skilling Legit?
As we conclude our Skilling review, you must be assured that the platform is not only trustworthy and safe but also offers a host of features that cater to all categories of traders. The USP of this platform is the access to more than 700 stock trading CFD instruments covering listed companies from the UK, Canada, and Europe, which makes it stand among the elite group of financial service providers. More pros include brilliant trading conditions, multiple funding methods, low client trading costs, and complete transparency and clarity not only in terms of offering but also on policies too.
On the other hand, it doesn't give clients options to execute social or copy trading. Also, their help desk is only open for 9-13 hours a day. However, if you ignore these few negatives and focus on the positives, you'd want to include Skilling as the go-to CFD broker in your list.
Frequently Asked Questions
Absolutely! The platform has a headquarter in Nicosia, Cyprus and is licensed by Cyrus Securities and Exchange Commission which guarantees that it is among the safest and authentic brokers around to conduct your business.

Yes, the minimum deposit completely depends on the selected Skilling account and the base currency. For the standard account, the minimum deposit would be under 100 USD/EUR and 5000 USD/EUR for the premium account.

The key information document provides the full-fledged and complete information on the financial products that are tradable at Skilling, along with their prospective gains and losses. It also covers the risks, privacy policy, and terms and conditions.

€50 minimum funds can be withdrawn from your trading account. Though, the withdrawal conditions include processing fund payouts on the same day and an optional payment method from the one required for the deposits.

No, Skilling does not charge any fees for deposits regardless of the payment method. However, your bank may charge or the service provider you are using.