Forex.com is one of the top forex brokers globally and was established in 2001. It is a brand of GAIN capital that is listed on the New York Stock Exchange (NYSE), and it's regulated by a multitude of institutions, including the US Commodity Futures Trading Commission (CFTC) and Financial Conduct Authority (FCA) of the UK.
With almost two decades of legacy, Forex.com is the most reliable and trustworthy brokerage service for all types of traders. In this Forex.com review, we look at what it offers, such as a number of technical tools along with a wide range of currency pairs and assets for trading. The customer service is exceptional while transaction costs are affordable, making it a highly attractive platform for both amateur and professional traders.
How to Get Started with Forex.com?
Opening your account is quite similar to other platforms. All you need to do is provide your personal information with a strong password that consists of upper and lower case letters combined with a digital and a special character. You also need to provide identity verification documentation such as your ID card or proof of residence.
This is required because Forex.com complies with Know Your Customer (KYC) as well as Anti-Money Laundering (AML) regulations. It takes a few hours to process and verify your identity to open your account. 
After you have gone through the registration and verification process, you need to deposit your working capital. There is a minimum deposit limit of $100 for you to become eligible for trading. You can use various payment channels, including debit card, eCheck, check or wire transfer, to deposit the amount.
You can choose any of the six base currencies, including JPY, CHF, AUD, USD, GBP, and EUR to make your deposit. There is no deposit fee, and you can also use PayPal for depositing your funds in your account. 
Once you have submitted your funds, you can trade over 500 assets across a number of markets including forex, stock, cryptocurrencies, and commodity. There are nine cryptocurrency instruments that can also be leveraged. If you want to go mobile with your trading, a smartphone app is available on Apple and Google stores. 
We highly recommend that if you are a beginner, you should use the facility of the demo account to make yourself familiar with the UI and UX of the trading platform. You can also use the demo account to try out your trading strategies to see how they perform. This enables you to identify your mistakes before you put up your hard-earned money.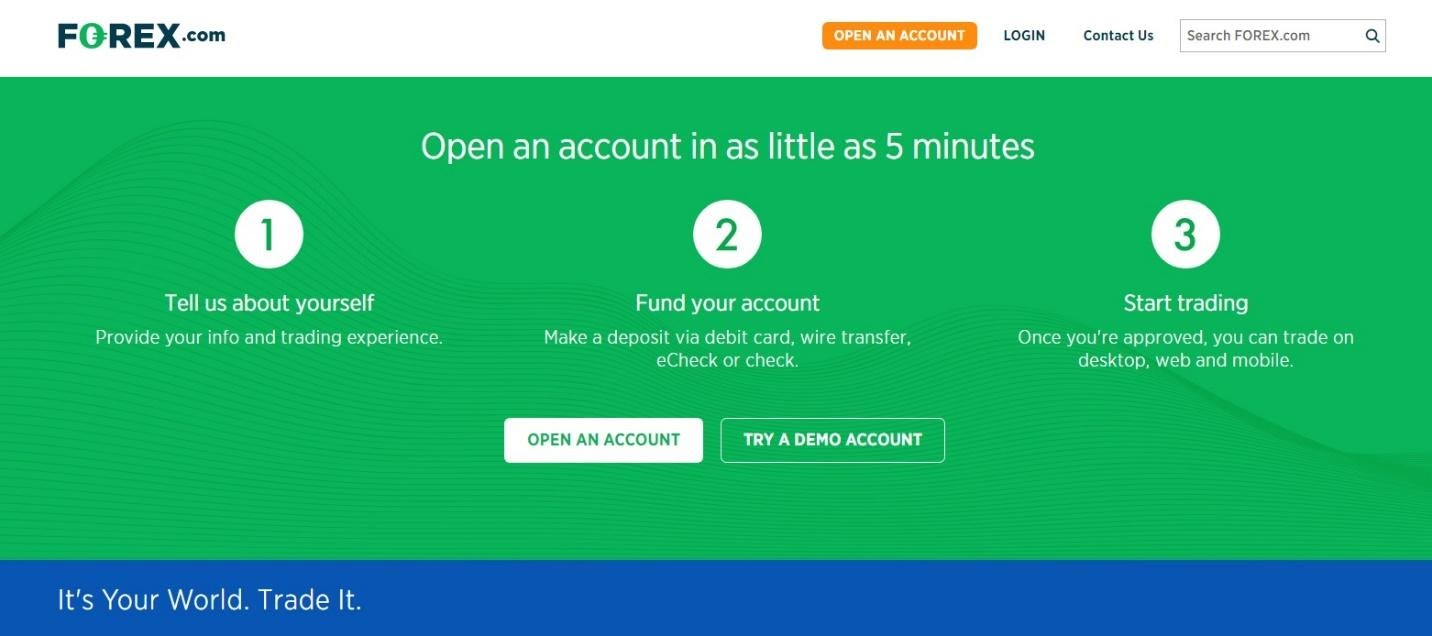 #1: Trading Platform, User Experience & Features in a Glance
One of the best features of Forex.com is that its trading platform isn't only aesthetically appealing but is quite user-friendly. You also have the option to customise it to your own preference and change the position and size of the tabs. You can also choose between a dark or light theme. On the technical side, traders can use MetaTrader4 (MT4) for desktop trading, the web trader if they are looking forward to using their browser, or MetaTrader4 (MT4) mobile application for on-the-go trading.
Traders also have access to all the information they need, including economic calendars, charts, positions, trade history, trade signals, research reports and more to make informed trading decisions.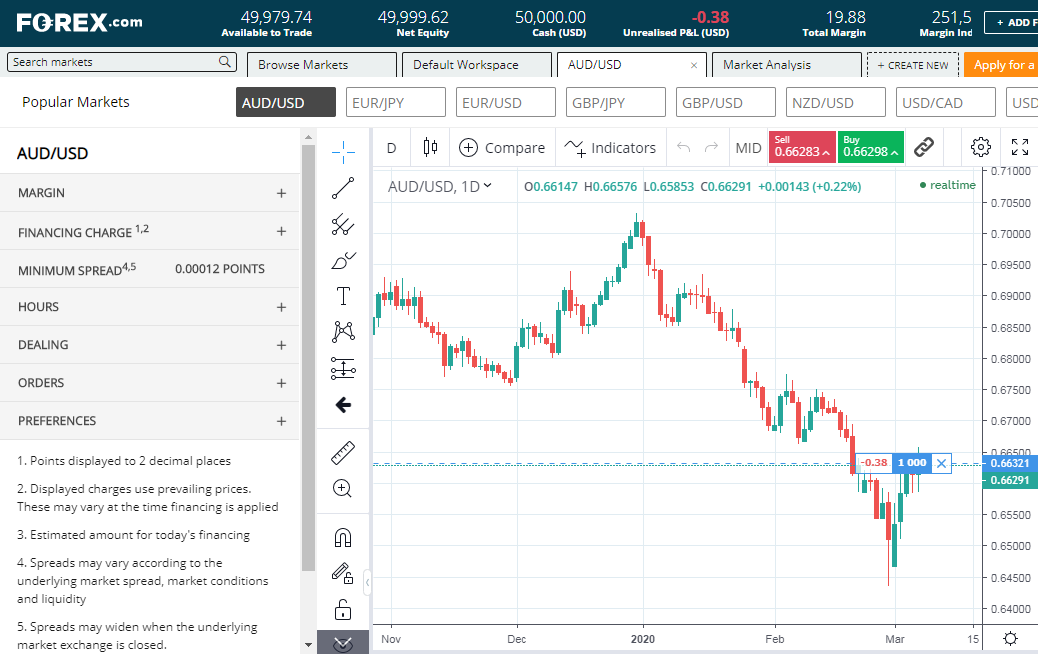 Forex.com Additional Features
There are a variety of features that separate Forex.com from other trading platforms, including the following:
There are many educational resources offered by the platform, according to the trading experience level. Almost all of the guidance material except technical analysis is accessible on the website, so every trader can get the instructions and information they are searching for. Educational material has been categorised into three different categories, including advanced, intermediate, and beginner while topics include different aspects of trading such as risk management, platform tutorials, and trading strategies.
This offers real-time data related to the trading activity, such as transactions, balances, and profit and loss breakdown. There isn't the option of using a trading journal or tax accounting tools; however, traders can use the above information to keep an eye on their portfolio and how their trades are performing. This provides them with a bird's eye view of their overall trading performance.
Forex.com brings a comprehensive and highly organised news feed that you can customise according to your favourite assets. This allows you to view the current news and developments about the forex pairs and assets you are interested in, enabling you to make informed trade decisions.
Expert Tip for Using Forex.com

"

The most important advice that you should not forget about is that the best investment strategy is to invest in multiple cryptocurrencies or assets that have a promising future. Instead of putting all of your funds in one asset, diversify your trading so even if one or two trades don't work out in your favour, you don't lose the money. The objective here is to stay net positive and minimize your risk. One more thing that you should bear in mind is that brokers offer a wide variety of trading features, such as leveraged trading. Do not attempt to use any feature that you don't know about and how it can affect your trade.

"
#2: Key Considerations about Forex.com
Regulatory Framework
Forex.com is a licensed RFED and FCM registered by CFTC. It is also a member of NFA with registration #0339826. The parent company of the broker platform, GAIN Capital, is regulated and authorised by the FCA (Financial Conduct Authority) in the UK and EU region. The registration number is 113942. Broker's clients also receive the perk of asset protection of up to $110,000 from the Financial Services Compensation Scheme (FSCS).
The broker also brings its European and British clients negative balance protection which is mandated by ESMA. They also enforce guaranteed stop-loss order (GSLO) that protects the clients against market gap risk. All of this means that it is one of the most highly regulated brokerage platforms around, making it a trustworthy trade partner for all types of traders, including beginners and veterans.
Forex.com Broker Account Types
If you are looking to open an account, you have to keep in mind that there are different types of accounts for different traders. You need to review the features offered by each type to conclude what type of trading account would be suitable for you.
This account type is made for traders who simply want a conventional trading account that offers reasonable spread pricing with exceptional trading experience. You can either go for a Forex.com account or open a MetaTrader5 (MT5) account.
This type of account is for those who don't want any fluctuations in their commissions so they can manage their transactional costs in a more efficient manner. Commission account also provides ultra-tight spreads so traders can manage their expenses. This account type isn't available on MetaTrader.
Direct Market Access (DMA) Account
If you are one of those few traders who want to go for high-volume forex trading and want complete control over your trades, Direct Market Access Account (DMA) is ideal for you. For this account type, Forex.com recommends a minimum balance of $25,000 with a minimum trade volume of $100,000. This account type is also not available on MetaTrader.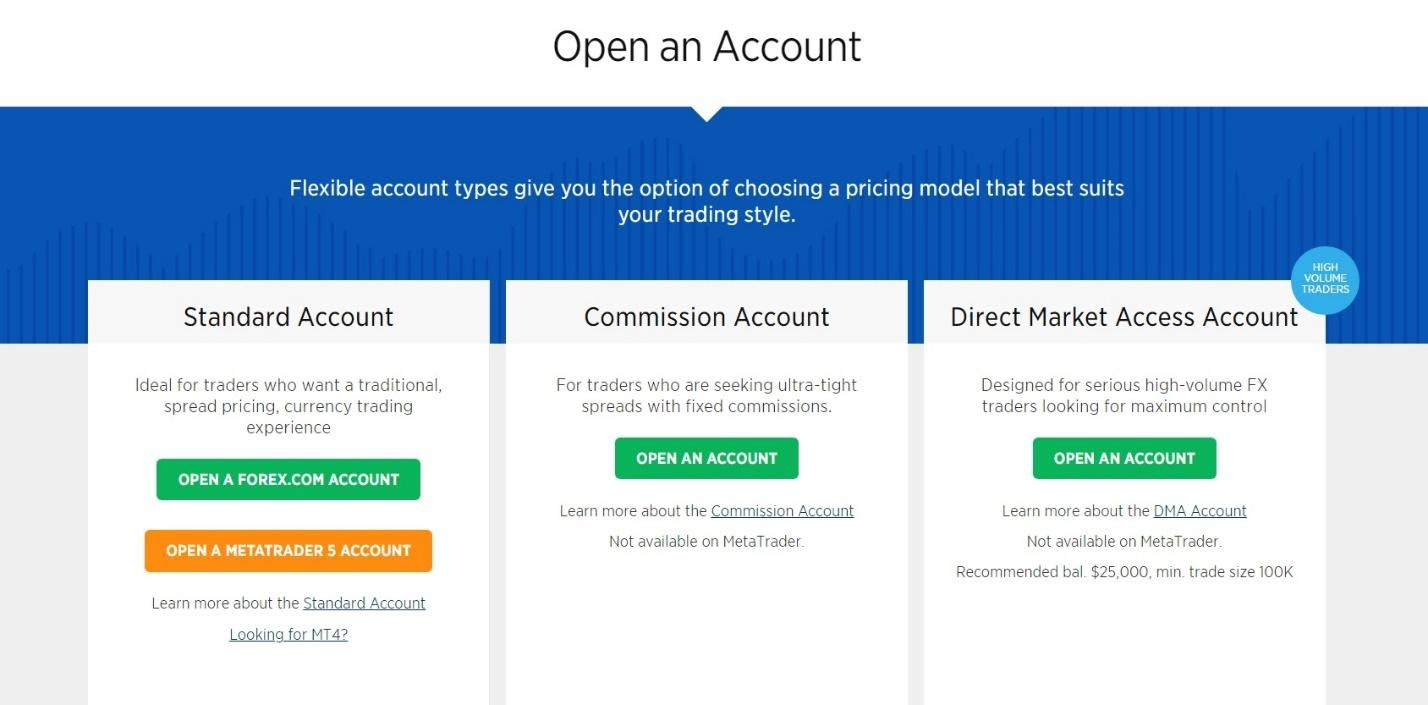 Trading Markets & Products
Forex.com offers more than 500 assets across different markets, including foreign exchange, cryptocurrencies, indices, commodities and more.
Forex: With multiple account types and competitive spreads, Forex.com offers more than 80 pairs of foreign exchange for trading similar to other forex brokers, including AUD/USD, EUR/GBP, EUR/CHF, USD/CAD, XAU/USD, and more.
Indices: Access to this market allows traders to invest in 15 of the world's most popular indices, including Germany 30, Japan 225, France 40, China 50, Wall Street, US SP 500 and more.
Stocks: There are more than 4,500 popular shares to choose from on Forex.com, with US stocks' commissions starting as low as 1.8 cents. Some of the top stocks include Facebook, Tesla, Netflix, and Amazon.
Commodities: With spreads as low as 0.04 points, you can also trade oil and different types of commodities on Forex.com, including corn, coffee, heating oil, cocoa, and more.
Metals: You can also use the Forex.com brokerage platform to trade precious metals such as gold with low spreads of $.035 and margins starting from 0.5%. There are six gold currency pairs and four metals to choose from.
Cryptocurrencies: Forex.com provides a cost-effective way for modern traders to invest in cryptocurrencies for an affordable price of 10p a point. You can trade all top coins, including Bitcoin, Bitcoin Cash, Litecoin, Ripple, Ethereum, and more.
Supported Countries by Forex.com
Forex.com offers a wide reach and accessibility around the globe for individuals looking to engage in forex trading and investing in other assets. The brokerage platform accepts customers from all over the world, including the US. However, there are a few exceptions, with New Zealand and Hong Kong being the most notable ones. If you are an Australian resident, you can use City Index to open your account, which is another brand under the umbrella of GAIN Capital.
Spreads and Commissions
When it comes to transactional charges, it is highly competitive. In forex fee level, the charges for EURUSD can be considered as low as they are included in the spread, with 1.4 pips being the average cost during peak hours. On the other hand, the spread is 2.1 pips for the GBPUSD pair, which is once again quite affordable. If you are trading, the fees are still built into your transaction spread at the rate of 0.6 points on average during peak hours.
If you are not active on the platform, you will be charged $15 a month after 12 months of inactivity.
Leverage
You don't automatically qualify for leveraged trading as it involves a high amount of risk. This is why Forex.com will take multiple factors into account, including your experience and trading capital, to establish whether you should be given the feature or not. You can make the most of leveraged trading anywhere between 10x and 200x, depending on the type of account you have and the assets you are trading. Whatever you do, ensure that you are managing your risk.
Deposit & Withdrawal
On Forex.com, traders have a variety of payment methods available, including the following:
Debit and credit card
Wire transfer
Regular check or eCheck
PayPal
Regardless of the payment channel, you are using to deposit or withdraw your funds from your Forex.com account, the platform does not charge any fee. However, you have to keep in mind that your bank or the payment processor may charge you a service fee for rendering their services. Forex.com does not accept any third party payments to maintain compliance with Anti-Money Laundering (AML) laws. You also need to bear in mind that a few payment modes might not be accessible to you, subject to your country of residence and a few other factors.
Payment Methods
For the convenience of its clients, it offers both wire transfer and credit and debit cards as viable payment methods. Traders can utilise any of the channels depending on their personal preferences and trading strategy. It should be noted that while wire transfer is one of the most popular and affordable methods, it can also take up to a few days for the payment to show up in your account. On the other hand, if you are looking for sheer speed and convenience, a credit or debit card is a better option, but it can cost you a higher fee than a wire transfer.
You can request withdrawals from Forex.com, and the broker will take 24 to 48 hours to process your payment. Once again, the broker doesn't charge any withdrawal fee, but your bank or payment process may deduct a certain percentage as a service fee.
Safety, Security and Privacy
When it comes to maintaining a high standard of security and safety, it ensures high-quality service in all respects.
Regulated in US, UK, and Canada with CFTC and FCA
The broker website and services deploy SSL technology which encrypts all the communication between the client and Forex.com.
Forex.com also ensures compliance with Know Your Customer (KYC) and Anti-money Laundering (AML) regulations for better personal information and funds safety.
Customer Support
Forex.com brings exceptional customer support experience by offering assistance through multiple channels that enable traders to ask any questions and get timely answers.
Live Chat – Using this option, you can directly contact a customer rep who will be ready to answer your questions and address your concerns.
Phone Support – You also have access to phone support which you can rely on if you have any concerns that you may want to discuss verbally.
Email – Although this means of communication is a bit slow, the customer support through email does work as you'd expect it to.
Through live chat and phone support, traders can expect to get prompt answers to their queries while email can be a slow means of communication in comparison. Moreover, customer support is available from Monday to Friday during working days 24 hours a day. You cannot reach out to customer service on weekends.
#3: What Makes Forex.com Different from Other Brokers?
There are various aspects that position Forex.com as a premium broker. With almost two decades of legacy and being regulated in the US as well as the UK market, Forex.com has become the go-to option for thousands of traders. There is support for MT4, MT5, and web trader which allows all types of traders to use the platform while easy to use interface and intuitive user experience ensure that the client enjoys their trading experience on the platform. Fees, commission, and spreads are low, and there are different account types for users to choose from according to their trading strategy.
Apart from that, there is a robust knowledge base that caters to all types of traders regardless of their overall experience. You can rely on the platform to develop a fundamental understanding of trading forex and a variety of other assets including cryptocurrencies. You can learn how financial instruments work using the guidance content and begin your trading journey on the platform. If there are any questions or reservations, you can always reach out to the customer service during working days through multiple channels.
Alternative Crypto Brokers
#4: How to Trade on Forex.com?
Prior to starting trading on Forex.com, you need to register and make your account on the platform. You can pick between Standard, Commission and Direct Market Access (DMA) accounts subject to your trading needs.
Explore the Supported Markets/Assets
It offers its clients over 500 different assets across a variety of markets. It allows traders to make full use of indices, shares, commodities, metal, cryptocurrencies, and forex trading.
Choose From Your Desired Asset
You have the option to choose from various markets and asset categories. Some of the conventional markets include forex, oil, metal, commodities and stocks, while contemporary asset classes include crypto coins like Bitcoin. You must have complete knowledge and understanding of the asset you are trading to manage your risk in an efficient manner. Some of the popular markets you can invest in include:
Forex
Indices
Commodities
Cryptocurrencies
Currency Indices
Deposit Payments
At this point, you need to deposit your funds into your Forex.com account after you have made the choice of the asset.
Step 1: Log in to your account and click on the dashboard
Step 2: Click on "Deposit"
Step 3: Select the sum you want to begin trading with
Step 4: Pick your preferred payment channel
Withdrawal Method
Withdrawal of payment is pretty much the same with a few changes.
Login to your account and go to the main dashboard
Click the "Withdrawal" button
Enter the amount you want to withdraw at this point and confirm
Forex.com will process your withdrawal payment within 24 to 48 hours so traders can get their funds in time.
#5: Forex.com: Pros & Cons
Pros
Regulated by CFTC in the US, FCA in the UK, and DFSA in Dubai
Supports leveraged trading of up to 200x
Trade in a wide variety of markets and more than 500 assets
Provides a perfect trading platform for beginner and professional traders
Support for Web Trader, MT4 and MT5
Exceptional knowledge base for easy learning and gaining trading experience
Decent 24/5 customer support through phone, live chat, and email
Cons
Email communication is slow
No customer care on weekends
Final Thoughts - Is Forex.com Legit?
When we take everything into consideration, Forex.com appears to be one of the top forex and asset trading platform with reliable customer service, user-friendly interface, exceptional trading experience, demo account, risk minimisation features, variety of payment channels, different account types, and a multitude of other highlights. With 20 years of experience, Forex.com has positioned itself as the market leader when it comes to trading whether you want to invest in conventional or modern asset classes.
Although you have to deposit at least $100 to start trading and there is no customer support on weekends, these are the factors that don't count much, especially when compared with all the other benefits that Forex.com has to offer. It is highly regulated and safe for all types of traders.
Frequently Asked Questions
Yes. Forex.com is regulated by CFTC in the US and FCA in the UK. It also complies with KYC and AML regulations to keep your personal information and funds safe and secure.

Yes. You are required to deposit a minimum amount of $100 to start trading. This is a low barrier as compared to some of the other websites.

Some of the unique features include research options, customised trading platform, and portfolio tracking that keep the traders informed about their overall performance.

Forex.com offers support for both MetaTrader4 (MT4) and MetaTrader5 (MT5) platforms, so any type of trader can use the platform.

No, Forex.com does not charge any fee for your deposits no matter which payment channel you choose.