eToro is a leading social trading platform that launched its services in 2007. The regulated platform supports a wide variety of financial instruments, including stocks, cryptocurrencies, forex, commodities and exchange-traded funds (ETFs).
As well as a web-based platform, eToro is available on mobile. For beginners looking to use one of the top brokers, its great user interface and copy trading feature appear to stand out.
In this in-depth eToro review, we dig deep into its functionality, features, fees and safety and tell you the things to consider before you use the broker. Please note that the content of this eToro review does not apply to US customers. 
How to Get Started with eToro
To sign up for an account is easy and free on the eToro website. Just click on "Join Now" and proceed to fill in your personal details. Check the Terms and Conditions box and proceed to "Create Account". You can then complete your profile and the KYC process necessary to access your account.
To deposit money into your eToro account, click on "Deposit Funds" and select currency, amount, and deposit method. It's simple and fast. Available deposit methods include credit card, wire transfer, and e-wallet (PayPal, Netteller, Skrill) among others.
Note that funding an account via wire transfer can take up to 7 business days before funds reflect in the account.
Once you fund your account, you can trade Bitcoin and several other cryptocurrencies, as well as over 2000 assets. Trade anytime and from anywhere, whether on mobile or web. If you are a beginner, use the demo account to familiarise yourself with trading before committing real money. It is important to note that trading CFDs is risky, and you can lose all your money.
#1: eToro at a Glance: Interface and User Experience
It's not just the easy sign-up process that makes eToro such a great broker for any novice trader. An innovative interface allows you to try different features, including creating a Watchlist of your favourite trades, checking your portfolio or accessing the news feed page for the latest in the markets.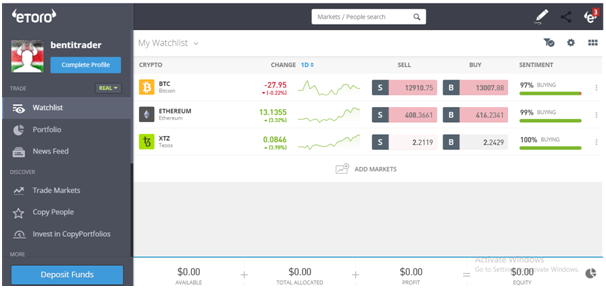 A filter button on the main dashboard allows you to select the assets you want to trade - stocks, cryptocurrencies, or currencies. You can also use the settings button to set price alerts, launch ProCharts, or enable one-click trading.
If you are new to trading, don't worry. Easily switch to a Virtual Portfolio or Demo account to test your trading skills using virtual money. It is a vital step any seasoned trader will advise a beginner who wants to have a "feel" of the platform before using their hard-earned money on the real trades.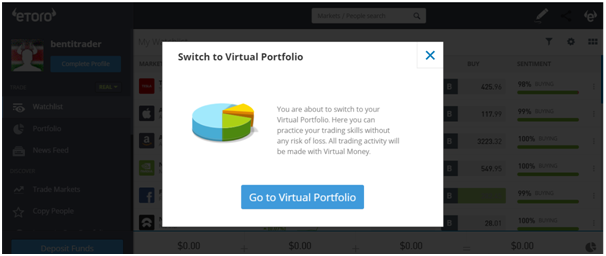 eToro Features
Social and Copy trading
Virtual Portfolio or Demo account
Verification
Offline trading
News Feed
Sentiment analysis
Markets research
Mobile app
Two-factor authentication
STP (Straight-Through Processing) technology
Expert Tip for Using eToro

"

Anyone will tell you this as you look to begin using a broker like eToro: Do not start trading or use a trading tool if you have no idea how it works. A similar mistake would be to trade an asset you haven't researched or understood, which only increases the chances of you getting it wrong. Even after you choose the asset, remember to diversify to spread the risk and reduce the possibility of losing all your funds if a particular trade backfires.

"
#2: Key Considerations About eToro
Although you can buy and sell cryptocurrencies via the eToro broker from any of the supported countries, be advised that due diligence and financial prudence is your responsibility.
Regulatory Framework
When carrying out due diligence on what broker to use, one aspect anyone would advise you to look at is the platform's regulatory status. In short, what one needs is to ensure the platform is trustworthy and safe.
eToro is authorised to operate in the UK by the Financial Conduct Authority (FCA). The company's license number is 7973792, which means users in the UK are protected by the law that governs all financial markets, including the Financial Services Compensation Scheme (FSCS).
The brokerage operates as eToro (Europe) Ltd, with its license number HE20058 given after approval from the Cyprus Securities and Exchange Commission (CySEC).
In the United States, eToro USA operates as a Money Services Business, under license from FinCEN.
The platform is also registered as eToro AUS Capital Pty Ltd and holds a financial services license (number 491139). The operator is regulated by the Australian Securities and Investments Commission (ASIC).
Supported Countries by eToro
Since 2006, eToro has expanded across the globe to currently offer its services in over 140 countries and jurisdictions. You can access the brokerage firm's trading services in all supported countries and regions, including:
The United Kingdom (UK)
EU states
United States
Brazil
Argentina
Limits and Liquidation
Taking note of the limits after you open an account at eToro is important as this feature has been updated a few times over the past couple of years.
On eToro, you have four account types - bronze, silver, gold, and VIP. Deposits and trade limits vary depending on the account type.
Speaking of accounts, you can either open a standard account or an Islamic account, the latter for traders bound to trade under Sharia law. You can also qualify for a professional account and corporate account (and join the eToro Club) once you have been determined to meet specified equity requirements as follows:
Silver: $5,000
Gold: $10,000
Platinum: $25,000
Platinum+: $50,000
Diamond: $250,000
Minimum deposits
eToro has a minimum deposit of $200 for all standard or retail accounts outside of the US and not in the jurisdictions below:
Israel, where the minimum deposit is $10,000
US and Australia - $50 minimum deposit
The minimum deposit for an Islamic account is $1000.
Another limit on deposits is where users deposit via bank transfer. Here, the broker has set a $500 limit for initial and subsequent deposits. The maximum deposit allowed by this broker is $10,000, which applies across regions and payment methods.
Limits on trade size on the eToro platform include the requirement that users have a minimum of $200 and $5000 to use the CopyTrading and CopyPortfolios tools.
The minimum withdrawal amount is $30.
Even as you ponder the above limits, another aspect of using broker platforms that everyone needs to pay attention to is liquidity, what it is, and how it can affect trades. Trading via a platform that boasts high liquidity will probably provide an opportunity to access better market prices, as well as enjoy lower spreads and high trade execution times.
What's our view of eToro in terms of its liquidity, then?
As a platform that uses the market maker model, eToro tries to ensure high liquidity by combining straight-through processing (STP) and Non-Dealing Desk (NDD) technologies. What this simply means is that the broker connects with dependable tier 1 liquidity providers to ensure real-time execution of trades.
Safety, Security and Privacy
The safety of user funds and the privacy of its customers is an area eToro takes very seriously. As well as keeping all personal information of customers private, there are additional security measures that the broker employs to ensure the safety of users' money.
First, user funds are kept in separate accounts held at tier 1 banks. As well as using regulated banks for safeguarding user funds, the broker complies with various legal provisions. For example, there is KYC compliance and AML checks.
Meanwhile, SSL encryption, two-factor authentication (2FA) and MetaTrader (MT4) 4 technologies help keep trades and user funds secure.
Deposit Times and Transaction Speed
eToro accepts deposits in a variety of deposit methods. What you need to note is that each specific method and provider involved will largely determine how long it takes for funds to reach your account.
Wire transfers to an eToro account take about 4-7 business days; the average time for other methods is about three business days.
As a trader, take note of this as it can determine what happens when you look to trade on eToro. Just like we noted that it is recommended to assess a platform's liquidity before trading, taking note of deposit times can be the difference between making a profitable trade and missing out.
For example, you might really want to close a deal at a given price, but by the time the funds arrive into your account, the asset might be trading much higher or have crashed due to the high volatility witnessed in the market.
eToro Fees
Like other crypto brokers and platforms that offer cryptocurrency trading services, users incur some fees when they complete transactions. eToro charges varying fees on all trades and transfers put into the categories below:
Spreads
Fees charged on spreads when trading cryptocurrencies vary depending on the coin. It ranges from 0.75% for Bitcoin (BTC) to 5% for Tezos (XTZ).
Inactivity Fee
Users should be aware that there's an inactivity fee if an account lies dormant for 12 months. In this case, eToro charges $10 per month.
Deposits and withdrawals
eToro does not charge fees on deposits, but a flat fee of $5 applies to all withdrawals.
Transfer fees
Users will incur a fee when they move their crypto assets to the eToro Wallet. This also varies depending on the cryptocurrency, which you can find on the trading page on the company's website.
Overnight fee
There is a fee called an overnight fee that users incur when they hold short-selling positions overnight (these are executed as CFDs). If the position is held over the weekend, it attracts a weekend fee that varies depending on the underlying asset.
Customer Support
A strong customer support service is one of eToro's attractive features, a plus most often lacking on competitor brokerages. Customer support is available via email, phone, and live chat. The website supports multiple languages, with an updated FAQ section and tutorials page.
If you have a professional account, you have access to a dedicated account manager, with additional customer support available via webinars and live events.
But this doesn't mean that eToro's customer support team offers flawless services. As an area that needs improvement, users have noted the need for the broker to improve on overall response time. Currently, it can take up to a day for support to respond to customer concerns.
#3: What Makes eToro Different from Other Brokers?
You probably have heard of eToro being the best 'social trading platform,' and nothing differentiates it from others, as does its unique CopyTrader feature.
While the social trading feature allows users to share trading ideas publicly, the Copy Trading tool means as a new user, you can copy another investor's trade down to the last letter. This like-for-like copying feature is also available as CopyPortfolios. Here, you can use the tool to copy an entire portfolio from another trader, which provides a great way to trade as you learn from seasoned hands.
The Trading School is another key differentiator, with this offering providing for continued learning opportunities through e-courses, webinars, and video tutorials. So apart from the tips one can get from account managers, one can gain invaluable trading experience from the academy.
Another aspect of the broker that sets it apart from the rest is its usability. As anyone who has used eToro will tell you, this multi-asset broker platform offers a trading experience far better than most peers. The innovative interface ensures ease of use for both beginner and professional traders alike.
Alternative Crypto Brokers
#4: How to Trade on eToro
Trading on eToro is something you can easily do once you follow the right steps. The first thing is to sign up for an account, then complete a mandatory KYC requirement, and finally, you can go ahead to fund your wallet.
Remember, it is important to follow these steps and once you are set in this respect, begin your trading experience as follows:
Explore the Supported Cryptocurrencies
eToro supports crypto trading and CFD for crypto for 15 of the top cryptocurrencies in the market today.
Learn about each of the supported cryptocurrencies by login into the broker platforms website and navigating to "Crypto Trading." From the drop-down menu, select "Cryptocurrencies on eToro."
Choose Your Favourite Coin
Before you choose a coin to trade on any broker or exchange platform, it is important to always do some thorough research and due diligence for that particular cryptocurrency. To make the most of the available tools, you need to gauge sentiment by analysing news - which eToro allows for via its popular News Feed feature.
Another crucial step is to undertake a technical and fundamental analysis of each coin before you decide to trade. This way, the decisions you make will be informed based on the specific asset as well as the market picture.
Remember, eToro provides users with two ways in which to trade cryptocurrencies on the platform. You can either do it via CFD trading or undertake direct buying and selling of assets like Bitcoin, Ethereum, XRP, and Tezos.
As mentioned in our eToro review earlier, this broker also allows users access to other financial instruments apart from cryptocurrency. These include the aforementioned stocks, commodities, currencies, and ETFs.
Open a Trade on eToro
After you choose your favourite coin, the process of opening a trade is easy on eToro.
Go to your account dashboard and click on "Trade Markets", then "Buy." Enter the amount to invest, and select Open Trade.
In the next display, the screen will show you how much of a cryptocurrency you are purchasing. It will also show you the coin's trading price.
Once you open a trade, you can add the following optional trading features:
Stop Loss- a risk management tool that allows you to automatically close a losing trade to prevent further losses.
Take Profit- use this tool to close a profitable trade when the market rises.
Trailing Stop Loss- this will see the Stop Loss point rise provided the market is headed in the direction of your trade.
Closing a Trade on eToro
You can close a trade in two ways: automatically or manually.
As noted above, the Stop Loss and Take Profit tools will automatically close a trade at a certain point.
Here is how you go about manually closing a trade on eToro:
Go to "Portfolio" and select the open position you wish to close.
Do you see the red X? Click on it and then confirm your choice by clicking on "Close Trade".
To close all open positions in a trade, select the SELL button, and then choose "I want to close all trades." Click "Close All" to complete the action.
It is also possible to partially close part of a trade.
Navigate to "Portfolio" and select the instrument to close. Click the X button and then choose "Close only part of the trade." Confirm your selection by clicking on "Close Trade".
How to Withdraw Your Money with eToro
Before you withdraw any funds from eToro, you must have verified your account. New users seeking to open an account with this broker should note that you cannot withdraw funds unless the account passes the KYC check (verified). Only deposit funds after you have verified your profile.
If everything else is in place, the process of withdrawing money from an eToro account is pretty straightforward and fast.
From your account menu, click on "Withdraw Funds"
Enter the amount to withdraw
Complete the withdrawal form
Click "Submit"
If you wish to transfer crypto to the broker's wallet and then to an external one, ensure you have enabled 2FA on your mobile app.
You can then withdraw cryptocurrencies via the steps below:
In your account's "Portfolio" tab, select the asset to transfer and then "Edit Trade." After that, click on the "Transfer to Wallet" button and confirm the selection by clicking on the "Transfer" button. Once the crypto is in your eToro Wallet, you can send it to another address.
#5: Pros & Cons
Pros
Easy to use and beginner-friendly
Supports Mobile app and desktop
Demo account never expires
Supports Islamic accounts
Final Thoughts - Is eToro Legit?
eToro has, since 2007, provided an innovative trading platform that is legit and trusted by over 10 million traders across the globe. In addition to its reputable standing, the broker is a registered entity and holds licenses from major financial regulators in the UK, the US, and in Australia. eToro's differentiator feature, copy trading, has proved a hit with retail traders and allows novice investors to benefit from experienced hands.
However, it is good to note that eToro offers trading products that come with high investment risk. As it is easy for one to lose money trading with eToro, due diligence and thorough analysis must accompany every investment decision one makes.
eToro is a multi-asset platform which offers both investing in stocks and cryptoassets, as well as trading CFDs.
Please note that CFDs are complex instruments and come with a high risk of losing money rapidly due to leverage. 68% of retail investor accounts lose money when trading CFDs with this provider. You should consider whether you understand how CFDs work, and whether you can afford to take the high risk of losing your money.
Past performance is not an indication of future results. Trading history presented is less than 5 complete years and may not suffice as basis for investment decision.
Copy trading is a portfolio management service, provided by eToro (Europe) Ltd., which is authorised and regulated by the Cyprus Securities and Exchange Commission.
Cryptoasset investing is unregulated in some EU countries and the UK. No consumer protection. Your capital is at risk.
eToro USA LLC does not offer CFDs and makes no representation and assumes no liability as to the accuracy or completeness of the content of this publication, which has been prepared by our partner utilizing publicly available non-entity specific information about eToro.
Frequently Asked Questions
Yes. As the world's largest social investment network, eToro is among the safest broker's around to conduct your business.

Yes. eToro has always strived to continuously evolve their trading platform. The progress of these innovations can be viewed on their roadmap accessible on the eToro official website. The company has been instrumental in launching the 'GoodDollar Experiment' which aims to bring a basic universal income to everybody irrespective of social standing or employment status. They have also partnered with The TIE. An analytics company capable of measuring market sentiment throughout the crypto markets.

Yes, eToro is regulated in multiple jurisdictions by CySEC and FinCEN.

Yes. The Copy Portfolio feature of eToro means that any trader can copy the successful trading strategies of others.

Yes you can. Aside from trading on the price movement of cryptocurrencies, eToro users can choose to buy the actual assets and transfer them to a private wallet.