Ripple
What is Ripple and Why Was Ripple Invented?
Ripple is a distributed ledger network requiring various parties to validate transactions, as opposed to a centralised authority or bank. RippleNet is the name of the payment network used to connect banks and other large institutions, giving them the tools to transfer money and digital assets through the decentralised XRP ledger. It is a concept that has been warmly received by banks and payment providers.
XRP is the cryptocurrency that facilitates all transactions completed in the RippleNet system. This cryptocurrency was designed to reduce the cost and time associated with making global payments. It takes a matter of four seconds for the RippleNet system to complete a transaction. When you compare that with the two minutes it takes to transfer Ethereum, the 60 minutes it takes to send Bitcoin and the five-day wait it can take to send currency through traditional banking systems, it's clear to see why Ripple is all the rage among the larger financial players.
Unlike Bitcoin, XRP was never created to be used to pay for goods and services. What's more, the RippleNet system was not designed to pose a threat to the Bitcoin ecosystem. Instead, RippleNet is considered a 21st century competitor to legacy banking systems such as SWIFT. What's exciting about RippleNet is that it can process 1,500 transactions per second with ease. It's even got the potential to scale up to VISA-level proportions of 50,000 transactions per second.
For clarity, the actual cryptocurrency is referred to as XRP, whereas Ripple is a name for the company and its settlement system.
How does Ripple Work?
It is said that the RippleNet payment system could realise more than $1.6 billion worth of savings to financial institutions worldwide. There are three types of transaction solutions available to businesses, banks and other financial institutions through RippleNet:
xCurrent - RippleNet's most advanced payment processing solution that's already been trialled with leading central banks including the US Federal Reserve and the Monetary Authority of Singapore. It has the potential to replace the existing SWIFT system for processing transactions in real-time.
xRapid - Designed to provide the source of XRP liquidity, xRapid is attempting to minimise the liquidity costs of cross-border transactions.
xVia - Targeted at B2B companies and payment providers who wish to send payments across a variety of networks using a standardised interface. While this solution is the least developed of the three, xVia has the potential to revolutionise the payment process for brands considered to be high-volume payment senders.
The Ripple XRP cryptocurrency is designed to perform as a bridge currency through its RippleNet system to other fiat currencies. It's built to not discriminate between one fiat or cryptocurrency and another, creating a frictionless process for currencies to be exchanged in real-time.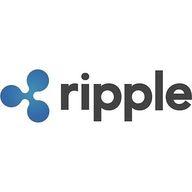 What are the Pros and Cons of Ripple?
Pros:
Instantaneous currency exchange minimises cross-border transaction fees.
Real-time transactions can be made cheaper and safer than any other system.
Ripple XRP is the glue that holds RippleNet together – without XRP, the system is nothing, so it's a safe bet to invest in.
Cons:
XRP is not decentralised like many other altcoins – Ripple is owned by Ripple Labs.
RippleNet still has a way to go in terms of mass adoption.
Did you know?
Although Bitcoin enjoyed one of the biggest success stories in the financial markets in 2017, Ripple actually performed even better. Ripple XRP coin experienced gains of 35,000% in 2017, the largest rally the financial industry have ever witnessed.
Can Ripple be Used Anonymously?
Unfortunately for those who value anonymity, Ripple was not designed as a means to make anonymous transactions. It is focused instead on improving old, outdated legacy systems that we still employ today. As the company caters to banks and other large financial institutions, Ripple makes efforts to stay in line with certain regulatory requirements, including KYC and AML practices. If you want to make anonymous payments, you'd be better using Monero, Cardano or Zcash.
XRP Transaction Fees and Charges
The cost of a transaction using Ripple is extremely low. These are sometimes known as 'Neutral' fees that aren't actually paid to anyone. Instead, a minuscule amount of XRP is destroyed with each transaction. The cost scales to the load of the network, protecting it from spam.
Is Ripple (XRP) Real Money?
Ripple is not money, it is a payments system that can facilitate frictionless, international transfers of real money, both digital and fiat. XRP is the token that powers RippleNet.
Is XRP Safe and Should you Invest in Ripple?

Investing in anything will always come with some risk attached, so whilst we're not in a position to advise anyone on what to invest in we do think that the fundamental approach that Ripple has taken to shake up the current financial model is worth keeping an eye on.
The Ripple settlement system is being used by banks at the moment, which does show that the platform created is effective and something that banks will likely look to in the future. One negative of XRP as an investment is the cap or rather, lack of. With unlimited tokens, the supply is continuous and when you look at how markets move, a high supply of anything will make it cheaper.
Are There Any Similar Crypto Coins?
There are two altcoins in circulation that bear some resemblance to Ripple XRP:
-  Stellar Lumens

Stellar was founded by the same individual that established Ripple, Jed McCaleb. Stellar is the direct competitor of Ripple as it also manages fundamental payment processing solutions with native assets.
- QASH

This Japan-based cryptocurrency is one of the hottest to invest in this year. It's closely aligned with Ripple XRP as it is designed to revolutionise the fintech industry, resolving liquidity issues in the financial sector and giving users access to short-term finance or to opportunities to liquidate assets.
What We Do
At Best Bitcoin Exchange, we've tested and reviewed Ripple brokers, e-wallets and more and recommend the best providers on this website, so you can start trading Ripple quickly and in a safe, reputable environment.
Review the top 40+ sites available to buy and sell Ripple from the table at the top of the page. The platforms ranked at the top of the table will have the best user ratings and are therefore the most trustworthy exchanges to trade Ripple using fiat currencies.
Start your crypto trading journey today and register with your preferred Ripple exchange at Best Bitcoin Exchange!