Buy IOTA
IOTA is the cryptocurrency designed to operate in conjunction with the Internet of Things (IoT). The IOTA cryptocurrency utilises technology that is not connected to blockchain to enable free, efficient micropayments for services on the IoT. Instead of operating on a blockchain, IOTA runs on its own unique infrastructure, known as the tangle system. Many people believe that tangle could become the successor to blockchain in the coming years due largely to its modular and scalable nature.
IOTA's mission was to solve the problems and inefficiencies of the blockchain. Whether it's sluggish transaction completion times, sky-high fees or the increasing centralisation of certain blockchain networks around a collective of the most powerful, resource-heavy users, IOTA developed tangle to act as the next-generation decentralised, permissionless system for the IoT and Web 3.0.
Tangle is essentially a Directed Acylic Graph (DAG) that resolves issues of transaction fees and scalability faced by blockchain-based cryptocurrencies such as Bitcoin. By empowering senders to make and validate their transaction using a proof of work, it removes the need for miners, fully decentralising the IOTA network.
Fully scalable cryptocurrency
100% decentralised
Fee-less network
Potential for a machine-to-machine micro-economy
Why you should buy IOTA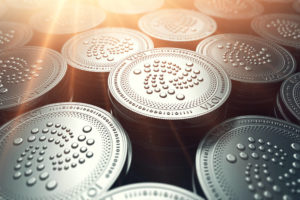 IOTA is designed for the IoT. Image: Wit Olszewski/Shutterstock.com
IOTA is designed to operate as the cryptocurrency for the IoT, which is expected to have 20.4 billion connected devices by the turn of the next decade. The IoT industry is forecast to be worth US$267 billion by the same date. Providing the real-world use cases for IOTA technology continue to prove successful, there is no reason to suggest that IOTA will not become one of the most influential cryptocurrencies on the planet. If you buy IOTA now, you could make a tidy sum once the demand for IOTA rises in the years to come.
The IOTA Ecosystem was unveiled in February 2018, giving developers and fintech enthusiasts the chance to begin testing applications built to operate on the IOTA core protocol.
Where is the best place to buy IOTA?
| | | | | |
| --- | --- | --- | --- | --- |
| Name | Physically own IOTA? | FCA-regulated | Social network of crypto investors? | Copy trading available |
| Binance | √ | √ | X | X |
| eToro | X | √ | √ | √ |
| AVATrade | X | X | X | √ |
| Bitfinex | √ | X | X | X |
Buy at eToro
If you don't wish to physically own and store IOTA in a cryptocurrency wallet, but you are keen to speculate on its value, you should consider looking to buy IOTA at eToro. This contracts for difference (CFD) broker allows you to 'buy' the price of the underlying asset. If the price increases, you will make money. If the price falls below your 'buy' entry point, you will lose money. Our eToro review tells you all you need to know about using its social trading platform.
Our Expert Opinion
Given the security risks posed with storing IOTA coin in a crypto wallet, we'd recommend starting out by buying IOTA as a CFD with either eToro or AVATrade. This allows you to take advantage of its eventual price increase as a long-term investment opportunity. eToro's social trading community, with the option to discuss and debate IOTA trading angles with fellow users, gives it the edge over AVATrade.
Buying with different payment methods
Buy IOTA with bank transfers
There are some cryptocurrency exchanges that allow bank transfers as a primary deposit method to buy IOTA. These include Bitpanda and the BC Bitcoin crypto brokerage.
Buy IOTA with PayPal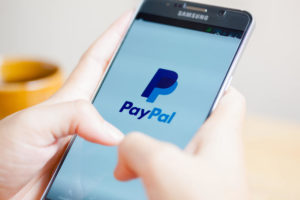 PayPal is still not universally accepted as a deposit or withdrawal method for buying and selling cryptocurrencies. However, eToro and 24option both permit PayPal deposits to buy and sell IOTA CFDs.
Discover the most popular cryptocurrency exchange payment methods, ranked by their safety and efficiency.
How to store your IOTA in a wallet
If you're wondering how to buy IOTA and store it in a safe, convenient wallet, there are several options. The official IOTA wallet is a good starting point. This open-source wallet is free to download and manages your IOTA holdings. The GUI Light Wallet is incorporated within IOTA's graphical user interface (GUI), also offering easy access to your IOTA coin. Meanwhile, the Ledger Nano S gives you the option to place your IOTA in cold storage.
Don't forget – you can also buy IOTA as a CFD from brokers such as eToro, 24option and AVATrade, which don't require the hassle of a cryptocurrency wallet.
Other ways to get IOTA
Mining IOTA
It is possible to obtain IOTA coin by mining it. By providing computational resources to a Monero mining pool, your efforts are calculated and compensated to you in the form of IOTA coin.
Winning IOTA for free
There is also an official IOTA faucet, allowing interested users to receive free amounts of IOTA in the form of MIOTA – providing you have a valid IOTA address.
Conclusion and further reading
The bottom line is that IOTA is still a relatively new concept. Nevertheless, if its tangle system can become a viable competitor to blockchain it could lead the charge for growth in the IoT industry.
Check out these relevant articles on the emergence of IOTA coin and on trading it:
Buy IOTA FAQs
What is the IOTA Foundation?
The IOTA Foundation is a not-for-profit, open-source organisation that is home to the development, research and engineering of IOTA's distributed ledger technology on the tangle network. It works hard to test the IOTA protocol in real-world scenarios as it seeks to build an open, collaborative ecosystem where individuals and companies can innovate the IoT together.
How do you issue an IOTA transaction on the Tangle?
To transfer IOTA tokens, you must create a transaction bundle. A transaction on the Tangle is known as a 'tip'. These are selected at random by an algorithm to be validated, ensuring their respective histories are consistent, i.e. no form of cheating or double-spending. Once each tip is validated, a small proof-of-work task is required to complete a basic cryptographic puzzle. Once these steps are complete, the transaction can be broadcast to neighbouring nodes on the peer-to-peer network.
What is the Internet of Things?
The Internet of Things (IoT) is an extension of online connectivity, allowing physical, everyday devices and objects to interact with one another, allowing them to be controlled and monitored remotely.
Featured image: Akarat Phasura/Shutterstock.com