Buy Ethereum
How do I Buy Ethereum?
A big development in the evolution of cryptocurrencies in general is the range of payment options accessible. You can buy Ethereum online with credit cards, debit cards, PayPal and other common payment types.
Just to be clear, before you start looking for the best place to buy Ethereum, Ether (ETH) is the cryptocurrency that is generated by the Ethereum platform, it is used to facilitate applications within it and it is also a digital currency to invest in. When people ask how to buy Ethereum, they are mostly referring to ETH, the token which can be purchased through brokers and exchanges.
The diversity of platforms where you can buy Ethereum online has expanded in recent times. Here is a comprehensive list of all available exchanges for trading Ethereum and other leading cryptocurrencies:
Where to Buy Ethereum Online With Brokers
Kraken
Kraken exchange is a respected and popular exchange and was the first to trade Ether. Investors can trade in USD, GBP, Japanese Yen and Canadian dollars - deposits are free for these currencies. When you buy Ethereum online at the Kraken exchange, the platform will offer you different trading tiers during the verification process. Check out the review here.
eToro
eToro broker is a social trading platform where you can buy Ethereum online and other cryptocurrencies. Deposits and withdrawals are straightforward and there is an abundance of payment methods, including wire transfer, PayPal and instant payments with credit and debit cards. Minimum first-time deposits start at $200. Click here to see a review of eToro.
Coinbase
Coinbase exchange is a global organisation operating in 32 countries. On this platform, if you buy Ethereum at Coinbase, they will store it for you. Payment methods include bank transfer, debit and credit card.
Coinmama
Coinmama exchange positions itself as a premium service where you can buy and sell Ethereum and Bitcoin with a premium charged. Credit and debit cards are accepted. You can buy Ethereum online with USD and EUR and you can make orders in other currencies with exchange rates charged. This may not be the best way to buy Ethereum for those looking to avoid premium charges.
What payment methods should I buy Ethereum with?
How do you buy Ethereum today? Fortunately, there are now dozens of different payment methods available. The options depend on the services offered by each individual broker or exchange you are using. Read on to see the most popular ways to buy Ethereum online.
How to Buy Ethereum with PayPal
Originally, it was tricky to directly buy Ethereum with PayPal but times have changed. The old protracted way looked something like this: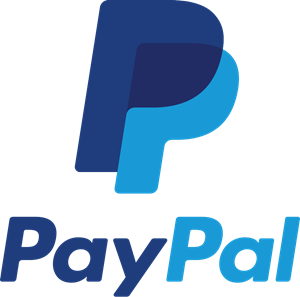 take your PayPal balance and put it onto a credit card, buy Bitcoin on an exchange, then look for another exchange to buy Ethereum online with Bitcoin. Now, it's possible to pay deposits using PayPal on sites like eToro, ForexTB and Coinbase, just as you would make a purchase for other online products.
If you are wondering how to buy Ethereum via eToro, the method for using PayPal is similar: log into your account, choose 'deposit funds', select your currency then choose the PayPal option.  See here for more information about making a deposit on eToro. Alternatively, if you are still confused about how do you buy Ethereum, understand the process in more detail in the step-by-step guide below.
Should I buy Ethereum on eToro?
eToro is a social trading network site; buying Ethereum on eToro allows you to deposit funds easily, copy other traders' activity and trade Ethereum using CFDs (contracts for difference).
Step 1
Go to the eToro website and register with your name, email address and phone number - note that your profile needs to be fully complete before you can trade. Also note that you will need to make sure your profile is not public, as it can be found on search engines. The below window will then pop up.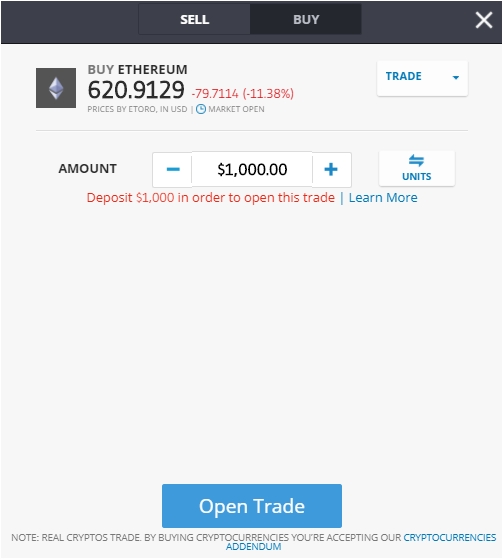 Step 2
Take the advice from profitable, experienced eToro traders before you buy Ethereum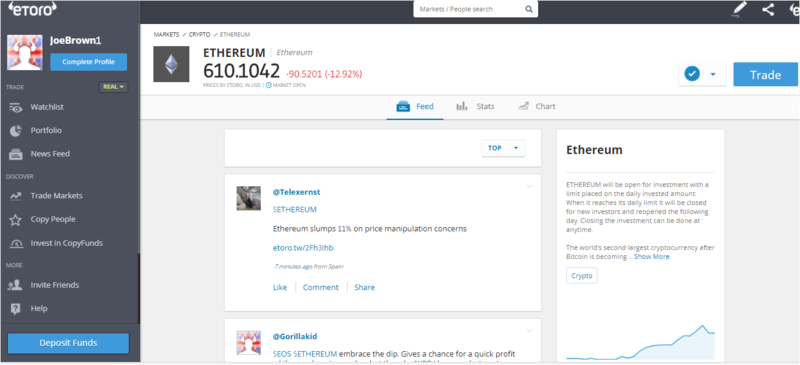 Step 3
At the top right-hand corner of the screen, click the Trade button. From here you will be presented with another screen which will ask you to specify the amount of Ethereum you wish to buy. Click 'buy' when you have chosen the amount.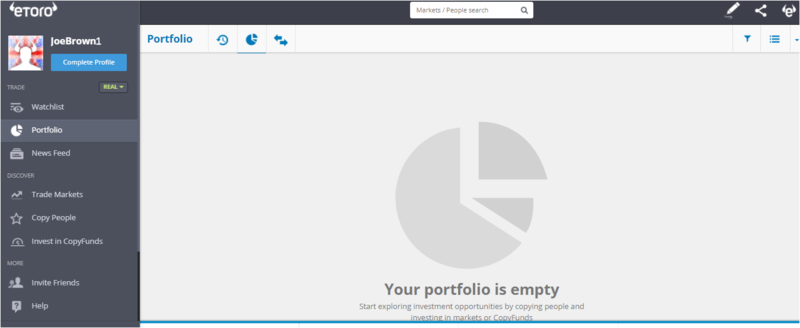 How to Buy Ethereum with Cash
If you prefer to buy Ethereum instantly with cash, the best way to buy Ethereum is to give the cash to someone in person who will then buy Ethereum on your behalf and transfer it to your crypto wallet. It is worth checking the viability of the person you will be buying from on the exchange before you hand over any money.  You can also buy Ethereum via a Bitcoin ATM machine. Although they mostly operate with Bitcoins only, there are some who sell Ethereum.
Buy Ethereum Miners as an Alternative
Cryptocurrency mining can be a very profitable activity and mining for Ethereum is no different. The word 'mining' is somewhat misleading, though; in this context, it isn't about increasing the volume of ETH, mining is a necessary activity for keeping the Ethereum network secure as blocks on the blockchain are verified and created.
If you want to mine Ethereum, you will need to buy Ethereum mining rigs – these are computer systems with in-built mining capabilities. They are available from lots of different online retailers including eBay. One of the most popular models is the Ethereum GPU Mining Rig.
How do you Buy Ethereum in Different Countries?
If you are wondering where to buy Ethereum in specific countries, we can help you find the best place to buy Ethereum. Below are some recommended sites to buy Ethereum online:
Buy Ethereum in Australia - One of the most popular sites is CoinSpot exchange. You can buy direct with AUD and there is a wallet available for storage, marketed with low transaction fees.
Buy Ethereum in South Africa - Coindirect exchange offers a number of different payment methods including PayPal, there is a 0.25% for trading fees and wallet buy/sell conversion. Alternatively, you can buy Ethereum online with ZAR on Luno - a global exchange that also offers a wallet service.
If you want to know how to buy Ethereum in Canada, then Coinsquare exchange should be your first port of call. As it is based in Canada, there are more payment options for Canadian users. You do not need to change your CAD into foreign currency before you trade with the Quicktrade service and there is a funding limit on your first deposit of $30.
If you want to know how to Buy Ethereum in India then it is worth visiting ETHEXIndia, a local exchange where you can buy Ethereum online in Rupees, it also offers its own wallet and consultancy services. Alternatively, Koinex exchange is one of the most well-known exchanges where trades can be made in other cryptocurrencies against the INR.
Buying Ethereum in the UK – With their wide choice of payment methods, broker eToro is becoming the best place to buy Ethereum with GBP. Alternatively, you can use CEX.IO - an exchange where you can trade in ETH/GBP, it has a useful mobile app and instant buy option which is also available on the app.
Coinhako is a crypto wallet service that also allows users to buy cryptocurrencies, based in Singapore it is a good option if you are looking to buy Ethereum online in Malaysia. Luno also allows trades to be made in Ringgit.
If you a wondering where to buy Ethereum in Nigeria, we would recommend taking a look at NGexchanger where investors can buy and sell Ethereum with a minimum of $20. Coindirect also facilitates ETH/NGN trades.
Finally, if you are keen to know how do you buy Ethereum in Euros, BitPanda offers ETH/EUR trades. It has payment options which include Skrill and NETELLER, as well as credit cards. It also has a Euro Wallet feature which, as well as withdrawals, can be used as a payment method.
Should I Buy Ethereum?
So, Why Buy Ethereum?
Set up by cryptocurrency expert, Vitalik Buterin, Ethereum has experienced phenomenal success since its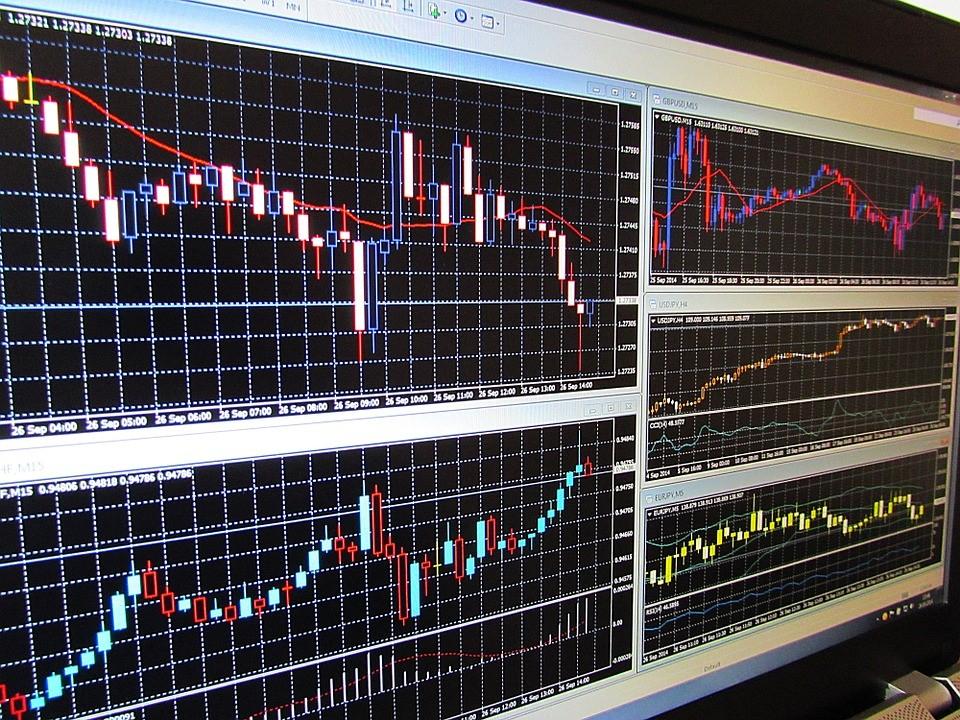 arrival in 2014. Second only to Bitcoin, some predict it will ultimately overtake the renowned cryptocurrency.
Whether it is worth buying Ethereum depends if you think the time spent will reap rewards. The platforms we have looked at have simple sign up processes and to buy Ethereum online is much like buying any other product or service on the internet.
Buying Ethereum Online Vs Buying Bitcoin Online
Ethereum's decentralised, public platform is already being used by some companies and has huge potential to disrupt the way almost every service you know operates. Its smart contracts technology is designed to remove fraud, downtime and censorship and with that possibility on a global scale, it could only be a matter of time before Ethereum clinches victory over Bitcoin's popularity.
Equally, the volatility of Ethereum and other cryptocurrencies is something that cannot be predicted or ignored when you are looking to buy Ethereum stock.
Hopefully, we have been able to help you decide the best way to buy Ethereum for you and your own individual needs. If we have convinced you to buy Ethereum, click here to see a further breakdown of all cryptocurrency exchanges and brokers available.
Also, be sure to have a look at our 'How to buy Ethereum' FAQs below. If you like the look of investing in Ethereum, we recommend signing up to broker Toro so you can buy Ethereum online at the touch of a button today!