Buy Cardano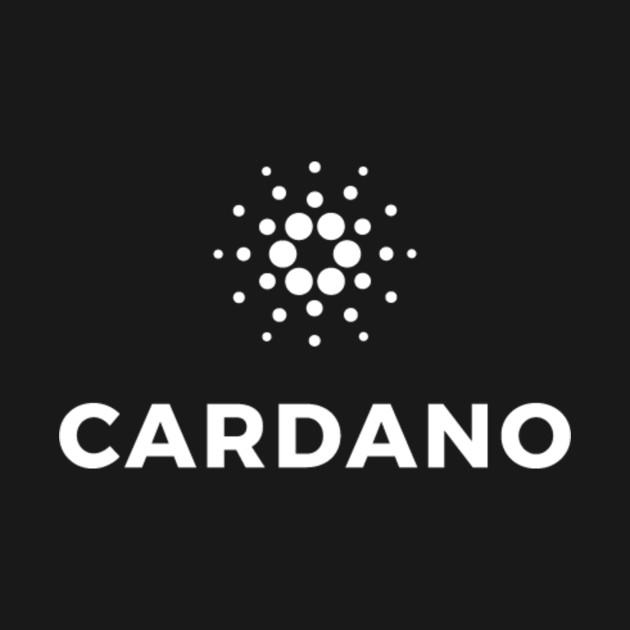 One of the best altcoins on the market right now is Cardano. But what exactly is Cardano (ADA)? Well, it's a smart contract platform that's based on peer-reviewed academic research. Using a two-layer system, Cardano's Blockchain solution is not only efficient but also flexible.
Given the current calls for safer systems that more businesses can tap into, this is a very good time to buy Cardano. Let's take a closer look at why and how to buy Cardano. We'll also explain where we've found the best place to buy Cardano is, and how to use the platform.
Buy Cardano
Key Features
Accepts customers from the USA
Offers 15 crypto coins to buy&sell including BTC, LTC, ETC, NEO and more
Trade on the world's leading social trading and investing platform
Cryptoassets are highly volatile unregulated investment products. No EU investor protection. eToro USA LLC does not offer CFDs and makes no representation and assumes no liability as to the accuracy or completeness of the content of this publication, which has been prepared by our partner utilizing publicly available non-entity specific information about eToro. Your capital is at risk.
Why Buy Cardano Now?
But why is now the time to buy Cardano? For those in the know, there are a myriad of reasons, many of which are explained in our guide to Cardano. However, we don't need to delve into the technicalities of this cryptocurrency to answer the question "should I buy Cardano"? Firstly, the Cardano Settlement Layer (CSL) is a more efficient ledger than Bitcoin. When you consider how much of an influence Bitcoin's Blockchain protocols have already had on the world, it's easy to see why an upgraded system would be just as popular - if not more.
Secondly, the current price of Cardano is low. Unlike the price of Bitcoin, which is still in the five-figure range, Cardano coins (ADA) are trading for less than $1 at the moment. Naturally, this won't always be the case. However, if you get in early, there's a lot of margin for growth.
What is the Best Site to Buy Cardano?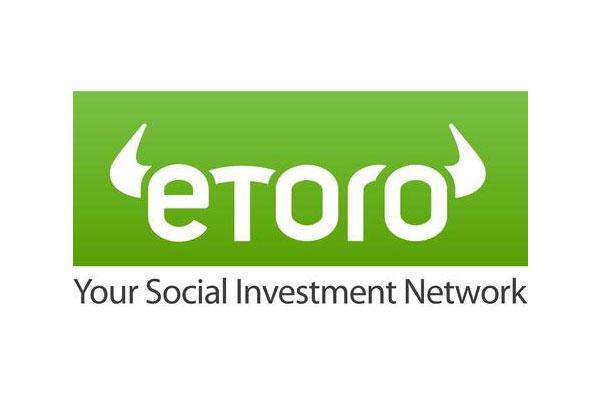 What's the best place to buy Cardano? Through our in-depth research, we've concluded that broker eToro is currently the best option for buying Cardano. eToro is licensed and regulated by the Financial Conduct Authority (FCA) and CySEC.
In practical terms, this means the software meets certain safety standards and the company's business practices are monitored on a regular basis. In other words, when you opt for buying Cardano at eToro, you can be sure your money is safe. For example, when you look at our Binance review, you'll see it's only been around since 2017. In contrast, eToro has been active since 2006 and currently serves over 6 million users. Clearly, eToro has had more time to refine and perfect its product.
Additionally, eToro allows you to invest even if you're not an expert. Using a social trading function called Crypto CopyFund, you can copy the trades made by successful prow at a level that's suitable for your bankroll. There is also plenty of opportunity to learn through guides and even forums.
How to Buy Cardano with eToro
If you agree that eToro is the best place to buy Cardano, the next step is finding out exactly how to buy Cardano on eToro.
Step 1: Open an Account with eToro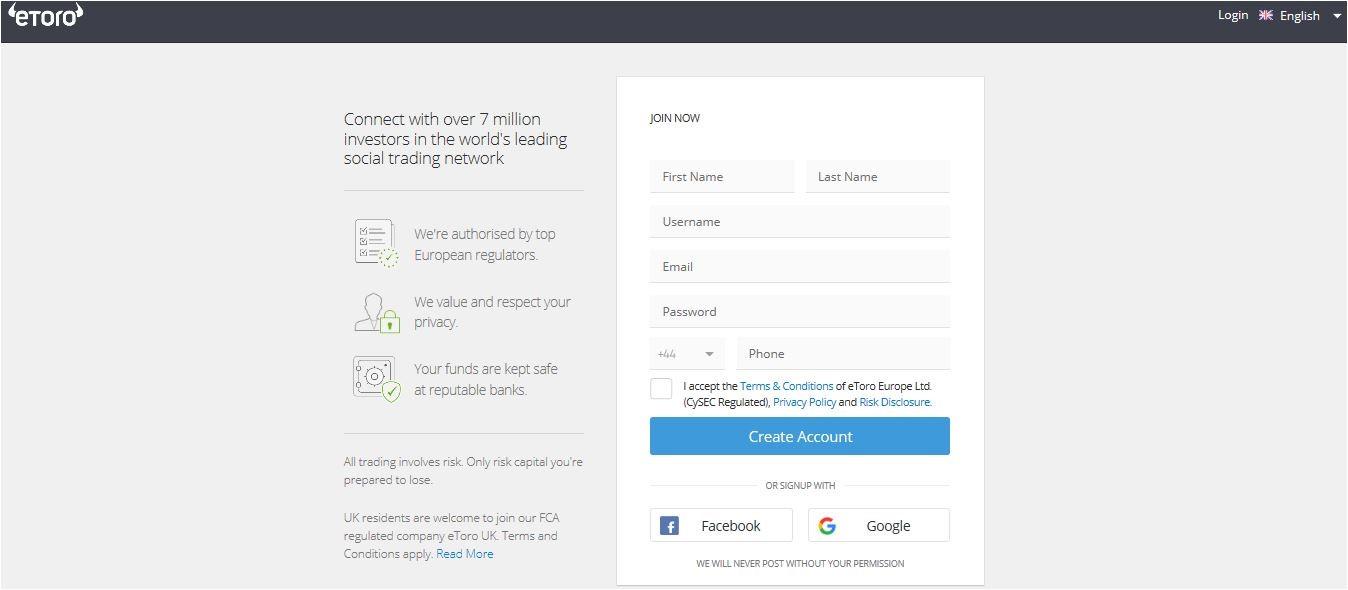 Time to create an account at eToro. If you're unsure about what the site offers, you can read our eToro review. Our secure eToro sign-up link will take you directly to the registration page where you can join using your Facebook or Google accounts.
If you don't do that, you'll have to input a few personal details (name, email address etc) and then accept the terms and conditions.
Next, verify your identity using official ID and complete your profile.
Step 2: Deposit Funds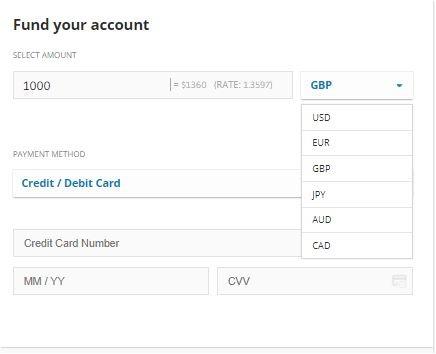 When you've registered your account, click the "deposit funds" button and choose one of the following secure payment options:
Visa
Maestro
MasterCard
Diners Club
PayPal
Skrill
Wire Transfer
Neteller
Union Pay
WebMoney
Yandex
After selecting your payment method, choose your native currency and then input a deposit amount.
Step 3: Buy Cardano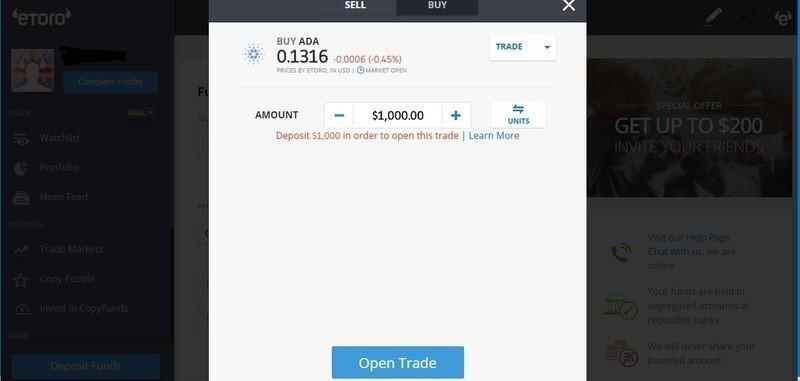 Now you're ready to get some Cardano, type "Cardano" in the search box.
Choose how much you want to stake and then hit the "open trade" button.
This will invest your money at the current Cardano buy price and leave the trade open until you decide to end it.
How to Buy Cardano Through Exchanges
Buying Cardano at Binance
You can also buy Cardano at Binance. Binance is one of the largest exchanges out there, which means liquidity is never an issue. As you'll read in our Binance review, this is a crypto-only exchange. In fact, Binance was actually built using cryptocurrencies, thanks to an ICO. If there's one issue with this option, it's the fact you can't make a deposit using fiat currencies (GBP, USD etc). However, once you've credited your account, the Binance interface is user-friendly and the transaction fees are low.
Binance pros: Easy to use, high liquidity, low fees, strong security features
Binance cons: Unregulated, crypto-only deposits
Open account with Binance
- Visit the site and register for an account. - Make a deposit. - Find ADA using the search box and purchase the desired number of credits.
eToro Vs Exchanges
| | |
| --- | --- |
| Regulated by FCA and CySEC. | No official regulations for exchanges at this time. |
| Suitable for beginners thanks to the social trading feature. | More suited to experienced traders. |
| You can use a variety of payment options such as Visa, Neteller and PayPal to deposit using fiat currencies. | You can usually only buy Cardano using another cryptocurrency. |
| Has been active for more than a decade. | Most crypto exchanges are less than five years old. |
| Multiple investment options, such as forex and stocks, so you can spread your risk. | Exchanges only offer cryptocurrency investments. |
| Better customer service. | Smaller companies which tend to struggle with customer support. |
Buying Cardano: Payment Methods

Credit Card & Debit Card
For credit card payments and debit card transactions, the main benefits for crypto users are accessibility and protection. Because you're sending money directly from your bank account, the transaction is quick and efficient. Additionally, because Visa and MasterCard are highly regulated, you'll have a high level of protection when you use these methods to get Cardano. These methods are both available at our preferred broker for 2019, eToro.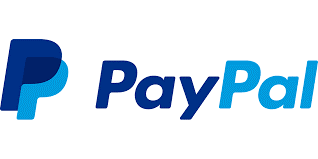 PayPal
If you prefer to use an e-wallet, PayPal payments are the best option. Aside from being the largest online payment processor, it also has some of the best security measures. In fact, it is because the eToro platform offers PayPal, in addition to Neteller and other options, that many investors prefer it. When you combine this with almost instant transactions and low fees, it's easy to see why PayPal is one of the best ways to buy Cardano online.
How to Buy Cardano in Your Country
As the cryptocurrency industry evolves, countries around the world are starting to find their own ways of regulating it. Because of this, you need to know how to buy Cardano in your respective region. The easiest way to do this is to click on the relevant country link below and find out how to buy Cardano where you live.
How to Store Cardano in a Wallet
Once you've acquired some Cardano coins, you'll need a place to keep them. In general, there are four main places you can store your funds:
Inside an exchange: This is the least secure option but it does allow you react to changing market conditions a lot faster.
An online wallet: This option provides you with a secure online account. Naturally, it is encrypted and you'll need various passwords to access your account. This is generally considered the best place to store small to medium amounts of Cardano.
A hardware wallet: If you want the safest option of all, you can purchase a hardware wallet. If you read through our guide to cryptocurrency wallets, you'll see that the Ledger Nano S is one of the best products out there. Although it takes longer to move your funds around, these wallets store your money offline, which is great if you own a lot of Cardano.
Use a brokerage: The final way to store Cardano is to not own any in the first place. When you use the eToro broker, you're investing in the price of the asset and not the asset itself. This means you don't have to worry about buying Cardano and then moving it somewhere safe. Instead, you can simply buy and sell at the best prices without having to get your hands dirty.
Other Ways to Get Cardano
Before we let you go, we want to tell you how to buy Cardano without actually buying it. Like all cryptocurrencies, there are options and offers out there. In our opinion, coin mining is the best way to get Cardano without actually buying it.
Mining
Because Cardano is slightly different to Bitcoin, it isn't created or mined in the same way. However, you can contribute to the proof of stake system. In simple terms, a node in the network is chosen to solve an equation to process the payments, similarly to Blockchain. Because the system is random, you may have to wait until your node is selected and, therefore, rewarded. This system can certainly work, but only if you're an expert with cryptocurrencies. If you're anything less than that, it's better to buy Cardano via eToro.