Buy Bitcoin with PayPal
When it comes to making online payments for goods and services, PayPal has long been the market leader, offering its users complete peace of mind in terms of the security and transparency of their accounts. It's unsurprising that PayPal has sought to make it easy to start buying Bitcoin through its platform. At Best Bitcoin Exchange, we've undergone extensive research into the easiest ways to buy Bitcoin with PayPal.
Crypto Brokers that accept PayPal
5 Quick Steps to Buy Bitcoin with PayPal

Sign up for an eToro trading account – registration takes just 2 minutes!
Opt for PayPal as your deposit method
Start depositing funds from just £200 – don't worry, eToro is regulated by the FCA and CySEC, so your funds will be looked after properly
Start placing orders to buy Bitcoin5.  Sit back and let those profits accrue!
Method 1: Buy Bitcoin with PayPal on eToro
eToro makes it super easy to start investing in cryptocurrency such as Bitcoin using funds from your PayPal account. On the deposit funds page, you simply have to click the 'PayPal' option, enter the figure you'd like to deposit and hit the 'Continue' button. You'll then be taken directly to the PayPal website to log in, review the transaction details and click 'Pay'. There are various other reasons why eToro is such a good starting point for those looking to buy Bitcoin with PayPal instantly:
Innovative approach to commissions
eToro does not charge any commissions or fees on trades carried out by its members, making money solely from its market spreads.
FCA and CySEC regulated
eToro is regulated by the UK's Financial Conduct Authority (FCA) and the Cyprus Securities and Exchange Commission (CySEC), giving customers peace of mind for every PayPal transaction.
No need for a crypto wallet to store your Bitcoin
'Buy' and 'Sell' orders for Bitcoin are made as Contracts for Difference (CFDs), meaning you don't ever physically own the cryptocurrency. CFD trading allows you to simply take advantage of the price movements within the market.
Excellent global reputation
eToro is regarded worldwide as the number-one social trading community, with over six million regular users of its platform, available in 140 countries.
Start buying Bitcoin with PayPal at eToro today and become a part of the world's biggest active community of investors in cryptocurrencies, commodities and stocks. For a comprehensive guide to how eToro works, check out our detailed eToro review.
Guide to Buying Bitcoin with PayPal on eToro
Take some time to read through this three-step guide on how to buy Bitcoin with PayPal at eToro and start your cryptocurrency investment journey within a matter of minutes.
Step 1: Open Account with eToro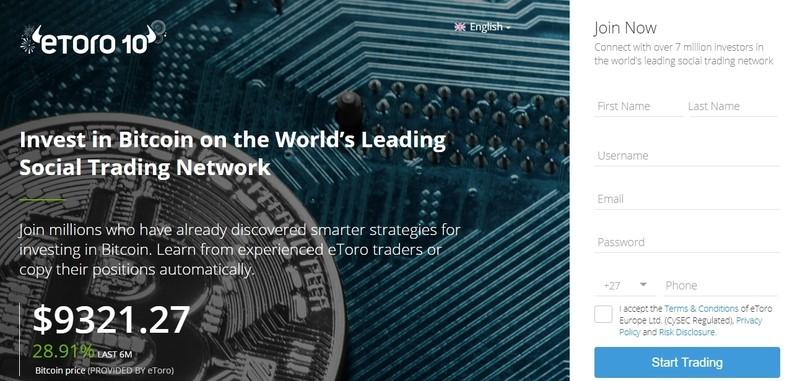 -  Visit the eToro homepage-  Click the 'Join Now' button-  Fill out the sign-up page, accepting the terms and conditions and privacy policy before clicking 'Create Account'
Step 2: Deposit Funds with PayPal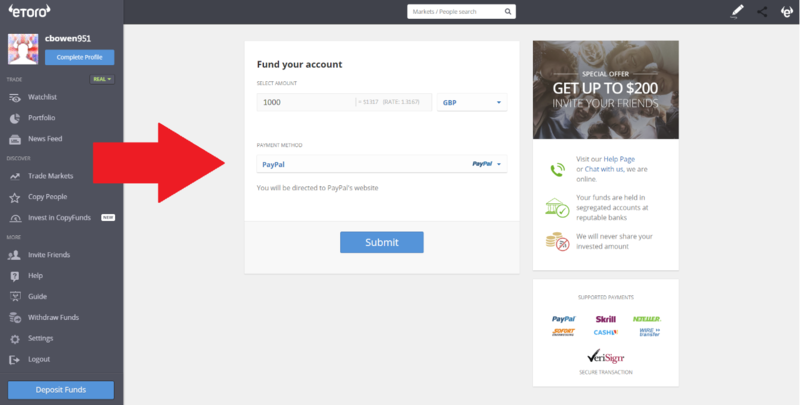 -  Log in to your eToro account-  Click on the 'Deposit Funds' button-  Submit the amount you wish to deposit and select your currency-  Select your deposit method – in this case, PayPal-  You'll then be redirected to the PayPal website-  Log in to your PayPal account-  Review your transaction details-  Verify the details and complete the transaction by clicking 'Pay'
Step 3: Buy Bitcoin!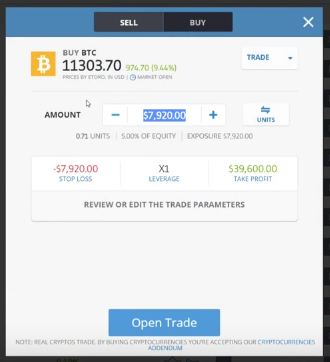 Visit the BTC markets page on eToro
Click the blue 'Trade' button in the top right-hand corner
Alternatively, you can click 'Buy' next to Bitcoin if you have added it to your Watchlist
Enter the amount of Bitcoin you wish to buy in fiat currency
Set stop losses and 'take profit' parameters-  Click 'Open Trade'
Method 2: Buy Bitcoin with PayPal on Exchanges
PayPal has already partnered with leading exchanges such as Coinbase, BitPay and GoCoin, allowing investors to buy Bitcoin with PayPal with ease. However, the one drawback with buying Bitcoin using this e-wallet via Coinbase is that you must be a US crypto investor.
If you are not American, you can still link your PayPal account to Coinbase, but you can't physically buy Bitcoin, Litecoin or Ethereum for that matter. The only way you can use PayPal is to swap your Bitcoin for a fiat currency and transfer this back to your PayPal account.
Guide to Buying Bitcoin with PayPal on Coinbase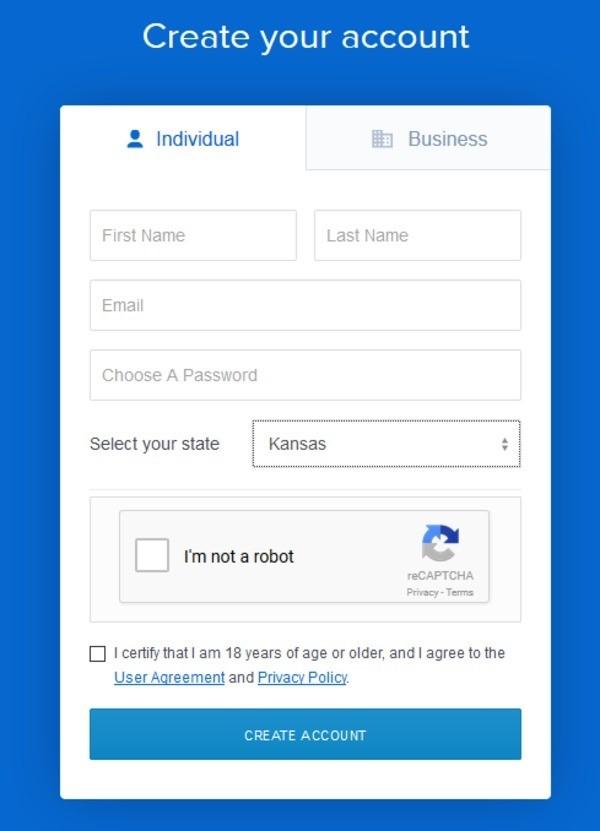 Visit the Coinbase homepage
Click on the 'Sign Up' button in the top right-hand corner
Complete the sign-up form and hit the 'Create Account' button
Activate your Coinbase account by clicking on the confirmation link in your sign-up email
Step 2: Deposit Funds with PayPal
Log in to your Coinbase account
Click the 'Settings' tab on the left-hand side
Click 'Add a Payment Method'
Click 'PayPal Account' and verify your PayPal account using the on-screen prompts
Step 3: Buy Bitcoin!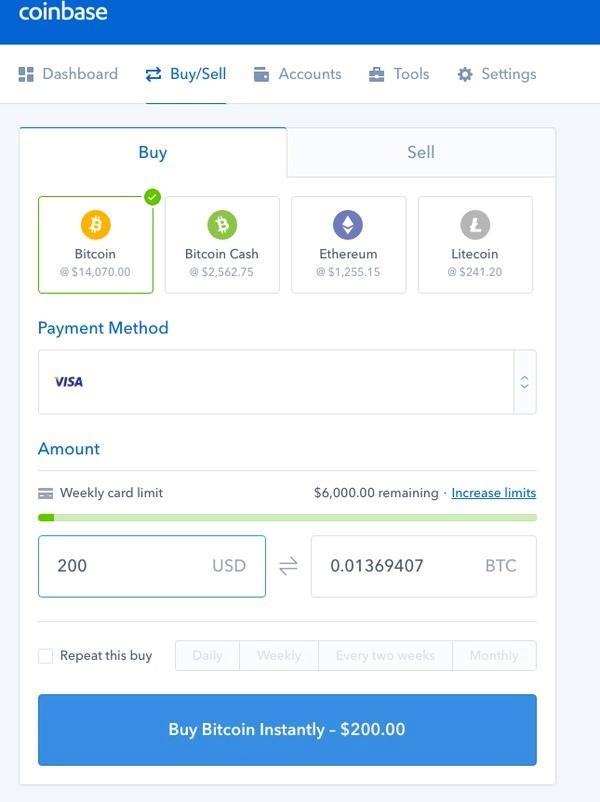 Log in to your Coinbase account
On the Dashboard, click the 'Buy/Sell' button at the top of the page
On the Buy/Sell window, click the Bitcoin button
Choose your preferred payment method e.g. PayPal
Specify the amount of Bitcoin you want in your fiat currency
Hit 'Buy Bitcoin Instantly'
eToro Vs Crypto Exchanges: What's the best place to buy Bitcoin through PayPal?
| | | |
| --- | --- | --- |
| | eToro | Exchanges |
| FCA regulated | √ | X |
| CySEC regulated | √ | X |
| Social community | √ | X |
| No need for crypto wallets | √ | X |
| Mobile apps | √ | √ |
| Leverage offered | √ | √ |
Start buying Bitcoin via PayPal using the world's pioneering social trading community, Etoro. Trade Bitcoin in real time from your PayPal account by becoming an eToro member.
Method 3: Buy Bitcoin with PayPal Directly from a Seller
An alternative method of buying Bitcoin using PayPal involves a PayPal transaction directly with a seller. Bear in mind you will pay a premium for buying Bitcoin this way, given that the seller is taking a big risk in sending their BTC to you in the hope that you will send them equivalent fiat currency via PayPal. Traders then can also buy Bitcoin from any trusted cryptocurrency exchange brokers such as eToro or Capital below, and sell through PayPal in the same way. There is also a danger that you too could be scammed by bogus Bitcoin sellers, leaving you significantly out of pocket and without your BTC!
Buying Bitcoin with PayPal: What Are the Fees?
Typical transaction fees for sending funds to another PayPal account can vary. The most common transaction charge for buying Bitcoin through PayPal is $0.30 per transaction, plus 2.9% of the total amount of fiat currency transferred. International payments will also incur additional currency exchange charges of 1% at the very least.
Using PayPal is less cost-effective than using wire transfers, although you'll have to weigh up the benefits of transferring your funds instantly with PayPal or waiting hours, sometimes a number of working days, for your bank to process the funds.
Should I Buy Bitcoin?
It is definitely a good time to start buying Bitcoin using PayPal. The price of Bitcoin has significantly dropped since the start of 2018, so it's a good opportunity to buy at the bottom with relatively low risk. Of course, all cryptocurrency trading obviously carries some form of risk but a good investor knows when to see opportunities.
Additional Resources