Home > Almost 2 billion hacked from best crypto exchanges
$1.7 billion hacked from top 10 centralised crypto exchanges over the last decade
Key Takeaways
10 of the top 25 cryptocurrency exchanges have suffered hacks in the last decade
Over $1.7 billion has been stolen across these hacks
Binance remain among the best, despite suffering a hack in 2019 - insurance fund of more than $1 billion assuages concern
Coinbase also have claim to the throne, with public company status boosting their profile significantly
FTX are led by good-guy Sam Bankman-Fried, with nothing suggesting customers of the exchange should have any worries about security
Kraken are next in line, but don't quite boast reputation of big three - although that may change if planned IPO comes through
Cold storage remains preferable if significant assets held, even at top exchanges
Introduction
"Not your keys, not your coins" is one of the oldest sayings in cryptocurrency, and warns investors to withdraw their crypto into cold storage, otherwise it has the potential to disappear.
We compiled a study to assess which of the major exchanges had suffered hacks in the past, which should be safe to trust going forward, and which should be avoided. Overall, we wanted to see what were the best crypto exchanges from a safety standpoint. Looking at all hacks across major centralised exchanges over the last decade, we dug right into the weeds of the dark side of crypto.
Top 25
Of the top 25 exchanges according to CoinMarketCap's rankings, a staggering 40% have suffered a hack in the last ten years, highlighting crypto's long-standing tussle with the security breaches. The perpetrators made off with $1.7 billion across these hacks, with the largest being the hack of Bitfinex in August 2016, where $623 million of funds were robbed.
| Exchange | Hacks in Last Decade | Amount Stolen |
| --- | --- | --- |
| Binance | 1 | $ 40,000,000 |
| Coinbase | 0 | $ - |
| FTX | 0 | $ - |
| Kraken | 0 | $ - |
| Kucoin | 1 | $ 275,000,000 |
| Gate.io | 0 | $ - |
| Huobi Global | 0 | $ - |
| Bitfinex | 1 | $ 623,000,000 |
| Binance.US | 0 | $ - |
| Gemini | 0 | $ - |
| Bitstamp | 1 | $ 5,000,000 |
| Crypto.com | 1 | $ 34,000,000 |
| bitFlyer | 0 | $ - |
| FTX US | 0 | $ - |
| Coincheck | 1 | $ 560,000,000 |
| MEXC | 0 | $ - |
| Bybit | 0 | $ - |
| OKX | 0 | $ - |
| Poloniex | 1 | $ 50,000 |
| LBank | 0 | $ - |
| Bithumb | 3 | $ 67,000,000 |
| Liquid | 1 | $ 97,000,000 |
| Coinone | 0 | $ - |
| Upbit | 1 | $ 49,000,000 |
| Bittrex | 0 | $ - |
While the risk is low for the very top exchanges - there have only been two hacks in the last decade affecting the top seven exchanges - customers still need to act prudently. Look no further than the fact the King of the Hill - Binance - suffered a hack in 2019 to the tune of $40 million, when the culprits gained access to a hot wallet. 7,000 bitcoins were filtered out of the hot wallet, which comprised over 2% of the exchange's holdings at the time.
Bitfinex and Binance are not the only top 10 exchanges to suffer a loss. Kucoin lost $275 million in September 2020 through a data breach. These are large robberies, and affecting the top exchanges in the business.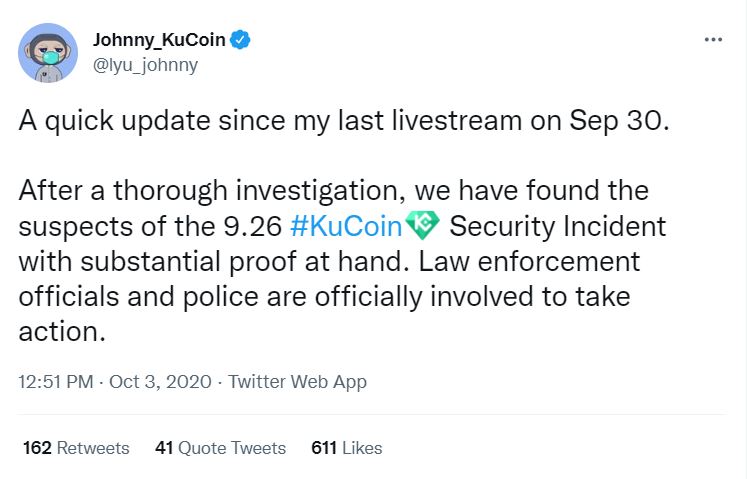 Outside the Top 25
While cryptocurrency has definitely cleaned up its act compared to the early days, we are still a long way from declaring this as a safe industry. Binance's breach was relatively recent in 2019, while Kucoin's was even closer again - during the pandemic in September 2020.
However, both the frequency and size of hacks on the bigger centralised exchanges have diminished greatly in the last two years, especially regarding the top exchanges.
It is partially for this reason that we have limited our study of the safest exchanges to the top 25, as beyond that threshold the risk of the platforms ramps up significantly. Even for exchanges that have retained a clean record, boasting a hack-free history, the bulk have not been around long enough to build up the required track record of reliability for investors to feel confident with their trust.
Recourse
There is an additional factor here that is key to consider when digging into the numbers behind these hacks. In general, the bigger the exchange, the likelier an investor's ability to retrieve his/her funds in the event of a hack.
Look no further than the high-profile case that was mentioned above, when Binance had $40 million syphoned out of their hot wallet in 2019. Due to their insurance fund, losses borne by Binance customers were precisely zero.
Binance set up the Secure Asset Fund for Users (SAFU) in 2018, with 10% of earnings via trading fees allocated to the fund. It has been monitored since, and earlier this year hit a value of $1 billion. This safety buffer is in stark contrast to the hacks on smaller exchanges, where customers are left holding the bag.
Binance
Therefore, despite the fact it has suffered a breach before, Binance carries about as trustworthy a reputation as a centralised exchange possibly can. While its tussles with regulators (especially in the US) have been much-publicised, it seems highly unlikely that authorities would ever punish customers in the form of frozen wallets or confiscated assets. While nothing is absolute in crypto, Binance seems as safe as could be.
Coinbase & FTX
Whereas Binance have their insurance fund, Coinbase offer the implicit safety that a public company offers, as well as a clean record historically regarding hacks. Quite simply, the transparency that inherently comes with being listec on a public stock exchange places Coinbase right up there with Binance, if not in a class of its own. When the SEC and other regulatory bodies become that involved, customers have a degree of safety that a private exchange operating in a much more opaque manner cannot match.
Elsewhere, FTX also possesses a clean history, and their CEO Sam Bankman-Fried is viewed as one of crypto's good guys, committing himself to effective altruism, a funky name for what really amounts to extremely generous philanthropy and charity. While this doesn't affect the safety of customer funds directly, it's a comforting feeling knowing that the CEO has a good head on his shoulders and looks out for the little guy - look no further than the antics of Terra CEO Do Kwon for how important a humble leading figure can be.
There is also the presence of an insurance fund to compensate users in the event of FTX's liquidation event failing (for example, in the case of an unexpected large drop in BTC), providing further safety to customers - not dissimilar to Binance's insurance fund, albeit with a different goal overtly.
Additionally, FTX have expanded significantly slower than Binance and Coinbase, despite offering an equally impressive range of services and track record of reliability. This gradual growth is of further comfort, and in reality there is nothing that can be found to put an investor off FTX. The only reason FTX is not usually mentioned in the same breath as Binance and Coinbase is the fact it is unavailable in the US. A separate entity - FTX US - does exist, however has a much more limited suite of services.
Conclusion
After these three exchanges - Binance, Coinbase and FTX - there is a drop-off.
The study backs this up, with hacks commonplace. Perhaps Kraken can feel aggrieved not to be mentioned in the same breath as the big three, especially as they have maintained a clean hacking record. However until they go public - which was originally meant to be June but has been pushed back - they don't quite possess as regimented and established a reputation as the three kingpins of this study. Post-IPO, however, it is not hard to imagine Kraken making the leap, and customers should still be comfortable using the exchange.
Beyond that, however, there is a steep drop-off. As mentioned above, it is not only the size of transaction volume and number of customers that falls off, it also the recourse customers would have in the events of a hack, as well as the frequency these hacks have taken place. No other exchange can claim to have built up the blanket of trust that Binance, Coinbase and FTX have, and it is for these reasons that customers should go that route before considering other exchanges.
To close off, three exchanges - Binance, Coinbase and FTX - display stout security measures and separate themselves from the crowd. However, there remains risk and the safest method for customers in the long-term is to utilise cold storage. This is certainly the case for large investors holding substantial amounts of bitcoins or other crypto - the wisest route remains to invest in secure offline storage and take the maximum possible precautions.